HEALTH CARE BRIEFING: Drug Price Bill Still Alive, Grassley Says
Bloomberg Government subscribers get the stories like this first. Act now and gain unlimited access to everything you need to know. Learn more.
Senate Finance Committee Chairman Chuck Grassley (R-Iowa) said he intends to push for a vote this year on a measure that would limit price hikes of drugs, even as pharmaceutical companies race to find treatments and vaccines for Covid-19.
The drug industry has been pouring resources into researching new therapies as the pandemic wreaks havoc on Americans' health and the economy. That's helped quiet a long-running debate over rising prescription costs, as politicians prioritize finding treatments and helping businesses safely re-open.
"There's no better time to address this issue," said Grassley, a co-sponsor of the drug-price legislation (S. 2543), in an interview yesterday. He cited a need to prepare for future pandemics and to keep "bad actors" in the drug industry "from hiking prices astronomically" in future health crises.
If the bill doesn't pass, Grassley worries drugmakers will charge "whatever they want to" for Covid-19 products. "It will be the Wild West," he said.
Grassley said he asked President Donald Trump last week in a closed meeting if the president was still interested in drug-pricing legislation given "the pandemic has taken the oxygen out of Washington." Trump, who has previously supported the bill, gave an "emphatic yes," Grassley said. He said Trump will meet with top leadership at the White House within days to hatch a plan for pushing forward.
Grassley said that Trump's backing will be significant as Senate Majority Leader Mitch McConnell (R-Ky.) continues to have some disagreements with the bill, though Speaker Nancy Pelosi (D-Calif.) has signaled a willingness to engage the Senate Finance Committee in talks over what comes next, Grassley said. Read more from Riley Griffin and Emma Court.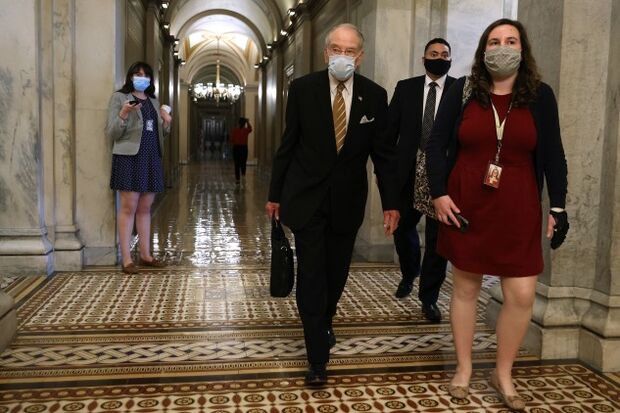 Hearings on the Hill Today
Governors Battling Virus: The House Energy and Commerce Oversight and Investigations Subcommittee plans a virtual hearing on how governors are handling the Covid-19 pandemic.
Incarceration During Pandemic: The Senate Judiciary Committee scheduled a hearing to examine incarceration and detention practices affected by Covid-19.
Foreign Drug Inspections: The Senate Finance Committee holds a hearing on oversight of the Food and Drug Administration's foreign drug manufacturing inspection process. Witnesses from the FDA and the Government Accountability Office will testify.
Treatment, Research & Reopening
Bill Aims to Protect Privacy on Tracing Apps: Sens. Maria Cantwell (D-Wash.), Amy Klobuchar(D-Minn.), and Bill Cassidy (R-La.) are among senators proposing a bill aimed at protecting consumers' privacy on contact-tracing smartphone apps, according to a statement yesterday. The "Exposure Notification Privacy Act" would seek to create privacy protections for commercial automated exposure notification services, such as those provided under Apple and Google's coronavirus tracing tools that would partner with public health authorities.
The measure would prohibit any automated exposure notification service that is not operated by or used in collaboration with a public health authority. It would also require consumers to give consent and be allowed to request data deletion at any time. Read more from Rebecca Kern.
Pentagon Taps Aid to Use A.I. for Virus: The Defense Department is seeking to adapt artificial intelligence technology it employs to hunt terrorists with drones or predict when a plan will need maintenance for a new purpose: screening and testing novel coronavirus treatments and vaccines. The Pentagon plans to boost existing programs with money Congress provided under the virus-relief CARES Act for the development of A.I. models to "rapidly screen, prioritize, and test" the FDA's approved therapeutics for new coronavirus drug candidates. Read more from Roxana Tiron and Tony Capaccio.
26,000 Dead in U.S. Nursing Homes: Close to 26,000 nursing home residents died of Covid-19, the U.S. government said yesterday, the first nationwide tally of a population especially hard hit by the illness. There were 60,000 confirmed cases in nursing homes, the Centers for Medicare and Medicaid Services said in a news release describing the findings. The agency also outlined plans to bring enforcement actions against homes that don't take sufficient steps to control and prevent infections. Read more.
Masks Can Help Slow Virus, Study Says: Widespread use of face masks could help economies reopen safely from lockdowns when combined with continued social distancing and other prevention measures, according to a new study. The risk of viral transmission is lower in households and among contacts of infected people when masks are worn, according to the study, published in The Lancet medical journal. For medical professionals in a health-care setting, respirator-type devices provide a higher level of protection than standard surgical masks, the report said. Read more.
Gilead Drug Has Modest Benefit in Trial: Gilead Sciences' experimental Covid-19 treatment remdesivir showed only a limited benefit in a large trial. The result may shift perceptions of the first therapy cleared for use in severe coronavirus cases. In the phase 3 trial, a group of moderately ill, hospitalized patients taking the drug for five days showed a modest improvement when compared to those getting the standard of care, the company said. But another group taking it for 10 days didn't show a statistically significant improvement. Read more.
Health-Care Small Businesses Are Top U.S. Relief Loan Recipients: Small businesses in the U.S. health-care and social-assistance industry have emerged as the top recipients of federal coronavirus relief loans, even as the net amount of approved funding in the program continues to decline amid loan cancellations. The Small Business Administration released a report yesterday of Paycheck Protection Program totals through May 30 with loan approvals by industry for the first time since the first round of funding ended on April 16. Read more from Mark Niquette.
More Headlines:
What Else to Know Today
Trump's WHO Exit Threatens Polio, Tuberculosis Along With Covid: Global efforts to control polio and tuberculosis stand to suffer alongside the battle against the pandemic as a result of Trump's plans to withdraw from the World Health Organization. Trump's decision last week to terminate the U.S. relationship with the global health body, about a month after he halted funding, leaves many unanswered questions. If he plans to withdraw all U.S. financing and expertise from the WHO, scientists fear a resurgence of deadly diseases the agency has spent years trying to destroy.
"I'm very disappointed that the U.S. would even be thinking of leaving such a vital multinational organization without anything to replace it," said David Heymann, a professor of infectious disease epidemiology at the London School of Hygiene & Tropical Medicine, who has worked with the WHO for decades. "It would cause a hole in the polio eradication that would have to be filled" and affect many other programs. Read more from Suzi Ring.
Only 891 in Free HIV-Prevention Drug Program Meant for 200,000: A Trump administration program to get 200,000 uninsured patients access to the HIV prevention drug Truvada only has 891 participants, HHS Assistant Secretary for Health Brett Giroir said yesteray at a virtual meeting of the Presidential Advisory Council on HIV/AIDS. Giroir said officials have been "doing double duty" with the response to Covid-19 and HIV prevention efforts, but "it's time that we double down" on the initiative to end HIV. Read more from Shira Stein.
Juul Asks Court to Toss Teen Vaping Suits: Personal injury, class action, and government suits alleging Juul Labs improperly marketed its vaping product to teens and conspired with Altria Group in a racketeering scheme should be put on hold or thrown out, the two companies urged a federal court in California. Juul said the consolidated federal litigation should wait for the FDA to weigh in on its application for product approval. Read more from Marina Barash.
Dismissal Sought for Uninsured Immigrants Case: The Trump administration urged an Oregon federal judge to throw out a challenge to a ban on immigrants without health insurance, saying he doesn't have the power to issue injunctions "purporting to supervise the president's performance of his duties." The claims from the plaintiffs "ultimately challenge the president's authority and directives," the Justice Department claimed in court papers. Read more from Mike Leonard.
More Headlines:
To contact the reporter on this story: Brandon Lee in Washington at blee@bgov.com
To contact the editors responsible for this story: Giuseppe Macri at gmacri@bgov.com; Zachary Sherwood at zsherwood@bgov.com; Michaela Ross at mross@bgov.com
Stay informed with more news like this – from the largest team of reporters on Capitol Hill – subscribe to Bloomberg Government today. Learn more.