HEALTH CARE BRIEFING: Drug Price Agenda in Flux With Split Votes
Bloomberg Government subscribers get the stories like this first. Act now and gain unlimited access to everything you need to know. Learn more.
House leaders vowed to press ahead with their health-care agenda yesterday after their landmark drug pricing proposal failed a key House committee vote.
Reps. Kurt Schrader (D-Ore.), Scott Peters (D-Calif.) and Kathleen Rice (D-N.Y.) joined all Republicans in opposing a bill to allow the government to demand lower prices from drugmakers and cap price increases on some medicines at the rate of inflation. The measure failed to advance in the House Energy and Commerce Committee on a 29-29 tied vote.
Shortly after the failed vote, the House Ways and Means Committee approved Democrats' drug pricing proposal by a 24-19 vote, with Rep. Stephanie Murphy (D-Fla.) joining Republicans in opposing the measure. On the House floor, Democrats can only lose three party members, if all members are voting and all Republicans vote 'no,' and still pass the bill.
The failed vote raises questions about whether Democratic leaders have enough support from their own members for a domestic policy package that includes drug pricing provisions. The drug proposal is meant to offset some of the cost of Democrats' broader health agenda, which includes expanding Medicare and the Affordable Care Act. Democrats are hoping to include the provision in their budget reconciliation package, which can circumvent GOP opposition in the Senate.
Democratic leaders signaled that the failed vote won't stop them from moving forward with their drug pricing bill. Henry Connelly, a spokesman for Speaker Nancy Pelosi (D-Calif.), said it's still a priority for Democrats to secure lower drug prices and "work continues between the House, Senate and White House on the final bill."
Energy and Commerce Chair Frank Pallone (D-N.J.) pleaded with his colleagues to work with leadership on changes to their drug measure, rather than oppose it. "I would really like to have you at the table over the next couple of weeks as we negotiate this," Pallone told his colleagues at the markup. Read more from Alex Ruoff.
Also at the Energy and Commerce Committee, lawmakers approved legislation to include vision, dental, and hearing benefits in Medicare. The panel voted 30-27 to advance the measure. It's slated to be part of Democrats' sweeping domestic policy package. Rep. Schrader was the sole Democrat voting with Republicans against it. Vision coverage would commence in 2022, hearing coverage in 2023, and dental coverage in 2028. Read more from Ruoff.
Meanwhile, the Ways and Means Committee approved legislation modifying the Affordable Care Act to make health insurance cheaper for millions. Lawmakers voted 24-19 to advance the measure. It voted to make permanent the broader availability of premium tax credits by eliminating the ACA's subsidy cliff at 400% of the federal poverty level and widening existing premium subsidies. Read more from Ruoff.
Also Happening on the Hill
Economists Urge Congress to Invest in Child Care: More than 125 economists and public policy scholars signed onto a letter calling on Congress to support investments in affordable child care for Americans. "For decades, American families and in turn economic growth have been held back by the lack of modern care infrastructure, as working families have been forced to choose between work and caregiving, hampering female labor force participation and reducing productivity," the letter says. Read more from Mary Biekert.
Cargill, National Beef Targeted in House Meatpacking Probe: Cargill and National Beef Packing are targets of an investigation led by the House's No. 3 Democrat into Covid-19 outbreaks at meatpacking factories. House Majority Whip Jim Clyburn (D-S.C.), the chairman of the Select Subcommittee on the Coronavirus Crisis, sent letters to the leaders of Cargill and National Beef requesting information on employee infections and deaths, as well as the number of employees who are vaccinated. Megan Boyanton has more.
Panel to Weigh Health Impacts of Covid-19 on Children: A new House investigation will look into how the Covid-19 pandemic has impacted the health and well being of children, as hospitalization among kids and adolescents increased exponentially from mid to late summer.
Rep. Diana DeGette (D-Colo.), chair of the oversight subcommittee on Energy and Commerce, announced the first hearing for the investigation has been slated for Sept. 22 and will focus on how disruptions caused by the pandemic have affected children. "We can't allow an entire generation to be lost because of this crisis," she said in a statement.
According to the American Academy of Pediatrics, nearly 5.3 million children have tested positive for Covid-19 since the onset of the pandemic through Sept. 9, Jeannie Baumann reports.
The Coronavirus Pandemic
Biden Meets Microsoft, Disney Executives on Vaccine Mandates: Biden met with business leaders who've taken steps to mandate employees to be vaccinated against Covid-19, as he touts his push for businesses across the U.S. to spark a new wave of inoculations. Biden met at the Eisenhower Executive Office Building with Microsoft President Brad Smith; Disney CEO Bob Chapek; Walgreens CEO Roz Brewer; Columbia Sportswear CEO Tim Boyle, Kaiser Permanente CEO Greg Adams, and several others. Josh Wingrove has more.
Vaccinations Slide Again Ahead of Biden Mandates: The number of people getting a first dose of Covid-19 vaccine is declining again in the U.S. after a fleeting uptick in August. The drop is being led by the South and central areas of the U.S. It's a reversal of what just a month ago seemed like a hopeful trend for health officials, when those places—hit hard by the delta variant—briefly led the country in new injections. Of the 100 U.S. counties with the biggest per capita drops in vaccinations, 27 were in Texas. Drew Armstrong has more.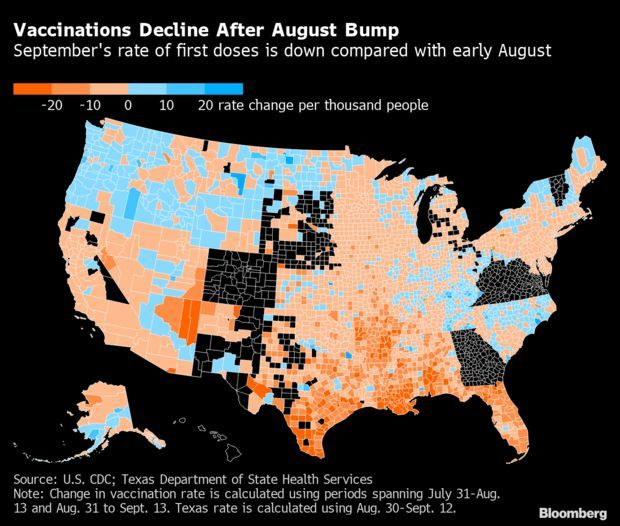 CDC Advisers to Meet Next Week on Booster Shots: Advisers to the Centers for Disease Control and Prevention will hold a two-day meeting next week to discuss booster shots for Covid-19 vaccines. The Advisory Committee on Immunization Practices posted notice of the meeting, which will be held Sept. 22-23, on its website yesterday. The panel of outside experts advises the CDC on how best to administer new vaccines. The administration had first planned to begin distributing boosters on Sept. 20. Fiona Rutherford has more.
A third dose of the Pfizer-BioNTech Covid-19 vaccine can dramatically reduce rates of Covid-related illness in people 60 and older, according to data from a short-term study in Israel. Starting 12 days after the extra dose, confirmed infection rates were 11 times lower in the booster group compared with a group that got the standard two doses, the analysis released yesterday by the New England Journal of Medicine found. Rates of severe illness were almost 20 times lower in the booster group. Read more from Robert Langreth.
Pfizer said that data from the U.S. and Israel suggest the efficacy of its coronavirus vaccine wanes over time, and that a booster dose was safe and effective at warding off the virus and new variants. The drugmaker detailed the data in a presentation it will deliver to a meeting of outside advisers to the Food and Drug Administration tomorrow. Robert Langreth has more.
Separately, Moderna said a new analysis of the late-stage clinical trial of its Covid-19 vaccine found a higher rate of breakthrough cases in people who got shots earlier in the trials, also illustrating waning immunity. It said it found that people who received the vaccine earlier had over a 50% higher rate of symptomatic breakthrough infections in July and August, compared with those who were inoculated later. Read more from Robert Langreth.
Long Covid Studies to Gain Speed Under NIH Network: Covid-19 patients may have answers more quickly as to why some people experience long-term symptoms from the disease under a $470 million NIH plan to streamline research studies. The agency said its new research award to New York University Langone Health will house a national network of large-scale studies called the RECOVER Initiative. The NIH said it aims to enroll tens of thousands of diverse research volunteers across the U.S. Jeannie Baumann has more.
More Headlines:
What Else to Know Today
U.S. Fight Over Abortion Ban Set for Oct. 1 Hearing: A federal judge in Texas set an Oct. 1 hearing on the Biden administration's request to temporarily block a restrictive anti-abortion law in Texas while the U.S. sues to invalidate the legislation. The U.S. Justice Department on Sept. 14 filed an emergency motion for a temporary restraining order or a preliminary injunction against the new statute, saying the ban on abortions after six weeks of pregnancy was already putting women at risk. Read more from Erik Larson.
Record High Number Enrolled in ACA Coverage: A record 12.2 million Americans are now enrolled in state and federal marketplace health coverage after the recent special enrollment period added more than 2.8 million people, the Biden White House said. Another 82 million were enrolled in Medicaid and the Children's Health Insurance Program as of April, federal data showed. "There has never been a more critical time to ensure quality health coverage for all Americans," HHS Secretary Xavier Becerra said, Tony Pugh reports.
FTC Warns Health App Makers on HIPAA Compliance: The Federal Trade Commission issued a policy statement clarifying mobile health app makers' obligations to notify consumers if their data is exposed or shared without their permission. FTC Chair Lina Khan said the health privacy policy issued yesterday is meant to fill a "gap" in regulations for health apps, which generally aren't covered under the Health Insurance Portability and Accountability Act, which addresses safeguards of health data. Andrea Vittorio has more.
The FTC also plans to investigate abuses of intellectual property rights that have caused anti-competitive conditions in areas such as pharmaceuticals. FTC members yesterday approved in a 3-2 vote eight new resolutions, including one focusing on intellectual property. The resolution allows FTC staff to "efficiently and expeditiously" investigate potentially abusive conduct in intellectual property over the next decade. Read more from Samantha Handler.
States With High Obesity Nearly Doubles: The number of U.S. states where over a third of adults are obese has nearly doubled since 2018, the Centers for Disease Control and Prevention said. That was the case for 16 states last year, up from nine states in 2018 and 12 in 2019, the CDC said in a report. The numbers are likely to spark concerns about the effects of the pandemic on obesity. Studies show weight gain has occurred among Americans amid the pandemic, and obese people are likelier to die of Covid-19, Emma Court reports.
More Headlines:
With assistance from Jeannie Baumann
To contact the reporter on this story: Brandon Lee in Washington at blee@bgov.com
To contact the editors responsible for this story: Zachary Sherwood at zsherwood@bgov.com; Giuseppe Macri at gmacri@bgov.com; Michaela Ross at mross@bgov.com
Stay informed with more news like this – from the largest team of reporters on Capitol Hill – subscribe to Bloomberg Government today. Learn more.