HEALTH CARE BRIEFING: Doctors Win, Pharma Loses in Deal
Bloomberg Government subscribers get the stories like this first. Act now and gain unlimited access to everything you need to know. Learn more.
Hospital and doctors' groups successfully lobbied to save Covid-19 relief money earmarked for their members, while pharmaceutical companies are expected to lose billions of dollars as part of a bipartisan infrastructure deal struck yesterday.
The $550 billion infrastructure package negotiated by a bipartisan group of senators would be paid in part by delaying a Trump-era regulation to end some pharmaceutical rebates and refunds from drugmakers for some kinds of physician-administered single-use medicines.
Not included in the deal: a clawback of $43.7 billion in unspent Covid-19 relief funds marked for health-care providers, which lawmakers had considered taking back. Sen. Ron Wyden (D-Ore.) confirmed the relief funds were untouched.
Leaning on cost offsets that affect the revenue of drugmakers, rather than those of health-care providers, highlights which sector has a bigger constituency in Congress.
"Cases are going up," Wyden said of Covid-19 prevalence in the U.S. "I want to make sure this doesn't impact our nursing homes and hospitals that are getting hit."
He added that he doesn't support how the Trump administration designed the rebate rule, and plans to put together a drug pricing bill later this year. Read more from Alex Ruoff.
Infrastructure Deal Advances in Senate: The Senate voting yesterday to begin work on the $550 billion infrastructure bill, as Democrats unite behind a plan to muscle through a broader budget resolution to carry the party's priorities.
The twinned proposals — which Senate Majority Leader Chuck Schumer (D-N.Y.) said he hopes to get through his chamber before the upcoming August recess — set the stage for some $4.1 trillion in new spending if they ultimately became law, amounting to the biggest overhaul of domestic programs in decades.
"My goal remains to pass both the bipartisan infrastructure bill and a budget resolution during this work period," Schumer said on the Senate floor. "We are going to get the job done and we are on track."
Biden, who has been heavily involved in Senate negotiations, had to give in order to get. He had originally pitched a $2.25 trillion infrastructure proposal, but had to scale that back in negotiations with Republicans. Democrats hope to recoup some elements that didn't make the Senate infrastructure deal in the Democrat-only legislation that will follow the budget resolution. The president is not assured victory on either front. But the legislative momentum yesterday is a notable success at a difficult time for the administration. Read more from Erik Wasson and Laura Litvan.
Read more: What's in the $550 Billion Bipartisan Infrastructure Deal
Happening on the Hill
Neurodegenerative Cures: The House Energy and Commerce Subcommittee on Health scheduled a hearing today on treatments for neurodegenerative diseases.
Senate Judiciary Markup: The Senate Judiciary Committee is scheduled to mark up several bills today, including:
Senators Possibly Exposed as Capitol Faces Spread: A Senate committee delayed a hearing yesterday after some of its members were potentially exposed to Covid-19, the latest signal of the virus' rapid resurgence at the Capitol. Sen. Gary Peters (D-Mich.), the chairman of the Homeland Security and Governmental Affairs Committee, said his panel delayed the hearing but declined to name which senators were possibly exposed.
In an evenly split Senate that has several major pieces of legislation on its summer agenda, the absence of just one senator can dramatically alter the prospects for legislation. The news came after Congress's chief physician reimposed a mask-wearing requirement for everyone, including lawmakers, while they are on the House floor or in House hallways and offices, and told senators they should also wear masks. Billy House and Alex Ruoff have more.
Facebook Pressed on Vaccine Misinformation Data: Sen. Bob Menendez (D-N.J.) demanded Facebook CEO Mark Zuckerberg immediately release company data about the spread of Covid-19 vaccine misinformation on its platform. Facebook isn't moving fast enough to remove misinformation, he said in the letter. He wants to know how many users viewed and were recommended misinformation in 2020 and 2021. Read more from Rebecca Kern.
Democrats Want DOD to Pay Less for Drugs: Sen. Elizabeth Warren (D-Mass.) and Rep. Lloyd Doggett (D-Texas) called on the defense secretary to use the Pentagon's authority to lower what it pays for drugs and vaccines that were developed with government money. Operation Warp Speed, supported by the Department of Defense, pushed billions of dollars to spur the creation of several Covid-19 vaccines. Read more from Alex Ruoff.
Senate Moves to Get Taiwan Back at WHO: Senators moved to pressure China to allow Taiwan to regain observer status at the World Health Organization, citing public health concerns during the global coronavirus pandemic. The Senate Foreign Relations Committee voted yesterday to require the secretary of state to provide more information on efforts to help Taiwan after it was locked out of global health talks during the pandemic. Nicole Sadek has more.
Puerto Rico Medicaid Money Sought: Members of Congress representing U.S. territories called for a long-term solution to their recurring Medicaid budget shortfalls, such as making Puerto Rico a state. A bipartisan House bill (H.R. 4406) the House Energy and Commerce Committee recently approved would extend Medicaid funding for U.S. territories for five years, averting a late-September budget cliff for those areas.
Representatives of U.S. territories said that extension is welcomed but worried no long-term solutions are being currently weighed. "This agreement would not solve the systemic underfunding of our Medicaid program," Del. Jenniffer González Colón (R), a non-voting member of the House, said. "Only equality will give us that."
Without action from Congress, Puerto Rico, American Samoa, Guam, the Northern Mariana Islands, and the U.S. Virgin Islands would hit a financial cliff at the end of September. The territories would then have to cut benefits, according to the Georgetown University Health Policy Institute, Alex Ruoff reports.
The Coronavirus Pandemic
New Vaccinations Rebound in U.S.: Some of the most vaccine-resistant areas of the country are now leading the country in the number of people getting a first dose of vaccine, a Bloomberg analysis shows, as surging infections and spiking hospitalizations push formerly reluctant Americans to protect themselves. The jump in vaccinations is concentrated in the Southern and Central U.S., with the highest rate of shots in places like Louisiana and Arkansas.
Those places, along with hot spots including California and Florida, are also where a new wave of Covid-19 cases is hitting hardest, driven by the highly contagious Delta strain, and where local health officials have been pulling out all the stops to try to catch up on vaccinations. Read more from Drew Armstrong.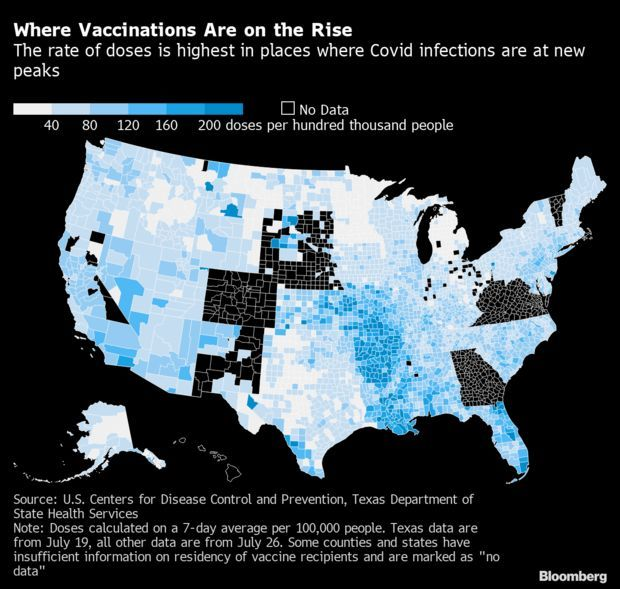 Biden to Mandate Shots or Tests for Federal Workers: Biden is expected to announce today that all federal workers will be required to prove that they've been vaccinated against Covid-19 or submit to frequent coronavirus testing, a person familiar said. Another person said that a federal vaccine mandate is under strong consideration. Read more from Jennifer Epstein and Jordan Fabian.
Related:
Religious Objections Stand in Path of Mandates: The Covid-19 crisis has largely affirmed the power government officials have to set restrictions to guard public health in nearly all respects except one: religion. The U.S. Supreme Court has knocked down state curbs on indoor worship services and blocked strict limits on the number of people who can attend them in rulings that could forever change the scope of public health authority. Read more from Lydia Wheeler.
Calls to Extend Eviction Ban Grow Amid Delta Surge: With the federal eviction moratorium set to expire on July 31, the White House is bracing for a possible flood of evictions. Millions of renters who still owe back rent could be subject to court action in as little as a week's time. While Congress has authorized nearly $47 billion in emergency aid, just $3 billion had actually reached renters by July because of friction in the program. Kriston Capps has more.
More Headlines:
What Else to Know Today
Doctors Blast Biogen's Alzheimer's Drug Approval: Researchers who advised the Food and Drug Administration on Biogen's Alzheimer's drug blasted the agency for approving it, calling the decision a "regulatory failure" that is "at odds with the evidence." The New England Journal of Medicine piece, signed by members of the advisory panel that opposed clearing Aduhelm, is the latest sign of persistent anger over the approval. Robert Langreth has more.
Judge to Consider Blocking J&J from Giving Talc Claims to Unit: A bankruptcy judge agreed to consider blocking Johnson & Johnson from putting billions of dollars in potential health claims into a unit that could file bankruptcy to resolve the liabilities. U.S. Bankruptcy Judge Laurie Silverstein ordered J&J to appear at a hearing this afternoon to respond to a request from people who say they were harmed by the company's baby powder. Those alleged victims claim J&J may use "corporate manipulations" to dump talc-related claims into a subsidiary in a "divisive merger" that would protect the consumer product giant's profits. Read more from Steven Church.
Seniors Ditching Health Plans, Put Price of Care on U.S.: More American seniors are abandoning private Medicare Advantage insurance coverage as they age, a trend that may push expensive end-of-life care back on to taxpayers, a Government Accountability Office report found. Patients covered by such plans in their final year of life switched to the public program more than twice as often as other Medicare Advantage enrollees, it says, John Tozzi reports.
More Headlines:
More Pharma News:
With assistance from Alex Ruoff, Rebecca Kern, and Jeannie Baumann
To contact the reporter on this story: Brandon Lee in Washington at blee@bgov.com
To contact the editors responsible for this story: Zachary Sherwood at zsherwood@bgov.com; Giuseppe Macri at gmacri@bgov.com; Michaela Ross at mross@bgov.com
Stay informed with more news like this – from the largest team of reporters on Capitol Hill – subscribe to Bloomberg Government today. Learn more.