HEALTH CARE BRIEFING: Divided Congress Cramps Health-Care Agenda
Bloomberg Government subscribers get the stories like this first. Act now and gain unlimited access to everything you need to know. Learn more.
Congress will likely send little major health-care legislation other than coronavirus relief to the president's desk next year if neither party has a significant majority, industry observers say.
Democrats lost several key races on Election Day that would have boosted their numbers in the Senate and are facing at best a slim majority. A House controlled by Democrats and a Senate controlled by Republicans found little common ground on health care this Congress, and congressional leaders haven't pushed to change that dynamic.
Lawmakers could strike deals in areas with bipartisan support, such as ending surprise medical bills and transparency in health care prices, Ben Isgur, leader of PricewaterhouseCoopers's Health Research Institute, said. There's little chance now that Congress will make any significant changes to the Affordable Care Act or other hot-button issues, he said.
"Over the last few years, with a divided Congress, you don't get a lot done through legislation," he said. "This is where you ask: what can the administration do?"
Whoever wins the presidency will likely have more say over the nation's health agenda than Congress, Isgur said.
For example, President Donald Trump could continue reshaping the ACA with changes that have expanded the availability of insurance plans that don't have to comply with the health law's coverage requirements and resulted in more Americans going uninsured. If Democrat Joe Biden becomes president, he could roll back those changes and beef up the government's role in getting more people onto the ACA's insurance marketplaces.
Lawmakers failed to clear legislation on surprise billing despite deals struck between key congressional committee leaders. Frank Pallone (D-N.J.), chairman of the House Energy and Commerce Committee, and Lamar Alexander (R-Tenn.), chairman of the Senate Health, Education, Labor and Pensions Committee, agreed in late 2019 on a surprise billing package but haven't been able to bring it for a vote in either chamber.
Similarly, Chuck Grassley (R-Iowa) and Ron Wyden (D-Ore.), the Republican and Democratic leaders of the Senate Finance Committee, agreed on a slate of drug pricing measures that never got enough support in the Senate to garner a floor vote. Read more from Alex Ruoff.
Democrats Lose Leverage on Stimulus: Congressional Democrats face a loss of leverage in negotiations over a new U.S. stimulus package after a disappointing showing on Election Day that left Senate Majority Leader Mitch McConnell (R-Ky.) potentially with a renewed mandate. The results so far, with Democrats losing seats in the House and facing long odds for taking the Senate, point to a smaller coronavirus relief bill than the roughly $2 trillion that had been discussed by the Trump administration and Democratic leaders before the Nov. 3 election. Read more from Erik Wasson.
Covid Hotspots Stayed with Trump: The latest results suggest the Covid-19 pandemic may not have dented Trump's support as much as expected—he actually improved his margins from four years ago in some of the counties hardest hit by the coronavirus. Voters in areas that had the highest Covid-19 deaths per capita were more likely to shift toward Trump—compared to his margins in the 2016 election—than counties with lower death rates, according to a Bloomberg News analysis of available election results. Read more from Andre Tartar, David Ingold, Jeremy C.F. Lin and Paul Murray.
More on the Election
Democrats' Senate Hopes Fade: The polls, the pandemic and the piles of campaign cash had Democrats tasting victory in the Senate heading into Tuesday's election. But that turned out to an illusion, and Republicans are on the verge of extending their six-year control in the chamber. That outcome would relegate Democrats' expansive agenda on issues including taxes, climate change and health care to the sidelines.
Democrats still have a narrow, longshot path to avoiding disaster. If they don't notch come-from-behind victories to claim GOP-held seats in North Carolina or Alaska, they'd have to flip both Georgia Senate seats in what would be an epic January runoff for control of the chamber. The tally now stands at 48 Republicans to 48 Democrats, with four races yet to be resolved. Read more from Steven T. Dennis, Laura Litvan and Mike Dorning.
Biden on the Brink: Joe Biden stood on the brink of claiming the presidency from Donald Trump today, with a handful of states expecting to complete their vote counts despite Republicans opening legal fights to stop counting in at least two states. Biden held 264 Electoral College votes out of the 270 needed to win the White House, according to the Associated Press. Trump has 214. Biden needs only to win an additional outstanding state, such as Nevada where he is leading, or Georgia, where his campaign believes absentee votes will push him over the top. Jordan Fabian and Tyler Pager have the latest.
As results continue to come, follow the outcomes here:
Meet the New Members: For a look at all the members of the 117th Congress, including the incoming freshman, see BGOV's lawmaker directory.
More Election Headlines:
What Else to Know Today
Caution Arises on Rapid Covid-19 Tests: One of the first states to receive rapid, low-cost Covid-19 tests from the federal government is cautioning against their use in asymptomatic people, a group that were hoped to benefit most from the technology. Antigen tests like the one from Abbott Laboratories that look for telltale viral proteins may miss some infections that can be spotted by costlier gold-standard assays, and can return false positives, Emma Court reports.
Denmark Warn of New Covid Strain: Denmark said it's found a new strain of Covid-19 that may hamper efforts to develop a vaccine, after an outbreak in the country's mink population triggered a mutation of the coronavirus. Prime Minister Mette Frederiksen told reporters that, due to developments in Denmark, there is now "a risk that the effect of a future vaccine will be weakened or, in a worst case scenario, be undermined," during a virtual briefing. Morten Buttler has more.
Pandemic Gathers Pace With Record New Infections: New coronavirus cases worldwide surged to a record, breaking through 570,000 in a single day, almost one year after the disease emerged.
In the U.S., Wisconsin reported record infections and said hospitals are approaching capacity. New Jersey cases reached a five-month high and Texas had the most since August. Denver is considering tightening existing restrictions. Read more from Bloomberg News.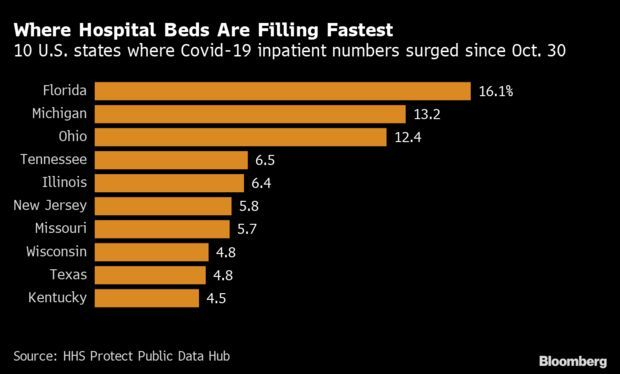 More on the Covid Pandemic:
Tennessee Fights Abortion Waiting Period Block: Tennessee is filing an appeal to the Sixth Circuit, seeking to uphold the constitutionality of a law that requires women to wait 48 hours after their initial doctor's appointment in order to have an abortion. The U.S. District Court for the Middle District of Tennessee struck down the law last month, holding that the burdens it imposes on women seeking to terminate pregnancies outweighs the law's claimed benefits. The state lacked support for its claim that the delay law protects its interest in preserving life, the court said. Read more from Mary Anne Pazanowski.
More in Industry & the Courts:
To contact the reporter on this story: Brandon Lee in Washington at blee@bgov.com
To contact the editors responsible for this story: Zachary Sherwood at zsherwood@bgov.com; Giuseppe Macri at gmacri@bgov.com; Michaela Ross at mross@bgov.com
Stay informed with more news like this – from the largest team of reporters on Capitol Hill – subscribe to Bloomberg Government today. Learn more.