HEALTH CARE BRIEFING: Democrats Ready ACA, Supreme Court Message
Bloomberg Government subscribers get the stories like this first. Act now and gain unlimited access to everything you need to know. Learn more.
Democratic leaders are putting Obamacare at the center of their biggest battles ahead of the election, arguing Republicans are trying to defeat the health law by confirming a new Supreme Court justice and re-electing Donald Trump.
Democrats are betting the Affordable Care Act is popular enough to turn public opinion against Republicans, who are on track to confirm a replacement for the late Ruth Bader Ginsburg this year, and to buttress their arguments that Trump has bungled the response to the spread of Covid-19.
House Democrats yesterday showcased how Obamacare has helped to extend insurance to more Americans this year. The party's allies are launching health-focused ad campaigns attacking Republicans who said they will vote on a new justice this year.
Rep. Mark Pocan (D-Wis.), co-chair of the House Progressive Caucus, said Americans "aren't going to forget" that at the high court, "major decisions have been decided by a single vote. That definitely gets the attention of many."
Republicans are arguing that Obamacare remains unaffordable for many and that Congress should be focused on issues like surprise medical billing where some members of both parties have found common ground. They are hoping they can paint Democrats as ineffective in governance and solving pocketbook issues, like the rising cost of health care.
"We've worked together on a lot of issues, and there's a lot we could do moving forward," Rep. Greg Walden (R-Ore.) said yesterday. "It's unfortunate." Read more from Alex Ruoff.
Trump Preps Health Orders as Opponents Demand Obamacare Plan: Trump plans a major health care speech Thursday in North Carolina, outlining how he'd tackle Americans' medical costs in a second term in an attempt to address a growing electoral vulnerability. Facing Democratic criticism that he's failed to offer a replacement for the Affordable Care Act that would still protect sick people from being denied health insurance, the president is expected to issue a lengthy executive order that will seek to reduce surprise medical bills, according to two people familiar with the matter. The new rules are intended to affect every hospital in the nation, a third person said.
The executive order is also expected to include language that purports to bolster protections for people with pre-existing conditions, according to the three people. And the order – and speech in Charlotte – will offer his broader vision for health care in a second term, two White House officials said, with an emphasis on improving consumer choice, affordability, and quality of care for vulnerable groups. And the president will seek to paint previous actions he's taken to reduce drug costs, expand tele-medicine, and assist vulnerable groups like those with kidney disease as indicative of his approach toward a more ambitious health care overhaul in a second term. Read more from Justin Sink, John Tozzi, Alexander Ruoff and Shira Stein.
Kavanaugh Emerges as Man-in-Middle on Abortion: Meanwhile, Ginsburg's death Friday means Justice Brett Kavanaugh, who remains anathema to many liberals, could soon be their best hope to save abortion rights and Obamacare. Kavanaugh, who prefers narrower rulings than some of his other conservative colleagues, would find himself at the court's ideological center if Trump gets a Ginsburg replacement.
When he voted in favor of a Louisiana abortion regulation this year, Kavanaugh wrote separately to underscore that he wasn't offering an ultimate ruling on the law. Doctors were challenging a requirement that they get privileges at a local hospital, and Kavanaugh said they hadn't yet proven they would be unable to obtain those rights. Read more from Greg Stohr.
Happening on the Hill
Vaccine to Be Widely Available by April, Redfield Says: Centers for Disease Control and Prevention Director Robert Redfield told lawmakers that he didn't mean to imply last week that it could take into the second half of next year for enough vaccines to be available to inoculate all Americans. At a Senate Health, Education, Labor, and Pensions Committee hearing yesterday, He said around 700 million doses should be available by April, echoing a timeline provided by HHS Deputy Chief of Staff Paul Mango last week.
The vaccine candidates furthest along in development will require a two-dose regimen. Redfield's comments last week, in an appearance before a different Senate panel, were "alluding to how long I thought it would take to get those doses into the American public," he said. It could take through July to disburse the vaccine to all Americans that want one, Redfield said. Trump said last week that he had called Redfield after his earlier testimony to tell him his comments weren't correct. Read more from Anna Edney.
Republicans Target Foreign Influence in Research: Top Republicans on the House Energy and Commerce Committee sent letters to National Institutes of Health Director Francis Collins and FBI Director Christopher Wray to "request information on how their respective agencies are working to remove foreign influence from biomedical research," according to a press release. Read their letters here.
The Coronavirus Pandemic
Trump Says He Can Veto FDA Vaccine Rules: Trump said the White House can veto final Food and Drug Administration rules for approving the emergency use of a coronavirus vaccine. "That has to be approved by the White House," Trump said. "We may or may not approve it." The FDA is expected to soon issue final guidelines for an emergency-use authorization for a vaccine. Regulators and drugmakers have in recent weeks vowed to adhere to science, not politics, in deciding when a vaccine is ready to reach the market.Read more from Riley Griffin and Jordan Fabian.
U.S. Cases Climbing as Autumn Arrives: The 200,000-plus death toll isn't the only concerning Covid-19 metric for the U.S. The seven-day rolling average of new cases has been on an upward trajectory, topping 40,000 again yesterday, the start of autumn in the Northern Hemisphere. "It's what many of us feared would happen" as people take more risks and schools reopen, Greg Poland, a professor of medicine at the Mayo Clinic, said, Vivek Shankar reports.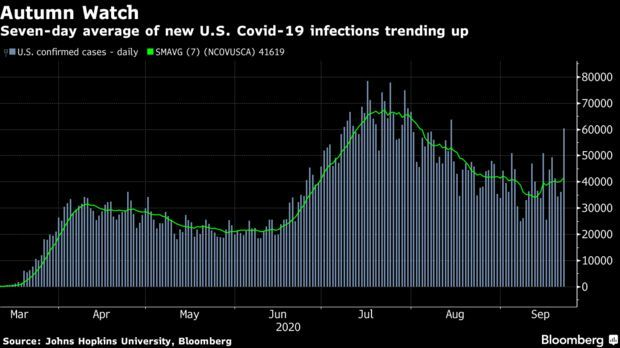 More Headlines:
What Else to Know
Medicaid Urged to Distribute More Naloxone: A federal watchdog agency is pressing states to increase the number of at-risk beneficiaries who get the anti-opioid drug naloxone through Medicaid in the wake of surging overdose deaths amid the pandemic. A report by the HHS inspector general found that Medicaid paid for just 5% of naloxone distributed in the U.S. in 2018, even though the health program covers nearly 40% of adults with opioid-use disorder. Read more from Christopher Brown.
More Headlines:
To contact the reporter on this story: Brandon Lee in Washington at blee@bgov.com
To contact the editors responsible for this story: Zachary Sherwood at zsherwood@bgov.com; Giuseppe Macri at gmacri@bgov.com; Michaela Ross at mross@bgov.com
Stay informed with more news like this – from the largest team of reporters on Capitol Hill – subscribe to Bloomberg Government today. Learn more.