HEALTH CARE BRIEFING: Democrats Push to Prevent Vaccine Patents
Bloomberg Government subscribers get the stories like this first. Act now and gain unlimited access to everything you need to know. Learn more.
The next coronavirus package must include "anti-profiteering" language that would deny any single drugmaker the exclusive right to produce a vaccine or treatment for Covid-19, four senior House Democrats said.
Democrats Jan Schakowsky (D-Ill.), Lloyd Doggett (D-Texas), Rosa DeLauro (D-Conn.), and Peter DeFazio (D-Ore.) said in a press conference yesterday that they're concerned drug companies may price out many Americans if they're given patent protections for a Covid-19 vaccine or therapeutic. "A drug that's unaffordable is 100% ineffective," Schakowsky said.
The four want to include in the next major coronavirus legislation provisions to deny any company exclusive rights to develop vaccines or medicines related to the coronavirus as well as bar "unreasonable pricing" for such pharmaceuticals and force drugmakers to publicly report related research funding. Schakowsky said she's working with House Democratic leaders on advancing their priorities.
Companies like Johnson & Johnson, Moderna, and Sanofi, along with universities around the globe, are working toward a vaccine to stop the spread of the illness. But public health experts have said one won't likely be ready for widespread use for another year to 18 months.
House Democrats didn't succeed in getting similar provisions included in earlier coronavirus packages, with pushback from lawmakers who fear it could reduce incentives for companies to develop a vaccine against the virus. Read more from Alex Ruoff.
Schumer, Mnuchin Talk in Sign of Stalemate Break: A standoff in Congress over funding for hospitals and state and local governments that has hindered prospects of a deal to inject new funding into an overwhelmed small business loan program may be near a possible resolution, after staff of Senate Minority Leader Chuck Schumer (D-N.Y.) and House Speaker Nancy Pelosi (D-Calif.) talked to Treasury Secretary Steven Mnuchin and officials yesterday. The parties agreed to continue talks today, according to a senior Democratic aide.
Schumer and Mnuchin also spoke earlier yesterday, amid mounting pressure on Capitol Hill to add more funds to the Paycheck Protection Program and before state governments facing a revenue crunch start slashing budgets.
"We see no reason we can't come to agreement," Schumer said yesterday on a call with reporters. Hospitals, states, and cities "need help immediately," or "we are going to have millions more out of work." Steven Dennis, Laura Davison, and Billy House have more.
Trump Readies Reopening Plans
President Donald Trump said he will unveil guidelines to relax stay-at-home rules today, citing signs that the coronavirus outbreak is plateauing in parts of the country. "The battle continues, but the data suggests that nationwide we have passed the peak on new cases," Trump said yesterday at a Rose Garden press conference, report Mario Parker and Michelle Fay Cortez.
Still, as top executives from some of America's biggest companies pressed Trump to move toward reopening the U.S. economy, they urged him to ensure that robust testing regimes are in place, according to people familiar with the discussions.
Trump held a marathon series of calls yesterday with hundreds of U.S. business leaders to discuss the coronavirus outbreak, after rejecting a separate plan to create a smaller economic task force. In a call with financial services, hospitality, food and beverage companies, and retailers, executives said the U.S. needs more virus testing capacity so people feel comfortable returning to work. Some said they're trying to secure their own capabilities, a person familiar with the matter said.
Trump told the executives the government might soon announce the availability of a saliva test for Covid-19, which the CEOs said could be a positive development to keep employees safe once they return to work, according to another person briefed on the call. The Food and Drug Administration has approved a saliva test developed by Rutgers University and others for emergency use. Read more from Jordan Fabian and Jennifer Jacobs.
Treatment, Research & Testing
Coronavirus Infections Reach 2 Million: The coronavirus has infected 2 million people around the world, a grim milestone exposing the challenges of trying to contain the pathogen. What started as a mysterious pneumonia-like disease in Wuhan late last year has morphed into a global health crisis that has threatened health systems and economies alike. It took about four months for the virus to infect 1 million people and only 12 days for that figure to double. The total case count yesterday is likely even higher than 2 million, with countries including the U.S. testing only a fraction of their populations. Read more.
N.Y., N.J. Trail in Federal Grants: New York, which has more cases of Covid-19 than any other state, has received the least amount of federal health grants per diagnosed person, according to a Bloomberg Law analysis of some $2.5 billion distributed by the Health and Human Services Department. The health grants, based on existing congressionally authorized programs, form just a fraction of the hundreds of billions that the federal government is distributing to combat the disease caused by the coronavirus.
Health grants to New York amount to $802 per person diagnosed with Covid-19. Alaska, by way of comparison, ranks second-to-last in total cases but is on tap to receive $111,380 per confirmed Covid-19 case, Bloomberg Law's analysis of HHS data shows. The analysis is based on data downloaded from the agency April 13. New Jersey, second only to New York in its coronavirus cases, is getting $898 per case, ranking it second-to-last, HHS data show.
The disparity can be attributed to rules and grant formulas designed for varying circumstances—treating lower-income populations with mental health concerns, for example. The situation is compounded by the pressure for regulators to get the money out fast. Read more from Shira Stein and Aaron Kessler.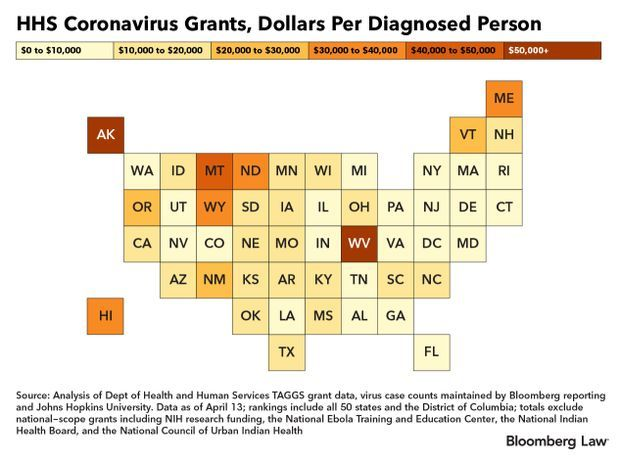 A second round of coronavirus relief for hospitals and health-care providers will go out by the end of this week, U.S. Centers for Medicare and Medicaid Services Administrator Seema Verma said to reporters yesterday. The second round will have a specific portion set aside for U.S. hot spots, Verma said. Stein has more.
Philips Probed on Foreign Ventilator Pricing: Meanwhile, Rep. Raja Krishnamoorthi (D-Ill.), chairman of the House Oversight and Reform Economic and Consumer Policy subcommittee, wrote a letter to Philips Electronics' North American subsidiary seeking information about its foreign sales of ventilators after the company had entered a contract with HHS the to provide ventilators to the U.S. stockpile.
In a letter, Krishnamoorthi said that Philips reportedly has been selling ventilators to foreign clients at far higher prices than what it could have received from HHS. Its foreign sales reportedly exceed "$17,000 per ventilator, more than five times the price it would have received" for ventilators under HHS's contract, Krishnamoorthi said. Read more from Teaganne Finn.
Stockpile Management Probed: Sens. Tammy Baldwin (D-Wis.) and Patty Murray (D-Wash.) asked Trump yesterday in a letter to "provide answers" on his "mismanagement of the Strategic National Stockpile, which has left states without the federal assistance and supplies they need to combat this virus and save lives," according to a statement. Their letter comes the same day Rep. DeLauro said she can't get answers from the White House on how it's using the $16 billion from stimulus package to buy supplies for the stockpile. "We are not getting an accounting" of that $16 billion, she said.
N95s Can Be Sterilized Three Times: Health workers can safely reuse their N95 masks up to three times if they decontaminate them with a hydrogen peroxide-based sterilizer, an NIH study found. The report released yesterday come as the FDA has granted emergency approval to STERIS, Battelle Memorial Institute and Advanced Sterilization Products to use their sterilization systems for N95 masks, which are typically designed for one-time use. All of the companies with an FDA authorization to sterilize N95 respirators use the vaporized hydrogen peroxide method, according to their authorization letters, which NIH scientists ultimately recommended. Read more from Jeannie Baumann.
Abbott Rolls Out Third Covid-19 Test: Abbott Laboratories rolled out its third test for Covid-19 even as the government plans to nearly double the amount it pays to manage the company's first kit to generate more usage. The Centers for Medicare and Medicaid Services will raise the reimbursement rate for tests run on Abbott's m2000 machines to $100 from $51 as an incentive to get hospitals and health centers to hire more technicians and increase their use. The m2000 machines, which can process up to 1 million tests per week, have been running at less than 10% of their capacity, White House coronavirus task force manager Deborah Birx said last week. Read more from Michelle Fay Cortez.
Antibody Testing for Essential Workers: New York State took its first step on the road back to normal life and began laying foundations for how the process will work, introducing an antibody test to identify medical personnel and other essential workers who've already been infected with the coronavirus and have some immunity, Gov. Andrew Cuomo (D) said. Christian Berthelsen and Keshia Clukey have more.
More Headlines:
What Else to Know Today
WHO Eyes Funding Gaps After Trump Halt: The World Health Organization is assessing any funding gaps and will try to fill them with other partners after the U.S. halted payments over Trump's complaint that the WHO is too deferential to China, Director-General Tedros Adhanom Ghebreyesus said at a press briefing. WHO member states will review the organization's performance, which is usual in such circumstances, Tedros added. "No doubt areas for improvement will be identified and there will be lessons for all of us to learn. But for now, our focus, my focus, is on stopping this virus and saving lives." Read more.
Arkansas Abortions Allowed to Continue: Arkansas may not enforce an order forcing abortion clinics to stop offering surgical abortions in most circumstances during the coronavirus outbreak, a federal court in the state decided. Little Rock Family Planning Services is likely to succeed on its claim that a cease-and-desist order issued by the state's health department that prohibits it from performing surgical abortions except when necessary to protect a patient's health or life, is unconstitutional, the U.S. District Court for the Eastern District of Arkansas said. Read more from Mary Anne Pazanowski.
More Headlines:
To contact the reporter on this story: Brandon Lee in Washington at blee@bgov.com
To contact the editors responsible for this story: Giuseppe Macri at gmacri@bgov.com; Zachary Sherwood at zsherwood@bgov.com; Michaela Ross at mross@bgov.com
Stay informed with more news like this – from the largest team of reporters on Capitol Hill – subscribe to Bloomberg Government today. Learn more.