HEALTH CARE BRIEFING: Democrats Prepare Sweeping Pharma Hearings
Bloomberg Government subscribers get the stories like this first. Act now and gain unlimited access to everything you need to know. Learn more.
The House Oversight and Reform Committee's 20-month-long investigation into how drugmakers set their prices concludes this week, with two days of hearings featuring executives from six major pharmaceutical companies.
The committee has been collecting documents and interviewing pharmaceutical company personnel since it first launched the probe in January 2019, committee aides said. The investigation sought information on how companies spend their profits on research for new drugs versus advertising or executive pay, as well as how they determine when to hike the price of their products.
The hearings, set for Wednesday and Thursday, will give members the chance to showcase their findings and make the case that the government needs to take a direct hand in controlling the price of medicines in the U.S.
"These companies sell medications that are critical to our health and well-being, but their skyrocketing prices are simply unsustainable," Rep. Carolyn Maloney (D-N.Y.), chairwoman of the Oversight Committee, said in a statement.
Lawmakers will hear from executives from Celgene, Bristol-Myers Squibb, Teva, Amgen, Mallinckrodt and Novartis. The prices of blockbuster drugs sold by these companies, such as the cancer medication Revlimid acquired by Bristol-Myers Squibb from Celgene, have steadily risen in recent years.
Leaving this Congress with just another scolding from lawmakers may be a win for the pharmaceutical industry. This year is set to end without the passage of any major drug pricing legislation, despite the cost of prescription medicine being a central campaign issue for both President Donald Trump and Democrats.
Trump has recently attempted to sidestep Congress on the issue, seeking to use his executive power to affect what Americans pay at the pharmacy, with dubious results. While House Democrats passed a bill that would direct the government to demand drugmakers lower the cost of some medicines, the administration and most Republicans opposed the measured out of concerns it could hurt U.S. drug companies.
In the Senate, Finance Chairman Chuck Grassley (R-Iowa) managed to navigate a bipartisan slate of drug pricing measures, including one to cap price increases, but his committee never gathered enough support for passage.
Groups that advocate for getting the federal government to more-aggressively limit drug prices say the coronavirus pandemic made it more difficult to pass a drug pricing bill, as drugmakers are now playing a key role in creating a vaccine to stop the spread of the virus. But they said the issue isn't going away anytime soon and the table is set for action next year.
Alex Lawson, executive director of the group Social Security Works, a left-leaning advocacy group that backed House Democrats' drug pricing legislation, said that "the chess pieces are still set up for something to happen."
Happening on the Hill
Azar Testifies on Covid: Health and Human Services Secretary Alex Azar is set to testify on the pandemic before the House Select Subcommittee on the Coronavirus Crisis today.
Vaccine Safety: The House Energy and Commerce Subcommittee on Oversight and Investigations plans a hearing Wednesday on producing a safe and effective Covid-19 vaccine.
Bills on House Floor: The House is scheduled to consider the following bills this week under suspension of the rules, which requires a two-thirds majoirty for passage:
The Coronavirus Pandemic
Early Treatments Could Be 'Bridge' to Vaccine: Monoclonal antibodies that stop Covid-19 from spreading in the body are among promising strategies for averting severe illness from the virus before vaccines arrive, according to the country's top infectious diseases director. Antibody-based medications, other blood products from recovered patients, and antivirals are being investigated for their potential as early treatments, Anthony Fauci said, Jason Gale reports.
FDA Demanded to Keep Away Politics: Prominent scientists took the unusual step of demanding the FDA commissioner publicly guarantee political pressure won't interfere with the approval process for a Covid vaccine. Their open letter, which was co-siged by two former top FDA scientists, calls on Commissioner Stephen Hahn to reaffirm that science—and not politics—will steer the FDA's regulatory decisions. Read more from Jeannie Baumann.
Novavax Kicks Off 10,000 Patient Vaccine Study: Novavax announced plans to start enrolling participants for a late-stage study of its experimental shot for the coronavirus in 10,000 patients in the U.K. The drugmaker joins the ranks of AstraZeneca, Pfizer, BioNTech and Moderna as its vaccine candidate enters the final stretch on the path toward regulatory approval. There are about 38 shots being tested in humans around the world and over 140 others in earlier stages of trials, World Health Organization estimates show. Cristin Flanagan has more.
More Headlines:
What Else to Know
Democrats Focus on Health Care in Opposing Trump Court Pick: Democrats zeroed in on the risk to Americans' health-care coverage in previewing the tactics they'll use to oppose the confirmation of Amy Coney Barrett, Trump's new Supreme Court pick. Regardless, Barrett's confirmation seems assured given the Republican majority in the Senate. She would replace the most progressive member of the Supreme Court, Justice Ruth Bader Ginsburg, who died on Sept. 18. Barrett's a conservative favorite who, at just 48 years old, could be expected to remain on the court for decades.
Democrats indicated a laser-like focus on the Affordable Care Act, or Obamacare, and portrayed the election as a way for their voters to help offset the court's expected further shift to the right under Trump. "The antidote to his — whatever he does is to vote, vote, vote," Speaker Nancy Pelosi (D-Calif.) said on CNN's "State of the Union" yesterday. "Vote for affordable care, vote for your preexisting condition, vote for your safety, and vote for your health."
The Supreme Court will hear a case Nov. 10 that could ultimately be the means to strike down the ACA, long a Republican goal. Read more from Michael Riley and Tony Czuczka.
Race, Gender Disparities in Home-Health Care: Home-based health care, the nation's fastest-growing industry and a key employer for Black women, remains one of America's poorest paying sectors. Demand for home-care has surged as the population ages, but rapid hiring in the industry went into reverse over the past six months, with Black and female unemployment skyrocketing above the overall rate. Roughly 110,000 home-care jobs vanished in March and April, and less than half have since returned. Read more from Katia Dmitrieva.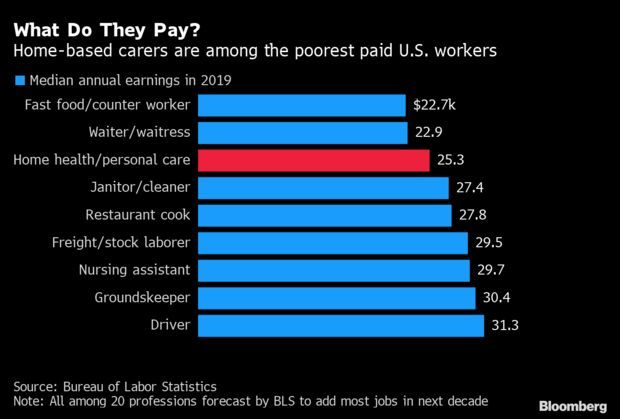 More Headlines:
To contact the reporters on this story: Alex Ruoff in Washington at aruoff@bgov.com; Brandon Lee in Washington at blee@bgov.com
To contact the editors responsible for this story: Zachary Sherwood at zsherwood@bgov.com; Giuseppe Macri at gmacri@bgov.com; Michaela Ross at mross@bgov.com
Stay informed with more news like this – from the largest team of reporters on Capitol Hill – subscribe to Bloomberg Government today. Learn more.