HEALTH CARE BRIEFING: Democrats Hold Tight to Health Priorities
Bloomberg Government subscribers get the stories like this first. Act now and gain unlimited access to everything you need to know. Learn more.
Democrats in Congress know one thing: Putting money into Obamacare pays dividends.
Democrats are pushing to make permanent bolstered premium assistance for people who get health insurance through the Affordable Care Act, touting it as a high-reward policy choice that's proved to be successful in getting Americans coverage.
Democrats are also trying to find a way to expand Medicaid in a dozen states. Thirty-eight states and the District of Columbia have opted to expand Medicaid eligibility to people earning up to 138% of the federal poverty level since the Affordable Care Act allowed them to do so in 2014, according to the Kaiser Family Foundation. If the 12 holdout states expanded Medicaid, an additional 4.3 million people would be eligible for coverage.
The reconciliation process could extend the Obamacare subsidies in the long run—and expand Medicaid's reach—if those provisions survive in a budget package Democrats are trying to pass through the reconciliation process, which is a faster way to move legislation through the Senate. Health care has been a flagship priority for Democrats, but lawmakers are going to have to pick and choose which proposals to fight for to keep President Joe Biden's budget package from ballooning.
Of the Democratic health-care proposals being considered, "I don't think there's any way, that with the level of revenues that have been available, that they're going to be able to do everything that is on their wish list," said G. William Hoagland, senior vice president of the Bipartisan Policy Center. Read more from Allie Reed, Alex Ruoff and Tony Pugh.
Deal-making continues on Biden's economic agenda before a planned vote today on an infrastructure package that underscores deep divisions among Democrats. Biden canceled a planned trip yesterday to Chicago to step up attempts to strike a compromise between warring progressive and moderate Democrats whose differences over the size and scope of a tax and spending bill worth as much as $3.5 trillion threaten to sink his entire domestic agenda. Speaker

Nancy Pelosi

(D-Calif.) and Senate Majority Leader

Chuck Schumer

(D-N.Y.) met with Biden at the White House yesterday afternoon. Pelosi afterward affirmed her plan to bring to the House floor today the $550 billion infrastructure bill that Biden negotiated earlier this year and which now has become a focal point of tension between the two wings of the party.
Separately, Biden dispatched three top aides—counselor Steve Ricchetti, legislative liaison Louisa Terrell and National Economic Council Director Brian Deese—to meet with Sen.

Kyrsten Sinema

(D-Ariz.), a moderate, whose vote is crucial for passage but has said the $3.5 trillion price tag is too high. Read more from Erik Wasson, Laura Litvan, and Billy House.
HHS Looks to Avoid Funding Lapse
The Senate will vote this morning—the eve of the new fiscal year—to extend government funding until Dec. 3, sending the package to the House and ultimately to Biden's desk for signature with just hours to spare. Stripped of Republican-opposed language suspending the debt ceiling, the stopgap funding bill is expected to pass both chambers with bipartisan support, Erik Wasson, Laura Litvan, and Billy House report.
Health agencies' efforts to combat the Covid-19 pandemic would likely continue even in the event of a government shutdown, but other key work—including enrolling patients in clinical trials, drug and disease surveillance, and rulemaking—could come to a halt. Read a rundown of HHS' contingency plans at different agencies, and what work will be set to stop from Shira Stein.
Related:
BGOV OnPoint: Agencies Dust Off Shutdown Plans as Deadline Nears
Happening on the Hill
School Reopenings: The Senate Health, Education, Labor and Pensions Committee holds a hearing on school reopenings amid the Covid-19 pandemic. Health and Human Services Secretary Xavier Becerra and Education Secretary Michael Cardona are set to testify.
Virus Relief: The House Transportation and Infrastructure Committee will convene on today to assess the federal government's Covid-19 relief and response efforts.
Lawmakers Tackle Antitrust, IP Barriers to Cheaper Drugs: House lawmakers advanced legislation to crack down on seemingly anticompetitive conduct aimed at lowering drug costs, the latest move geared toward making prescription drugs more affordable for Americans. The House Judiciary Committee yesterday approved three bills honing in on drugmaker activity involving patents and FDA communications—areas that have come under scrutiny as potential factors in undermining lower-cost generic drugs.
The bills, introduced by House Democrats, are related to measures advanced by the Senate Judiciary Committee over the summer. Those have yet to come to the floor for a vote. Among the measures is H.R. 2891, which would ease the way for the Federal Trade Commission to go after drugmakers for paying generic and biosimilar manufacturers to delay their cheaper products from going to market. Both the FTC and the Justice Department enforce the U.S.'s antitrust laws. Read more from Ian Lopez.
Bipartisan Lawmakers Push for Addiction Legislation: A bipartisan team of House lawmakers is pushing committee leaders to take up a slate of bills this Congress meant to deal with the overdose crisis, Alex Ruoff reports. The group of Reps. Annie Kuster (D-N.H.), Brian Fitzpatrick (R-Pa.), David Trone (D-Md.) and Jamie Herrera Beutler (R-Wash.) want the House to set aside at least a week of legislating to vote on up to 60 measures on the issue. Find the full slate of bills here.
GOP Demands OSHA Suspend Vaccination Mandate: House Republicans with oversight of OSHA want the agency to suspend its work writing an emergency temporary standard that would require Covid-19 vaccinations or weekly testing for 80 million workers. "This scheme not only passes the buck to workers and job creators, but it also creates massive uncertainty, costs, and liabilities for many employers," 23 Education and Labor Committee Republicans told Secretary of Labor Marty Walsh. Bruce Rolfsen has more.
Vaccine, Test Requirement for Domestic Travel: Sen. Dianne Feinstein (D-Calif.) introduced a bill yesterday that would require passengers on domestic flights to either be fully vaccinated, recently test negative or have fully recovered from Covid-19. Under the bill, the Health and Human Services secretary would work with the Federal Aviation Administration to develop national vaccination standards and procedures related to Covid-19 and domestic air travel, Lillianna Byington reports.
The Coronavirus Pandemic
Recovery Spreads as Prospects Improve in 47 States: The U.S. recovery from the latest Covid-19 wave is taking hold across the country, with cases dropping or poised to start falling in the vast majority of states. In 47 states plus D.C., a metric of average new infections from one infected person is below 1, signaling cases are poised to drop, a model from contributors from Yale School of Public Health, Harvard's T.H. Chan School of Public Health and Stanford Medicine shows. Read more from Jonathan Levin.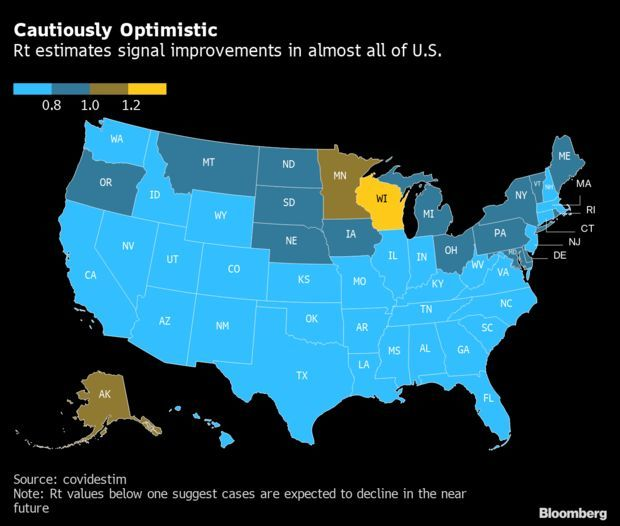 CDC Issues Advisory for Pregnant People to Get Vaccine: The U.S. Centers for Disease Control and Prevention urged pregnant people to get vaccinated against Covid-19. The CDC had already recommended vaccination, but today it issued an "urgent health advisory" and cited low levels of immunization among pregnant populations. Only 31% of pregnant people have been vaccinated, with lower rates among Hispanic and Black people. Pregnancy increases the risk of severe Covid-19. Read more from Bloomberg.
FCC Approves More Pandemic Telehealth Program Funds: The Federal Communications Commission has approved $41 million in a second round of funding for telehealth services during the pandemic. The COVID-19 Telehealth Program was established by the CARES Act (Public Law 116-136) to reimburse health-care workers providing telecommunications services, information services, and connected devices needed to enable telehealth during the Covid-19 public health crisis, Maria Curi reports.
YouTube Will Remove Vaccine Videos With Misinformation: YouTube will begin removing content questioning any approved medical vaccine, not just those for Covid-19, a departure from the video platform's historically hands-off approach. The division of Alphabet's Google announced yesterday it'll extend its policy against misinformation to cover all vaccines that health authorities consider effective. Read more from Mark Bergen and Naomi Nix.
More Headlines:
What Else to Know Today
Texas Says U.S. Lacks Power to Sue Over Abortion: Texas urged a federal judge to deny the Biden administration's request to temporarily block the state's new ban on most abortions, arguing the U.S. Justice Department isn't empowered to sue over such laws. Congress has never created a so-called cause of action allowing the U.S. "to enforce a constitutional right to abortion," said Attorney General Ken Paxton (R) in a filing yesterday in federal court in Austin. Read more from Erik Larson.
Three Texas residents and a man who already filed a lawsuit against a physician who allegedly violated the state's ban on abortions after six weeks will get a chance to argue why the law should remain in force. The residents won permission to present oral arguments tomorrow at a hearing on the U.S.'s motion for a preliminary injunction in a case contesting the validity of a law that gives private citizens the right to enforce it. Read more from Mary Anne Pazanowski.
Separately, Arizona abortion providers got a split decision in their fight to temporarily block enforcement of provisions that declare life begins at conception and ban the procedure based on a woman's reason for seeking one. The "reason" ban prohibits doctors from performing abortions when they know a woman wants one because her fetus has a genetic abnormality. Read more from Pazanowski.
Philip Morris IQOS Imports Barred in Reynolds Fight: Philip Morris International and partner Altria are barred from importing their IQOS heated-tobacco sticks into the U.S. after they lost a legal battle with British American Tobacco before a U.S. trade agency. Philip Morris and Altria infringe two patents owned by BAT's subsidiary Reynolds American, the U.S. International Trade Commission said in a notice posted on the agency's website.
Philip Morris became the pioneer in the alternatives market with its IQOS offering, leaving competitors scrambling to catch up. It's the only heat-not-burn product to be authorized for sale in the U.S., where it's marketed by Altria. The device also got the U.S. Food and Drug Administration's nod last year to be marketed as reducing consumers' exposure to harmful chemicals found in cigarettes, giving Philip Morris even more of an edge against rivals. Read more from Susan Decker.
More From the Courts:
FDA Updates Guidance on Data Backing Potential New Drug Uses: Researchers using electronic health records to show that an FDA-approved drug can have a different use than it was intended for should make sure their data is both relevant and complete, the agency advised in a draft guidance released yesterday. The draft guidance aims to help researchers use "real-world data" to show the Food and Drug Administration that a proposed use is safe and effective. Read more from Allie Reed.
States Aimed to Control Purdue Victim Payouts, Book Says: Attorneys general across the country worked to direct settlement money from the Purdue Pharma bankruptcy into state coffers rather than to victims of the opioid crisis, survivors of those who died from overdoses and babies born dependent on opioids, Ryan Hampton wrote in his non-fiction book "Unsettled," a copy of which Bloomberg Law obtained in advance of its Oct. 5 publication. Read more from Valerie Bauman.
More on Industry & Regulation:
With assistance from Alex Ruoff
To contact the reporter on this story: Michaela Ross in Washington at mross@bgov.com
To contact the editors responsible for this story: Zachary Sherwood at zsherwood@bgov.com; Giuseppe Macri at gmacri@bgov.com; Brandon Lee at blee@bgov.com
Stay informed with more news like this – from the largest team of reporters on Capitol Hill – subscribe to Bloomberg Government today. Learn more.