HEALTH CARE BRIEFING: Democrats Eye $2 Billion to Fight Variants
Bloomberg Government subscribers get the stories like this first. Act now and gain unlimited access to everything you need to know. Learn more.
A group of lawmakers are trying to inject the Centers for Disease Control and Prevention with new funds to launch a sweeping virus surveillance program to better track all new variants of Covid-19, an apparatus experts say the U.S. is sorely lacking.
Sen. Tammy Baldwin (D-Wis.) will introduce legislation later today to send the CDC $2 billion to conduct a nationwide sequence-based surveillance program and scale up efforts to track new Covid-19 variants. The money would go to support the CDC's Advanced Molecular Detection Initiative and boost collaboration among public health groups. Reps. Ami Bera (D-Calif.) and Scott Peters (D-Calif.) will introduce a House companion today.
"The U.S. should be a world leader in this effort, and that means we must invest more funding and resources to allow the CDC to ramp up national sequence-based surveillance and support our public health infrastructure," Baldwin said. Doing so will help the country "better identify, survey and understand these variants and better protect all Americans from this public health crisis," she said in a statement.
Right now the U.S. is "flying blind" in terms of tracking mutations of the virus, leaving public health officials unaware of how wide-spread they are in the country, said Luciana Borio, who served as an advisor to President Joe Biden during the transition, during a House Energy and Commerce Committee hearing yesterday. "That is inexcusable," she said.
The CDC has identified three variants of Covid-19 circulating in the U.S. that each appear to spread more easily and are expected to cause spikes in cases in the weeks to come, agency leaders have said. The CDC's own website admits researchers don't know how widely these variants have spread, Alex Ruoff reports.
Happening on the Hill
McConnell Unveils GOP Panel Rosters: Senate Minority Leader Mitch McConnell (R-Ky.) announced committee assignments for the 117th Congress. Read the full list here.
Senators Prepare Budget Amendments: The Senate is continuing consideration of the budget resolution with reconciliation instructions to expedite Biden's $1.9 trillion stimulus relief plan. Floor action on the resolution will include a "vote-a-rama," in which members can offer an unlimited number of amendments to the budget measure. And Republicans are hoping to use that process to push back on the effort.
Meanwhile, the House last night adopted by a 218-212 vote a fiscal 2021 budget resolution as Democrats move forward with plans to push through a stimulus bill. After both chambers act, House and Senate committees will have until Feb. 16 to craft the elements of a stimulus bill. That legislation will have to stay below $1.9 trillion and adhere to Senate rules against including non-fiscal provisions to remain immune from a Republican filibuster, Erik Wasson reports.
Democrats Unveil Contact Tracing Privacy Bill: House and Senate Democrats introduced a bill that seeks to ensure consumers' privacy is protected as part of Covid-19 contact tracing efforts. The bill would provide grant funds for states to develop digital contact tracing technologies that include privacy protections. Data collection would have to be voluntary and minimized, with information deleted within 30 days after the end of Covid-19 emergency declarations, Rebecca Kern reports.
Cardona Promises Steps to Reopen Schools: Education Secretary nominee Miguel Cardona, saying there's "no substitute" for learning in the classroom, promised to ensure schools can reopen safely in the midst of the Covid-19 pandemic—an issue that's divided teachers, school administrators, and parents. Lawmakers from both parties, who also questioned Cardona on civil rights, standardized tests, and student debt, signaled at Cardona's confirmation hearing yesterday that they would support his nomination. Andrew Kreighbaum has more.
Coronavirus-Related Fraud: The House Energy and Commerce Consumer Protection and Commerce Subcommittee will hold a hearing about fraud and scams that have propagated during the pandemic, according to a release.
More on the Pandemic
Hospitals Get Crucial Relief With Caseloads Declining: The reduction in U.S. Covid-19 cases is lessening the burden on hospitals, a key pressure point of the pandemic. Coronavirus cases accounted for a fifth or more of inpatients in just three states, Arizona, California and Georgia, as of Monday. That compares to 11 states on Jan. 15, when hospitalizations peaked, data from the Health and Human Services Department compiled by Bloomberg show. The proportion of cases among patients is a key barometer of health-care demand. Read more from Jason Gale.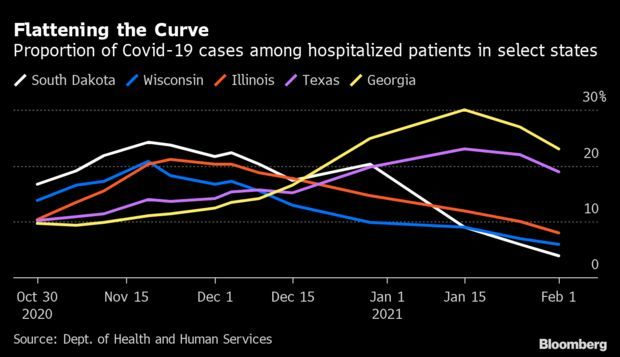 Vaccination Push Staggers as Snow Shuts Sites: A headlong push to vaccinate Americans was bogged down this week, as snow blanketed the Northeast and appointments for life-saving shots were missed or canceled. The U.S. administered 868,000 doses Monday, 33% less than the seven-day rolling average of 1.3 million that day. Northeast states showed stark declines in daily shot rates, according to Bloomberg's Vaccine Tracker. In Maryland for instance, daily doses were a whopping 65% less than the state's daily seven-day rolling average on Sunday and 58% less on Monday. Read more from Jill Shah.
Vaccine Doubts Threaten Rollout in Minority Areas: Vaccine hesitancy and misinformation campaigns by anti-vaccination movements threaten to throw off state and federal vaccine roll out plans and further entrench health-care disparities, leaders warn. Federal and local health leaders must fight off a concerted effort by anti-vaccination groups to spread misinformation with posts condemning coronavirus vaccines. Some are specifically targeting Black and brown communities hardest hit by the pandemic. Read more from Jeannie Baumann and Jacquie Lee.
More Headlines:
What Else to Know
Drug Pricing Advocates Say Report Debunks Industry Claims: A group that's been arguing for tighter controls on drug prices took aim at the pharmaceutical industry's key talking point in a report released today. The report from Patients for Affordable Drugs says that lawmakers can create pricing controls without harming innovation because drug firms have exaggerated the cost of new drugs by billions of dollars, Alex Ruoff reports. Read the study's findings here.
HHS Civil Rights Office Chief to Join Christian Think Tank: Roger Severino, who headed the Department of Health and Human Services' Office for Civil Rights through most of the Trump administration, will join the conservative think tank Ethics and Public Policy Center, the group announced yesterday. The EPPC labels itself as an institution dedicated to applying a "Judeo-Christian moral tradition to critical issues of public policy," Ruoff reports. Read the statement.
Kansas Plan to Fund Medicaid With Pot Faces Headwinds: The Kansas governor's plan to expand Medicaid and legalize medical marijuana in a single legislative package will be a long shot in the 2021 legislative session, key lawmakers say. Gov. Laura Kelly (D) says bringing the two proposals together makes sense because tax revenue from medical marijuana can fund the state's cost of expanding the health program, which will allow 165,000 more low-income Kansans to have insurance. Read more from Christopher Brown.
McKinsey Said to Agree to $550M Opioid-Claim Settlement: McKinsey has agreed to pay more than $550 million to settle claims by U.S. states that the consulting company helped fuel the opioid epidemic by providing marketing advice to drugmakers including Purdue Pharma and Johnson & Johnson, people familiar with the accord said. Read more from Jef Feeley.
More Headlines:
To contact the reporters on this story: Alex Ruoff in Washington at aruoff@bgov.com; Brandon Lee in Washington at blee@bgov.com
To contact the editors responsible for this story: Zachary Sherwood at zsherwood@bgov.com; Giuseppe Macri at gmacri@bgov.com; Michaela Ross at mross@bgov.com
Stay informed with more news like this – from the largest team of reporters on Capitol Hill – subscribe to Bloomberg Government today. Learn more.