HEALTH CARE BRIEFING: Covid Trackers Now Focusing Less on Deaths
Bloomberg Government subscribers get the stories like this first. Act now and gain unlimited access to everything you need to know. Learn more.
After more than a year of obsessively tracking Covid-19 case numbers, epidemiologists are starting to shift focus to other metrics as the next stage of the pandemic emerges. With rich countries vaccinating growing proportions of their vulnerable populations, the link between infection numbers and deaths appears to be diminishing.
Now, the focus is on learning to live with the virus—and on the data that matter most to avoid fresh lockdowns.
"It's possible we'll get to a stage of only monitoring hospitalizations," said Jennifer Nuzzo, an epidemiologist at Johns Hopkins University's Coronavirus Resource Center, which has built one of the most comprehensive platforms to track the virus and its impact.
Before vaccination campaigns took off in the U.K., U.S., and Europe, a spike in cases almost invariably translated into a surge in hospitalizations and deaths over the course of several weeks. The strain on health systems left leaders little choice but to place curbs on public life, disrupting economies, and forced people with other medical conditions to delay important procedures.
Now scientists and government officials are keen to see whether the widening scope of vaccinations will finally break that cycle. Events in Great Britain are providing the most compelling test case to date. About 46% of the U.K. population is fully vaccinated, helping reduce deaths to the lowest level since last summer. Yet cases of the "Delta" variant doubled in the past week, Public Health England said Friday. Hospitalizations also ticked higher, though most of the patients haven't been fully vaccinated. Read more from Todd Gillespie.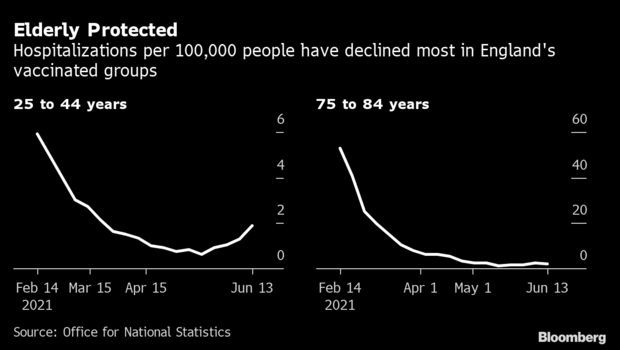 More on the Coronavirus
Biden Marks 300 Million Shots: President Joe Biden called on unvaccinated Americans to get inoculated from Covid-19, warning that a highly transmissible variant of the coronavirus could cause more deaths. "Even while we are making incredible progress, it remains a serious and deadly threat," Biden said Friday during a White House event to celebrate 300 million doses of vaccine administered during the first 150 days of his administration.
Covid-19 cases have plunged in the country in step with vaccinations, prompting many people to resume pre-pandemic activities like indoor dining, sporting events, concerts and travel in recent weeks. But a large swath of Americans—particularly in the politically conservative South—have declined shots in spite of warnings from health authorities that the virus remains a threat. Read more from Jordan Fabian.
Biden to Travel to North Carolina in Bid to Boost Vaccinations: Biden is traveling to North Carolina on Thursday to encourage more Americans to get vaccinated against the virus that causes Covid-19. The president's trip to Raleigh comes 10 days before July 4, Biden's stated target date to see at least 70% of adult Americans at least partially vaccinated — a goal that risks slipping out of reach. So far, slightly more than 65% of adults in the U.S. have had at least one dose, according to the Centers for Disease Control and Prevention, despite a vaccine supply that has become plentiful across the nation. Read more from Laura Litvan.
Anti-Vaccine Nursing Home Staffers Imperil Goal: An industry effort to vaccinate 75% of nursing home staff against Covid-19 by July 1 appears to be faltering as continued employee hesitancy, declining infection and death rates, and general pandemic fatigue are making it tough to sustain the urgency necessary to meet the lofty goal. Just 1,133 homes of 15,000 Medicaid- and Medicare-certified facilities had reached the 75% staff vaccination threshold by June, new federal data showed. Tony Pugh has more.
Florida Wins Reprieve From CDC Cruise Limits: Florida won a temporary freeze on a set of CDC coronavirus rules for the cruise industry, potentially easing the companies' path back to the sea. The preliminary injunction against the recent caps from the Centers for Disease Control and Prevention bars the agency from enforcing its "conditional sailing order" at ports in Florida. U.S. District Judge Steven Merryday gave the CDC until July 2 to propose a narrower order. Jonathan Levin has more.
More U.S. Covid-19 Headlines:
China Risks Isolation in Virus Origin Hunt, Sullivan Says: China will risk international isolation if it fails to permit a "real" investigation on its territory into the origins of the virus that caused the pandemic, National Security Adviser Jake Sullivan said. Sullivan's comments follow last week's call by Group of Seven leaders including Biden for another probe into how the virus originated. Read more from Yueqi Yang and Claire Ballentine.
Need for Booster Dose Unknown, WHO Official Says: As some governments and pharmaceutical officials prepare for Covid-19 booster shots targeting more-infectious virus variants, health authorities say it's too early to tell if they will be required. "We do not have the information that's necessary to make the recommendation on whether or not a booster will be needed," Soumya Swaminathan, the World Health Organization's chief scientist, said. Read more from Jason Gale.
More International Headlines:
Happening on the Hill
Hearings on the Hill:
Health Bills on Tap: The House is scheduled as early as tomorrow to consider three health-care measures, the first two under suspension of the rules—which bars amendments, limits debate, and requires a two-thirds majority for passage—and the third under terms set by the House Rules Committee:
What Else to Know Today
Pfizer CEO Urges Biden to Form Coalition to Lower Drug Costs: Pfizer CEO Albert Bourla on Friday urged Biden to form a bipartisan coalition in Washington to address high drug costs. There's a great opportunity for Biden to take the initiative to "reduce significantly the cost of medicines for the patients, which is the thing that is now problematic," Bourla said in an interview with David Westin on Bloomberg Television's "Balance of Power" show. In the interview, Bourla didn't discuss specifics on what reforms he might want to see from the government. In an earnings call in May, though, he said the three key areas the company would like to see from Congress and the Biden administration are rebate reform, capping beneficiary cost-sharing in Medicare Part D and incentivizing the uptake of biosimilars. Read more from Elaine Chen.
HHS Veteran Who Angered Trump Tapped for IG: Biden will nominate Christi Grimm to be inspector general for the Department of Health and Human Services, the White House announced Friday. Grimm received national attention in April 2020 when President Donald Trump criticized a report put out by her office that found hospitals were suffering widespread scarcity of Covid-19 test kits and personal protective equipment—shortages that would persist for months. Read more from Shira Stein.
Ruling Paves Way for Fixing Flaws in Biosimilar System: The Supreme Court's decision to uphold Obamacare preserves a pathway for low-cost versions of biologic drugs to hit the market while also stirring a fresh debate over how to fix the system's shortcomings. The Biologics Price Competition and Innovation Act is tucked into Obamacare and lets drugmakers get around hurdles like certain extensive clinical trials to sell biosimilars—versions of biologics that mimic the originals. Read more from Ian Lopez.
HHS Veteran Who Irked Trump Tapped for IG Post: Biden will nominate Christi Grimm to be inspector general for the Department of Health and Human Services, the White House announced on Friday. Grimm received national attention in April 2020 when President Donald Trump criticized a report by her office that found hospitals were suffering widespread scarcity of Covid-19 test kits and personal protective equipment—shortages that would persist for months. Read more from Shira Stein.
Biden HHS Pulls Discount Policy: HHS is withdrawing a proclamation calling on drugmakers to offer hotly contested price discounts for low-income health-care providers to fend off litigation, but the agency won't back down from fighting individual firms. The HHS in a 2020 advisory opinion called on drugmakers participating in the federal 340B program to deliver drugs bought by health centers to their contract pharmacies has been withdrawn to avoid "unnecessary litigation," HHS said, Ian Lopez reports.
More Headlines:
To contact the reporter on this story: Brandon Lee in Washington at blee@bgov.com
To contact the editors responsible for this story: Zachary Sherwood at zsherwood@bgov.com; Giuseppe Macri at gmacri@bgov.com; Michaela Ross at mross@bgov.com
Stay informed with more news like this – from the largest team of reporters on Capitol Hill – subscribe to Bloomberg Government today. Learn more.