HEALTH CARE BRIEFING: Covid Services for Uninsured at Risk
Bloomberg Government subscribers get the stories like this first. Act now and gain unlimited access to everything you need to know. Learn more.
With a stalemate on Capitol Hill over approving more funds to deal with the pandemic, health centers may have to scale back Covid testing and vaccination programs if the virus again surges in their communities. The federal program created to reimburse these health centers for serving the uninsured is set to stop accepting claims Wednesday.
The standoff in Washington over more pandemic funds could impact providers and patients in the months ahead, as public health experts warn that a new Covid variant may increase transmission of the virus.
Health centers and clinics across the country that serve a population that's largely without insurance coverage say the end of the federal program paying for Covid testing, vaccination, and treatment for the uninsured will force them to make hard choices.
The White House announced last week it has to shut down the program that pays health-care providers for Covid tests, treatment, and vaccines for the uninsured due to a lack of funding.
Lawmakers were set to give $15.6 billion in Covid aid to the Biden administration as part of the omnibus government spending package (Public Law 117-103), but the funds were jettisoned after House Democrats balked at offsetting that money with state and local funds. However, even that Covid aid proposal didn't include funding for the uninsured program.
Republicans in the Senate have questioned the need for additional funds to keep Covid response programs running. Sen. Richard Shelby (R-Ala.), the ranking Republican on the Appropriations Committee, told reporters last week that based on information given to him by the White House, there's billions of dollars in unallocated Covid funds going untouched.
An official with the Health Resources and Services Administration said the $180 billion pool of money earmarked to aid health-care providers has all been allocated. But some of that money hasn't yet gone to the hospitals or providers it was promised to. The federal agency is still processing and paying claims from the uninsured fund, and to providers who applied for relief funds, said the official, who spoke on condition of anonymity to discuss budgetary matters.
Budget documents sent to lawmakers and obtained by Bloomberg Government show there was $3.3 billion in relief funds and $2.6 billion for testing the uninsured allocated but not yet obligated as of Feb. 15, meaning the money was promised but not yet paid out. Read more from Alex Ruoff.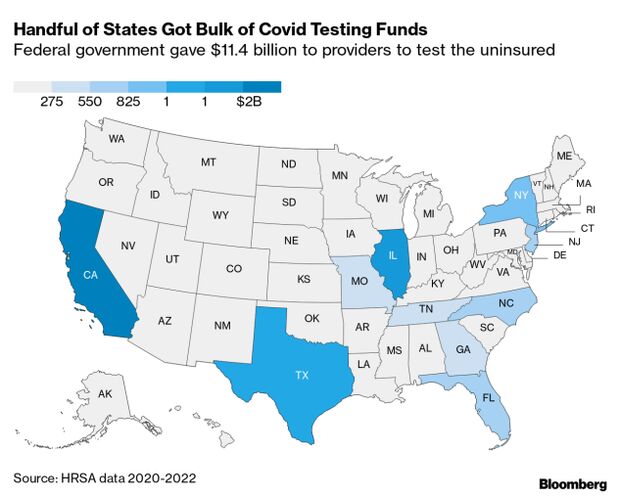 Happening on the Hill
Mental Health Improvements Eyed at HELP Hearing: A Senate health panel today will hear from four key federal officials on how to improve federal mental health and substance use disorder programs, Alex Ruoff reports.
Sen. Patty Murray (D-Wash.), chair of the Senate Health, Education, Labor and Pensions Committee, will emphasize she wants to put together a bipartisan package of reforms that support suicide screening and prevention, aid schools in addressing children's mental health needs, cut down overdose deaths and expand treatment options, according to her opening remarks shared with Bloomberg Government.
Murray and Sen. Richard Burr (R-N.C.), the top Republican on the panel, aim to have legislation introduced by this summer.
"I know members on both sides of the aisle share these goals and have ideas for how to make them a reality, and I look forward to continuing our work on this," Murray will say at the hearing.
Kids' Cancer Research Bill Draws Wariness From Drug Industry: Drugmakers are pushing back on pediatric cancer legislation that patient advocates argue is critical to developing more targeted and effective treatment options for children.
The bill (H.R. 6972), dubbed the Give Kids a Chance Act, would authorize the Food and Drug Administration to require companies investigating a drug combination for an adult cancer to also launch a pediatric study plan if there are molecular similarities. The measure has bipartisan support in the House and is being pursued as a possible policy rider to must-pass FDA user fee legislation. Read more from Celine Castronuovo.
Bipartisan Duo Tapped to Build Support for Insulin Cap Plan: Senate Democratic leaders are turning to a bipartisan duo to garner Republican support for legislation to cap what Americans pay for insulin. Sens. Susan Collins (R-Maine) and Jeanne Shaheen (D-N.H.) are working to craft legislation in collaboration with Sen. Raphael Warnock (D-Ga.), who introduced a bill (S. 3700) that would cap what Americans with insurance pay for insulin at $35 per month, Senate Majority Leader Chuck Schumer (D-N.Y.) told reporters Tuesday.
Schumer said he wants to put the measure up for a vote on the Senate floor after the two-week recess in April. Read more from Alex Ruoff.
Senate Democrats Renew Reconciliation Case: Senate panels plan hearings this week on policies Democrats sought to advance in the stalled budget reconciliation package. Wednesday features an Aging Committee session on home-based care.
More Headlines:
The Coronavirus Pandemic
Omicron Subvariant Takes Hold in U.S. as New York Cases Tick Up: More than a third of last week's U.S. Covid-19 cases were caused by the omicron BA.2 subvariant, a notable increase from a week earlier when the strain was estimated to account for just under one in four cases, according to the U.S. Centers for Disease Control and Prevention. The fast-growing lineage of the coronavirus is most common in New England and in the New York region, where it accounted for more than half of all new infections, according to agency projections. Read more from Madison Muller.
Permanent Health-Care Covid Standard Hearing Date Set by OSHA: A proposed permanent federal regulation protecting health-care workers from Covid-19 will be the focus of an online public hearing April 27, the Occupational Safety and Health Administration announced Tuesday in a Federal Register notice. The agency also will accept written comments through April 22, the notice said. The measure would replace the health-care emergency temporary standard that OSHA announced on Dec. 27 that it was no longer enforcing. The agency stopped new enforcement after failing to meet a Dec. 21 deadline to enact a permanent regulation. Read more from Bruce Rolfsen.
More Headlines:
What Else to Know
Newsom Signs California Ban on Out-of-Pocket Costs for Abortions: California outlawed insurance deductibles and co-pays for abortions under legislation Gov. Gavin Newsom (D) signed late Tuesday. The bill (S.B. 245) prohibits health-care service plans and insurance policies from imposing insurance co-pays or deductibles for abortions. The law takes effect Jan. 1, 2023. Read more from Joyce Cutler.
United Behavioral Wins Appeal Over Mental Health Coverage: United Behavioral Health's appeal of decisions forcing it to reprocess thousands of claims for mental health coverage succeeded Tuesday, when the Ninth Circuit ruled that the UnitedHealth subsidiary adequately followed plan terms when it denied the challenged claims. United's denials were based on an interpretation of plan terms that was "not unreasonable," the U.S. Court of Appeals for the Ninth Circuit said. Read more from Jacklyn Wille.
Abbott Infant Formula Plant Found Unsanitary Before Recall: Food and Drug Administration inspectors found unsanitary conditions at an Abbott Laboratories plant in Michigan that makes infant formula in September, five months before the company conducted a recall of products associated with the deaths of two babies. The FDA's inspection started on Sept. 20, according to a report posted on the regulator's website on Tuesday. Read more from Anna Edney.
Antitrust Headlines:
More Headlines:
With assistance from Alex Ruoff
To contact the reporter on this story: Michaela Ross in Washington at mross@bgov.com
To contact the editor responsible for this story: Giuseppe Macri at gmacri@bgov.com
Stay informed with more news like this – from the largest team of reporters on Capitol Hill – subscribe to Bloomberg Government today. Learn more.