HEALTH CARE BRIEFING: Covid Response on Fumes After Omnibus Snub
Bloomberg Government subscribers get the stories like this first. Act now and gain unlimited access to everything you need to know. Learn more.
A measure to fund the government beyond this week passed the House last night, but excluded major funding for Covid-19 response programs, setting the stage for lawmakers to debate another pandemic aid package.
Democratic leaders jettisoned the entire Covid supplemental response from a bill (H.R. 2471) to fund the U.S. government through September. Democrats reconstructed the $15.6 billion for urgent pandemic testing and treatment as a standalone bill they will vote on next week. The legislation, now stripped of the state and local offsets demanded by Republicans, has uncertain prospects in the evenly divided Senate, Erik Wasson reports.
"It is heartbreaking to remove the COVID funding," Speaker Nancy Pelosi (D-Calif.) said in a letter to colleagues before the House vote, which passed the broader spending package. "We must continue to fight for urgently needed COVID assistance, but unfortunately that will not be included in this bill."
White House Spokeswoman Jen Psaki warned last week that the government's current supply of monoclonal antibodies will dry up in May, and the supply of oral antivirals will be depleted by September. She also noted orders for such drugs need to be made months before they're needed.
BGOV Bill Summary: H.R. 7007, Covid-19 Supplemental Relief
The administration has also warned that a program that pays providers for giving treatment or testing the uninsured for Covid would have to stop later this month without more funds. Rep. Peter Aguilar (D-Calif.) said that the administration told Democrats that they need the funding by May. "We have a little bit of time to come back and get this done," he said.
The lack of funds for the uninsured may dissuade those without coverage from getting care and put more costs onto hospitals, said Chip Kahn, CEO of the Federation of American Hospitals, which represents for-profit hospitals. The spending measure had little help for hospitals and doctors, who asked lawmakers to further delay upcoming scheduled cuts to Medicare payments, he said. "Congress is acting like it's over—and we still have sick patients in our hospitals," he said. Read more from Alex Ruoff.
BGOV Bill Summary: Fiscal 2022 Spending Deal
Also Happening on the Hill
Pandemic Readiness Bill Snubs Biomedical Incubator: Relatedly, key health committee senators said they'll continue to pursue ways of standing up Biden's new biomedical incubator, even as they left the proposal out of their sweeping pandemic preparedness bill. Health, Education, Labor and Pensions Chairwoman Patty Murray (D-Wash.) and top Republican Richard Burr (R-N.C.) introduced the PREVENT Pandemics Act, which aims to use the lessons learned from the response to Covid-19 to bolster public health infrastructure and better arm the nation for disease outbreaks.
The PREVENT Pandemics bill builds on a draft version unveiled in late January, and culminates almost a year of work to develop a comprehensive pandemic preparedness measure. Murray and Burr said at the time they were considering including language to authorize ARPA-H. The bill doesn't include authorizing language. But Murray and Burr said Wednesday they are "also introducing a proposal soon to move with the legislation that seeks to strengthen and support cutting-edge advanced biomedical research," like ARPA-H.
The bill also includes several new provisions that weren't part of the draft version Read more from Jeannie Baumann.
FDA Sends Congress Fee Plan for Devices: The FDA yesterday sent Congress its five-year goals for the medical device industry, nearly two months after the deadline lapsed, a source familiar with the exchange said. The letter isn't public. Transmission of the commitment letter marks the latest step in the congressional review process for the next round of user fee agreements between the Food and Drug Administration and the drug and device industries. Those deals are seen as must-pass legislation and govern the fees that make up nearly half of the FDA's budget. Read more from Celine Castronuovo and Jeannie Baumann.
More Headlines:
Heartland Hospitals Face Wipeout With 800 at Risk
Pummeled by the coronavirus, at least 40% of rural U.S. hospitals are in danger of shutting down and leaving millions of people in smaller and less affluent communities without a nearby emergency and critical care facility. That's the conclusion of the Center for Healthcare Quality and Payment Reform, whose recent analysis sees 500 hospitals at an immediate risk for closing within two years and more than 300 others at high risk within five years. Its assessment found the problems spread across the U.S., and those threats will persist even if Covid subsides due to rising costs.
All told, there are around 38 million Americans in the at-risk areas; they'd have to drive at least 20 minutes farther if their local hospitals close, with half adding at least 30 minutes, said Harold Miller, the center's CEO and author of the report. Many of the facilities are in sparsely populated but critical farming, mining, or ranching communities. "The myth is that these are hospitals that should no longer exist in communities that should no longer exist," Miller said. Read more from Lauren Coleman-Lochner.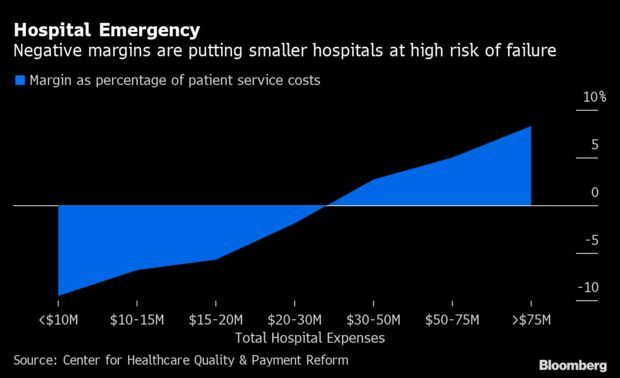 What Else to Know Today
Judge to Weigh Blocking Texas Probes of Trans Kids' Care: A Texas judge could decide as early as Friday whether to block the state from investigating parents of transgender kids for alleged child abuse. Civil rights lawyers have asked for a statewide halt, but Texas claims that the court doesn't have the power to stop its child welfare agency from investigating parents who seek out gender-affirming care for children, which Attorney General Ken Paxton (R) said may constitute child abuse. Families are already being contacted by the Texas Department of Family and Protective Services. Read more from Lydia Wheeler.
HHS Announces $35 Million for Mental Health: The Department of Health and Human Services has allocated nearly $35 million in funding opportunities for community mental health services and suicide prevention programs for children and young adults, it said in a release. The funding has been made available through the Substance Abuse and Mental Health Services Administration and the Office of Minority Health, and the American Rescue Plan provided $9.2 million, according to the department. The money will flow through seven grant programs. Read more from Bloomberg Law.
OSHA Health-Care Covid Infection Rule Under White House Review: OSHA's proposed permanent rule to protect health-care workers from Covid-19 is under review at the White House's Office of Information and Regulatory Affairs. The permanent regulation would replace an emergency temporary standard that OSHA announced on Dec. 27 it was no longer enforcing because the agency missed a Dec. 21 deadline to issue the permanent version of the rule. The Occupational Safety and Health Administration is also preparing a separate infectious disease standard for heath care. Read more from Bruce Rolfsen.
Drugmakers Get Tips on Spotting Counterfeits: The FDA plans to request that supply chain entities in possession of a suspect drug product help verify whether it's counterfeit or potentially tainted, the agency said in draft guidance. The agency published revisions to 2018 guidelines on verification systems that drugmakers, wholesale distributors, dispensers, and repackagers must have in place for identifying and isolating illegitimate drugs. The recommendations are meant to help the FDA better trace and validate prescription drugs that may be fake, stolen, or altered. Read more from Celine Castronuovo.
Abortion Provider's Right to Sue Needs Redo, S.C. Says: South Carolina asked the full Fourth Circuit to rehear arguments supporting its bid to stop an abortion provider from suing it over a law that bars most abortions at around six weeks. Planned Parenthood South Atlantic may directly sue the state to invalidate a series of South Carolina provisions regulating abortions, a three-judge panel said in February. That decision was wrong, the state told the Fourth Circuit Tuesday in a petition for en banc review. Read more from Mary Anne Pazanowski.
WHO Says Russia Hit Health Facilities in Ukraine: Attacks on health-care facilities in Ukraine have killed at least 10 people and injured 16, the head of the World Health Organization said. The WHO has verified 18 strikes on health services, such as buildings, health workers and ambulances, Director General Tedros Adhanom Ghebreyesus said at a briefing in Geneva. Such attacks could be considered war crimes and the WHO is mandated with monitoring potential violations. The WHO has, so far, delivered 81 tons of supplies to Ukraine. Hypothermia is one of the main challenges so far, it said. Read more.
More Headlines:
To contact the reporter on this story: Brandon Lee in Washington at blee@bgov.com
To contact the editors responsible for this story: Giuseppe Macri at gmacri@bgov.com; Michaela Ross at mross@bgov.com
Stay informed with more news like this – from the largest team of reporters on Capitol Hill – subscribe to Bloomberg Government today. Learn more.