HEALTH CARE BRIEFING: Covid-19 Vaccinations to Begin Across U.S.
Bloomberg Government subscribers get the stories like this first. Act now and gain unlimited access to everything you need to know. Learn more.
The first coronavirus vaccine arrived in record time, an essential step toward delivering an end to the pandemic. Now comes another challenging phase of the fight: producing enough shots to immunize the majority of the U.S., and getting them into everyone's arms by next summer.
If successful, the plan could help end a pandemic that's killed almost 300,000 Americans in the 47 weeks since the first case was recorded. FedEx Corp. and United Parcel Service Inc. picked up the first shipment of the Pfizer Inc.–BioNTech SE vaccines from a Kalamazoo, Michigan, factory on yesterday morning.
Army Gen. Gustave Perna, who serves as the chief operating officer of Operation Warp Speed, said on Saturday the first doses of the Pfizer's and BioNTech's vaccine will be delivered today. The initial delivery will be completed in all 50 states by Wednesday, he said.
It's an enormous and historic undertaking that's already been been marked by confusion and uncertainty. As late as Friday, some states were saying they weren't sure how many doses they'll get. There have also been questions about whether the U.S. has ordered enough shots to meet its ambitious distribution schedule moving into 2021.
"We're not taking a victory lap," Perna said on Saturday. "We know that the road ahead of us will be tough. We know that situations will occur, but we will figure it out together, collectively, a whole-of-America approach to solve the problems."
Perna, donning battle fatigues and speaking without any preamble from political appointees, compared the moment to D-Day, the Allied invasion of France that marked the turning point in Europe in World War II. "D-Day was the beginning of the end. That's where we are today."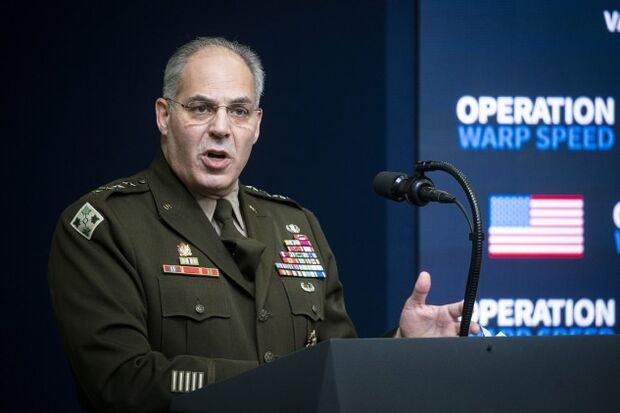 The Pfizer shot, and a similar vaccine from Moderna that is only a week away from a decision on emergency authorization, will be in short supply initially. Just 2.9 million doses of the Pfizer vaccine will be delivered in the first shipment, a fraction of what's needed to vaccinate health-care workers and nursing home residents, who are atop the priority list. Read more from Robert Langreth, John Tozzi and Angelica LaVito.
Pfizer gained emergency U.S. authorization for its Covid-19 vaccine on Friday, completing an unprecedented scientific sprint. A panel of advisers to the Centers for Disease Control and Prevention on Saturday voted to recommend that people over 16 receive it. Still, the swift authorization also caps a fraught political struggle that has seen the president push federal regulators to swiftly clear the vaccine, potentially undermining public trust. In the final hours of the review Friday, White House Chief of Staff Mark Meadows suggested to FDA Commissioner Stephen Hahn that failure to clear the vaccine for use soon could cost him his job. On Saturday, Hahn defended the agency's thoroughness and transparency. Read more from Langreth, Anna Edney and Riley Griffin.
On Sunday Moncef Slaoui, who heads Operation Warp Speed, rued political pressure on the vaccine's approval process when asked by Fox News about the reports of Meadows and Hahn. "I think it was useless and unfortunate, and so are some of the tweets," he said. Public pressure "did never translate into any kind of interference of any sort" on Operation Warp Speed, he said. Read more from Tony Czuczka and Rich Miller.
Another 2.9 million doses are being held back to make sure the second vaccine dose, to be given 21 days later, will be available for people who get the first round. Additionally, 500,000 are being held as an emergency reserve. The government is holding up the second dose "just until we have ultimate confidence, and we've built up stocks to ensure that we can get the American people a second dose," Perna said, adding that he expects both doses could start to be sent out together in mid-January or February.
Complicating the distribution logistics is that the Pfizer vaccine must be stored at ultra-cold temperatures of minus-94 degrees Fahrenheit until a few days before use. Pfizer developed special dry-ice containers to make it easier to store for facilities that don't have the needed equipment. "Make no mistake," Perna said, "distribution has begun," with 40 million doses available by the end of the month if Moderna's shot is authorized alongside Pfizer's. Robert Langreth, John Tozzi, and Angelica LaVito have more.
Moderna said Friday the U.S. tapped its option to buy 100 million additional doses of the company's vaccine candidate, doubling the amount of the shot it'd initially committed to buy and easing concern that the U.S. could be left with a vaccine shortfall. Moderna said Friday that the order, worth $1.65 billion, would be delivered during the second quarter of 2021. Read more from Riley Griffin.
Moderna's vaccine could head off questions about injecting teenagers that arose with Pfizer's with a round of testing now underway. An independent review panel will meet Dec. 17 to evaluate Moderna's vaccine candidate, making a nonbinding but influential recommendation on whether the FDA should issue it an emergency use authorization. Read more from Jeannie Baumann.
Most of U.S. to Be Vaccinated by June, Slaoui Says: As many as eight in 10 people in the U.S. could be vaccinated by next summer, according to Slaoui, who heads Operation Warp Speed. After the FDA authorized emergency use of the the Pfizer-BioNTech shot, the Moderna vaccine "likely will be approved by Friday," Slaoui told Fox News. "We need to have immunized about 75% to 80% of the U.S. population before herd immunity can really be established," said Slaoui, adding that he hopes to achieve that level between May and June. Read more.
Sanofi Vaccine Setbacks Temper Optimism: Vaccine makers, including two of the biggest in the world, suffered setbacks in the push to get more shots across the finish line, tempering a run of optimistic news. Sanofi and GlaxoSmithKline delayed late trials of their Covid-19 vaccine candidates after they failed to produce a strong enough response in older people, pushing its potential availability closer to 2022. In another blow, trials of a candidate being developed by CSL and the University of Queensland also saw some problems. Tim Loh and Suzi Ring report.
Island-Hopping Drones to Help Bridge Vaccine Divide: In the debate over whether the rich will receive Covid-19 inoculations before the poor, or city dwellers before rural communities, few places illustrate the difficulty of vaccine equity in a global economy better than in Miami. Home of America's wealthiest zip code, Miami is also the main air-cargo bridge between the developed world and Haiti, Nicaragua and other impoverished nations across the Caribbean and Latin America. That puts Miami International Airport at a key crossroads in the effort to distribute shots quickly to the masses in the U.S. and its poorer neighbors to the south. Read more from Brendan Murray.
New York's Surge Deep but Less Deadly: Once the epicenter of the pandemic, New York sits on the brink of breaking its case record from spring. The impact of this latest surge, though, is almost unrecognizable from those nightmarish early days. For now, the state is staving off the repercussions of the current spike in cases, with ample hospital capacity and one of the lowest death rates in the U.S. Read more from Nic Querolo and Keshia Clukey.
More Headlines:
Happening on the Hill
Full $908 Billion Pandemic Bill Coming Today: A bipartisan group of lawmakers will unveil a $908 billion coronavirus pandemic relief bill today, though there's "no guarantee" Congress will pass it, one of the key negotiators said. "We were on a call all day yesterday, we'll get on a call again this afternoon to finish things up," Sen. Joe Manchin (D-W.Va.) said on Fox News yesterday. "We'll have a bill produced for the American people tomorrow, $908 billion."
Democratic and Republican lawmakers engaged in the negotiations have said they completed detailed proposals on small business help, vaccine-distribution funds and other key areas. The sticking point is how to shield employers from virus-related lawsuits, a top demand of Senate Majority Leader Mitch McConnell (R-Ky.). A competing, $916 billion relief proposal is also circulating from Treasury Secretary Steven Mnuchin.
Manchin, one of eight negotiators from both parties involved in the bill's drafting, expressed confidence that Congress will pass a relief bill before the holiday break. "The plan is alive and well and there's no way, no way that we're going to leave Washington without taking care of the emergency needs of our people," he said. Whether that is enough to clear fiscal stimulus in both houses is an open question. Read more from Tony Czuczka.
'Surprise' Medical Billing Fix Emerges in House: House and Senate committee leaders have struck a deal on a bipartisan fix for "surprise" medical bills, likely paving a way for its passage soon. Ways and Means Chairman Richard Neal (D-Mass.) has signed onto legislation that would ban balance billing, where a doctor or hospital charges a patient fees their insurer won't cover, for most out-of-network care. It also seeks to hold patients harmless when they get emergency care from an out-of-network provider. Read more from Alex Ruoff.
Speaker Nancy Pelosi (D-Calif.) was quick to put her support behind the deal. On Friday she said the House would "push for this critical legislation to end surprise billing to be passed as part of the end-of-year package."
Still, aides for party leaders warned that a surprise billing measure is not guaranteed to pass this year. A senior Democratic aide told Bloomberg Government that McConnell is planning to block the addition of the surprise billing package in a year-end government spending bill this week. One aide warned that McConnell hasn't yet gauged how much support there is within his caucus. Meanwhile, two Republican senators said McConnell is holding his support until his office reviews the 372-page measure, Alex Ruoff reports.
Amazon's Halo Raising Privacy Concerns: Sen. Amy Klobuchar (D-Minn.) is urging Health and Human Services Secretary Alex Azar to address privacy concerns around Amazon's "Halo" health tracking bracelet. "Halo enters the consumer market at a time where there are very few federal regulations in place to require privacy and security protections for consumer's personal health data collected by these wearable fitness devices," Klobuchar said in a letter to Azar on Friday. Read more from Andrea Vittorio.
Wyden Criticizes IRS Pre-Obamacare Plan Tax Rule: Employers and health insurers will more easily be able to continue offering employer health plans that were in existence before Obamacare took effect under a final rule released by the IRS. These health plans were allowed to continue after the law's effective date in March 2010 even though they don't offer the same benefits as newer plans that must conform to the Affordable Care Act. They stem from President Barack Obama's statement about his signature health-care law, "If you like your current plan, you can keep it."
The agency released the rules (T.D. 9928; RIN: 1545-BP67) on Friday. Senate Finance Committee ranking member Ron Wyden (D-Ore.) said the rules potentially mean millions of Americans could face higher out-of-pocket costs for their health care. Read more from Fawn Johnson and Sara Hansard.
Separately, an IRS mail backlog jeopardizing the financial assistance millions of Americans rely on each year to help pay for health insurance forced the federal Centers for Medicare and Medicaid Services to act. Individuals and families with low or moderate incomes can qualify for the assistance if they buy insurance off the Affordable Care Act marketplace. Allyson Versprille and Sara Hansard have more.
Hearings on the Hill:
What Else to Know Today
Ex-Rep. Kennedy Bids to be Biden's Drug Czar: Patrick Kennedy, a former Rhode Island congressman and once the face of his family's Democratic dynasty, is seeking to head President-elect Joe Biden's drug-control office. Kennedy, who had his own public struggle with addiction and mental health, is collecting endorsements from key players around Biden in a bid to head the White House's Office of National Drug Control Policy, often called the "drug czar." The office coordinates drug policies ranging from law enforcement to treatment programs. Read more from Alex Ruoff.
Meanwhile, Microsoft founder Bill Gates said in a CNN interview he doesn't expect to take on a formal role in Biden's administration, but his foundation will liaise with the incoming government on future infectious disease control. The Bill & Melinda Gates Foundation announced Wednesday that it's pledging an additional $250 million to fight Covid-19, bringing its total commitment to $1.75 billion. Read more from Yueqi Yang.
Covid-19 Vaccines' Triumph Raises Hope for Cancer Fight: The first vaccines against Covid-19 aren't just a landmark in the fight against the coronavirus. They're also the stepping stone for an unconventional technology that could one day defeat other ailments that have eluded doctors, from cancer to heart disease. The shots from Moderna and Pfizer-BioNTech employ genetic material known as messenger RNA to effectively transform the body's own cells into vaccine factories. Such mechanism had never been used outside of clinical experiments, and just how well it worked against the coronavirus astounded even its most enthusiastic backers.
Now, with one vaccine having gained U.S. clearance and the other close behind, the pandemic validation could wrench open a whole new field of medicine. "We're now entering the age of mRNA therapeutics," former Harvard University stem-cell biologist Derrick Rossi, who co-founded Moderna in 2010, said. Read more from Naomi Kresge and Robert Langreth.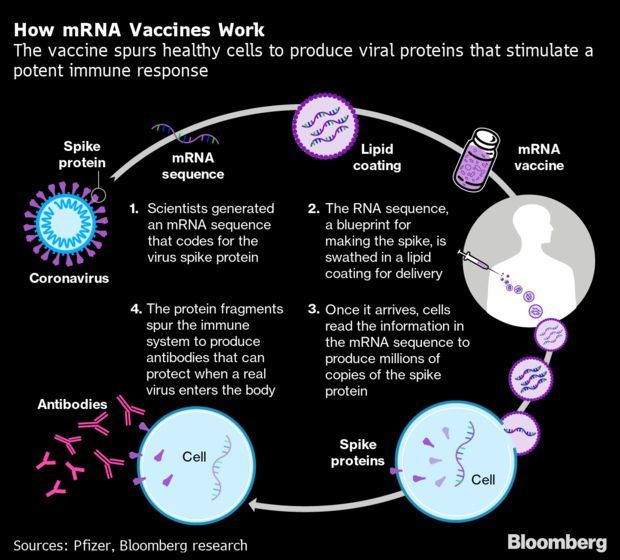 More Headlines:
With assistance from Alex Ruoff
To contact the reporter on this story: Brandon Lee in Washington at blee@bgov.com
To contact the editors responsible for this story: Zachary Sherwood at zsherwood@bgov.com; Giuseppe Macri at gmacri@bgov.com; Michaela Ross at mross@bgov.com
Stay informed with more news like this – from the largest team of reporters on Capitol Hill – subscribe to Bloomberg Government today. Learn more.