HEALTH CARE BRIEFING: Court Lets Abortion Ban Stay in Force
Bloomberg Government subscribers get the stories like this first. Act now and gain unlimited access to everything you need to know. Learn more.
A sharply divided U.S. Supreme Court refused to block a Texas law outlawing most abortions after six weeks of pregnancy, letting a measure that went into effect yesterday remain in force as the strictest restriction in the nation.
Voting 5-4, the justices turned away calls from abortion providers to put the law on hold while the legal fight goes forward. The challengers say the measure will ban abortion for at least 85% of patients in the state and force many clinics to close.
The rejection marks a watershed moment, allowing a law at odds with Supreme Court precedents that protect abortion rights until much later in pregnancy. The order raises new questions about the durability of those precedents, including the landmark 1973 Roe v. Wade ruling, which opponents are seeking to overturn in a case the court will consider in a few months.
The majority said the challengers had "raised serious questions regarding the constitutionality of the Texas law" but hadn't shown they could overcome a thicket of procedural obstacles stemming from the law's unusual delegation of enforcement powers to private parties.
"In light of such issues, we cannot say the applicants have met their burden to prevail in an injunction or stay application," the court said in its one-paragraph explanation.
Chief Justice John Roberts joined the court's liberals in dissent. Justice Sonia Sotomayor called the order "stunning" in an opinion joined by Justices Stephen Breyer and Elena Kagan. "Presented with an application to enjoin a flagrantly unconstitutional law engineered to prohibit women from exercising their constitutional rights and evade judicial scrutiny, a majority of justices have opted to bury their heads in the sand," Sotomayor wrote. She called the law "breathtaking act of defiance — of the Constitution, of this court's precedents, and of the rights of women seeking abortions throughout Texas." Read more from Greg Stohr.
Biden, Senators Condemn Texas Abortion Law: Prior to the ruling, to President Joe Biden condemned the Texas law in a statement that didn't mention the Supreme Court.
"This extreme Texas law blatantly violates the constitutional right established under Roe v. Wade," Biden said in a statement. But he didn't directly call on the high court to pause the law's implementation or overturn it. "My administration is deeply committed to the constitutional right established in Roe v. Wade nearly five decades ago and will protect and defend that right," Biden said.
"If you disagree with the idea that a complete stranger could—legally—demand $10,000 from you just because they disagree with your personal decisions, you should find this Texas anti-abortion ban as much of a nightmare as I do," Sen. Patty Murray (D-Wash.), the third-ranking Democrat, said in a statement blasting the law. Murray called for legislation guarding abortion rights.
Under the Senate's current rules, however, any such bill would require 60 votes to defeat a filibuster. Sen. Joe Manchin (D-W.Va.) has always called himself pro-life. Ditching the 60-vote rule would require the support of all 50 Democrats, but Manchin and Sen. Kyrsten Sinema (D-Ariz.) oppose any effort to do so. Read more from Jennifer Epstein and Steven T. Dennis.
A Look at Texas: Two hours before midnight on Tuesday, before the law kicked in, 27 patients were still huddled in the waiting room of the Whole Woman's Health abortion clinic in Fort Worth. The women were hoping doctors could see them before the nation's most draconian abortion ban took effect. Doctors, several of them in tears, completed the clinic's last procedure at 11:56 p.m. Read more from Laurel Calkins.
Related: How Texas Abortion Law Turns Public Into Enforcers: QuickTake
The Coronavirus Pandemic
Hospital Admissions Fall for First Time Since June in U.S.: Hospital admissions of Covid-19 patients in the U.S. are declining for the first time since late June, a sign that the latest surge may have peaked—at least for now. The seven-day average of new daily admissions with confirmed Covid-19 fell 2.4% from a week earlier to 12,280, the first such drop since June 27, according to the Health and Human Services Department. The decline is led by drops in recent hot spots like Florida and Texas. Jonathan Levin has more.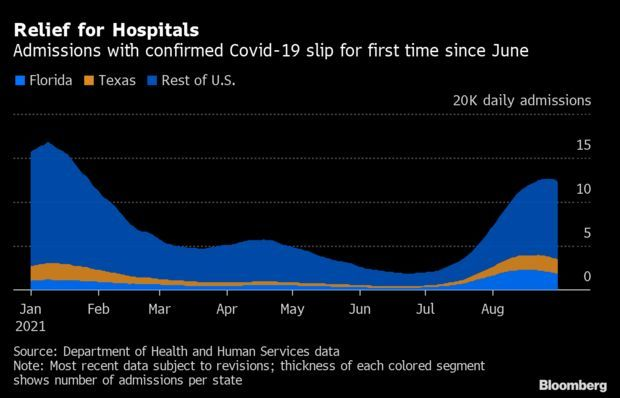 Lawsuits Force Hospitals to Use Dewormer: Hospitals reeling from surging Covid-19 cases are facing a new coronavirus battle: lawsuits from guardians of patients on ventilators demanding treatment with ivermectin. The string of cases relies on a national network of internal medicine doctors called the Front Line Covid-19 Critical Care Alliance, which supports using the anti-parasitic ivermectin as part of a drug regimen for ICU patients, despite warnings from health experts. Alex Ebert and Allie Reed have more.
Moderna Seeks U.S. Authorization for Booster Shot: Moderna said that it had filed initial data with the FDA for clearance of a third-dose booster of its Covid-19 vaccine, adding fuel to a debate over the need for additional doses. In a statement yesterday, the company said its booster, using a reduced dose of 50 micrograms, which is half the dose used in the existing vaccine, raised antibody levels against the more infectious delta variant by more than 40-fold in clinical trials. Read more from Robert Langreth.
Painless, Silent Organ Damage Seen in 'Long Hauler' Study: Kidney damage is painless and silent, and it's the latest ailment to be identified afflicting a large swath of Covid-19 survivors. Injury to the blood-filtering organ can occur among people who recover from the virus at home, a study found. Even non-hospitalized patients with no renal problems have almost a twofold higher risk of developing end-stage kidney disease, compared with someone who was never infected with the virus. Read more from Jason Gale.
Volunteer Lawyer Army Braces for Eviction Fight: The volunteer army of lawyers gearing up nationwide to fight eviction filings, fill out aid applications for renters, and mediate landlord disputes is racing to keep people in their homes after federal efforts fell short. A long-feared wave of individual eviction suits is likely to hit courts across the U.S. after the Supreme Court rejected Biden's last-ditch effort to protect tenants who've fallen behind on rent. Read more from Courtney Rozen, Meghan Tribe, and Ruiqi Chen.
More Headlines:
What Else to Know Today
FDA Regains Rulemaking Authority in Trump Reversal: The Food and Drug Administration again has the authority to issue its own regulations under a notice released yesterday that reverses a change from the Trump administration. Former HHS Secretary Alex Azar issued a memo last year requiring that any rules coming out of the department's agencies and offices would need to be signed by the secretary. The notice from Secretary Xavier Becerra, revokes that memo. Shira Stein has more.
More Headlines:
Editor's Note: Bloomberg Government's Health Care Briefing will not publish Friday, Sept. 3 through Monday, Sept. 6. We'll resume publication after Labor Day on Tuesday, Sept. 7.
To contact the reporter on this story: Brandon Lee in Washington at blee@bgov.com
To contact the editors responsible for this story: Zachary Sherwood at zsherwood@bgov.com; Giuseppe Macri at gmacri@bgov.com; Michaela Ross at mross@bgov.com
Stay informed with more news like this – from the largest team of reporters on Capitol Hill – subscribe to Bloomberg Government today. Learn more.