HEALTH CARE BRIEFING: Confusion Abounds in U.S. Vaccine Rollout
Bloomberg Government subscribers get the stories like this first. Act now and gain unlimited access to everything you need to know. Learn more.
It's the most massive vaccine rollout in the nation's history, but many local governments are consigning patient appointments to web-based services better known for handling birthday-party RSVPs and online yoga sessions.
Several Florida counties have deployed Eventbrite. Some governments in Oklahoma dabbled with SignUpGenius and one county in New Jersey was still using the service. Elsewhere, some seekers of the Covid-19 vaccine reported hours-long holds on appointment hotlines—only to be disconnected—or logging on to websites that lock them out.
"Signing up to get a Covid vaccine is like trying to get a Beatles ticket," said Jacob Saur, public safety director in Florida's Manatee County, where demand for the shot crashed the web sign-up sheet he had set up.
In just the first three weeks, the effort to inoculate 328 million Americans has overwhelmed government websites and left unlucky shutouts fuming in first-come, first-served lines. The difficulty is one reason that distribution of the long-awaited vaccine is taking so long. States have also had to contend with deciding which groups will get priority access, confusion over available doses and navigating the daunting logistics of providing shots that must be stored at subzero temperatures.
Overall, the U.S. has administered 4.73 million doses of the Covid-19 vaccine, but that's just about a third of the doses distributed.
Options have often been confusing. A resident in Newark can sign up for a shot with the city, surrounding Essex County, or the state itself. And as older people in Florida and Georgia wait overnight in lawn chairs at pop-up sites, other vulnerable people—or quite often, their tech-savvy children—are spending hours refreshing computer screens. Read more from Jonathan Levin and Elise Young.
FDA Resists Pressure to Tweak Vaccine Dosages to Stretch Supply: The top U.S. drug regulator is resisting calls to tinker with how Covid-19 vaccines are administered, sticking to the scientific evidence and its own procedures after being more flexible in the face of outside pressure earlier in the pandemic.
There have been increasing calls worldwide to experiment with dosing regimens to speed up inoculation efforts and arrest a worsening pandemic. However, the Food and Drug Administration's leadership pledged in a statement late Monday "to make decisions based on data and science." Read more from Anna Edney and Jeannie Baumann.
N.Y. Wants More Vaccines Ahead of Distribution Boost: New York is requesting the federal government increase its weekly 300,000-dose supply of coronavirus vaccines as it prepares to boost distribution, Gov. Andrew Cuomo (D) said. The state has now enrolled 3,762 distribution sites, of which 636 are activated and giving vaccines to health-care workers. So far, only about 900,000 vaccines have been distributed for a cohort of 2.1 million health-care workers, he said. Keshia Clukey has more.
More Vaccine News:
Happening on the Hill
Senate Control Hangs in the Balance: Democrats' hopes of taking control of the U.S. Senate hung in the balance early this morning after the party captured one seat in the Georgia runoff elections and waited on the outcome of another race that remained too close to call. To secure a narrow majority, Democrats need to win both Senate seats, which would split the chamber 50-50 between Republicans and the Democratic caucus, with Vice President-elect Kamala Harris casting tie-breaking votes.
Democrat Raphael Warnock defeated Republican Sen. Kelly Loeffler in one of the runoff races, the Associated Press reported this morning, while Republican Sen. David Perdue and Democrat Jon Ossoff were locked in a dead heat with some absentee votes yet to be counted and as many as 17,000 military and overseas ballots due by Friday.
With Loeffler's loss, Republicans must hold on to the other Georgia Senate seat to preserve their hold on the chamber and be able to thwart Biden's agenda and cabinet nominees. It could take days to determine the final outcome, and the narrow victory margins will almost certainly spark legal challenges or recounts.
But GOP state officials were grim. "From the numbers we're looking at right now, it doesn't look good for the two incumbent Republican senators," said elections official Gabriel Sterling, a Republican. Mark Niquette has the latest. Follow the results live here.
Trump Told to Scrap Changes to Marketplace: House and Senate Democratic health-care leaders called on the Trump administration to rescind policies in a rule proposal that would "allow states to end the use of Healthcare.gov and state exchanges" to enroll consumers in coverage. The lawmakers—including House Energy and Commerce top Democrat Frank Pallone (N.J.) and Senate Health, Education, Labor, and Pensions Committee top Democrat Patty Murray (Wash.) said the proposal could "force consumers into navigating a confusing, decentralized landscape of private brokers, agents or insurers" in order to buy a coverage plan. Read their letter here.
Senator Says Some Still Charged for Covid-19 Tests: Sen. Tina Smith (D-Minn.) said in a statement that some Americans are still being charged for coronavirus tests, even though a provision in the CARES Act that President Donald Trump signed in March guaranteed such tests would be free of charge. Smith "is now urging the Biden-Harris administration to take executive action" and to "conduct a comprehensive review" of rules and guidance to ensure Americans have access to free testing, she said in a statement. Read the statement here.
Wenstrup, Harris to Lead GOP Doctor Caucus: Reps. Brad Wenstrup (R-Ohio) and Andy Harris (R-Md.) have been named to lead the GOP Doctors Caucus in the 117th Congress. The House caucus is comprised of lawmakers with medical backgrounds to develop "patient-centered health care policy," according to a statement from Wenstrup yesterday. The pair succeed Rep. Phil Roe (R-Tenn), who retired this year. Read the statement here.
Also on the Coronavirus
Covid-19 Treatment Push Prompts Calls for Faster Public Trial Data: The need for reliable Covid-19 treatments is spurring calls for the government to invoke a legal clause that would require drug companies and NIH-funded researchers to post their study results within a month instead of a year.
Shortening the time frame for posting data to ClinicalTrials.gov could mark one of the first times the clause has ever been tested since it became part of a 2007 drug law in 2016. Such a move from the National Institutes of Health would better arm health professionals with information on how best to treat patients, a former FDA chief said. Read more from Jeannie Baumann.
Spike in South Dwarfs Earlier Regional Hot Spots: Coronavirus cases in the South are rising quickly and account for a larger portion of the U.S. total than anywhere else in the nation. The South saw 82,074 new cases on average this week, about 20,000 more than the Midwest peak in November. Over 45% of tests in Alabama over the past two weeks returned positive, Bama Tracker, an unofficial but authoritative tally, said. Read more from Nic Querolo.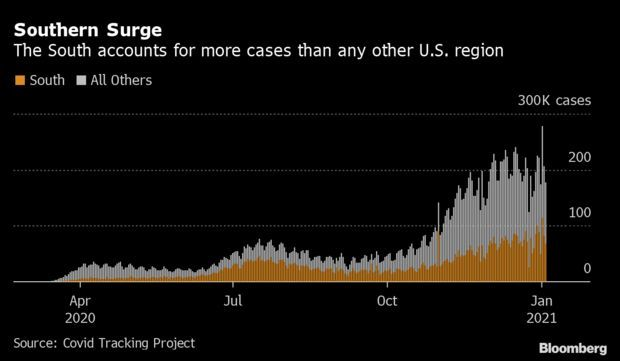 WHO Team Can't Get in China: The WHO team investigating the origins of the Covid-19 virus has been temporarily prevented from entering China because of visa issues, according to Director-General Tedros Adhanom Ghebreyesus. The delay comes as Beijing faces criticism for stonewalling efforts to trace the virus's origins. WHO experts were kept out of Wuhan in 2020 and an independent probe was rebuffed. Read more from Bloomberg News.
Global Headlines:
To contact the reporter on this story: Brandon Lee in Washington at blee@bgov.com
To contact the editors responsible for this story: Zachary Sherwood at zsherwood@bgov.com; Giuseppe Macri at gmacri@bgov.com; Michaela Ross at mross@bgov.com
Stay informed with more news like this – from the largest team of reporters on Capitol Hill – subscribe to Bloomberg Government today. Learn more.