HEALTH CARE BRIEFING: CDC to Begin Shifting View of Covid Risk
Bloomberg Government subscribers get the stories like this first. Act now and gain unlimited access to everything you need to know. Learn more.
The Centers for Disease Control and Prevention plans to move away from counting new cases as its primary measure of how severe Covid-19 outbreaks are around the U.S., and instead focus on how many people are hospitalized, according to people familiar with the matter.
The changes, which are due to be announced later today, would shift how the agency assesses risk from the virus. With more than 64% of Americans fully vaccinated and many having already been infected, it would emphasize the burden on hospitals and the rate of severe cases, as opposed to overall case levels.
The result would likely be fewer places where Americans are advised to take precautions such as mask-wearing. Currently, the CDC recommends in areas of "high" or "substantial" transmission that "everyone should wear a mask in public, indoor settings."
The CDC also currently considers U.S. counties that have recorded over 100 Covid cases per 100,000 people in the past week, or that have a test positivity rate of 10% or above, to have "high" transmission. According to the CDC, 82% of the country fits that definition, even though new daily cases have plunged to their lowest level since before the most recent wave began.
Details of the change were described by two people familiar with the matter who spoke on condition of anonymity. President Joe Biden is likely to reference his administration's handling of the pandemic during the State of the Union address next week. White House Press Secretary Jen Psaki said yesterday the U.S. has been reviewing its Covid guidance and was "preparing to stay ahead of the virus, protecting our most vulnerable, keeping our country open." Drew Armstrong and Josh Wingrove have more.
Biden's HHS to Reboot Trump Medicare Pilot
The Biden administration is redesigning a Trump-era Medicare pilot program opposed by dozens of congressional Democrats who viewed it as an effort to privatize the beloved health program for the elderly and disabled.
The Centers for Medicare & Medicaid Services yesterday announced the global and professional direct contracting model will be replaced by the Accountable Care Organization realizing equity, access, and community health (REACH) model. The transition to the ACO REACH model will begin on Jan. 1, 2023. Current GPDC Model participants must agree to meet all the ACO REACH Model requirements by that date to continue participating.
The global direct contracting model was designed to help move traditional Medicare away from "fee-for-service" care and more toward value-based care, in which provider reimbursements are based on patient outcomes and cost efficiency. The redesigned model seeks to put a greater focus on increasing health equity among underserved populations in Medicare, and is designed to reduce the incidence of "upcoding," in which providers overstate the seriousness of a patient's condition in order to get higher reimbursements.
The overhaul, name change, and new model requirements follow a late push by the health-care industry to persuade the Biden administration to fix the model. CMS officials also announced the cancellation of another pilot program, the geographic direct contracting model. That model was paused in March 2021 and "is being canceled because it does not align with CMS' vision for accountable care and concerns raised by stakeholders," the CMS said. Read more from Tony Pugh and John Tozzi.
Happening on the Hill
House Democrats Introduce Insulin Cap Bill: House Energy and Commerce Committee Health Subcommittee member Angie Craig (D-Minn.), Ways and Means Committee member Dan Kildee (D-Mich.) and Education and Labor member Lucy McBath (D-Ga.) introduced legislation that would cap the out-of-pocket cost of insulin at $35 per month. All three of the members sit on committees with jurisdiction over the legislation, according to an aide for Craig. The bill is similar to Sen. Raphael Warnock's (D-Ga.) legislation to cap insulin costs introduced last week. Read the Affordable Insulin Now Act language here.
Access to Abortion Services Teed Up for Senate: Restrictions on abortion, other than those that are medically necessary, would be banned under H.R. 3755. The measure would specify that health-care providers have the right to provide abortion services without limitations and bar restrictions that have been included in various state laws. The Senate is scheduled to vote Feb. 28 on whether to invoke cloture, or limit debate, on a motion to proceed to the House-passed bill. It's unlikely there will be the 60 votes required to advance the measure. Read the BGOV Bill Summary from Christina Banoub here.
More on the Pandemic
U.S. Vaccinations Plummet to Slowest Pace: The pace of Covid-19 shots in the U.S. has plummeted to the lowest level since the start of the vaccination campaign, the latest sign that the nation may be nearing maximum uptake. The seven-day average of shots administered fell to 337,874 on Feb. 18, the lowest since December 2020, when vaccine distribution had just begun. At the peak of the U.S. campaign, in April 2021, about 3.5 million shots a day were being given. Read more from Jonathan Levin.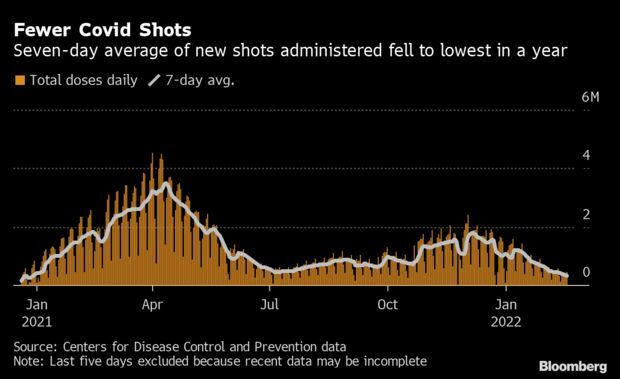 Vaccine Faith Waivers Give Hospitals Slack: Understaffed hospitals that don't want to lose employees to the White House's Covid-19 vaccine mandate have an out. They can freely accept religious exemption requests, no matter their validity, and still be compliant in the eyes of the Centers for Medicare & Medicaid Services, several labor and employment lawyers said. Regulating religious exemptions gives health-care employers power to enact policies that balance concerns about litigation, safety, and workforce shortages as facilities enter a third year of unpredictable staffing and budget woes.
Health-care facilities across the U.S. are subject to the vaccine mandate after months of litigation that kept employers and health-care workers on their toes. Several lawsuits contested the mandates for the impact they would have on the already-drained workforce, particularly in rural areas. While the CMS vaccine mandate is strict, requiring 100% staff vaccination rates for full compliance, hospitals are not asked to report how many religious exemptions they grant. When hospitals are audited, "surveyors will not evaluate the details of the request for a religious exemption, nor the rationale for the hospital's acceptance or denial of the request," the CMS said. Read more from Allie Reed.
Better Masks Urged for Health-Care Workers in Future Pandemics: Health-care workers need better masks than N95s to fight future pandemics, supply chain experts said at a webinar yesterday. N95 masks are highly effective at filtering out the infectious respiratory fluids that spread viruses like the one that causes Covid-19. But "they haven't changed appreciably since the 1990s," said Anita Cicero, deputy director of the Johns Hopkins Center for Health Security. More comfortable, better-fitting masks could increase protection for health-care workers and the public during future pandemics, Cicero said. Read more from Allie Reed.
Early Covid Disability Ruling Offers Blueprint for Lawsuits: One of the first courts to address whether employees with Covid-19 can claim disability bias after being fired provides some guidance for employers in an emerging litigation area, according to attorneys. The U.S. District Court for the Middle District of Alabama said Wednesday that a nursing assistant in Alabama who was fired for following Covid-19 quarantine protocol after testing positive and presenting severe symptoms can pursue her disability bias lawsuit. The court is one of the first tribunals to weigh in on the issue. Read more from Paige Smith.
More Headlines:
What Else to Know Today
UnitedHealth Faces U.S. Lawsuit on Deal: The Justice Department sued to block UnitedHealth's proposed $7.8 billion purchase of Change Healthcare, arguing the combination could limit competition among businesses that move money through the health-care system. The department filed a complaint against the takeover in federal court yesterday, arguing that the purchase would give UnitedHealth access to competitively sensitive data on rivals. "If America's largest health insurer is permitted to acquire a major rival for critical health care claims technologies, it will undermine competition for health insurance and stifle innovation in the employer health insurance markets," Attorney General Merrick Garland said in a statement.
The merger would bring together UnitedHealth, the largest U.S. health-care conglomerate, which has insurance and services arms, with a major supplier of health-care payments and technology. The government's case is the latest move by antitrust enforcers to challenge corporate dealmaking—underscoring the Biden administration's goal to toughen merger enforcement and combat consolidation—and the first significant federal challenge to UnitedHealth's acquisition-fueled growth. Read more from David McLaughlin and John Tozzi.
Texas Abortion Law's Fate Turns on State License Boards' Power: Abortion providers and patients sought yesterday to convince the Texas Supreme Court to hold that state boards overseeing doctors, nurses, and others in health care can enforce a law banning abortions after six weeks' gestation. A ruling for the state officials would leave abortion providers and patients with no one to sue to stop enforcement of S.B. 8, which prohibits abortions at a stage when most people don't even know they're pregnant. At most, they could ask state trial courts to block individual private citizen suits on a case-by-case basis. Read more from Mary Anne Pazanowski.
Labeling Trans Kid Care 'Abuse' Mirrors Abortion Tactic: Texas' crackdown on gender affirming care for kids follows the legal strategy the state used last year to limit abortion access, gay rights advocates warn. Though Gov. Greg Abbott (R) and Attorney General Ken Paxton's (R) announcement that gender-affirming care for transgender children is abuse that must be reported and investigated may not survive legal scrutiny, it'll likely prevent at-risk kids from seeking necessary medical treatment, advocates said. Similar to Texas's recent abortion law, the goal is to scare medical providers from offering certain services. Read more from Ayanna Alexander and Lydia Wheeler.
Judge Tosses Portion of Surprise Medical Billing Rule: A federal judge in Texas tossed out portions of a rule that established the arbitration process Congress called for to shield patients from surprise medical bills. The government failed to follow the text of the No Surprises Act and proper notice and comment when it required arbitrators to select the amount closest to the median in-network rate in settling payment disputes between insurers and certain out-of-network health-care providers, Judge Jeremy Kernodle of the U.S. District Court for the Eastern District of Texas said in an order Wednesday. Read more from Lydia Wheeler.
Health Groups Receive Record Donations from MacKenzie Scott: Two health groups – United States of Care and the National Rural Health Association – both said they received their largest-ever unrestricted donations yesterday. Both donations came from MacKenzie Scott, who was formerly married to Jeff Bezos and helped him launch Amazon, and is now the world's fifth richest woman. Scott has set records with the pace of her philanthropy, donating more than $8.6 billion to hundreds of charities across the U.S. since her split with Bezos, Tom Maloney and Sophie Alexander previously reported.
More Headlines:
With assistance from Alex Ruoff and Anna Yukhananov
To contact the reporter on this story: Michaela Ross in Washington at mross@bgov.com
To contact the editors responsible for this story: Zachary Sherwood at zsherwood@bgov.com; Brandon Lee at blee@bgov.com; Giuseppe Macri at gmacri@bgov.com
Stay informed with more news like this – from the largest team of reporters on Capitol Hill – subscribe to Bloomberg Government today. Learn more.