HEALTH CARE BRIEFING: CDC Gears Up to Track Three New Variants
Bloomberg Government subscribers get the stories like this first. Act now and gain unlimited access to everything you need to know. Learn more.
Three worrisome coronavirus variants are now circulating in the U.S., and the federal government needs significance resources to track their progress, according to the head of the Centers for Disease Control and Prevention.
The three strains, which emerged initially in the U.K., South Africa, and Brazil, have all now been seen in the U.S., CDC Director Rochelle Walensky said at a Q&A event hosted by the American Medical Association.
The agency has already warned that the highly contagious mutant strain that emerged in the U.K. could become dominant among Americans in the next two months. There are now 19 cases of the mutation first reported in South Africa in the U.S., she said, and two cases of a variant initially detected in Brazil in two states.
One priority for fighting the variants in the U.S. is to put strong public health surveillance in place that can track changes in the virus, according to Walensky. The CDC is partnering with state laboratories to get 750 samples a week to sequence, she said, and has arranged with private and academic laboratories to contribute data as well.
Additionally, the CDC is already working with makers of current vaccines to see if they can tweak their shots to work better against the variants, according to Walensky. "So that if down the line we need a bivalent vaccine or a booster vaccine, we're ready to go," she said.
On Wednesday, a laboratory study showed that the current Pfizer–BioNTech vaccine stimulated roughly two-thirds lower levels of neutralizing antibodies against the variant that emerged from South Africa.
What the lab data means in practice, though, remains to be seen.
"It is unclear what effect a reduction in neutralization by approximately two-thirds would have" on protection from Covid-19 caused by the South Africa variant, the Pfizer study concluded. Pfizer and BioNTech said in a statement that there's no real-world evidence that the South African variant can elude their shot. Read more from Jill R. Shah.
Related:
White House Told Masks Needed to Ward Off Variants: Anthony Fauci and two other Biden administration officials have been urged by 13 doctors and scientists from across the country to take immediate action to curb the airborne spread of the coronavirus before variant strains of the contagion spread widely, wiping out recent progress to curb the pandemic. "There is a pressing and urgent need for action," they wrote in a letter. Read more from Fatima Hussein.
Happening on the Hill
Senate Finance Panel to Weigh Becerra Feb. 24: Senate Finance Chair Ron Wyden (D-Ore.), will convene a hearing on Feb. 24, to consider the nomination of Biden's nominee to be secretary of Health and Human Services, Xavier Becerra. The hearing on Becerra, attorney general of California, will take place at 2 p.m., Wyden said in a statement, adding that swift confirmation is necessary.
Democrats Tout Health Plan as Made for Political Moment: Two Democrats are positioning their plan for government-run health insurance as ideal for the current Congress, where their party wields the narrowest possible Senate majority. Sens. Michael Bennet (D-Colo.) and Tim Kaine (D-Va.) introduced a bill yesterday to create a public health insurance option that piggybacks off Medicare, using its network of doctors and reimbursement rates to offer low-cost coverage to millions more Americans.
The pair argue the plan is tailor-made for the budget reconciliation process, which allows the Senate to pass by a simple majority any legislation that affects federal spending, and mimics what Biden has backed. Biden's support, and Democratic control of Congress, might help bill supporters to position their legislation as ideal for the party to rally behind after Republicans leaders largely ignored the measure last session. Read more from Alex Ruoff.
Baldwin, Shaheen Urge Biden to Increase Opioid Abuse Funding: Sens. Tammy Baldwin (D-Wis.) and Jeanne Shaheen (D-N.H.) led 17 other senators in a letter released today to Biden urging the president to increase federal funding to fight opioid and substance use disorder, which has been exacerbated by the pandemic. They requested boosts in resources for prevention, treatment, and recovery as well as treatment provider workforce programs in the administration's upcoming budget. Read the letter here.
Cassidy Pushes for Health Privacy in Wearable Tech: Health data stored in a smart watch or other wearable technologies should be subject to the same privacy requirements doctors and insurance companies already must follow, Sen. Bill Cassidy (R-La) said. "We need to have protections extend to wearables," the physician senator said at Academy Health's Health Datapalooza and National Health Policy Conference yesterday.
"You may have an app which downloads your electronic health record. That electronic health record is HIPAA-protected—once downloaded, it is not," Cassidy said, referring to the Health Insurance Portability and Accountability Act which covers health plans, health-care providers, clearing houses and their business associates. Expanding the applicability of the privacy law could help resolve a tension between protecting privacy while encouraging responsible data usage, he said, Jeannie Baumann reports.
Krishnamoorthi Scrutinizes E-Cigarette Makers: House Oversight Economic and Consumer Policy Subcommittee Chair Raja Krishnamoorthi (D-Ill.) sent letters to 20 e-cigarette companies yesterday seeking information about "sales of electronic nicotine delivery systems (ENDS), including e-cigarettes and e-liquids," according to a statement. Read the letters here.
CDC Briefing on Pandemic: The House Appropriations Labor-HHS-Education Subcommittee will receive a briefing on the coronavirus pandemic from U.S. Centers for Disease Control and Prevention Director Rochelle Walensky and CDC Principal Deputy Director Anne Schuchat.
More on the Coronavirus Pandemic
CDC Gears Up to Track Three New Variants: Three worrisome coronavirus variants are now circulating in the U.S., and the federal government needs significance resources to track their progress, according to the head of the Centers for Disease Control and Prevention. The three strains, which emerged initially in the U.K., South Africa, and Brazil, have all now been seen in the U.S., CDC Director Rochelle Walensky said at a Q&A event hosted by the American Medical Association. Read more from Jill R. Shah.
Biden to Spend $1.6 Billion to Expand Testing: Biden's administration will allocate roughly $1.6 billion to expand production of coronavirus tests and coordinate testing in the nation's schools. The White House announced yesterday the Health and Human Services Department and the Department of Defense will spend $650 million to "expand testing opportunities for K-8 schools" and other facilities, such as homeless shelters. It will also spend $815 million to boost supply production and nearly $200 million to track new virus variants. Read more from Josh Wingrove and Anna Edney.
'Few Million' Doses Seen With J&J Approval: The U.S. government expects to initially receive only a "few million" doses of Johnson & Johnson's coronavirus vaccine if it is authorized—well short of what was initially promised—and is working with the company to prepare to scale up production, White House Covid-19 Response Coordinator Jeff Zients said yesterday. Zients said the contract for the single-shot vaccine would be for delivery of 100 million doses by July. Read more from Anna Edney and Josh Wingrove.
Phony Vaccines, Masks Trigger Homeland Warnings: The Homeland Security Department, stepping up its pursuit of coronavirus frauds, seized over 1 million fake N95 masks intended for front-line health workers and warned individuals against buying phony vaccines. "There are trusted partners that distribute vaccines," Homeland Secretary Alejandro Mayorkas said yesterday during a news conference. Read more from Shaun Courtney.
Deaths in U.S. Nursing Homes Fall: Covid-19 deaths in long-term care centers are declining in the U.S., but the upheaval in elder care may be just getting started. Facilities for the elderly reported 4,470 Covid-19 deaths the week of Feb. 11, the lowest since December. In total, they have seen more than a third of U.S. deaths, even though less than 1% of the population lives in them, according to Covid Tracking Project data. Read more from Nic Querolo.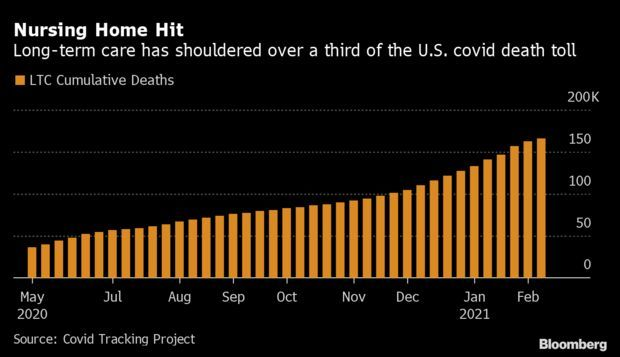 FBI, DOJ Probe Cuomo Admin. on Nursing Homes, Times Union Says: The FBI and U.S. attorney's office in the Eastern District of New York launched an investigation into Governor Andrew Cuomo's (D) handling of long-term care facilities like nursing homes, the Albany-based Times Union newspaper reports, citing an unidentified person with direct knowledge of the matter. The probe is in early stages and focusing on the work of some senior members of Cuomo's coronavirus task force, the outlet said. "As we publicly said, DOJ has been looking into this for months. We have been cooperating with them and we will continue to," a Cuomo spokesperson told Bloomberg News, Max Zimmerman and Shelly Banjo report.
More on the Pandemic:
More on the Vaccine:
What Else to Know
Biden Said to Pick Brooks-LaSure for CMS: Biden picked Chiquita Brooks-LaSure to lead the Centers for Medicare and Medicaid Services, the Washington Post reported, citing three people who spoke on the condition of anonymity. LaSure, a former HHS official who helped lead the department's steps to carry out the ACA, will need to be confirmed by the Senate, Megan Howard reports.
More Headlines:
To contact the reporter on this story: Brandon Lee in Washington at blee@bgov.com
To contact the editors responsible for this story: Zachary Sherwood at zsherwood@bgov.com; Giuseppe Macri at gmacri@bgov.com; Michaela Ross at mross@bgov.com
Stay informed with more news like this – from the largest team of reporters on Capitol Hill – subscribe to Bloomberg Government today. Learn more.