HEALTH CARE BRIEFING: CDC Backs Pfizer, Moderna Shots Over J&J's
Bloomberg Government subscribers get the stories like this first. Act now and gain unlimited access to everything you need to know. Learn more.
The U.S. Centers for Disease Control and Prevention recommended messenger RNA vaccines made by Moderna and Pfizer for use in adults over Johnson & Johnson's shot, which has been linked to rare but serious blood clots.
All 15 members of CDC's Advisory Committee on Immunization Practices voted in favor of the recommendation yesterday after U.S. regulators announced revisions to the shot's fact sheet to warn of the rare clotting syndrome. CDC Director Rochelle Walensky signed off on the advice.
"Today's updated recommendation emphasizes CDC's commitment to provide real-time scientific information to the American public. I continue to encourage all Americans to get vaccinated and boosted," she said.
Vaccines and boosters are becoming increasingly important as omicron spreads across across the world. While delta remains the dominant strain in the U.S., omicron has now been detected in 33 states, and has quickly risen to account for an estimated 3% of cases nationally, although it may be far more prevalent in New York and New Jersey, the CDC has said.
The risk of the vaccine-linked condition, called thrombosis with thrombocytopenia syndrome or TTS, may be higher than previously thought. The rate among women with TTS as of early December was 5.84 cases per 1 million J&J doses administered, compared with 4.85 in mid-June, according to a presentation at the meeting.
Women ages 30 to 49 were at the highest risk of the syndrome and resulting death, according to the presentation from Isaac See of CDC's Covid Vaccination Safety Task Force. Men of all ages who received the vaccine had a lower risk of the complication.
However, the risk of rare forms of blood clotting is exponentially greater from Covid-19 itself than from a single dose of the J&J vaccine, said Penny Heaton, the head of vaccines for the company's Janssen pharma unit. Citing research from the University of Oxford, Heaton said Covid causes more than 400 cases of the rare events per 1 million people. Read more from Fiona Rutherford and Riley Griffin.
Happening on the Hill
Democrats Scrapping to Save Biden Agenda: The outlook for President Joe Biden's economic agenda is in peril in January if Sen. Joe Manchin (D-W.Va.) sticks by his demands and forces Democrats to choose between dramatically shrinking the bill's benefits or jettisoning most of them.
Democratic leaders yesterday abandoned plans to pass the roughly $2 trillion social spending and climate plan before their Christmas break after it was clear that Manchin wasn't on board. Manchin's support is critical in the evenly divided Senate. But months of negotiations with Biden, including talks this week, have only hardened the resolve of the Senate's most conservative Democrat. Read more from Steven T. Dennis.
Senate Floor: Senators yesterday passed by voice vote a bill (H.R. 3537) to direct the secretary of the Department of Health and Human Services to support research on, and expanded access to, investigational drugs for amyotrophic lateral sclerosis (ALS).
Spurning Masks Costing Lawmakers a Small Fortune: Rep. Marjorie Taylor Greene (R-Ga.) has accrued at least $48,000 in fines for refusing to cover her nose and mouth at work, according to documents posted to the House Ethics Committee's website. Read more from Daniela Sirtori-Cortina.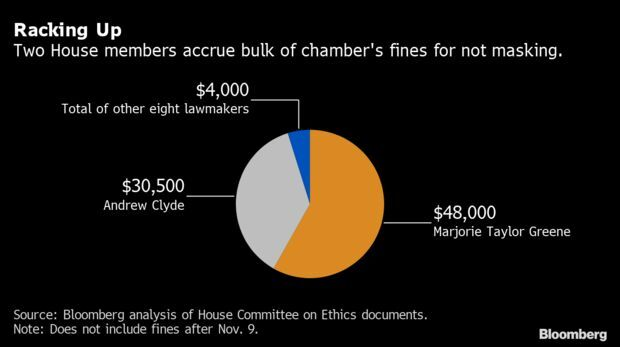 More on the Coronavirus
Biden Asks SCOTUS to Allow Health-Care Vaccine Mandate: Biden's administration asked the U.S. Supreme Court to let a new federal vaccine mandate for health-care workers take effect in 24 states where lower court orders have blocked the rule. In a pair of filings last night, U.S. Solicitor General Elizabeth Prelogar asked the court to put a hold on the lower court rulings while litigation goes forward in cases filed by Republican-led states.
"Delaying the rule would cause serious, tangible harm to public health," Prelogar argued. "If the rule remains stayed during this winter's anticipated COVID-19 surge, hundreds and potentially thousands of patients may die at hospitals, nursing homes, and other facilities participating in Medicare and Medicaid as the result of COVID-19 infections transmitted to them by staff." Read more from Greg Stohr.
Biden's Contractor Vaccine Mandate Hit Again: Biden's Covid-19 vaccine mandate for federal contractors should be paused for state employers in Louisiana, Mississippi, and Indiana with contracts with the federal government, a federal judge in Louisiana ruled yesterday, adding to a slew of court losses for the White House. The three states wanted to halt the mandate for companies that do business with the U.S. government, and U.S. District Court Judge Dee Drell granted the limited preliminary injunction. But he declined to extend his order to private businesses with federal contracts. Erin Mulvaney has more.
Biden Shot-or-Test Rule in the Hands of Three Mystery Judges: The identities of the three appellate judges who will decide whether to lift an order blocking the Biden administration's Covid-19 shot-or-test rule remains shrouded in mystery, although their Cincinnati-based court provided some clues in a recent decision. Thirteen of the 16 active-status judges on the U.S. Court of Appeals for the Sixth Circuit wrote or signed on to concurring or dissenting opinions regarding the court's Wednesday ruling to allow a three-judge panel to hear the challenge to the rule. That has fueled speculation that some or all of the three jurists who didn't opine are on the tribunal that's considering a government request to dissolve the Fifth Circuit's stay order. Read more from Robert Iafolla.
Biden Says Unvaccinated Face Winter of Severe Illness, Death: Biden warned that unvaccinated Americans face "a winter of severe illness and death" as he urged initial doses and booster shots amid a surge of coronavirus cases and the emergence of the omicron variant. "It's past time" to get shots, the president said yesterday following a briefing with his coronavirus team at the White House. "We're going to protect our economic recovery if we do this. We're going to keep our school and businesses open if we do this."
Infections have surged 40% over the past two weeks across the country, and deaths have increased by more than a third during that same period, with more than 1,300 Americans dying of coronavirus daily. Read more from Justin Sink.
More Headlines:
What Else to Know Today
Abortion Pill In-Person Dispensing Rule Permanently Nixed by FDA: People seeking to end an early pregnancy will no longer need to physically visit a medical provider to receive the pill mifepristone as the Supreme Court weighs a case that will determine the fate of Roe v. Wade, the landmark ruling that legalized abortion nationwide. The FDA's decision yesterday will make it easier for women to access the drug, especially if Roe is overturned and states begin imposing additional abortion restrictions. The high court case, over a Mississippi law, had intensified pressure on the FDA to permanently nix the in-person dispensing rule for mifepristone.
The agency's decision followed a full review into whether existing evidence indicates the drug is still safe and effective when patients pick it up at pharmacies or by mail. The FDA had temporarily suspended the longstanding in-person dispensing requirement for the duration of the public health emergency. Read more from Celine Castronuovo.
Justices Return Texas Abortion Case to Court That Backed Ban: The U.S. Supreme Court formally returned a case over Texas' six-week abortion ban to a federal appeals court, dismissing a request by clinics and doctors to send the matter directly to a trial judge who once blocked the law. The decision came six days after a divided Supreme Court left the law in force and let providers press only a narrow part of their challenge. By sending the case to the Fifth Circuit that's repeatedly backed the law, the justices left open the possibility of further delays. Read more from Greg Stohr.
Purdue Pharma Appeals Judge Strikes Down Opioid Settlement: Purdue Pharma's multi-billion dollar opioid settlement was dealt a surprising blow yesterday when a federal judge reversed a bankruptcy court's earlier approval of the deal. U.S. District Judge Colleen McMahon yesterday struck down the OxyContin maker's sweeping opioid settlement, putting the accord at risk of collapsing. Supporters of the deal have warned that the alternative to a settlement is years of costly—and potentially fruitless—litigation. Read more from Jeremy Hill.
More Headlines:
With assistance from Alex Ruoff
To contact the reporter on this story: Brandon Lee in Washington at blee@bgov.com
To contact the editors responsible for this story: Zachary Sherwood at zsherwood@bgov.com; Giuseppe Macri at gmacri@bgov.com; Michaela Ross at mross@bgov.com
Stay informed with more news like this – from the largest team of reporters on Capitol Hill – subscribe to Bloomberg Government today. Learn more.