HEALTH CARE BRIEFING: Cases Rise in Young, Testing Vaccine Push
Bloomberg Government subscribers get the stories like this first. Act now and gain unlimited access to everything you need to know. Learn more.
The U.S. has spent months trying to vaccinate those most at-risk of severe illness from Covid-19, from health-care providers and the elderly to frontline workers and those with underlying medical conditions.
In the weeks ahead, data on Covid-19 hospitalizations and deaths will show whether that strategy is working and vaccinated demographics are protected as case numbers rise nationally.
What that means is that new Covid-19 cases will likely emerge in younger age groups. That occurred in Israel, where infections were recently plateauing despite the nation's world-leading immunization program. It turned out that cases among the young were surging, even as infections dropped in the 50-and-older crowd.
Younger people, though they're thought to be less likely to have symptoms, can still spread the virus and contract severe cases themselves. In a handful of states, for instance, those with underlying medical conditions don't yet qualify for shots.
While it's "extraordinarily good news that our death rate is declining in those who have been vaccinated, there is still a death rate among those who are over 20," CDC Director Rochelle Walensky said at a White House briefing this week. "As those cases continue to increase in that demographic, we will see death rates in that demographic as well."
The Michigan Health & Hospital Association raised alarms this week about hospitalizations spiking among younger age groups: Since early March, they rose 633% among those in their 30s and 800% among those in their 40s. The data show Covid-19 vaccines are working but also "that adults of any age are vulnerable to complications from the disease," the group said.
Those risks are top-of-mind in West Virginia, which widened eligibility this week in an effort to interrupt transmission of the virus among young people.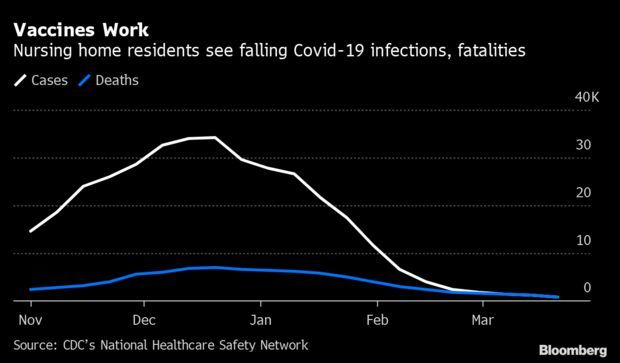 The expanding share of Americans who have received Covid-19 shots—about 26%, or more than 87 million people, have gotten at least one dose—represents an inflection point in the pandemic's trajectory and a watershed moment for the U.S., where the virus has infected at least 30 million and killed more than 547,000.
Yet, most people in the U.S. still are not protected. And there are major roadblocks in the U.S. race to stay ahead of the virus, including vaccine hesitancy and barriers to access, declines in testing and the emergence of more-contagious variants.
While the number of new cases and deaths will continue to be key indicators of the state of the pandemic, there is a glaring need for more precise ways of measuring Covid-19, public-health experts say. Asymptomatic cases in healthier populations who aren't hospitalized, for example, present challenges in tracking.
"Knowing where we have a problem by community and by source is very important to handle the pandemic as we move forward," Ali Mokdad, a professor at the Institute for Health Metrics and Evaluation in Seattle, which produces influential Covid-19 projections, said. "Otherwise we are flying blind." Read more from Emma Court.
More on the Pandemic
U.S. Sees Hitting 240 Million Doses This Week: The U.S. will have received 240 million doses of vaccines by the end of March, enough to inoculate 130 million people, with Pfizer, Moderna, and Johnson & Johnson all on pace to hit quarterly production targets, Jeff Zients, coronavirus response coordinator for President Joe Biden, said in a briefing on Friday. The Biden administration expects at least 11 million doses from J&J this week, putting the drugmaker on track to achieve their mark of 20 million doses by the end of March. Josh Wingrove has more.
Biden Contracts for 18 Million Masks for At-Risk People: Two U.S. companies will produce some 17.8 million cloth masks under a new government contract as part of the White House plan to send the protective gear to disadvantaged communities that have borne the brunt of the coronavirus. Parkdale Advanced Materials and H.C. Contracting will each make 8.9 million masks for $20.5 million each, the Defense Logistics Agency said. Read more from Shira Stein.
Vaccine Deal-Making Fleeting Game Changer: Major drugmakers are teaming up at an unprecedented rate to meet Covid-19 vaccine production demands, but industry watchers say the drive may be short-lived. For example, Johnson & Johnson has a deal with Merck to help make its single-dose vaccine and is seeking additional partnerships to ramp up supply.
Companies say the partnerships could help them boost capacity by as many as hundreds of millions of doses this year, a critical need as the world grapples with the pandemic. But some attorneys say the partnerships are an odd byproduct of a unique moment and are unlikely to spur further manufacturing deals beyond the public health emergency. Read more from Ian Lopez.
More U.S. Headlines:
EU Won't Let AstraZeneca Export Doses Until Pledge Met: The European Union will block exports of AstraZeneca coronavirus vaccines if the company fails to deliver the shots bought by the EU on time, the European official leading the bloc's vaccination push said. "As long as AstraZeneca doesn't make good on its obligations, everything that is produced on European soil is distributed to Europeans," said Thierry Breton, internal markets commissioner for the EU. "If there are surpluses, they will go elsewhere." Francois de Beaupuy has more.
Deaths Spiking, Variants Spreading Where Vaccines Haven't Reached: If you're living in Israel, the U.S. or the U.K., where vaccination programs are rolling out with remarkable speed, glimpses of a post-coronavirus future are starting to appear: Schools have mostly reopened, family gatherings are being planned and summer trips may be just over the horizon. But move away from this handful of wealthy nations and a darker reality emerges: The virus is still rampaging around most of the planet, and uneven vaccine distribution poses a major public risk as new strains emerge. Read more from Todd Gillespie.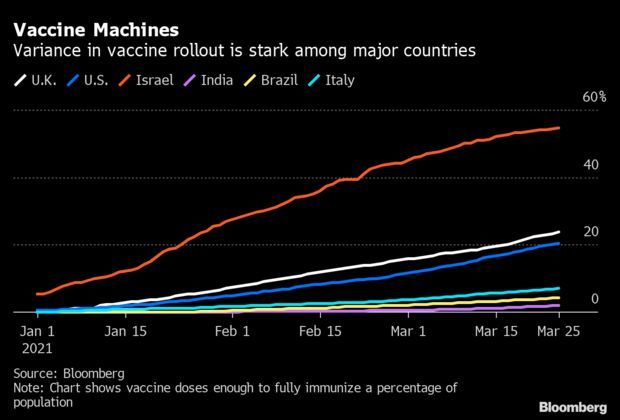 More Global Headlines:
What Else to Know Today
Sanders Pushes for Medicare Changes in Infrastructure Bill: Sen. Bernie Sanders (I-Vt.) is pushing Biden to use Democrats' next big legislative package to lower the Medicare eligibility age to as low as 55, let the program negotiate drug prices, and expand coverage for dental and hearing, according to a staffer for Sanders. Speaker Nancy Pelosi (D-Calif.) said last week that Democrats are discussing adding language to Biden's upcoming infrastructure legislation that would let the U.S. negotiate drug prices. Erik Wasson has more.
Three Democrats Introduce Public Option for ACA: Sens. Sheldon Whitehouse (D-R.I.) and Sherrod Brown (D-Ohio), and Rep. Jan Schakowsky (D-Ill.) Friday unveiled a bill to add a publicly operated health insurance option to the Affordable Care Act's individual marketplaces, according to a statement. The measure would "guarantee American consumers access to a stable, low-cost, and high-quality plan" in U.S. insurance marketplaces, according to the statement. Read the statement here.
Progressives See a Chance to Push Democrats Left: Progressive groups see an opening to expand their influence in Congress thanks to the new president. With three special elections in coming months to replace Democratic House members selected by Biden for posts in the White House, the organizations that helped elect Rep. Alexandria Ocasio-Cortez (D-N.Y.) and other young progressives in recent elections see those races as openings to nudge the party further to the left, including on Medicare-for-All. Jarrell Dillard has more.
More Headlines:
To contact the reporter on this story: Brandon Lee in Washington at blee@bgov.com
To contact the editors responsible for this story: Zachary Sherwood at zsherwood@bgov.com; Giuseppe Macri at gmacri@bgov.com; Michaela Ross at mross@bgov.com
Stay informed with more news like this – from the largest team of reporters on Capitol Hill – subscribe to Bloomberg Government today. Learn more.