HEALTH CARE BRIEFING: Cancer Deaths Expected to Rise With Covid
Bloomberg Government subscribers get the stories like this first. Act now and gain unlimited access to everything you need to know. Learn more.
Almost 10,000 more people will die from breast and colorectal cancer over the next decade because of disruption in care caused by Covid-19, undoing decades of progress, according to NIH projections released yesterday.
Those estimates are conservative and account for about one-sixth of all cancer deaths. But immediate action by cancer clinicians, researchers, and the federal government could mitigate the impact of delayed diagnoses, surgeries, and research, National Cancer Institute Director Ned Sharpless wrote in the journal Science. He called for labs, hospitals, and clinics to reopen where possible.
"There was a prudent and good reason for hospitals to change their behavior at the beginning of the pandemic," Sharpless said in an interview. "But now we're starting to see that if that period stretches on and on and on, that will begin to impact non-Covid diseases like cancer and cause some excess death. And the NCI's really worried about that."
Stay-at-home orders to slow the spread of the virus also meant a slowdown in providing non-Covid care across the board, including cancer. They also stymied the ability of researchers to conduct clinical trials that are an integral part of oncology therapies and shut down laboratories.
Sharpless asked an NCI network that uses statistical modeling to improve understanding of cancer treatments to project the effects of the pandemic on cancer mortality over the next decade. It chose breast and colorectal cancers because those are common cancers with high screening rates. The projections found an increase in deaths due to the virus would peak in the next year or two, likely sooner for colorectal than for breast cancer.
The results are plausible, Sharpless said, and he wanted to get the message out that there are innovative ways to help patients return to cancer centers safely because the longer the pandemic disrupts care, the worse things will be for patients. Read more from Jeannie Baumann.
Millions of Americans Forgoing Health Care: A Census Bureau poll of how households are handling their medical needs during Covid-related closures and stay-at-home orders found that millions are going without care. Led by the New York metro area, in the last four weeks to June 9 an estimated 87.7 million people across the nation delayed getting care, while nearly 71 million needed it for something unrelated to Covid-19, but didn't get it, Alex Tanzi reports.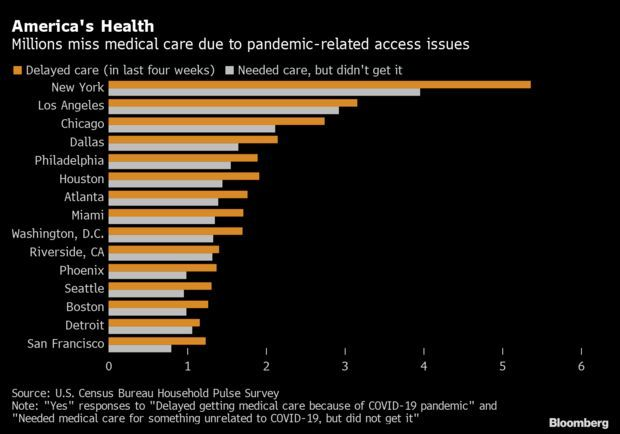 Congressional Virus Efforts
Congress Urged on Special ACA Enrollment: A group that includes companies that hire gig workers who don't receive health insurance asked Congress to pass legislation compelling the Trump administration to open the Affordable Care Act marketplace so that uninsured people can get enrolled in coverage.
In addition to the 40 million people who have lost their jobs during shutdowns, "millions of Americans who don't have access to employer-provided healthcare benefits" like "independent contractors, part-time workers, and small business employees are also not eligible to enroll today,'" the group says in a letter sent to congressional leaders this week.
Letter signers included the chiefs of DoorDash, Postmates, Instacart, TaskRabbit and Fiverr, companies that employ many independent contractors who typically don't receive health insurance benefits. It was also signed by Andy Slavitt, acting administrator of the Centers for Medicare & Medicaid Services under the former President Barack Obama; and Ezekiel Emanuel, a health-care adviser to Obama, Sara Hansard reports.
Fauci, Health Chiefs to Testify June 30: Anthony Fauci, the U.S. government's top infectious diseases expert, will testify before the Senate Health, Education, Labor, and Pensions Committee on June 30, according to a statement from the committee. CDC Director Robert Redfield, FDA Commissioner Stephen Hahn and HHS Assistant Secretary Brett Giroir will also testify. Lawmakers will examine the progress federal, state and local governments are making to help reopen the U.S. and schools amid the Covid-19 pandemic, Ben Livesey reports.
Covid-19 Drug Repurposing: The House Science, Space, and Technology Subcommittee on Investigations and Oversight plans a hearing today on repurposing therapeutic drugs for Covid-19.
Lawmaker Letters:
Rep. Jan Schakowsky (D-Ill.) and Sen. Elizabeth Warren (D-Mass.) requested information on reports and complaints that the White House rejected an offer to boost domestic manufacturing capacity for N95 respirators at the start of the outbreak. They sent a letter to Vice President Mike Pence asking for a response by July 2, Elizabeth Elkin reports.
House Appropriations Labor-HHS-Education Chairwoman Rosa DeLauro (D-Conn.) and Senate HELP ranking member Patty Murray (D-Wash.) asked HHS Secretary

Alex Azar

about the "slow process for disbursing funds to support oversight of nursing homes," which are especially vulnerable to Covid-19. They claimed in a letter to Azar that millions of dollars remain unspent. Read the letter here.
A group of Senate Democrats sent a letter to Azar, Attorney General

William Barr

and acting Homeland Security Secretary Chad Wolf to raise "concerns with the Trump administration's law enforcement tactics" they argue could exacerbate the spread of Covid-19. National Guard members being sent to quell demonstrations are "in many cases failing to wear face masks," while the use of tear gas may spread the virus as protesters cough, they say. Read the letter here.
Testing, Treatment & Research
Watchdog Says HHS Doctor Shortage Remains: HHS still has a shortage of doctors responding to national emergencies, according to a new report from the Government Accountability Office. The federal workforce of health-care providers responding to emergencies was less than half the recommended number in December 2019: 3,667 responders. HHS has set a target of 6,290 responders for the workforce, according to the GAO.
Further, the agency hasn't worked out the skills this workforce needs to respond to a major emergency, the GAO found, meaning that HHS isn't likely to meet its hiring goal in the near future, Alex Ruoff reports. Read the report here.
Coronavirus Deaths in U.S. Nursing Homes Revised Downward by Feds: The number of U.S. nursing home deaths from Covid-19 was revised downward from nearly 32,000 on May 31 to 29,457 through the first week of June, according to new data released by the Centers for Medicare & Medicaid Services. The CMS did not immediately provide an explanation for the change. Read more from Tony Pugh.
HHS Seeks Boost to Rural Medical Workforce: Programs to boost the health-care workforce in rural and underserved areas will split more than $107 million in new funding from HHS. More than 300 recipients in different programs across 45 states and U.S. territories will get the grants announced yesterday by HHS. Read more from Tony Pugh.
Cuomo Considers Quarantine for Floridians: New York Gov. Andrew Cuomo (D) said he's weighing whether to require people who visit from Florida to quarantine for 14 days. Covid-19 cases have been rising in Florida, while New York cases are on the decline. In March, when New York state's cases were surging fast, Florida Gov. Ron DeSantis (R) ordered self-quarantines of visiting New Yorkers. Now, the tables may turn. Read more from Keshia Clukey.
Trump Says China May Have Pushed Spread: President Donald Trump said that the coronavirus pandemic is near its end in the U.S. and he believes China may have encouraged the spread of Covid-19 as a way to undermine rival economies, according to The Wall Street Journal. "There's a chance it was intentional," Trump told the Journal. Trump said Covid-19 testing is overrated, and allowed for the possibility that some Americans wear face coverings to signal disapproval of him. Find the story here.
More Headlines:
What Else to Know Today
Rush for Generics Approvals Roils Drug Industry: Generic drugmakers are increasingly lining up to bring competing versions of brand-name products to the market at the earliest possible date. But that might be bad for consumers. It's no longer just one company seeking to be the first to bring a generic to the market, a status that gives drugmakers 180 days of market exclusivity. Instead, multiple companies are simultaneously seeking and sharing that status, which has stirred more litigation for brand-name drugmakers that must then defend their patents. Read more from Valerie Bauman.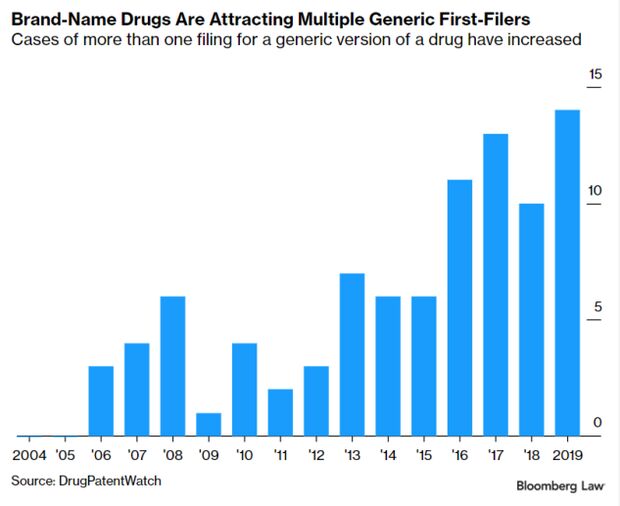 Menthol Ban Battles Go Local: While the FDA will defend its decision to keep menthol cigarettes on the market in court, anti-smoking advocates are urging cities and states to restrict or ban tobacco flavors they say disproportionately target black smokers. The FDA in 2019 decided not to ban menthol cigarettes. That drew a challenge Wednesday from the African American Tobacco Control Leadership Council, which argue it disproportionately affects Black Americans.
The suit is one avenue in the fight over flavored tobacco products—especially menthol—that anti-smoking advocates argue help hook children on smoking. While the courts weigh the FDA's decision, advocates are turning their sights to states and cities. Chicago, Montana, and California could all set new restrictions on flavored tobacco products soon. Read more from Ayanna Alexander.
Older Adults Struggle to Get Pfizer's $225,000-a-Year Heart Drug: Pfizer's new $225,000-a-year heart drug is being labeled by researchers critical of the cost as "the most expensive cardiac medication in history." A new analysis that hones in on 50 people prescribed tafamidis offers data suggesting the high cost presents a prohibitive financial barrier to many patients. Read more from Emma Court.
More Headlines:
With assistance from Alex Ruoff
To contact the reporter on this story: Brandon Lee in Washington at blee@bgov.com
To contact the editors responsible for this story: Giuseppe Macri at gmacri@bgov.com; Zachary Sherwood at zsherwood@bgov.com; Michaela Ross at mross@bgov.com
Stay informed with more news like this – from the largest team of reporters on Capitol Hill – subscribe to Bloomberg Government today. Learn more.