HEALTH CARE BRIEFING: Broken Ventilators Vex Black Communities
Bloomberg Government subscribers get the stories like this first. Act now and gain unlimited access to everything you need to know. Learn more.
Broken ventilators are the latest problem facing black communities that have so far borne the brunt of coronavirus deaths.
States and large cities recently received damaged ventilators from the U.S. stockpile, rendering them unusable. With ventilators in short supply, minority advocates demand governments and manufacturers take steps to make it easier to fix broken equipment.
Ventilators are necessary not just for Covid-19 patients but also those with respiratory conditions like asthma, which is three times more likely to kill black people, according to the Centers for Disease Control and Prevention.
Color of Change, a civil rights advocacy organization, in an April petition called on ventilator manufacturers including Medtronic and GE Healthcare and trade group AdvaMed to release design specifications to enable hospitals to fix the broken devices. But device manufacturers are struggling to balance the rising demand for usable ventilators with the need to protect their brands and reduce liability risks.
"We're definitely preparing to ramp up our pressure because they feel like they don't have to be accountable in these ways and they can be dismissive of the race disparities that we're seeing play out right now," Brandi Collins-Dexter, senior campaign director at Color of Change, said. "It's on these companies to release the full design specifications of the ventilators to make them more useful for hospitals so they can be fixed. That will fill the gap and increase production."
Medtronic in March announced it would make specifications available for one of its ventilators. Hospitals already have service manuals for basic troubleshooting, but making its material more widely available won't increase the number of ventilators at hand, the company said. Read more from Ayanna Alexander.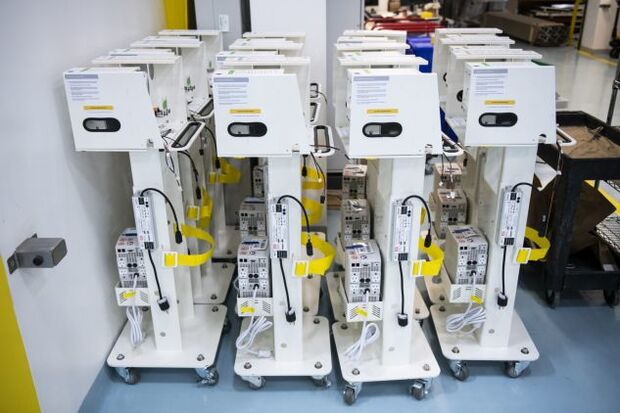 Testing & the Path to Reopening
Ragtag Army of Virus Tracers Shapes Up: U.S. health experts say a force of as many as 300,000 contact tracers is crucial for coast-to-coast reopening in the wake of the new coronavirus. So far, though, the country has a far smaller ragtag army that's many weeks, if not months, from full deployment.
West Virginia wants tracers to go unpaid. Texas, advertising jobs at $17 to $22 an hour, calls the gig a "simple" matter of telling people to stay home. New York City is seeking 1,000 hires with public-health backgrounds. North Carolina, which is targeting unemployed people with high-school educations, received about 1,500 applications for 250 positions in just 24 hours. Five weeks into the pandemic, a record 26 million Americans had filed for unemployment benefits, more than 875,000 in North Carolina.
That wave of desperation explains why Texas, Georgia and other states are stirring to life this week. Gov. Gary Herbert (R) said yesterday that Utah will reopen in a limited capacity Friday, including gyms, salons and dine-in restaurants so long as they "exercise extreme precautions," and Wyoming will do likewise. California Gov. Gavin Newsom (D) is considering opening schools as early as July to make up for lost class time. But experts say long-term stability won't come without a way to quickly spot Covid-19 outbreaks and stop them. Read more from Elise Young, Keshia Clukey and Kurt Wagner.
President Donald Trump said in a Twitter post last night that "the only reason the U.S. has reported one million cases of CoronaVirus is that our Testing is sooo much better than any other country in the World."
Mandatory Face Mask Rule Sought on Airplanes: A bipartisan group of House Transportation Committee leaders are seeking tighter airline protections against the coronavirus and more liberal cancellation policies. A bipartisan letter, signed by four leaders on the committee, was sent to the industry trade group Airlines for America. Every U.S. carrier should adopt policies requiring both passengers and flight attendants to wear masks or keep their face covered for the "entirety of their air travel," the lawmakers said in the letter. Read more from Alan Levin.
Separately, Trump said he's considering requiring people arriving in the U.S. aboard international flights to be tested for coronavirus. The government is "looking at it very closely," he said at a White House event with Florida Gov. Ron DeSantis (R). Asked whether he meant temperature checks of arriving passengers or diagnostic tests, Trump said "both." DeSantis said he'd like airlines to screen passengers arriving from "hotspots," but doesn't endorse "necessarily cutting them off." Read more from Jennifer Jacobs.
Meanwhile, Vice President Mike Pence yesterday disregarded a Mayo Clinic policy requiring face masks as he discussed the pandemic with top doctors at one of the nation's leading hospitals. The Centers for Disease Control and Prevention has recommended wearing face coverings in public, and Pence has repeatedly implored Americans to follow public health guidance. But he was conspicuously the only participant in a round-table at the hospital who didn't wear a mask. Read more from Justin Sink.
N.Y.C. Sees Drop in Virus Admissions: New York City reported a decline in the number of people admitted to hospitals for the coronavirus, to 112 from 122 as of April 25. The number of people in New York City Health + Hospitals intensive-care units also fell to 745 from 766 as of April 25, according to figures presented by Mayor Bill de Blasio (D) at a briefing. In another sign of optimism, the mayor reported that the citywide percentage of those who tested positive for the virus is 27%, down from 29%. Read more.
More Headlines:
Vaccine Research & Treatment Efforts
White House Reverses Air Ambulance Funding: The White House reversed its decision to deny air ambulance companies access to coronavirus aid money over the weekend, a move the industry says is needed as it experiences a drop in air medical transports. The Health Resources & Services Administration in the Department of Health and Human Services updated sometime between last Friday and yesterday its website on Covid-19 claims reimbursement for testing and treatment to health-care providers and facilities serving the uninsured. As recently as April 24, a previous version had put air and water ambulances on a list services excluded from the $100 billion in relief funding for hospitals and health-care providers on the front lines of the Covid-19 response. But as of this week, they're no longer on the exclusion list. Alex Ruoff and Jeannie Baumann have more.
Doctors Want Medicare Program Reinstated: The nation's doctors want the Trump administration to restart a Medicare loan payment program that offers over $40 billion to help them weather losses in revenue during the coronavirus crisis. More than 24,000 loans had been approved for doctors, other caregivers, and suppliers of durable medical equipment since March 28 under Medicare's Advance Payment Program. But the program, which was expanded to address cash flow problems early in the health emergency, was suspended on April 26 without advance notice by the Centers for Medicare & Medicaid Services. Read more from Tony Pugh.
Fauci 'Cautiously Optimistic' on Vaccine: The National Institute of Allergy and Infectious Diseases head Anthony Fauci is "cautiously optimistic" scientists will develop a Covid-19 vaccine that can protect against future outbreaks of a virus he said is unlikely to disappear. Fauci, who's overseen the scientific response to every outbreak since HIV, in the past has shied away from offering predictions about treatments. There has been concern that the expectations for a vaccine might be too high; despite decades and billions of dollars of research, there is still no HIV vaccine. Read more from Jeannie Baumann.
FDA Targets Coronavirus Remedy Scams: Two companies marketing essential and botanical oils as "treatments" for the coronavirus are drawing scrutiny from the Food and Drug Administration. The agency sent warning letters to Hopewell Essential Oils and Santiste Labs over claims on their websites that their products bolster the body's immune system against the coronavirus or relieve symptoms of Covid-19. The FDA has been taking "urgent measures" during the outbreak to protect consumers from products that claim to prevent, treat or cure the illness, according to the letters. Read more from Christopher Brown.
Industry Groups Call for Insurance Extensions: Health industry and business groups are asking lawmakers to find ways to extend health insurance to people losing their coverage, pushing back on the Trump administration's decision to use funds originally earmarked for hospitals and doctors to cover costs related to testing and treatment of Covid-19 for those without coverage.
The American Hospital Association, America's Health Insurance Plans, the U.S. Chamber of Commerce and other groups urged lawmakers to give employers temporary subsidies for giving their employees health-care benefits as well as expand the Affordable Care Act's insurance subsidies. On a call with reporters yesterday, AHA President and CEO Rick Pollack said the White House's current system of reimbursing providers at Medicare rates for treating the uninsured is "way less than adequate," Alex Ruoff and Sara Hansard report.
IGs Say Coronavirus Probes Underway: The inspectors general for the Justice Department and Treasury Department submitted written briefs to members of the House Oversight and Reform Committee yesterday, saying they have begun audits relating to the coronavirus crisis and "will issue 'flash reports' to quickly address any problems," according to a committee statement. The Department of Justice's watchdog will specifically investigate coronavirus-related deaths of inmates under the Federal Bureau of Prisons, the statement says.
More Headlines:
What Else to Know
House Leaders Scrap Return Next Week: The House won't be returning to the Capitol next week after all, Majority Leader Steny Hoyer (D-Md.) told reporters yesterday, citing the continued threats of the spread of the pandemic in the Washington area. "The House physician's view was that there was a risk to members that he would not recommend taking," Hoyer said. The physician said infection numbers in the Washington region were on the rise and that the area had "hot spots," Hoyer said. Hoyer also said there's no need to press for a quick return in part because the next phase of coronavirus relief legislation won't be ready for action. Billy House has more.
High Court Win Could Lead to Bigger ACA Refunds: Health insurers could see a surge of cash following a Supreme Court decision that the federal government must pay the $12 billion it'd promised them under Obamacare. But that money could come in and go right back out. Under the law, health insurers that cover individuals and small businesses must spend at least 80% of their revenue on health-care costs or write rebate checks to their enrollees. Big-market insurers with more enrollees must spend at least 85% of their revenue on health costs. Even without the $12 billion payout from the government, insurers are on track to issue about $2.7 billion in rebates to their enrollees for 2020, data from the Kaiser Family Foundation show. Read more from Lydia Wheeler.
Pandemic Hobbles Drugmakers in Recruiting: A study evaluating a Novartis cholesterol drug stopped enlisting patients due to Covid-19, the latest example of how the Covid-19 pandemic is hampering research industry-wide. The Swiss drugmaker has paused new enrollment in a large U.K. clinical trial called Orion-4 that is evaluating the experimental heart drug inclisiran, according to CEO Vas Narasimhan. The potential blockbuster medicine was central to Novartis's $9.7 billion takeover of Medicines Co. last year. And Novartis is far from alone. Read more from James Paton.
More Headlines:
To contact the reporter on this story: Brandon Lee in Washington at blee@bgov.com
To contact the editors responsible for this story: Giuseppe Macri at gmacri@bgov.com; Zachary Sherwood at zsherwood@bgov.com; Michaela Ross at mross@bgov.com
Stay informed with more news like this – from the largest team of reporters on Capitol Hill – subscribe to Bloomberg Government today. Learn more.