HEALTH CARE BRIEFING: Booster Costs Spur Calls to End Free Jabs
Bloomberg Government subscribers get the stories like this first. Act now and gain unlimited access to everything you need to know. Learn more.
The U.S. government's Covid vaccine funding may have to shift from a model of free shots for all to one in which the government only subsidizes boosters for targeted populations, public health analysts say.
Annual Covid-19 boosters for all Americans, tailored to the prevalent virus strain, would cost billions of dollars each year and may not be the most sustainable and effective path in responding to future variants. Analysts say reserving booster recommendations to those most at risk would be more cost-effective.
"Given the much greater expense of Covid boosters compared to flu shots and the time needed to revise and manufacture Covid vaccines, we need to hope we won't need annual shots," said Diana Zuckerman, head of the National Center for Health Research. It "would make sense to prioritize by focusing efforts to persuade and administer boosters to those most likely to benefit."
If the Biden administration were to purchase enough second-round booster doses for all eligible Americans, it would need up to $9.4 billion in additional funding, according to a Kaiser Family Foundation analysis. A $10 billion request from the White House to purchase additional vaccines and therapeutics is stalled in the Senate amid objections to the administration's decision to re-open the U.S.-Mexico border to asylum-seekers.
Targeted booster campaigns may help better prepare for a situation in which boosters switch to a payment model similar to the one used for flu shots, analysts say, in which insurance covers it or those who are uninsured pay out of pocket. "The provision of vaccines on a long-term basis is probably going to devolve back to our fractured private and public sectors instead of being paid for exclusively by the federal government," said Brook Baker, a professor at Northeastern University and senior policy analyst for Health GAP, an advocacy group focusing on equity in access to HIV medications.
Health policy watchers say the general population could need additional boosters if more infectious and deadly variants emerge. But existing evidence on the boosters' efficacy and the price tag for shots in every American arm means the federal government should prioritize updated vaccines for older and immunocompromised people—and vulnerable populations elsewhere, they say. Read more from Celine Castronuovo.
Uneven Covid Data Creates CDC Blind Spots
The rise of Covid cases in some regions of the U.S., just as testing efforts wane, has raised the specter that the next major wave of the virus may be difficult to detect. In fact, the country may be in the midst of a spike right now and we may not even know it. Testing and viral sequencing are critical to responding quickly to new outbreaks of Covid. And yet, as the nation tries to move on from the pandemic, demand for lab-based testing has fallen while federal funding priorities have shifted. The change has forced some testing centers to close while others have raised prices in response to the end of government-subsidized testing programs.
People are increasingly relying on at-home rapid tests, if they opt to test at all. But their results are rarely reported, giving public health officials little insight into how widespread the virus truly is. "There's always more spread than we can detect," said Abraar Karan, an infectious disease doctor at Stanford University. "That's true even more so now than earlier in the pandemic."
Despite groundbreaking scientific advances like vaccines and antivirals, public health experts say that the nation's Covid defenses appear to be getting weaker as time goes on—not stronger. "We're in a worse position," said Julia Raifman, an assistant professor of health law, policy and management at Boston University School of Public Health. "We've learned more about the virus and how to address it, and then we haven't done what we need to do to address it."
In late February, the Centers for Disease Control and Prevention began relying on hospital admissions and ICU capacity to weigh community-level risk. That was a change from relying on Covid case counts and the percentage of positive tests, which are widely considered a better snapshot of how much virus is circulating in a given community. Several states have now completely stopped reporting daily Covid figures to the CDC, making it more difficult to gauge the progression of the pandemic in those states. Read more from Madison Muller.
Fauci Says It's Up to Each Person to Assess Their Risk: Americans need to make their own medical risk assessments as Covid-19 cases accelerate in the U.S., Biden's chief medical adviser said, reflecting a less virulent virus and wide public exhaustion with restrictions. "This is not going to be eradicated and it's not going to be eliminated," Anthony Fauci said on ABC's "This Week" on Sunday. "And what's going to happen is that we're going to see that each individual is going to have to make their calculation of the amount of risk that they want to take." Read more from Ian Fisher.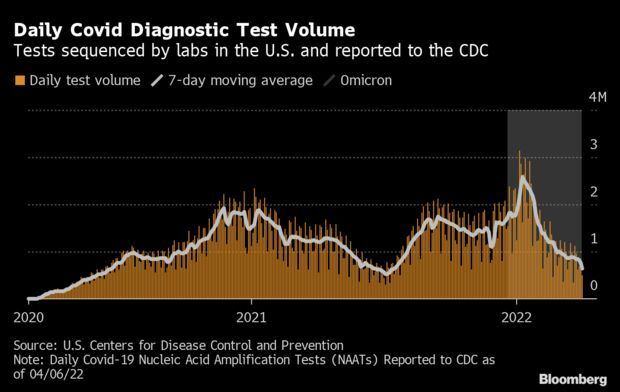 More on the Pandemic
Republicans Urge Biden to Drop Travel Mask Mandate: The Biden administration faces increasing pressure to end the mask mandate on airplanes, trains, and ships despite signs of an uptick in Covid-19 cases. Top Republican lawmakers on committees that oversee transportation on Friday renewed their calls for Biden to rescind or not extend the mask mandate, which is poised to expire April 18. Travel groups have also been pushing for the mandate to end. The administration recently extended its mask mandate on public transportation for another month, as the CDC crafts a policy for how and when mask rules should be eased.
"The Administration's policies should reflect nothing less than steadfast support for the transportation sector's rapid recovery," lawmakers said in a letter. Opinions on the travel mask mandate have been mixed, with some Democrats advocating to keep it, while others joined Republicans in the Senate to pass a largely symbolic resolution (S. J. Res. 37) last month to end it. But signs of a new wave of infections, even reaching Speaker Nancy Pelosi (D-Calif.) and a slew of other lawmakers, could complicate the Biden administration's decision. Read more from Lillianna Byington.
Biden Can Force Shots on Contractors, DOJ Claims: The U.S. government told a federal appeals court Friday that the president has the power to mandate the Covid vaccine for federal contractors to help businesses run more efficiently as they deal with the virus and its effect on workers. The Department of Justice pushed the U.S. Court of Appeals for the Eleventh Circuit to overturn a nationwide injunction imposed against Biden's executive order that would require federal contractors, which represent around a fifth of the nation's workforce, to get the vaccine. Read more from Erin Mulvaney.
Biden Action Seen as Cure for 'Long Covid' Clinics: The biggest victory for the millions of people suffering from long Covid was news that the government is launching specialized treatment clinics, but the funding budgeted likely isn't enough. Though there are over 200 post-Covid clinics across the U.S. to care for those with the constellations of conditions known as long Covid, there's no standard for the treatment they provide—and some aren't actually helping patients. The memorandum Biden announced last week aims to change that by investing an initial $20 million in 2023 to launch Centers of Excellence. Lydia Wheeler has more.
More Headlines:
What Else to Know Today
Medicare Alzheimer's Policy Raises Ante for Drugmakers: The U.S. Medicare program's decision to tightly limit coverage for the first drug meant to slow the course of Alzheimer's disease has raised the stakes for companies trying to make the next one. First up are Eisai and Roche, which will release reports from final-stage trials of their respective lecanemab and gantenerumab treatments this year. Next will be Eli Lilly, whose donanemab data are expected in 2023. Each of the firms will be trying to reach an elusive bar: showing clear evidence that they can alter the course of Alzheimer's in a way that's meaningful to patients.
The major studies from the three drug companies should finally deliver a definitive answer as to whether clearing patients' brains of amyloid, a protein associated with Alzheimer's, helps slow cognitive decline. In its decision Thursday, the Centers for Medicare and Medicaid Services pledged broad reimbursements for Alzheimer's medicines that win traditional approval from the Food and Drug Administration. That could mean billions in sales—and a long-awaited treatment option for a disease that affects more than 6 million Americans, many of whom are elderly. Read more from Angelica Peebles.
Anti-LGBTQ Proposal Flood States at Record Pace: This year is heating up to be another record-breaking one for anti-LGBTQ legislation in state legislatures. In an attempt to fire-up a conservative base ahead of midterm elections, Republican legislators have proposed at least 325 bills so far, with about 130 targeting transgender rights specifically. That's already ahead of the 268 introduced last year, a previous record. A total of 27 made it into law in 2021 for the worst year in recent history for anti-LGBTQ legislation, according to the Human Rights Campaign. This year, so far seven have become laws. Kelsey Butler has more.
Specialty Doctors Lose Medicare Appeal: Expenses for on-call specialty doctors at critical access hospitals aren't reimbursable under Medicare rules, a federal appeals court has ruled. The Department of Health and Human Services properly interpreted its regulations as restricting reimbursement just for on-call costs to emergency room doctors, the U.S. Court of Appeals for the D.C. Circuit said Friday. The ruling arose from a lawsuit filed by a California critical access hospital seeking reimbursement for on-call inpatient hospital services provided by certain doctors from 2005 to 2008. Read more from Christopher Brown.
Anxiety Driving Rise in Mental Health Workplace Bias Claims: An increasing number of workers are accusing their employers of discriminating against them based on their mental health conditions, a change fueled largely by rising numbers of allegations based on anxiety and post-traumatic stress disorder, the EEOC found. Accusations of mental health discrimination accounted for roughly 30% of Americans with Disabilities Act-related charges in fiscal year 2021, according to newly released statistics from the U.S. Equal Employment Opportunity Commission, an increase from 20% in fiscal 2010, J. Edward Moreno reports.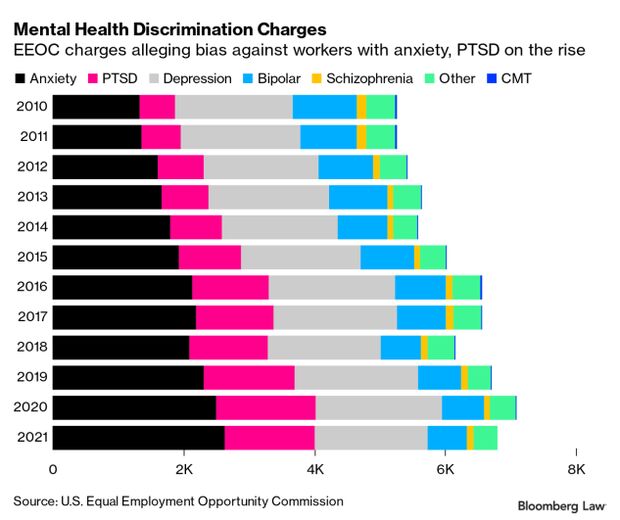 To contact the reporter on this story: Brandon Lee in Washington at blee@bgov.com
To contact the editor responsible for this story: Giuseppe Macri at gmacri@bgov.com
Stay informed with more news like this – from the largest team of reporters on Capitol Hill – subscribe to Bloomberg Government today. Learn more.