HEALTH CARE BRIEFING: Biden's Vaccine Bet Tied to Many Variables
Bloomberg Government subscribers get the stories like this first. Act now and gain unlimited access to everything you need to know. Learn more.
President Joe Biden has promised Americans they can sign up for Covid-19 shots by May 1 and return to a semblance of normal life by Independence Day. He's gambling that his administration can make it happen—and he'll either bask in the accomplishment or suffer the consequences.
Success will require coordination among federal and local governments, industry and—most crucially—citizens themselves.
"It's a risk politically, but it's very important for politicians to level with the American people," said Ali Mokdad, professor at the University of Washington's Institute for Health Metrics and Evaluation. "But you have to give the people hope—you have to tell them that if they get the vaccine and wear a mask, yes, we will open our country."
Vaccine supply from companies including Pfizer, Moderna, and Johnson & Johnson is projected to surge in the coming weeks, with enough doses for every American before June and millions coming beyond that. But the country has to channel the tsunami. Even now, many Americans must wait in long lines, while others stumble through wonky appointment websites.
The best way to blunt the virus' force is to protect those most in danger. People 65 and older account for about four in five pandemic deaths. About 65% of them have gotten at least one dose, but the price of not finishing the job would be massive. At the same time, Black people, who also have died disproportionately, have gotten far fewer vaccines per capita than Whites.
"It needs to be a coordinated action, where not only are you pumping in vaccines, but you're also strengthening local infrastructure," said Arnold Monto, an epidemiology professor at the University of Michigan who also advises the Food and Drug Administration on vaccines. Read more from Jonathan Levin, Nic Querolo, and Angelica LaVito.
GOP Vaccine Hesitancy Risks Control Effort: Reluctance among certain parts of the population to receiving a vaccine is one of the biggest risks to coronavirus control efforts, Biden's chief medical adviser said. "I just don't get it," Anthony Fauci, director of the National Institute of Allergies and Infectious Diseases, said on NBC when asked about polling showing many Republicans, especially men, don't want a vaccine.
A PBS News Hour/NPR/Marist survey released last week showed 41% of people who identify as Republicans, including 49% of GOP-leaning men, said they would not get one of the three federally approved vaccines. Among Democratic-leaning men, 6% said the same. Separately, a Monmouth University poll found 56% of Republicans either wanted to wait and see before getting a vaccine, or said they were likely never to get one.
Fauci said he'd like to see former President Donald Trump come out and publicly urge his supporters to get the vaccine.
"I wish he would," Fauci said on "Fox News Sunday." "He has such an incredible influence over people in the Republican Party. It would really be a game changer if he did." Read more from Ros Krasny and Christopher Condon.
Happening on the Hill
Becerra Nomination: Senate Majority Leader Chuck Schumer (D-N.Y.) may file cloture today to set up a vote as soon as Wednesday for Biden's choice of Xavier Becerra to lead the Department of Health and Human Services after the Senate advanced the nomination with just one Republican vote Thursday, Nancy Ognanovich and Alex Ruoff report. The 51-48 vote moved Becerra's nomination to the Senate floor, signaling that Becerra could get the least amount of Republican support of any of Biden's cabinet pick.
Democrats Moving to Avert Medicare Cuts in Aid Bill: The House is poised to delay cuts to Medicare and other federal programs as soon as this week, setting up a showdown between Democrats and Republicans over federal spending. House committee leaders Friday unveiled legislation to waive budget requirements of the $1.9 trillion Covid-19 relief bill signed into law Thursday. It would ensure Medicare and other federal programs, for nine months, are spared from automatic cuts under budget sequestration rules.
Democrats can't avert these scheduled cuts alone. Unlike the rescue package, this legislation will need 60 votes in the Senate, where only 50 members caucus with Democrats. Republicans used these automatic cuts as a cudgel against Democrats during debate over the aid bill, and haven't said whether they'll support a waiver. Read more from Alex Ruoff and Jack Fitzpatrick.
Telehealth Researchers Look to Sway CBO: Telehealth organizations are rushing to publish a sweeping study of the surge in virtual doctor's visits in the past year in hopes of convincing congressional scorekeepers that allowing seniors to see their health-care providers remotely won't break Medicare's bank. The Center for Telehealth and e-Health Law is raising funds for a national analysis of telehealth use, made possible by a boom in remote doctor visits to help prevent the spread of Covid-19 at clinics and hospitals. Read more form Alex Ruoff.
Slew of Health-Care Bills Set for House Passage: The House is scheduled to consider several measures this week under expedited procedure that indicates broad, bipartisan support. Several of the bills set for passage are highlighted below:
Hearings on the Hill:
More on the Pandemic
Biden Says U.S. Will Keep AstraZeneca Shots: The Biden administration is holding on to its stockpile of AstraZeneca vaccines, even though the shot hasn't been authorized for U.S. use, top aides said Friday—rebuffing pressure from Europe and the company to consider sharing doses of the shot. "We have a small inventory of AstraZeneca so that, if approved, we can get that inventory out to the American people as quickly as possible," Jeff Zients, the president's pandemic response coordinator, said. Read more from Josh Wingrove and Suzi Ring.
Detroit, Baltimore Lead U.S. Increase: Detroit, Baltimore and Phoenix recorded the biggest percentage increases in coronavirus cases last week, according to a list of major urban areas tracked by the Centers for Disease Control and Prevention. New York City is stagnating, while Houston, Atlanta, and Dallas showed the biggest declines compared to the previous week. Of 20 urban areas with populations above 250,000, 15 showed a decrease, according to the CDC. Read more.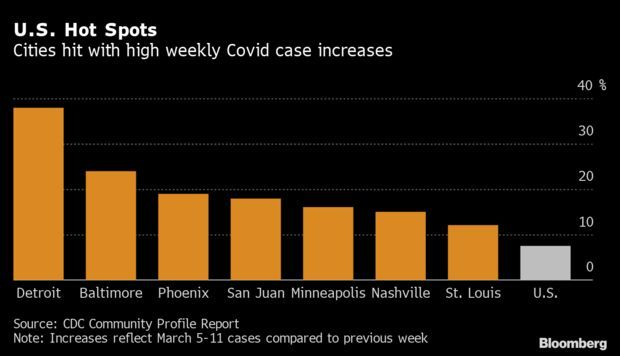 HHS Moves to Retain Vaccine Injury Payments: The Biden administration is taking the final steps toward dropping a Trump-era policy hindering people injured by vaccines from seeking federal compensation. The decision has implications either way for the effort to immunize all Americans against Covid-19, but the Health and Human Services Department said Friday that any changes to the injury program "could have a negative impact on vaccine administrators," and also be at odds with the White House's massive push to get all U.S. adults vaccinated this summer. Read more from Jacquie Lee and Ian Lopez.
BioNTech CEO Says Production Needs to Be Faster: A year after Covid-19 was declared a pandemic, the world would be well advised to prepare for the next one. That's the warning from BioNTech CEO Ugur Sahin, the researcher behind one of the first authorized Covid-19 vaccines. And while the virus still constricts much of daily life around the world, Sahin says Covid-19 isn't even the worst outbreak imaginable. In fact, future pandemics could be even more devastating—and being ready is key, he said in an interview. Naomi Kresge has more.
More U.S. Headlines:
Astra Vaccine Woes Grow: AstraZeneca's vaccine for Covid-19, once expected to be a mainstay of protection for much of the world, remains shrouded in controversy as more countries limit its use even as scientists warn of the need for governments to tread carefully. The Netherlands joined a growing list of about a dozen places, including northern Italy and Ireland, moving to suspend the shot over concerns about possible side effects from two batches. While regulators from Europe to Asia said there was no indication of any direct link with the vaccine, reports of serious blood clotting after inoculation triggered a spate of suspensions stretching as far as Thailand.
The safety scare emerged against a backdrop of supply woes, and continue a drumbeat of bad news that started with questions about its initial trials and now extends to its potential faltering efficacy against a novel variant. Even as some countries suspend its use, others like the U.S. are moving to protect their own stockpiles, blocking efforts to redistribute the shot's supply to places with urgent needs. Read more from Suzi Ring and Michelle Fay Cortez.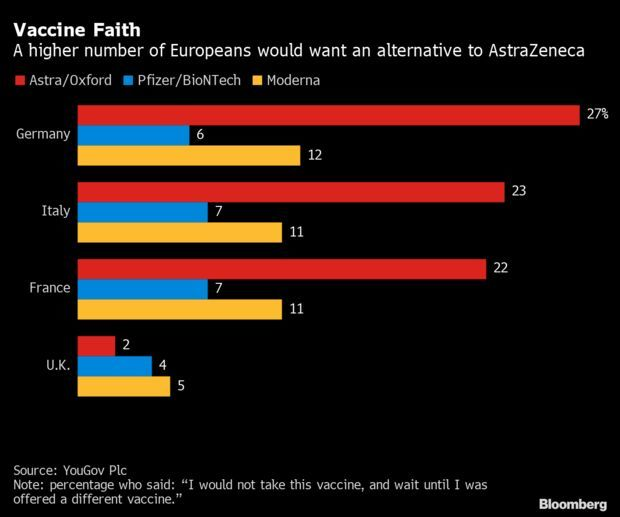 Global Vaccine Headlines:
More Global Virus Headlines:
What Else to Know Today
U.S. Taps FEMA in Response to Migrant Surge: The Biden administration tapped the Federal Emergency Management Agency to help address a surge of unaccompanied children crossing the U.S.-Mexico border, with the agency seeking to expand available lodging for migrants. The issue of undocumented migration has grown significantly since Biden, who campaigned on a pledge of offering relief to those seeking refugee status in the U.S., took office, overwhelming facilities at the border already under strain due to the coronavirus pandemic. Read more from Justin Sink.
Relief Bill Anchors Biden Push on Affordable Care: Millions of Americans will be eligible for new subsidies for health premiums under an expansion of the Affordable Care Act that Biden signed as part of the coronavirus relief package last week. But, those already getting coverage under the law will have to actively seek out the new assistance to take advantage of it immediately. The relief bill includes what Biden officials call the largest coverage expansion since the ACA passed in 2010. More than 3 million people who are currently uninsured will be newly eligible for premium assistance. Read more from John Tozzi.
More Headlines:
With assistance from Alex Ruoff and Nancy Ognanovich
To contact the reporter on this story: Brandon Lee in Washington at blee@bgov.com
To contact the editors responsible for this story: Zachary Sherwood at zsherwood@bgov.com; Giuseppe Macri at gmacri@bgov.com; Michaela Ross at mross@bgov.com
Stay informed with more news like this – from the largest team of reporters on Capitol Hill – subscribe to Bloomberg Government today. Learn more.