HEALTH CARE BRIEFING: Biden's Power Over Shots Hits a Wall
Bloomberg Government subscribers get the stories like this first. Act now and gain unlimited access to everything you need to know. Learn more.
President Joe Biden made his best effort to juice vaccinations yesterday, as the delta variant of coronavirus sweeps the U.S., ordering federal employees to get shots or face strict public health precautions and offering ordinary American holdouts $100 for a jab.
But his latest announcement showed the limit of his powers, and what happens next in the pandemic is largely out of the president's hands.
White House officials had hoped that with free vaccines in plentiful supply across the country, most Americans would voluntarily get inoculated, snuffing out the pandemic. But Biden missed a target of getting at least one shot into 70% of adult arms by July 4, and only about 49% of the U.S. population is fully vaccinated, according to the Centers for Disease Control and Prevention.
The pace of shots has fallen dramatically since April, when more than 3 million Americans a day were lining up at mass vaccination clinics, pharmacies, hospitals and other sites. There's been a rebound for first shots recently in a few states hard-hit by delta, though it's too soon to tell whether that will make much difference.
About a month and a half after Biden celebrated gaining "the upper hand"against Covid-19, his administration once again is recommending Americans wear masks indoors in areas where there's substantial spread of coronavirus — whether they're vaccinated or not.
Biden yesterday stopped short of threatening to fire federal workers who refuse vaccination, as some hospitals and health systems have done, and he instructed the military to examine how and when to add Covid-19 to the vaccinations troops are already required to receive, instead of simply ordering them to get shots. Read more from Jenny Leonard and Skylar Woodhouse.
Happening on the Hill
House Passes Funding Package as Abortion Fight Looms: House lawmakers passed a seven-bill spending package yesterday that would support key Biden White House proposals and an advanced research agency for health, leaving fights over abortion spending for later. The House voted 219-208 in favor of the legislation (H.R. 4502) with a combined $597.7 billion in discretionary budget authority that's largely aligned with Biden's agenda. Read some highlights below, as reported by Jack Fitzpatrick.
The package includes funding for agencies and programs covered by the Agriculture-FDA, Energy and Water, Financial Services, Interior-Environment, Labor-HHS-Education, Military Construction-VA, and Transportation-HUD appropriations bills. Democratic leaders opted not to hold a vote on their Defense appropriations bill, which would provide a $10 billion increase in funds, a total Republicans panned as too little and progressives said was too much.
The package includes a measure that would provide a $3 billion down payment to open the Advanced Research Projects Agency-Health, an agency within the National Institutes of Health that would follow in the footsteps of similar ambitious research energy and defense agencies.
The legislation also sets the stage for a partisan standoff on abortion funding. The Health and Human Services spending bill does not include the Hyde amendment, a longstanding ban on federal funds for abortion, except in cases of rape, incest or the health of the mother. It also doesn't carry the Weldon amendment, which bars federal agencies from discriminating against individuals and health-care facilities and insurers because they refuse to provide or pay for abortions.
Virus Hampers Lawmakers' Return-to-Office: Warnings that members of Congress must again don masks in response to the Covid-19 delta variant's threat threw another monkey wrench into attempts to resume normal operations on Capitol Hill and raised fresh concerns that congressional return-to-office plans are months away from being fully in place. Just as the complex appeared to be opening up more to guests, the Capitol's Office of the Attending Physician reissued a new mask requirement for the House, and the Senate was urged to resume the practice. Some lawmakers said the development will add more confusion to the efforts to get all staff back that in many cases only began within the past several weeks.
There are wide discrepancies in how lawmakers are handling operations, hearings, and guidelines for returning to the complex, even within the two parties. Lawmakers will soon be gone for the August recess and may not return until mid-September, but what kind of environment lawmakers and staff in both chambers come back to is as hazy as ever. Nancy Ognanovich and Emily Wilkins have more.
Biden's Effort to Stop Evictions Frustrates Allies: The day before a moratorium on evictions is set to expire, Biden faces criticism from some of his allies for his hasty effort to preserve it — and for not acting sooner to prevent what they view as an imminent housing crisis. Biden asked Congress yesterday to act swiftly to extend the ban on evictions, set to expire on Saturday. But Democratic lawmakers are divided on how much longer the moratorium should remain in place, and it isn't clear whether there's much Republican support for any extension.
Some Democratic lawmakers and housing advocates openly expressed exasperation that the president hasn't done more, sooner. "What they have done, and what this is, is reckless and irresponsible," Rep. Alexandria Ocasio-Cortez (D-N.Y.) said in an interview. "And so now we're scrambling — but it could have been avoided with better communication and, frankly, more forthright leadership from the White House."
The House is taking steps to consider legislation (H.R. 4791) today from House Financial Services Chair Maxine Waters (D-Calif.) that would extend the moratorium until Dec. 31, 2021. The House Rules Committee is scheduled to meet at 8 a.m. to ready the bill for the chamber's floor. Read more from Nancy Cook and MacKenzie Hawkins.
Democrats Push Bill on Federal Drug Pricing Negotiating: Rep. Lloyd Doggett (D-Texas) and 55 Democrats reintroduced a bill to empower the government to negotiate with drugmakers and punish pharmaceutical companies that don't lower their prices by issuing competitive licenses to their competitors. Doggett's bill is a marker signaling that progressives in Congress are pushing to broaden the party's approach to lowering drug prices with tough penalties for drugmakers.
Doggett has been a critic of how party leaders shaped their drug price negotiation bill (H.R. 3), which is limited to target fewer medicines than Doggett's bill and levies taxes on companies that won't lower their price tags. "Instead of yielding to Big Pharma by greatly weakening the already modest HR 3, now is the time to strengthen it," Doggett wrote in a statement yesterday. "Unlike HR 3, this bill unequivocally repeals the Republican-imposed prohibition on government price negotiation," he said, Alex Ruoff reports.
Drug Bills Take Narrow Road to Rein In Patent Deals: Major pharmaceutical corporations may face a tougher time keeping lower-cost versions of their drugs off the market as lawmakers consider a series of bipartisan legislation aimed at cutting down barriers to competition. The Senate Judiciary Committee yesterday advanced four bills that would rein in drugmakers' practices like dealmaking to delay generic market entry and "product hopping"—switching expiring patents to a newer version of a drug. Ian Lopez has more.
Republicans Call On SCOTUS to Topple Roe: A cascade of Republicans called on the U.S. Supreme Court to roll back constitutional abortion protections, potentially by overruling the landmark Roe v. Wade ruling that legalized the procedure nationwide. In a brief filed yesterday, 228 Republican members of Congress called on the court to uphold Mississippi's ban on abortion after 15 weeks of pregnancy—and overturn Roe if necessary. The congressional filing, following a separate one Monday on behalf of three GOP senators, puts virtually the entire Republican caucus on record as opposing the 1973 Roe decision. Only three Republican senators— Susan Collins (Maine), Lisa Murkowski (Alaska) and Shelley Moore Capito (West Virginia)—opted not to join the brief. Read more from Greg Stohr.
Grassley Wants DOJ Probe of Public Nursing Home Deaths: Sen. Chuck Grassley (R-Iowa) asked the Justice Department to reconsider its decision not to pursue a civil rights investigation into government-run nursing homes in several states. "The Civil Rights Division seems more focused on opposing common-sense voter integrity provisions than protecting the elderly," Grassley said, calling out New York specifically after the DOJ announced last week that it won't investigate nursing home deaths there. Read the letter here.
More on the Coronavirus Pandemic
J&J Manufacturer Gets OK to Resume Production: The Food and Drug Administration cleared Johnson & Johnson's Covid-19 vaccine manufacturer Emergent BioSolutions to resume production of the shot after a series of mishaps that led it to halt manufacturing. The Gaithersburg, Maryland-based contract manufacturer said in statement yesterday U.S. regulators decided to let it resume production after completing extensive reviews at its facility in Baltimore's Bayview neighborhood. Read more from Riley Griffin.
Lung Virus Fills Children's Hospitals as Isolation Ends: Oklahoma and Louisiana health officials said that a surge in cases of a virus more frequently seen in winter is filling up hospital pediatric wards as children emerge from pandemic isolation. Respiratory syncytial virus usually causes mild cold-like symptoms and most people recover in weeks, according to the CDC. Symptoms include runny nose, fever and wheezing. Infants are at a higher risk of severe disease from the pathogen. Francesca Maglione and John Tozzi have more.
Some Hot Spots at Point Where U.K.'s Spike Fell: Some Covid-19 hot spots in the U.S. are nearing the point at which other countries saw a big decline in delta-variant surges. Delta waves in India and the U.K. have been marked by hyperspeed spikes in infections that eased dramatically after about two months. The first major U.S. Covid-19 outbreaks of the delta era, in Missouri and Arkansas, started in earnest around the end of May. The rest of the U.S. will be watching those states closely. Read more from Jonathan Levin.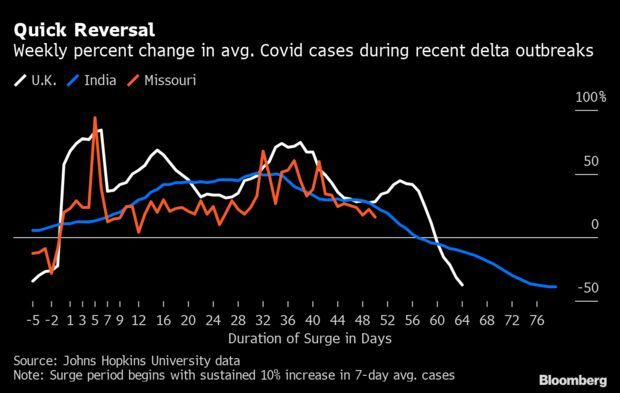 More Headlines:
Global Headlines:
What Else to Know Today
Patent Office Pick Will Help Shape Drug Pricing Fight: The path toward lower drug prices could hinge on who Biden selects as the next director of the U.S. Patent and Trademark Office. Generic drugmaker groups are pushing for a PTO chief who will make it easier to invalidate patents they find as obstacles to bringing lower-cost medicines to the market. Proponents of tough intellectual property protections believe they are the gateway to innovation. Read more from Ian Lopez.
Cheaper Insulin Likely After FDA Action on 'Trailblazer': U.S. insulin prices can expect to see a drop from historic highs thanks to the government's first-ever approval of a lower-cost substitute, drug industry observers say. Whether other complex drugs will face similar competition depends on the government's next steps. The FDA's approval of Viatris's Semglee diabetes treatment will spark competition that drives down costs in the pricey insulin market and benefits consumers. Ian Lopez and Jeannie Baumann have more.
Employers See Rare Savings on Health Costs: Health-care costs for large employers went down in 2020 for the first time in decades—albeit modestly. But neither employees nor smaller businesses benefited from the reduction in costs that came with fewer elective procedures and doctor visits during the pandemic. Data compiled by advisory firm Willis Towers Watson showed health-care costs for 600 firms covering 2 million people by paying claims directly were 2% lower last year than in 2019. Sara Hansard has more.
Purdue Pharma Bankruptcy Spotlights Court Venue Battle: Purdue Pharma's seeming ability to handpick its bankruptcy case judge has renewed discussions over a fight to stop large companies from forum shopping. A recently introduced House bill (H.R. 4193) would require Chapter 11 proceedings to take place at the location of the debtor's principal place of business or main assets. Read more from Alex Wolf.
More Pharma News:
More Headlines:
With assistance from Alex Ruoff
To contact the reporter on this story: Brandon Lee in Washington at blee@bgov.com
To contact the editors responsible for this story: Zachary Sherwood at zsherwood@bgov.com; Giuseppe Macri at gmacri@bgov.com; Michaela Ross at mross@bgov.com
Stay informed with more news like this – from the largest team of reporters on Capitol Hill – subscribe to Bloomberg Government today. Learn more.