HEALTH CARE BRIEFING: Biden's Mental Health Call Spurs Bill Push
Bloomberg Government subscribers get the stories like this first. Act now and gain unlimited access to everything you need to know. Learn more.
President Joe Biden recently signaled he wants to strengthen enforcement of mental health parity rules. That effort will include a demand that insurers offer an adequate network of behavioral health providers, including three visits for a patient each year without cost-sharing. He also called on Congress to help improve parity, which mandates health plans cover behavioral care the same as traditional, physical health care.
Mental health disorders show signs of worsening for many Americans, and the lack of adequate coverage exacerbates the issue, care advocates say. Almost 40% of U.S. adults reported symptoms of anxiety or depression in 2021, nearly quadruple the level in 2019, the Kaiser Family Foundation reported in 2021.
Biden may get help in the Senate Finance Committee, where members of both parties are seeking ways to bolster mental health coverage, likely through changes to Medicare and Medicaid policy. The panel aims to introduce legislation by summer, two aides familiar with the discussions said.
Some mental health provider groups are calling on Congress to levy fines against insurers that fall short. "We need to make sure there is some penalty for not doing it right," said Saul Levin, chief executive officer and medical director for the American Psychiatric Association.
Lawmakers have yet to coalesce around a solution to improve parity or bolster the Biden administration's efforts, but are eager to pass legislation this year, perhaps in the Senate before Congress recesses for August. Sen. Ron Wyden (D-Ore.), head of the Senate Finance Committee, stopped short of backing new fines, but said health plans should be following parity laws. "We've had this law for a long time and they should have addressed this a long time ago," he said. Read more from Alex Ruoff.
White House to Outline Covid Funding Threat
The White House will outline for congressional leaders the Covid response programs the administration will begin to wind down because lawmakers have failed to refill the government's pandemic response budget, a source familiar told Bloomberg Government.
Administration officials will send a letter to lawmakers outlining the steps they will begin taking to stop certain Covid efforts. The administration has already warned that programs to pay for care for the uninsured and purchases of key therapeutics could be interrupted in coming weeks if more money isn't appropriated.
Key Republicans Monday warned the White House hasn't done enough outreach in recent days to convince them the money is sorely needed. Read more from Jack Fitzpatrick and Alex Ruoff.
Also Happening on the Hill
Key Senators Push to Base Biomedical Agency Outside Washington: Senate legislation on a new biomedical research agency aims to put distance between the nation's capital and cutting edge science, decreeing that the physical location of the entity isn't in or near Washington, D.C.
The Senate Health Education Labor and Pensions Committee on Tuesday will deliberate legislation (S. 3819) to authorize President Joe Biden's Advanced Research Projects Agency for Health, or ARPA-H, Sen. Patty Murray (D-Wash.), the panel's chair, confirmed in a statement. The goal of the new agency is to deliver medical breakthroughs in the same way that existing programs in the Departments of Defense and Energy that helped pave the way for the internet and GPS. The Senate bill has the backing of two critical senators, Murray and ranking member Richard Burr (R-N.C.).
Murray said she's looking forward to passing the ARPA-H legislation "as part of our larger efforts to strengthen our nation's public health and medical preparedness and response systems in the PREVENT Pandemics Act." The committee is scheduled to consider that separate bill (S. 3799) in a Tuesday markup. Read more from Jeannie Baumann.
Senate Floor: Senators Tuesday are slated to vote on S. J. Res. 37, a resolution from Sen. Rand Paul (R-Ky.) to end the mask-mandate on modes of public transportation. The measure would use the Congressional Review Act, which allows Congress to try to halt rules from the administration through expedited procedures. A vote under the CRA only requires a simple majority to pass, but would face almost certain defeat in the House or be vetoed by Biden if it gets through the Senate.
Panel to Hold Hearing on Future of Pandemic: House Coronavirus Crisis Subcommittee Chair James Clyburn (D-S.C.) announced two events for this month focused on "Moving Beyond the Coronavirus Crisis," according to a statement. The first is set for Wednesday, with a subcommittee roundtable discussion with public health experts. Two weeks later, the panel will hold a hybrid hearing with Biden administration officials including CDC Director Rochelle Walensky, U.S. Surgeon General Vivek Murthy, and Health and Human Services Assistant Secretary for Preparedness Dawn O'Connell. Read the statement here.
J&J, McKesson Tax Benefits Should Be Examined, Lawmakers Say: House Oversight Committee lawmakers asked Attorney General Merrick Garland and Treasury Secretary Janet Yellen to examine tax deductions that Cardinal Health, McKesson Corporation, AmerisourceBergen, and Johnson & Johnson are taking related to their opioid settlement agreement. A panel investigation showed four companies that contributed to an opioid crisis "may now be attempting to put taxpayers on the hook for billions of dollars in settlement costs," Chair Carolyn Maloney (D-N.Y.) wrote in a letter, Maria Luiza Rabello reports.
Biden Signs Meth Legislation: Biden yesterday signed S. 854, the Methamphetamine Response Act of 2021, which designates methamphetamine as an emerging drug threat, in the Oval Office with Rep. Scott Peters (D-Calif.) present.
The Coronavirus Pandemic
CDC Seeks to Retake Role on Covid Hospital Data: The Centers for Disease Control and Prevention intends to take back its role as the key agency collecting hospital data on infectious disease threats, after being stripped of the job mid-pandemic because of its slow response. The move is rekindling debates about the agency's handling of the pandemic and its ability to adjust quickly to a swiftly moving pathogen. Supporters claim the new proposed regulation would make needed changes to how CDC's National Healthcare Safety Network operates, easing its ability to get data into its system. But more than a half-dozen current and former federal health officials involved in the coronavirus response told Bloomberg News they were worried about the NHSN's ability to scale up and process the data in real time. Read more from Riley Griffin.
U.S. Sewer Data Warns of a New Bump in Covid Cases After Lull: A wastewater network that monitors for Covid-19 trends is warning that cases are once again rising in many parts of the U.S., according to an analysis of CDC data by Bloomberg. More than a third of the CDC's wastewater sample sites across the U.S. showed rising Covid-19 trends in the period ending March 1 to March 10, though reported cases have stayed near a recent low. The number of sites with rising signals of Covid-19 cases is nearly twice what it was during the Feb. 1 to Feb. 10 period, when the wave of omicron-variant cases was fading rapidly. Read more from Drew Armstrong and Andre Tartar.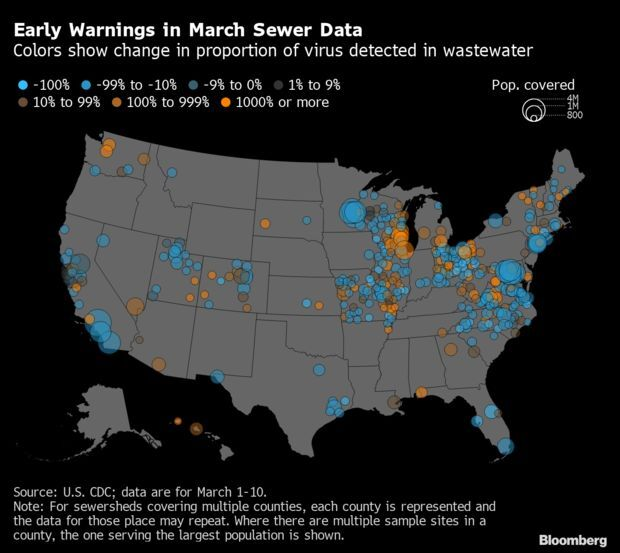 More Headlines:
What Else to Know Today
Problem Nursing Homes to See Push for Fast Upgrades That Last: Underperforming nursing homes will be getting more federal help to improve their quality of care, but they'll have less time to do it as the Biden administration moves to speed up the way it brings troubled facilities into compliance. As part of its sweeping nursing home reform effort, the Centers for Medicare & Medicaid Services will be "retooling" the Special Focus Facility program, which targets the worst operators in each state, CMS Administrator Chiquita Brooks-LaSure said. Read more from Tony Pugh.
FCC Plan Targets 'Glitches' in Rural Telehealth Program: The Federal Communications Commission is seeking public comment on how to support telehealth services in remote areas by making up the difference between the rates that rural providers face for broadband service and those in urban areas. The goal is to address glitches in the program's database of rural areas and telecom services that've ended up reimbursing health providers in ways that don't make sense, FCC Chairwoman Jessica Rosenworcel said. Rural telehealth is particularly important amid the pandemic, she said in February. Christopher Brown has more.
AstraZeneca Scores Win in Battle Over Drug Discount Program: AstraZeneca will be able to limit the discounts it must provide in a federal drug-pricing program aimed toward low-income individuals following a federal court order, capping off a suit against the Health and Human Services Department over decisions taken during both the Trump and Biden administrations. Biden's HHS exceeded its legal authority in using a letter to demand AstraZeneca honor discounts through the federal 340B program, the U.S. District Court for the District of Delaware said on March 11. Read more from Ian Lopez.
IRS Guidance to Protect ACA, Medicaid Under OMB Review: The White House Office of Management and Budget is reviewing IRS guidance that would review regulatory actions to ensure they are consistent with "the policy to protect and strengthen" the Affordable Care Act. The guidance was directed by an executive order issued in January by Biden calling for the Treasury, Labor, and Health and Human Services departments, to review Medicaid and ACA regulatory actions and determine if they "undermine protections for people with pre-existing conditions." Read more from Sara Hansard.
Pill Abortion Rule in S.D. Remains Blocked: South Dakota officials lost a bid Monday to enforce—during an appeal of an order halting it—a new rule that requires pill-induced abortion patients to make four separate visits to the state's only abortion clinic. The U.S. Court of Appeals for the Eighth Circuit offered no reason for denying the state's motion to lift a lower court's injunction blocking the provision. The new law adds to the existing two-visit formula by requiring an appointment to obtain the second pill for the two-drug regimen, as well as a follow-up visit. Read more from Mary Anne Pazanowski.
Texas Medicaid Plan Must Get HHS Ruling by March 25, Court Says: The federal health agency has until March 25 to rule on three proposed Medicaid payment programs in Texas or it could face sanctions, a district court ruled. The order from the U.S. District Court for Eastern District of Texas arose from a larger struggle between Texas and the CMS over the shape of state's Medicaid program, which provides health coverage to low-income people. Texas is fighting to preserve a 10-year extension of special Medicaid rules that the Centers for Medicare & Medicaid Services approved near the end of President Donald Trump's term in office. Read more from Christopher Brown.
More Headlines:
To contact the reporter on this story: Brandon Lee in Washington at blee@bgov.com
To contact the editors responsible for this story: Giuseppe Macri at gmacri@bgov.com; Michaela Ross at mross@bgov.com
Stay informed with more news like this – from the largest team of reporters on Capitol Hill – subscribe to Bloomberg Government today. Learn more.