HEALTH CARE BRIEFING: Biden's Health Research Lab Eyed for 2022
Bloomberg Government subscribers get the stories like this first. Act now and gain unlimited access to everything you need to know. Learn more.
President Joe Biden's proposed medical research agency could have projects up and running as early as fiscal 2022 to accelerate biomedical breakthroughs even if Congress doesn't appropriate the entire $6.5 billion request.
The Advanced Research Projects Agency for Health would be housed in the NIH and aims to bring game-changing discoveries to patients in record time through new public-private partnerships for short-term, riskier projects.
"We want this organization to be very, very nimble," Tara Schwetz, the Biden administration's point person for ARPA-H, said in an interview. "And so, it would be able to do things that are measured in weeks and months, rather than months and years." Ideally, Schwetz said, "we would love to be able to get things going" in the next fiscal year. "I do think it's possible to be able to do that."
The next few months will be crucial, though, as Schwetz and her colleagues at the White House's Office of Science and Technology Policy and the National Institutes of Health look to shore up support for funding the entity. The administration will still be able to move forward with ARPA-H even if Congress doesn't provide the entire $6.5 billion upfront, said Schwetz, who is assistant director for biomedical science initiatives at OSTP.
The White House requested the startup money to build ARPA-H could be spent over three years. "If it's an annual appropriation and the appropriation ends up varying slightly, yeah, we'll adjust accordingly," said Schwetz, who after nearly a decade with the NIH, is on detail with OSTP and whose primary project is now working to help establish ARPA-H.
The ARPA-H proposal has gained support of key lawmakers on Capitol Hill.
Congressional appropriators such as Sens. Patty Murray (D-Wash.) and Roy Blunt (R-Mo.)—chair and ranking member of the health spending panel—indicated they support ARPA-H at hearings last month. Reps. Diana DeGette (D-Colo.) and Fred Upton (R-Mich.) included language to authorize ARPA-H in a draft bill known as "Cures 2.0," which they released last week.
And House Democrats proposed yesterday a $61 billion bump to Labor-Health and Human Services appropriations, which would bolster major Democratic priorities like ARPA-H. Biden's budget request included a $9 billion increase for the NIH, most of which would fund ARPA-H. Read more from Jeannie Baumann.
The Coronavirus Pandemic
Biden to Celebrate 'Independence' from Covid-19: Biden and his White House are planning a slate of travel and events over the weekend to celebrate his administration's progress combating the pandemic, though the nation fell short of his July 4 vaccination goal. He will visit Traverse City, Mich., Saturday, part of what the White House calls the "America's Back Together" celebration. The next day, July 4, Biden will host essential workers on the South Lawn of the White House. Jennifer Epstein has more.
Perna Retiring From Covid-19 Task Force: U.S. Army General Gustave Perna, a top official in the Covid-19 vaccine rollout in both the Trump and Biden administrations, is set to depart July 2. Robert Johnson, an official at the Biomedical Advanced Research and Development Authority, will serve as interim chief operating officer for the pandemic effort, according to Jeffrey Zients, Biden's Covid-19 coordinator. Read more from Riley Griffin and Josh Wingrove.
Draft Workplace Virus Rule Was Broader: OSHA's emergency standard protecting health-care workers from Covid-19 that was issued June 10 after months of anticipation originally was intended to protect all workers, a draft version of the rule obtained by Bloomberg Law showed. Yet the final version of the emergency temporary standard limited the Covid-19 rule to just health-care employees, prompting lawsuits from unions seeking a broader regulation. Read more from Bruce Rolfsen.
Nursing Home Death Claims Back to State Court: A case against a California nursing home over a resident's alleged Covid-19 death can proceed in state court despite the facility's bid to move it to federal court, a U.S. district judge ruled Friday. The ruling highlights the extent to which a federal public preparedness law prevents state-law, pandemic-related negligence claims. A half dozen federal circuits are hearing similar cases. Read more from Lesley Torres.
Booster Shot Provision in House Spending Bill: House Appropriations Committee Democrats directed the Office of Attending Physician to establish a plan for the distribution of booster shots to extend the efficacy of coronavirus vaccines for congressional offices as part of a fiscal 2022 spending bill. "The Committee believes that COVID–19 will remain a threat to the public health of Members, staff, and visitors to the Capitol," lawmakers said in a committee report accompanying the Legislative Branch appropriations bill, Jack Fitzpatrick reports. The full panel is scheduled to mark up the bill today.
More U.S. Headlines:
More Global Headlines:
Industry & Regulation
Health-Care Deals Rise as Pandemic Subsides in U.S.: Health-care and life sciences transactions continued at a strong pace in May, with 231 deals announced or closed, the third month in 2021 with at least 225 transactions. The total volume of deals is up almost 70% from 2020, said Larry Kocot of KPMG. Health-care I.T. and software led all sectors for a second month this year, with total deals announced or closed at 39, followed by life sciences and pharmaceuticals at 38, Christopher Brown reports.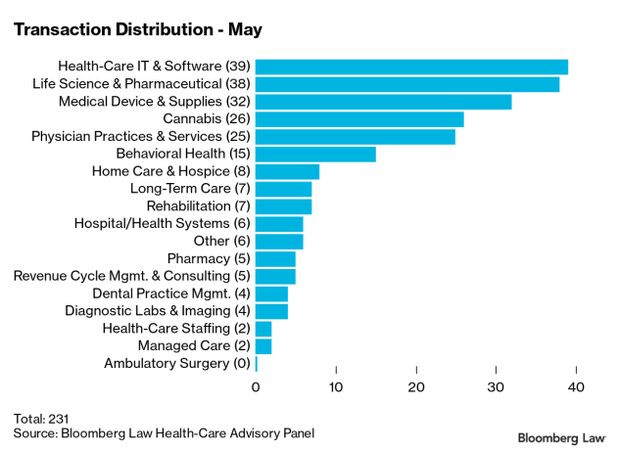 ACA Rule Altering Trump Policies Approved: The White House's Office of Management and Budget has completed its review of a proposed rule to alter last-minute Trump regulations governing Affordable Care Act plans. The proposal may now be published at any time. The Centers for Medicare & Medicaid Services has already finalized payment parameters for Affordable Care Act plans in 2022. Read more from Fawn Johnson.
Massachusetts Medicaid Head Tapped for CMS Role: Massachusetts Medicaid Director Daniel Tsai will join Biden's White House as deputy administrator of the CMS and director of the Center for Medicaid and CHIP Services, the agency announced. In this role, Tsai will oversee federal low-income health programs: Medicaid and the Children's Health Insurance Program. The White House is expected to encourage states to experiment with those programs to address social factors that affect peoples' health. Read more from Christopher Brown.
VA Struggles With Scheduling Challenges: Wait times for community care increased during the Covid-19 pandemic, according to a new report from a top federal watchdog. The Department of Veterans Affairs doesn't have a wait-time measure for its Veterans Community Care Program, and has yet to implement the Government Accountability Office's recommendation last year to its medical facilities to assess community care staffing needs.
More Headlines:
From the Courts
Court Rejects Medicare Case Testing Chevron's Scope: The Supreme Court refused yesterday to hear a dispute over Medicare reimbursements for hospitals that had the potential to limit agencies' rulemaking power. The dispute stemmed from a final rule from 2018 that made $600 million in cuts to Medicare payments that hospitals get for services at outpatient clinics. The HHS said Medicare allowed it to cut reimbursement rates to curtail an increase in the amount of services offered. Lydia Wheeler has more.
Ruling Gives Ammo in Fights Over Insurer Clawbacks: Doctors, hospitals, and other medical providers now have a loaded arsenal to fight back with when health insurers try to claw back money they overpaid in claims for one patient by withholding payment for another in a separate health plan. Benefits lawyers say a recent ruling from a federal district court in New Jersey provides ammunition to providers fighting to stop insurers from engaging in this routine billing practice, known as cross-plan offsetting. Read more from Lydia Wheeler.
More from the Courts:
With assistance from Alex Ruoff and Jack Fitzpatrick
To contact the reporter on this story: Brandon Lee in Washington at blee@bgov.com
To contact the editors responsible for this story: Zachary Sherwood at zsherwood@bgov.com; Giuseppe Macri at gmacri@bgov.com; Michaela Ross at mross@bgov.com
Stay informed with more news like this – from the largest team of reporters on Capitol Hill – subscribe to Bloomberg Government today. Learn more.