HEALTH CARE BRIEFING: Biden's FDA Pick Teed Up for Confirmation
Bloomberg Government subscribers get the stories like this first. Act now and gain unlimited access to everything you need to know. Learn more.
Robert Califf is one step closer to leading the Food and Drug Administration once again after the Senate voted yesterday to move his nomination to a full vote. Senators voted 49-45 to end debate on Califf's nomination, setting up a final vote today.
The FDA remains without a Senate-confirmed leader more than a year into the Biden administration.
Califf, who was first confirmed to lead the FDA in 2016 in an 89-4 vote, is seeing tighter margins this time around, in part due to criticisms that the agency didn't do enough to address the opioid epidemic under his leadership. Several Republicans who oppose Califf also cite FDA actions during his previous tenure that relaxed some restrictions on the abortion drug mifepristone.
Former FDA officials and policy analysts have expressed optimism Califf will be confirmed due to his vast clinical trial research experience and widespread respect within the agency and pharmaceutical industry.
The Senate Health, Education, Labor, and Pensions Committee advanced Califf's nomination Jan. 13 in a 13-8 vote. Read more from Celine Castronuovo.
Senate Health, Education, Labor and Pensions Chairwoman

Patty Murray

(D-Wash.) said she expected senators to confirm Califf. Sen.

Roy Blunt

(R-Mo.) decided to vote yes on the procedural move yesterday for Califf after spending weeks undecided. His office declined to comment on the move, but Blunt would represent a key vote for the nominee's final confirmation, Alex Ruoff reports. Meanwhile, Sen.

Joe Manchin

(D-W.Va.) doubled down yesterday on his opposition to Califf's nomination.
Also Happening on the Hill
Thune Introduces Resolution on Head Start, Masking: Senate Republican Whip John Thune (R-S.D.) yesterday introduced a resolution that would let lawmakers using the Congressional Review Act, which requires a simple majority, to nullify an HHS interim final rule requiring staff and volunteers at Head Start facilities be fully vaccinated and wear masks; as well as nullify the mandate for all children two and older to wear a mask.
Opioid Politics in Congress Casts Pall Over Bid to Cut Overdoses: Advocates for harm-reduction programs worry outcry from members of Congress over the Biden administration's harm-reduction plans for people with opioid addiction will have a chilling effect on federal funds as a whole, even as the U.S. struggles with a record number of drug overdose deaths. The notice of a $30 million program grant was supposed to be groundbreaking for these programs, a key change in how the government addresses the overdose crisis. But the notice included "safe smoking kits/supplies" on a list of possible activities that could be funded.
"We were hoping the headlines would be applauding the administration for doing this: for funding life-saving work," said Sheila Vakharia, deputy director for the Drug Policy Alliance's department of research and academic engagement. Instead, senators of both parties seized on the announcement, saying the grant was established improperly and shouldn't open the door for funding the distribution of pipes or syringes. They told HHS Secretary Xavier Becerra last week to say it's illegal to use federal funding to purchase syringes for illegal drugs, and some unveiled legislation to make it illegal for pipes. Read more from Alex Ruoff.
The Coronavirus Pandemic
Tight Labor Forces Nursing Homes, Others to Forgo New Patients: A lingering labor shortage due to Covid-19 is forcing nursing homes and home health agencies to turn away new patients even as the once-surging omicron variant is in retreat. Seniors discharged from hospitals wait longer and travel farther for nursing home recovery beds, as many facilities shun new admissions, including patients with more complex problems whose care would strain their depleted staffs. Home health agencies that can't afford costly temporary staffing help must also turn away new referrals and the valuable revenue they provide. Read more from Tony Pugh.
Biden's Global Vaccine Push Falters: Biden's effort to vaccinate the world against Covid-19 is falling short, echoing the faltering campaign to inoculate Americans and raising the risk that more dangerous variants of the coronavirus will yet emerge. Secretary of State Antony Blinken acknowledged in a virtual meeting with other countries yesterday that the globe is not on pace to meet a goal of vaccinating 70% of the entire human population by later this year, a target set in 2021 both by Biden and the World Health Organization.
Only about 54% of the global population is vaccinated so far, according to "Our World In Data," a service by a U.K. nonprofit that advocates of international vaccination use to track progress. But signals are mounting that the problem is increasingly less about supply than last-mile distribution. Biden administration officials believe supply is no longer the chief bottleneck and is out-pacing global demand. Instead, getting shots into arms is the chief concern, one U.S. official said. Read more from Josh Wingrove.
Omicron Aside, Employees Have Logged Fewer Sick Days: The omicron wave of Covid-19 put less of a dent in U.S. employment growth than most forecasters expected, but it did keep a lot of workers home. The 2.3% of employed people not at work because they were sick for the entire mid-January jobs survey reference week was the highest such percentage since the Bureau of Labor Statistics started keeping track in 1976 and by far the highest in recent years. Still, it wasn't that much higher than the 2% seen in January 1978, during an outbreak of a highly contagious but not very dangerous influenza strain. Read more from Justin Fox.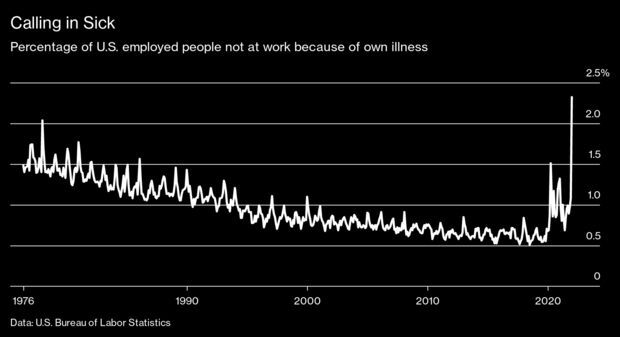 Protesters Defy Trudeau's Emergency Powers: Demonstrators against vaccine mandates halted traffic at two major border crossings in Western Canada and some vowed to stay even as Prime Minister Justin Trudeau used a law giving his government emergency powers to end blockades. The main border posts in Alberta and Manitoba were closed yesterday, with commercial traffic to the U.S. blocked by semi-trailers and farm equipment driven there by people opposed to Covid-19 vaccine rules. The protests started in reaction to Canadian and U.S. laws requiring truckers crossing the border to be fully vaccinated. Jen Skerritt and Robert Tuttle have more.
More Headlines:
What Else to Know
Antibiotics R&D Lacks Funds in Germ Fight: Venture capitalists are investing far less funds to develop new antibiotics than they are for oncology drugs, according to a new analysis that highlights the need for more financial incentives to fight off the growing threat of drug-resistant bacteria. The report, published yesterday by the Biotechnology Innovation Organization, found that investors are increasingly shying away from antibiotic research due in part to large companies exiting the space. That's left small firms that typically rely on investment capital struggling to carry out new clinical trials. Read more from Celine Castronouovo.
Group Lambasts Florida Surgeon General Pick: A Democrat-aligned advocacy group today unveiled a report lambasting Gov. Ron DeSantis's (R) pick for Florida surgeon general. Protect Our Care, which for years has lobbied on behalf of protecting Obamacare, has been calling on DeSantis to withdraw his nomination of Joseph Ladapo. The group said Ladapo has mislead people about the potential risks of Covid-19 vaccines and touted unproven treatments for those who've contracted the virus, Alex Ruoff reports. Read the report here.
Insurance Agency Prevails in Health-Care Ministry Suit: The Maryland insurance commissioner's 2020 action against a health-care sharing ministry can proceed because a 1995 stay of an earlier cease-and-desist order was no longer in effect, a state court said. Even if the stay was still in effect, the commissioner could bring legal action against the Christian Brotherhood Newsletter's successor, Christian Healthcare Ministries, based on later facts, according to a ruling from the Maryland Court of Special Appeals. Read more from Mary Anne Pazanowski.
More Headlines:
With assistance from Alex Ruoff
To contact the reporter on this story: Brandon Lee in Washington at blee@bgov.com
To contact the editors responsible for this story: Zachary Sherwood at zsherwood@bgov.com; Giuseppe Macri at gmacri@bgov.com; Michaela Ross at mross@bgov.com
Stay informed with more news like this – from the largest team of reporters on Capitol Hill – subscribe to Bloomberg Government today. Learn more.