HEALTH CARE BRIEFING: Biden Wants Companies to Require Vaccine
Bloomberg Government subscribers get the stories like this first. Act now and gain unlimited access to everything you need to know. Learn more.
President Joe Biden said full approval of the Pfizer-BioNTech coronavirus vaccine yesterday should clear the way for private companies to impose vaccine requirements for their employees.
"I'm calling on more companies in the private sector to step up the vaccine requirements that will reach millions" more people, he said at the White House. Biden spoke after the FDA granted approval for the vaccine to those 16 and up.
Biden said yesterday Americans who have been holding out should now get their shot. "If you're one of the millions of Americans who said that they will not get the shot until it has full and final approval of the FDA, it has now happened," he said. "The moment you've been waiting for is here. It's time for you to go get your vaccination. Get it today."
The U.S. logged a record of 319,000 new cases on Friday, while deaths have also risen, to roughly 1,000 per day. About 60.2% of eligible Americans—those age 12 and up—are fully vaccinated, according to data from the CDC. A total of 71% have at least one dose. Read more from Josh Wingrove.
More Headlines:
The Coronavirus Pandemic
Pregnant, Unvaccinated Cases Surge: More young and healthy pregnant people are ending up hospitalized on ventilators, delivering babies prematurely and sometimes dying from Covid-19 during the delta-fueled spike in cases. Doctors across the country are reporting this trend, not seen in previous surges, largely in the South but also in states like California and Washington. As of Aug. 14, 76.2% of pregnant people were unvaccinated.
Pregnant women with Covid-19 are 15 times more likely to die, 14 times more likely to need to be intubated, and 22 times more likely to have pre-term birth than those who are uninfected, according to a study published this month in JAMA Network Open. "I have not seen risks like this," said Linda Eckert, professor of obstetrics and gynecology at the University of Washington.
Reluctance to get the shots has been widespread among the pregnant population because they were excluded from clinical trials for the Pfizer-BioNTech, Moderna, and Johnson & Johnson vaccines. Studies on pregnant women began in February, and evidence has shown no increased risk of miscarriage from the shots. U.S. health officials this month stepped up calls for pregnant people to get vaccinated. Shira Stein has more.
Optimists See U.S. Near Delta's Peak: Coronavirus infections are falling in many of the original delta-variant hot spots in the U.S. Optimists say that could mean the rest of the country may follow suit, dodging the mass hospitalizations and surging deaths seen recently in Florida and the Deep South. In Arkansas and Missouri, where the delta variant surge first began, the seven-day average of cases is down 12% from its peak. Florida and Louisiana, the next states to be struck by delta, are starting to see similar declines.
One of the few immutable truths of the American pandemic has been that viral surges never last more than a few months; then, daily infections decline. But the surge of the highly infectious delta strain has challenged many assumptions, including the idea that end of the pandemic was imminent. At the same time, hopeful predictions show coronavirus infections on the retreat this month. Jonathan Levin has more.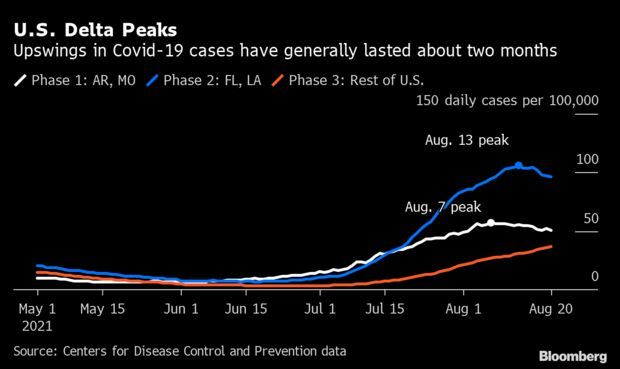 Biden Urges SCOTUS to Keep Eviction Ban: The Biden administration urged the Supreme Court to keep in place the moratorium on evictions in areas of the country hit hard by the Covid-19 pandemic, saying the rise of the delta variant has increased the need for tenant protections. Landlords and real-estate trade associations from Alabama and Georgia pressed the court last week to lift the ban, set to run through Oct. 3, saying the ban exceeds the authority Congress has given the CDC. Read more from Greg Stohr.
Rapid Virus Test Results Risk Going Uncounted: Popular at-home Covid-19 tests from Abbott Laboratories and Quidel, available without prescriptions, were launched without a mechanism for reporting results to health officials, potentially leaving many cases uncounted by authorities. While testing sites and labs are required to report their results, the FDA relaxed requirements for some at-home tests to speed their path to market. Abbott said customers are encouraged to report test results. Emma Court has more.
More Headlines:
What Else to Know Today
Pelosi, Moderates Struggle for Deal: Speaker Nancy Pelosi (D-Calif.) and a group of centrist Democrats will resume talks today on how to advance Biden's legislative agenda, after hours of negotiations failed to break a stalemate. Lawmakers will be continuing talks that went late into the night yesterday. Pelosi said the House would convene at noon and vote later. The impasse between House Democratic leaders and a group of moderate lawmakers over the process to address Biden's economic priorities threatens to derail the president's agenda if lawmakers cannot find an agreement in the coming days. Read more from Laura Davison, Billy House and Erik Wasson.
FDA, Brand-Name Drugmakers Agree on User Fees: The pharmaceutical industry and the Food and Drug Administration has reached an agreement on the next round of user fees, teeing up for Congress must-pass legislation to renew the fees that help fund the agency. The commitment letter released yesterday marks a critical milestone in setting up fees the industry will pay the FDA for the seventh authorization of the Prescription Drug User Fee Act. Read more from Jeannie Baumann.
S.D. Abortion Counseling Rule Remains Blocked: A South Dakota law requiring that women seeking abortions consult with anti-abortion pregnancy help centers before having a procedure is likely unconstitutional and will stay blocked, a federal court decided Friday. The consultation law likely violates a woman's First Amendment free speech rights by mandating that she "disclose deeply personal information about her pregnancy to the pregnancy help center," the court said. Read more from Mary Anne Pazanowski.
Court Rules for Texas in Fight Over Medicaid Waiver: Texas has won Round 1 of what could become a long court fight with the federal government over the shape of its Medicaid program over the next 10 years. A federal court Aug. 20 temporarily blocked an April decision of the U.S. Centers for Medicare and Medicaid Services that would have rolled back a 10-year extension of the Texas Medicaid program granted by the Trump administration in January. Read more from Christopher Brown.
More Headlines:
To contact the reporter on this story: Brandon Lee in Washington at blee@bgov.com
To contact the editors responsible for this story: Zachary Sherwood at zsherwood@bgov.com; Giuseppe Macri at gmacri@bgov.com; Michaela Ross at mross@bgov.com
Stay informed with more news like this – from the largest team of reporters on Capitol Hill – subscribe to Bloomberg Government today. Learn more.