HEALTH CARE BRIEFING: Biden Vows Virus Fight Amid 400,000 Deaths
Bloomberg Government subscribers get the stories like this first. Act now and gain unlimited access to everything you need to know. Learn more.
The U.S. has recorded 400,000 Covid-19 deaths, a sobering milestone that comes as the nation prepares to inaugurate a new president who has pledged to speed up delivery of vaccines and promote protective measures like mask-wearing as a patriotic duty.
With more than 24 million Covid-19 infections, the U.S. has been the world leader in cases and deaths, contributing about a fifth of the more than 2 million fatalities reported globally. India and Brazil are next in line. At the same time, a more contagious variant of the coronavirus has been spreading in the U.S. and could become dominant by March, federal health officials have said, opening new concerns about Covid-19 outracing efforts to control it.
President-elect Joe Biden, who will be sworn into office today, has said beating the virus is his top priority. He attended an event to remember victims of the coronavirus at the Lincoln Memorial in Washington yesterday. In brief remarks, Biden said in order to heal, Americans need to remember those who were lost.
Biden stressed that efforts such as mask-wearing and social distancing are essential to control further spread, and said he'll mandate their use wherever he can. He's also announced plans to spend more than $400 billion to combat the pandemic and boost distribution of shots from the Pfizer-BioNTech partnership and Moderna, Reg Gale reports.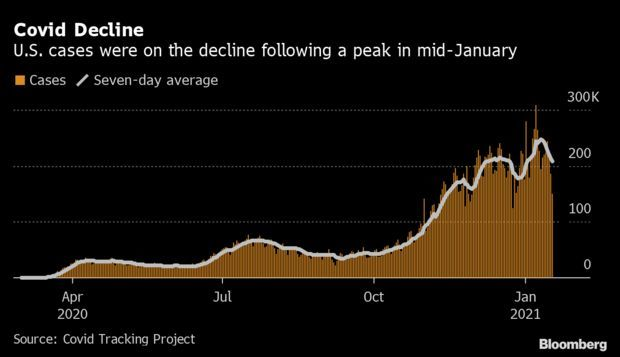 Biden Pick Would Be First Senate-Confirmed Trans Person: Biden nominated Pennsylvania Health Secretary Rachel Levine to a senior role at the Health and Human Services Department that would make her the first openly transgender person to hold a Senate-confirmed position. Levine had sometimes clashed with the Trump administration through the Covid-19 response as leader of a group of state health officers. If confirmed, she'll take over the post of assistant secretary currently held by Brett Giroir. Kathleen Hunter and John Tozzi have more.
Biden to Ask Surgeon General Jerome Adams to Resign: Biden is expected to ask U.S. Surgeon General Jerome M. Adams to resign, after he is sworn in as president, Washington Post reports, citing people familiar with the decision, Sarah Jacob reports.
Cutting Drug Costs on IP Wish List: Tackling high drug prices and patent applicant diversity data collection are among the issues the U.S. Patent and Trademark Office should prioritize in the Biden administration, according to former intellectual property policy personnel. Also on the list are hot-button items for the patent bar, including a patent eligibility overhaul and the constitutionality of judges on the office's administrative law tribunal, according to a document released by the Day One project and former IP policy makers. Read more from Ian Lopez.
Biden to Mend World Health Organization Ties, Ask Fauci to Speak: Biden plans to take immediate steps Wednesday after he is inaugurated to re-engage with the World Health Organization and send top U.S. medical expert Anthony Fauci to speak to the group in a strong repudiation of Donald Trump's snubs during the coronavirus pandemic. Read more from David Wainer, John Lauerman and Mario Parker.
Biden's choice for secretary of state signaled that a rift between the U.S. and World Health Organization is poised to heal after the new administration takes office. The U.S. is preparing to join Covax, a WHO-led coalition of nations planning to distribute vaccines equitably to lower- and middle-income nations, according to Antony Blinken. Other organizations directing Covax include the Coalition for Epidemic Preparedness Initiatives and Gavi, the Vaccine Alliance. Read more from John Lauerman and Nick Wadhams.
More on the Pandemic
Lawmakers Seek CDC Briefing on Variants: Two House Democrats are asking for a briefing from the CDC on how it's tracking new variants of Covid-19. Virginia Democrats Don Beyer and Abigail Spanberger said that the U.S.'s surveillance tools aren't working properly, saying in a letter that public health officials can't track mutations of the coronavirus. "The U.S. is not systematically or thoroughly collecting and tracking viral genetic samples. It's impossible therefore to fully landscape or track SARS-CoV-2 mutations," they said in the letter.
Cash Crunch Complicates Hospitals' Ability to Buy Gowns, Masks: Some hospitals and clinics still struggling to access personal protective equipment may be doing so because they can't afford it, a top government supply chain official said in an interview. Particularly in rural areas, hospitals that had to shut down their elective procedures during stretches of the pandemic may not have the income to buy new supplies, said Brig. Gen. David Sanford, director of the supply chain task force. Prices for most types of PPE has gone up dramatically during the pandemic, with one April 2020 report finding prices for N95 masks increased over 6,000%. Read more from Shira Stein.
Vaccine Trials for Kids Starting: More than 14 million Covid-19 shots have been given since mid-December, mainly to health workers, the elderly and those at high risk. To defeat the pandemic and fully revitalize the American economy, children will also have to be immunized, experts say. To that end, trials to ensure vaccines are safe for children are beginning in earnest. Pfizer and Moderna started recruiting participants at the end of last year, and could have data from studies by summer. The University of Oxford, which developed a vaccine with AstraZeneca, is planning initial tests in 12-to-18-year-olds next month. Suzi Ring and Riley Griffin have more.
Abbott Test May Curb Virus Even Though it Misses Cases: Abbott Laboratories' BinaxNOW, a 15-minute test for the coronavirus, may miss nearly two-thirds of infections in those without symptoms, but its turnaround time and affordability makes it a potentially useful tool to slow the virus, according to a federal study. The report evaluated results from 3,419 people tested in November with both BinaxNOW and the gold-standard PCR method in Arizona. The result offers one of the first real-world examinations of how the two approaches stack up. Michelle Fay Cortez and Emma Court have more.
Surgeon General Spotlights Link Between Economy, Public Health: Businesses such as Centene and Hyatt Hotels helped their bottom lines and the economy by working to protect the health of the communities they're located in, Surgeon General Jerome Adams said in a report released yesterday. "I've seen time and again in my over 20 years in public health, that health and business are often pitted against one another," Adams said. "We're seeing it now with this pandemic. But we need people to understand that these are not mutually exclusive, but can actually work together to create virtuous upward cycles." Read more from Christopher Brown.
More Headlines:
Global Headlines:
What Else to Know
Lawmakers Urge Rescinding Medicaid Guidance: House Energy and Commerce Chairman Frank Pallone (D-N.J.) and Senate Finance Committee top Democrat Ron Wyden (Ore.) are urging the Centers for Medicare and Medicaid Services to rescind Medicaid guidance that will make it harder for Biden to reverse changes to the public health insurance program for low-income Americans, signaling the Democrats may be worried about a lasting shift enacted by the Trump administration. Read the letter here.
Moral 'Opt-Outs' to Contraceptive Coverage Allowed: Trump administration rules giving employers with religious or moral objections the right to opt out of an Obamacare mandate that employee health plans pay for contraceptives are allowed to go into effect, because the agencies properly adopted them, a federal court in Massachusetts said. The departments of Health and Human Services, Labor and Treasury had engaged in "reasoned decisionmaking" when they revised a prior accommodation for employers that objected on religious grounds, the U.S. District Court for the District of Massachusetts said, Mary Anne Pazanowski reports.
FDA's Hahn Denounces Memo on Animal Biotech: The Food and Drug Administration's top official opposes a memorandum of understanding on animal biotechnology that would grant the Agriculture Department select regulatory oversight—an authority the FDA currently holds. Agriculture Secretary Sonny Perdue signed the memorandum with Assistant Health Secretary Brett Giroir yesterday. The memo lays out federal duties around the regulation of genetically-engineered animals used for food, fiber, labor, and other purposes, Megan Boyanton reports.
Velliky to Join Envision Healthcare: Patrick Velliky will be joining Envision Healthcare, a national medical group, where he'll be leading its advocacy efforts as vice president of government affairs. He's coming from the Federation of American Hospitals, and his resume also includes working as the director of congressional affairs at Anthem, legislative director for former Rep. Jim Renacci (R-Ohio), manager of federal affairs at Humana and, before that, working for Renacci and former Sen. Arlen Specter (D-Penn.). He will begin his new gig on Feb. 1, Megan Wilson reports.
More Headlines:
With assistance from Alex Ruoff, Megan U. Boyanton, and Megan R. Wilson
To contact the reporter on this story: Brandon Lee in Washington at blee@bgov.com
To contact the editors responsible for this story: Zachary Sherwood at zsherwood@bgov.com; Giuseppe Macri at gmacri@bgov.com; Michaela Ross at mross@bgov.com
Stay informed with more news like this – from the largest team of reporters on Capitol Hill – subscribe to Bloomberg Government today. Learn more.