HEALTH CARE BRIEFING: Biden Vaccine Equity Push Hits Blind Spots
Bloomberg Government subscribers get the stories like this first. Act now and gain unlimited access to everything you need to know. Learn more.
The Biden administration is struggling to address a persistent racial disparity in the country's coronavirus vaccination campaign that has seen White Americans receive a disproportionate share of shots, even in areas that have large minority populations.
A patchwork approach in states to both administering the vaccines and reporting data on who is inoculated has left the U.S. government with significant blind spots and only partial control over who gets a shot.
Black people in Philadelphia and Washington make up more than 40% of the population but just 20% of vaccinated people for whom racial data is available, according to the Bloomberg Vaccine Tracker. In Texas and California, Latinos make up 39% of the population but just 21% and 18% of those vaccinated. In Arizona, Whites make up 55% of the state but have received 76% of vaccines.
President Joe Biden and his chief advisers, led by Vice President Kamala Harris, have pressed for vaccinations to be equitable in a pandemic that has disproportionately ravaged communities of color. A race equity task force, which sprung from a bill Harris once proposed, held its first meeting on Friday, where officials stressed the need for clearer data. But the administration has been hamstrung in its ability to address disparate distribution of shots across the nation.
People of color—including American Indians, Alaska Native persons, Black people and Latinos—are roughly three to four times as likely to be hospitalized with Covid-19 than White people and about twice as likely to die of the disease, according to data from the Centers for Disease Control and Prevention.
"It's critically important to have equity in vaccine distribution because of everything we know about how disproportionate the impact of Covid-19 has been on communities of color," said Lisa Cooper, a physician who directs the Johns Hopkins Center for Health Equity. "We may not all be in the same boat, but we're in the same storm." Read more from Josh Wingrove.
More on the Pandemic
Johnson & Johnson Vaccine Cleared, Starts Distribution: The Biden administration was set to start shipping almost 4 million doses of Johnson & Johnson's Covid-19 vaccine yesterday after the Centers for Disease Control and Prevention formally recommended the shot for adults ages 18 and up.
CDC Director Rochelle Walensky signed off on the recommendation yesterday following a unanimous decision from an advisory panel. The CDC's Advisory Committee on Immunization Practices voted 12-0 during an emergency meeting the same day to review J&J's shot, which the Food and Drug Administration cleared late Saturday.
The U.S. administration was slated to yesterday begin shipping 3.9 million doses that were already available, with the first deliveries arriving as early as tomorrow, according to senior administration officials who held a briefing call on condition on anonymity. The shots will be shipped through every distribution channel, including to states on a per-capita basis and directly to pharmacies and community health centers, the officials said. Read more from Angelica LaVito and Josh Wingrove.
Fauci Fears Cases May Stick at 70,000: The baseline level of coronavirus cases needs to fall further before the U.S. can confidently resume normal activities, even as the national vaccine rollout accelerates, Anthony Fauci said. Fauci, director of the National Institute of Allergy and Infectious Diseases, made the rounds of Sunday talk shows at a moment when news related to the pandemic has been positive, but fresh concerns are now emerging. "We've seen what happens when you pull back prematurely," he told CBS, Michael Riley and Ros Krasny report.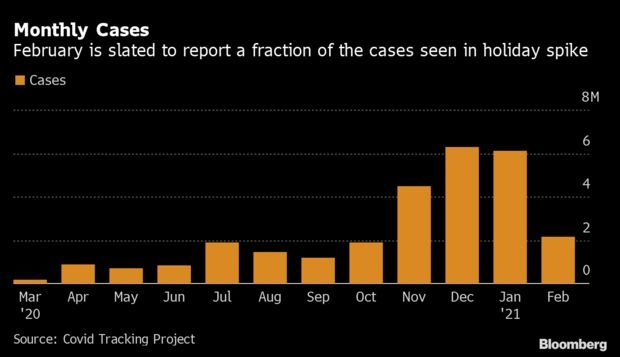 More Headlines:
Global Headlines:
Happening on the Hill
Bill Targets Database of Vaccine Spending: A bipartisan duo in the Senate want to create a database of spending around Covid-19 vaccines that would make public agreements between drug companies and the government. Sens. Mike Braun (R-Ind.) and Jeff Merkley (D-Ore.) unveiled a bill that would outline where the billions of dollars spent to spur the development of Covid-19 vaccines have gone. The legislation would also make public who owns the rights to technology patents associated with the vaccines, Alex Ruoff reports.
Rep. Lloyd Doggett (D-Texas), one of the sponsors of the House bill and head of the House Ways and Means Health subcommittee, said Friday that the White House has shielded the public from many of the terms of such vaccine agreements, including whether the federal government has any power to control the cost of the vaccines if they are needed for years to come. "In so many ways, this is our shot," he said. "Developed and manufactured with at least $19 billion taxpayer dollars." Read text of the bill here.
Hearings on the Hill:
What Else to Know
Pot Industry Opposes Kennedy for Drug Czar: The marijuana lobby has a new foe, and this time it's not a Republican but a Kennedy. Rep. Patrick Kennedy (D-Mass.), a former eight-term lawmaker and son of the late Sen. Ted Kennedy, wants to be the next White House drug czar, but the marijuana industry is dead-set against him. Kennedy, who's spoken openly about his life-long struggle with drug abuse, is now an advocate for those with mental health problems. He favors allowing pot for medical reasons but opposes legalizing its recreational use. Read more from Alex Ruoff and Tiffany Kary.
Related:
More Headlines:
With assistance from Alex Ruoff
To contact the reporter on this story: Brandon Lee in Washington at blee@bgov.com
To contact the editors responsible for this story: Zachary Sherwood at zsherwood@bgov.com; Giuseppe Macri at gmacri@bgov.com; Michaela Ross at mross@bgov.com
Stay informed with more news like this – from the largest team of reporters on Capitol Hill – subscribe to Bloomberg Government today. Learn more.