HEALTH CARE BRIEFING: Biden Uses DPA to Corner Vaccine Market
Bloomberg Government subscribers get the stories like this first. Act now and gain unlimited access to everything you need to know. Learn more.
The U.S. has injected more than a quarter of the world's coronavirus vaccine doses so far, thanks to two presidents who share little except a strategy to corner domestic production of shots, employing a 70-year-old law that's so far prevented exports.
From the moment the FDA authorized the first vaccines by Pfizer and Moderna, the U.S. government, first under Donald Trump and then under President Joe Biden, had already arranged to buy all of the companies' known U.S. production for months to come, assuring hundreds of millions of doses for American arms.
Countries without their own capacity to manufacture vaccines have had to wait or turn to sources other than the U.S., including shots developed in Russia and China under less regulatory scrutiny.
Biden last week marked a milestone of 100 million shots administered under his presidency, six weeks ahead of schedule. The U.S. has now put nearly 130 million doses into arms, twice as many as the more-populous European Union.
The achievement is due to contracts that obligate manufacturers to fill massive U.S. government orders first, a de facto ban on vaccine exports despite Biden administration officials repeatedly saying there's no formal prohibition. In exchange, companies get crucial aid procuring supplies. The nationalist approach taken by both Biden and Trump has been criticized by some allies and public health experts.
But other countries will soon benefit. The U.S. is on pace to inoculate most of its adult population by summer and is poised within months to become the biggest vaccine exporter in the world. Read more from Josh Wingrove.
EU Vaccine Rules May Disrupt Global Supply: Meanwhile, The European Union's closest neighbors, including countries in the Balkans and those that have special trading relationships with the bloc like Norway and Switzerland, will need authorization to import Covid vaccines from the EU under a proposal to be unveiled on today.
The plan, which will be made public in Brussels around midday, seeks to strengthen the EU's existing export rules by insisting that nations that receive doses from the EU also send doses back. It will also consider a countries' vaccination rate and pandemic situation when deciding on whether to green light shipments. The mechanism won't be automatic, but will be used on a case-by-case basis, according to officials familiar with the proposal. Read more from Alberto Nardelli and Viktoria Dendrinou.
Happening on the Hill
Pelosi May Revive Drug Pricing in Infrastructure Package: Speaker Nancy Pelosi (D-Calif.) said yesterday that Democrats are discussing adding a provision to upcoming infrastructure legislation that would let the federal government negotiate drug prices, a move that would take a big financial bite out of pharmaceutical companies, but help pay for expanded health programs. It would allow the government to use its buying power to bargain with drugmakers in order to lower costs for the Medicare program.
Pelosi cited estimates from the Congressional Budget Office for a previous bill put forward by Democrats but never passed by Congress that negotiating drug prices would save the federal government $456 billion over a decade. "We'd be missing an opportunity if we did not include lowering the cost of prescription drugs," Pelosi said on a conference call commemorating the 11th anniversary of the Affordable Care Act by advocacy group Protect Our Care.
Pelosi added one of her priorities is finding a way to make higher subsidies for the Affordable Care Act in the $1.9 trillion Covid-19 relief package permanent. "Everything is on the table" for other improvements when asked about other health priorities like expanding the eligibility for Medicare and opening more community health centers, Pelosi said. Read more from Steven T. Dennis and Alex Ruoff.
Earlier yesterday, lawmakers offered a bill that would peg the price of prescription drugs in the U.S. to the median price in Canada, U.K., France, Germany, and Japan. Progressive lawmakers Sen.

Bernie Sanders

(I-Vt.) and Rep.

Ro Khanna

(D-Calif.) also offered legislation directing the HHS to negotiate lower prices for prescription drugs under Medicare Part D, Kasia Klimasinska reports.
Murthy Wins Confirmation for Second Stint: The Senate approved by 57-43 the nomination of Vivek Murthy to serve as surgeon general. The vote came six days after the Senate Health, Education, Labor, and Pensions Committee voted to advance his nomination. His nomination received bipartisan support from the panel's members. The Senate will likely vote to confirm Rachel Levine, Biden's pick to be assistant HHS secretary, today, Shira Stein reports.
The Senate at 11:30 a.m. will vote whether to limit debate on Levine's nomination. The chamber then plans to vote at 4:45 p.m. to confirm Levine.
Companies Urge Congress on Paid Family Leave: More than 190 U.S. companies, including Eventbrite, Patagonia and Pinterest, urged congressional leaders yesterday to pass a federal paid family and medical leave policy. The memo, sent to Pelosi and Senate Majority Leader Chuck Schumer (D-N.Y.), calls for Congress to work with the White House on including permanent paid leave in the $3 trillion recovery plan Biden is preparing to roll out. Akayla Gardner has more.
Hospitals Raise Alarms Over Cuts to Budget: Hospital and doctors' lobbies are cranking up pressure on Congress to forestall planned Medicare cuts, banking on goodwill they've made during the coronavirus pandemic. Health-care trade groups say their members can't absorb cuts to Medicare reimbursements this year because their revenue has been hurt by the virus. Although lawmakers approved more than $186 billion in relief to the industry, hospitals warn they're still struggling to stay afloat. Read more from Alex Ruoff.
Yesterday, John Barrasso (R-Wyo.) blocked passage of legislation (H.R. 1868) to prevent the cuts to Medicare, Nancy Ognanovich reports. Barrasso and Sen. Tom Cotton (R-Ark.) instead introduced counter-legislation that aims to avoid cuts by redirecting spending from the recently passed $1.9 trillion relief bill.
The Coronavirus Pandemic
AstraZeneca's Pain Grows as U.S. Questions Vaccine: After enduring months of wide public criticism, AstraZeneca finally caught a moment of reprieve for its Covid-19 vaccine earlier this week when U.S. trial data found the shot was highly effective, working well in the elderly, and raising no safety concerns. The good news lasted less than a day.
A group of experts meant to work beside the drugmaker on its trial safety contacted U.S. government agencies late on March 22 to express concern. The results made public just hours earlier may be outdated, they said, in a stunning departure from protocol. Astra promised up-to-date numbers within the next 48 hours. The late-night volley from the National Institute of Allergy and Infectious Diseases seemed to blindside the company, which took nearly 12 hours to come back with a public message. Suzi Ring and Marthe Fourcade have more.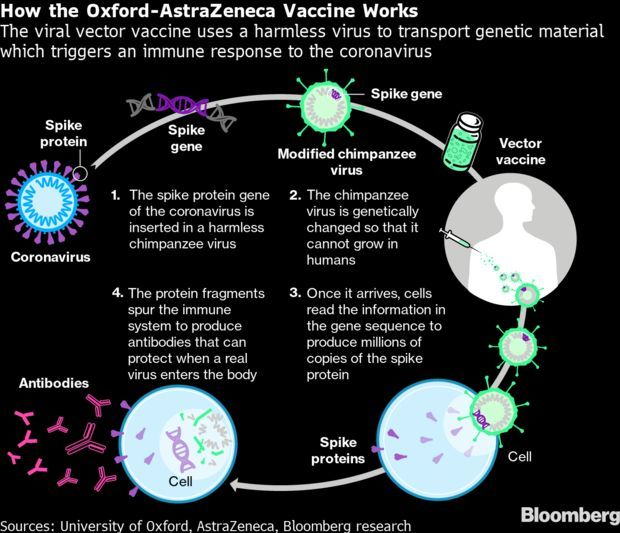 J&J Partner Gets U.S. Clearance to Make Doses: Millions more doses of Johnson & Johnson's Covid-19 vaccine are expected to be released after U.S. regulators cleared the way for contract manufacturer Catalent to help produce them. The Food and Drug Administration has granted emergency-use authorization to Catalent's facility in Bloomington, Ind., to make the one-dose vaccine's active ingredient and ship the final product, according to the contract manufacturer. Read more from Riley Griffin.
Vaccine Hesitancy Could Mean 4.6 Million More Cases: The U.S. could experience a "perfect storm" for a boom in coronavirus cases this year if many Americans remain unvaccinated but increase social activity, according to a study from the University of Pennsylvania. An estimated one-quarter of Americans will opt out of Covid-19 vaccines this year, the nonpartisan research organization said in a report. If activities involving personal contact pass 70% of pre-pandemic levels, an additional 4.6 million people may catch the virus this year. Katia Dmitrieva has more.
More on the Vaccine Push:
Teachers Question CDC's Guidance on Schools: American Federation of Teachers President Randi Weingarten said evidence does not support a recent update to U.S. Centers for Disease Control and Prevention guidance that K-12 schools can opt for 3 feet, not 6 feet, of distancing among students if they wear masks. Weingarten in a letter to CDC Director Rochelle Walensky asked the CDC to provide further federal guidance on proper mitigation measures and a CDC study of those efforts in urban schools, Andrew Kreighbaum reports.
Regeneron Cocktail Cuts Hospitalizations by 70%: Regeneron Pharmaceuticals said it will apply for U.S. authorization for a lower dose of its Covid-19 antibody cocktail, after data from a final-stage trial showed early usage of its drug reduced hospitalizations and deaths by 70%. The Food and Drug Administration in November cleared Regeneron's therapy for emergency use. The treatment is part of a class of coronavirus therapies that were widely hailed for their effectiveness, though they have been slow to be widely adopted because they are difficult to administer. Read more from Robert Langreth.
Pfizer Begins Human Trials of New Pill: Pfizer said it's begun human safety testing of a new pill to treat the coronavirus that could be used at the first sign of illness. If it succeeds in trials, the pill could be prescribed early in an infection to halt viral replication before patients get too ill. The drug binds to an enzyme called a protease to keep the virus from replicating. Protease-inhibiting medicines have been successful in treating other types of viruses, including HIV. Read more from Robert Langreth.
Elsewhere in the Pandemic:
What Else to Know Today
Health-Care Access at Risk in LGBT Foster Care Case: The U.S. Supreme Court's decision in a battle over Philadelphia's refusal to continue contracting with a Catholic foster care agency that discriminates against same-sex couples could have a major impact on health care. If the court rules broadly and grants the religious exemption Catholic Social Services is after, it may open the door for new challenges against anti-discrimination protections across government contracts, legal scholars say. Read more from Lydia Wheeler.
Former Becerra Staffer Joins Lobby Firm Ferox Strategies: Debra Dixon, a longtime former adviser to Health and Human Services Secretary Xavier Becerra, has joined boutique lobby shop Ferox Strategies, the firm announced yesterday. She brought client Microsoft with her from tech-focused firm TwinLogic Strategies where she had worked since 2016. She's also working on two newly signed Ferox clients, the Seasonal Employers Alliance and Eli Lilly, whose drugs are regulated by HHS. Read more from Megan R. Wilson.
More Headlines:
With assistance from Nancy Ognanovich and Andrew Kreighbaum
To contact the reporter on this story: Brandon Lee in Washington at blee@bgov.com
To contact the editors responsible for this story: Zachary Sherwood at zsherwood@bgov.com; Giuseppe Macri at gmacri@bgov.com; Michaela Ross at mross@bgov.com
Stay informed with more news like this – from the largest team of reporters on Capitol Hill – subscribe to Bloomberg Government today. Learn more.