HEALTH CARE BRIEFING: Biden Unveils Massive Family Aid Plan
Bloomberg Government subscribers get the stories like this first. Act now and gain unlimited access to everything you need to know. Learn more.
President Joe Biden will unveil today a sweeping $1.8 trillion plan to expand educational opportunities and child care for families, funded in part by the largest tax increases on wealthy Americans in decades — the centerpiece of his first address to a joint session of Congress.
Called the American Families Plan, Biden's third major legislative proposal combines $1 trillion in spending with $800 billion in tax cuts and credits for middle- and lower-income families.
The plan would make pre-kindergarten and community college free across the country, extend the child tax credit through 2025 and make permanent an expansion of the earned income tax credit to childless adults with low incomes, provide direct support to families for child care, finance teacher training and create a national paid family leave program.
The proposal follows on the heels of a $2.25 trillion infrastructure plan that has yet to be taken up by Congress and a $1.9 trillion pandemic relief plan that Biden has signed into law. Together, the measures would remake the U.S. tax code and social welfare programs, vastly expanding federal support even for families that consider themselves upper-middle class while substantially shifting the overall tax burden to the wealthy.
"The president has been clear that our tax system is broken when a hedge fund manager making hundreds of millions of dollars is paying taxes at a lower rate than the janitor working in his office or the housekeeper at his mansion," White House senior adviser Anita Dunn wrote Tuesday in a memo obtained by Bloomberg News. "And he's going to take steps — steps which are supported by the American public — to address the fairness in the tax code." Read more from Nancy Cook and Justin Sink.
Medicare Age Eligibility: Biden's plan calls for the lowering of the age to 60 for people to voluntarily enroll in Medicare, according to a White House fact sheet. Congressional Democrats have supported such a move, and want to help fund the benefits expansion with $456 billion that Medicare could save over 10 years through Biden's plan to let the program negotiate its own drug prices.
After the massive loss of jobs and employer-based health coverage due to Covid-19, Democrats say public support for their plan is strong. A recent Gallup poll found roughly 46 million Americans couldn't pay for quality health care if they needed it. And even before the pandemic struck, 77% of Americans, including 69% of Republicans, favored letting adults ages 50 to 64 buy into the Medicare program, according to a January 2019 poll by the Kaiser Family Foundation.
Getting their policy goals accomplished, however, will still prove to be a heavy political lift. Congressional Republicans have railed against expanding federal health-care programs and have shown no signs of budging. Read more from Tony Pugh.
More Headlines:
Happening on the Hill
Republicans Use Medical Backgrounds to Tout Vaccine: A group of Republican lawmakers with backgrounds as medical professionals launched a public service campaign yesterday to encourage people to get Covid-19 vaccines as polls show a substantial chunk of Republicans are resisting getting the shot. Sen. John Barrasso, a physician, said hesitancy in his home state of Wyoming is one of the reasons he wanted to take part in the campaign, which was initiated by Sen. Roger Marshall (Kan.), a medical doctor, Jarrell Dillard reports.
Warren Seeks Probe of Emergent CEO: Sen. Elizabeth Warren (D-Mass.) urged the U.S. Securities and Exchange Commission to investigate potential insider trading by the chief executive of Emergent BioSolutions. Warren's letter to SEC Chairman Gary Gensler yesterday comes after a report suggested CEO Robert Kramer dumped $10 million in Emergent shares before the firm disclosed significant problems at its Maryland plant in producing the Johnson & Johnson Covid-19 vaccine, Catherine Larkin reports.
Hearing on Long Covid Today: The head of the nation's medical research agency will testify before the House Energy and Commerce Committee today about Long Covid, a condition when the coronavirus makes people sick for weeks or months. Francis Collins, director of the National Institutes of Health, and John Brooks, chief medical officer for the CDC's pandemic response, will tell lawmakers that as many as 30% of people who recover from Covid-19 will suffer some lingering effects, ranging from abnormal sleep patterns to a shortness of breath, according to their prepared remarks, Alex Ruoff reports.
Momentum Builds for Mental Health Bill: A bipartisan group of lawmakers will introduce legislation today to help schools and communities flag when someone needs mental health support. Lawmakers including Drew Ferguson (R-Ga.), Michael Burgess (R-Texas) and Scott Peters (D-Calif.) will introduce the bill to direct various federal agencies to create best practices for behavioral intervention programs to help communities identify the earliest signs of violence to self or others, Alex Ruoff reports. Read the bill here.
Doggett Seeks Renegotiated Medicaid Waiver: Rep. Lloyd Doggett (D-Texas) led other Texas Democrats in urging the administration to leverage renegotiation of its Medicaid Section 1115 waiver as an "opportunity to achieve significant reductions in the unacceptably high number of uninsured Texans," according to a statement. The move comes after Biden's decision to rescind a Trump-era move extending the waiver for 10 years. Read the letter here.
Hearings on the Hill:
The Coronavirus Pandemic
Biden Touts Shots as Path to Normalcy: Biden urged Americans hesitant to get vaccinated against Covid-19 to reconsider, citing new federal guidance that inoculated people can begin socializing outdoors without masks. "Gathering with a group of friends in a park, going on a picnic—as long as you're vaccinated and outdoors, you can do it without a mask," Biden said at the White House yesterday. "If you're vaccinated, you can do more things, more safely."
Roughly 141 million Americans have received at least one dose of a vaccine, according to the Bloomberg Vaccine Tracker, but the pace of vaccinations has dropped under 3 million a day despite abundant supply.
Fully vaccinated Americans can drop masks when exercising, dining and socializing outdoors in small groups, federal health officials said earlier yesterday, and may also socialize indoors with other vaccinated people without masks or social distancing. But masks should remain on anywhere there's a large gathering, such as sporting events or malls, the CDC said.
The CDC's new recommendations, which represent one of the most significant relaxations of guidelines since the pandemic began, are complex and wide-ranging. They come with almost 30% of Americans fully inoculated and with increases starting to slow in the daily coronavirus caseload. Read more from Fiona Rutherford, Elaine Chen and Jordan Fabian.
Biden Pledges on India Aid: Also in his remarks yesterday, Biden said that he plans to send vaccines from the U.S. to India as the nation battles the worst Covid-19 surge on Earth, but did not specify timing for a decision or shipments. Biden said he and Indian Prime Minister Narendra Modi had discussed "when we'll be able to send actual vaccines to India, which is my intention to do." In the meantime, the U.S. is shipping aid including the therapeutic drug remdisivir and machinery for vaccine manufacturing, Biden said. Fabian and Justin Sink have more.
Related:
Vaccine IP Enforcement Takes Stage: The post-pandemic need for coronavirus vaccine booster shots may trigger intellectual property lawsuits as early vaccine makers aim to keep competitors out of that lucrative market, health experts say. The situation is complicating a debate over sharing manufacturing know-how to speed up global immunization. Read more from Ian Lopez.
U.S. Finds New Clotting Cases: Two new cases of extremely rare blood clots tied to Johnson & Johnson's Covid-19 vaccine are being scrutinized by federal health officials, the CDC said in an email to Bloomberg News. One case was in a male and the other in a female, both under 60 years old, a CDC spokeswoman said. That brings the total number of clotting cases to 17 out of 8.1 million doses administered in the U.S., around 0.0002%. Angelica LaVito has more.
N.Y. Cases Finally Drop After Long Plateau: Cases and hospitalizations are dropping sharply across New York City's five boroughs, easing worries about a new local variant as vaccinations expand. The seven-day average of confirmed and probable cases in the most populous city in America has dropped by 34% in the past week and 56% in the past month to 1,745, data show. Manhattan saw a 64% drop in the 31-day period, the most among the boroughs. That decline follows a two-month plateau of between 3,500 and 5,000 average cases every day. Read more from Jonathan Levin.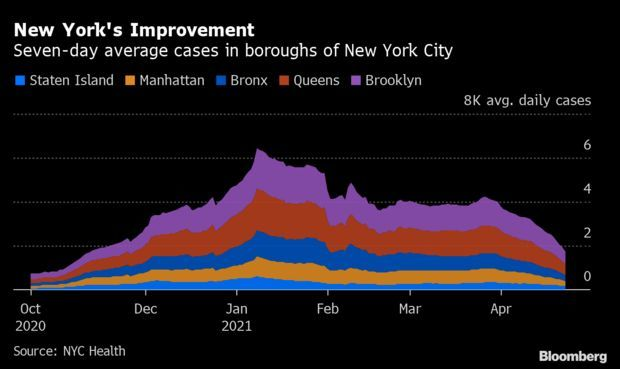 More Headlines:
What Else to Know Today
Plastic Surgeons Expect Boom in Procedures: As more Americans get back to the office and restaurants reopen, tummy tucks and liposuction are poised for a comeback. In a national poll of 1,000 women, one in 10 indicated that they are more interested in cosmetic plastic surgery or non-surgical procedures now than before the pandemic, according to the American Society of Plastic Surgeons. Almost one quarter of respondents who had a procedure in the past said they would like additional work done. Read more from Alex Tanzi.
New Exemptions for Prescribing Opioid Treatment: The Department of Health and Human Services released new exemptions aimed at widening access to a take-at-home treatment for opioid use disorder. The new guidelines say licensed health practitioners who possess a valid registration from the Drug Enforcement Administration can prescribe buprenorphine without certification in training, counseling, and other ancillary services. Christopher Brown has more.
Medicare Moves to Increase Hospital Payments by $2.5B: Acute-care hospitals would see an overall 2.8% increase, or another $2.5 billion, in Medicare reimbursements in fiscal year 2022 under a proposed rule released yesterday by the Centers for Medicare & Medicaid Services. Long-term care hospitals would receive an extra 1.4%, or $52 million under the proposal (RIN 0938-AU44), which is scheduled to be published May 12 in the Federal Register. Read more from Tony Pugh.
More Headlines:
With assistance from Alex Ruoff
To contact the reporter on this story: Brandon Lee in Washington at blee@bgov.com
To contact the editors responsible for this story: Zachary Sherwood at zsherwood@bgov.com; Giuseppe Macri at gmacri@bgov.com; Michaela Ross at mross@bgov.com
Stay informed with more news like this – from the largest team of reporters on Capitol Hill – subscribe to Bloomberg Government today. Learn more.