HEALTH CARE BRIEFING: Biden to Send Military Doctors to States
Bloomberg Government subscribers get the stories like this first. Act now and gain unlimited access to everything you need to know. Learn more.
The U.S. military will deploy new help to hospitals in New York and New Jersey as they grapple with a wave of hospitalizations driven by the omicron variant.
President Joe Biden will announce today that his administration is deploying military doctors, nurses and others to six hospitals in six states, including Coney Island Hospital in Brooklyn and University Hospital in Newark, the White House said. The workers are relief teams dispatched to ease pressures on overwhelmed health centers.
Biden will make the announcement in a speech on the latest in his administration's pandemic response, focusing on surge teams and aid sent to states. He'll be joined by Defense Secretary Lloyd Austin and Federal Emergency Management Agency Administrator Deanne Criswell.
Since Thanksgiving, more than 350 military doctors, nurses and medics have deployed to help hospitals facing a surge of patients and a shortage of staff, some of whom are forced to isolate after testing positive themselves. The six teams announced Thursday are expected to be followed by others, the White House added.
"We have been deploying a number of federal resources and the president will talk more about specifics and more steps to build on that tomorrow," White House Press Secretary Jen Psaki said Wednesday.
The 7-day national average of new Covid-19 hospitalizations is more than 20,000, according to data from the Centers for Disease Control and Prevention. That's a record, and roughly quadruple the levels of early November. Read more from Josh Wingrove.
N95 Mask Prices Hit 'Ridiculous' Highs
The potential for a new recommendation from the CDC is unleashing a scramble for N95 masks and boosting their prices. The agency is considering changing its guidance to advise that people wear higher-quality masks, according to a Washington Post report. That's contributing to a surge in prices for gold-standard N95 and KN95 face coverings on sites like Amazon.
One pack of 40 KN95 masks from the Hotodeal brand now costs $79.99 from third-party sellers on Amazon, up from just $17 in late November, according to data from price tracker "camelcamelcamel." A 50-pack of Kimberly-Clark N95s is going for $57.15, compared with $23.19 in early October.
Since the highly contagious omicron variant of Covid-19 began spreading rapidly, worried consumers have abandoned their simple cloth or surgical masks and gone hunting for more-protective gear. Kid-sized masks have been especially in-demand, since many public schools are still holding in-person classes despite the surge.
Some experts have spoken out about N95s being superior to cloth ones, but the Centers for DIisease Control and Prevention has yet to give an official recommendation. But it does say on its website that "masks and respirators can provide varying degrees of protection, with well-fitting NIOSH-approved respirators (e.g., N95s) offering the most protection."
President Joe Biden's Covid-19 response coordinator Jeff Zients sought to assuage concerns over masks at a White House Press briefing. The government has a stockpile of over 750 million masks available for health workers and first responders, Zients said. "Right now, we are strongly considering options to make more high-quality masks available to all Americans, and we'll continue to follow the science here," he said. Read more from Claire Ballentine and Misyrlena Egkolfopoulou.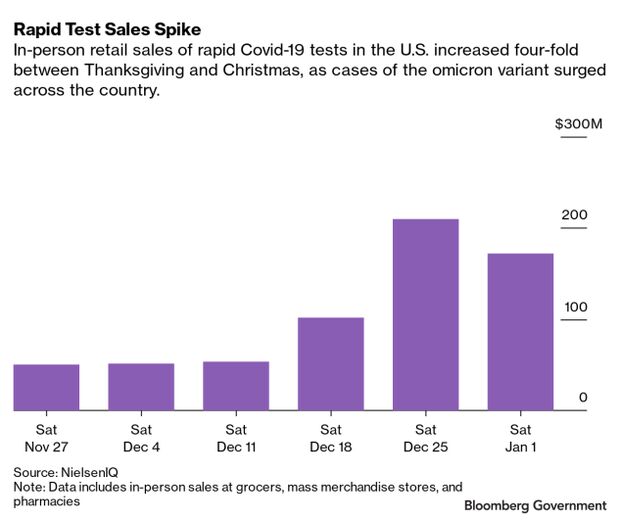 More on the Pandemic
U.S. Orders 500,000 More AstraZeneca Cocktail Doses: The U.S. government is in talks with AstraZeneca to order 500,000 doses of its coronavirus antibody drug, used by vulnerable people before exposure to the virus to prevent severe illness. Zients said yesterday the White House and AstraZeneca are "in the process of ordering" the doses, which are aimed at the immunocompromised. The new order will raise total U.S. buys to more than 1 million doses, all due by the end of March, Zients said. Read more from Josh Wingrove and Suzi Ring.
U.S. Appeals Contractor Vaccine Order Loss: The Justice Department will appeal a Louisiana federal court's ruling that blocked Biden's order for government-contractor workers to get a coronavirus vaccine. The U.S. Court of Appeals for the Fifth Circuit will be the third federal appeals court to consider a challenge to the measure. A coalition of three states—Louisiana, Mississippi, and Indiana—sought to stop the mandate for companies that do business with the federal government. U.S. District Court Judge Dee Drell of the Western District of Louisiana granted a preliminary injunction in December. Erin Mulvaney has more.
Almost All Teens in ICU Unvaccinated: Virtually every teenager who needed intensive care for Covid-19 was unvaccinated in a study that bolsters the use of the Pfizer-BioNTech shot in youths. The shot prevented 98% of ICU visits and 94% of Covid-related hospitalizations in the real-world study of over 1,000 adolescents age 12-18 in 23 states published yesterday in the New England Journal of Medicine. While adolescents can develop severe Covid-19 complications, it's relatively rare that they do, making it harder to study vaccine efficacy than among older adults. Read more from Robert Langreth.
Omicron Has Many Ready to Quit Rather Than Return: Workers grew more uncomfortable about heading back to the office in the first week of 2022 and were much likelier to consider quitting if their employer demanded they return, a sign that companies' efforts to get people back amid surging infections face stiff resistance. The share of remote workers who would consider leaving their job if they were asked back to the office before they felt safe rose to 55% as of Jan. 6, up from 45% a week earlier, according to pollster Morning Consult. Read more from Matthew Boyle.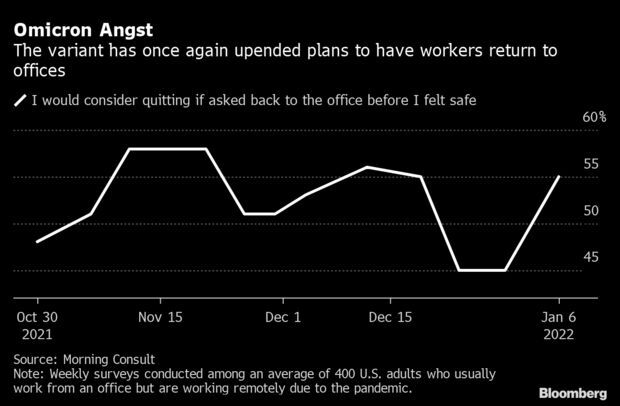 More Headlines:
What Else to Know Today
Congressional Priorities for 2022: Lawmakers are working to cut a deal on government funding for the rest of fiscal 2022, before they can even turn to the next fiscal year that starts Oct. 1. All eyes are also on Democrats' reconciliation bill (H.R. 5376), which could top $1 trillion and cover a swath of issues.
Bloomberg Government legislative analysts held a webinar looking at what's ahead for 2022, including U.S.-China competition, water projects, and more.
FDA Nominee Panel Vote: The Senate Health, Education, Labor and Pensions Committee plans a vote on nominations including Robert Califf to be commissioner of the Food and Drug Administration. Califf was initially set to testify yesterday, but the hearing was delayed to today. Sen. Maggie Hassan (D-N.H.), a member of the panel, announced on Tuesday she would oppose Califf's nomination. Hassan joins fellow committee member Sen. Sanders in opposition, meaning Califf would need three votes from Republicans to make it to the full Senate.
Biogen's Alzheimer's Setback Rattles Patients: The government's preliminary decision to pay for Biogen's Alzheimer's disease drug only in very few circumstances gave fresh fuel to a long-running fight over whether the treatment cost is worth its disputed benefits. Patient advocates and Biogen responded with dismay after the federal Centers for Medicare & Medicaid Services tightly restricted coverage of Aduhelm, which Biogen initially priced at $56,000 per year, then cut in half. But insurance firms skeptical of the therapy praised the move, as did some progressive lawmakers. Angelica Peebles, John Tozzi, and Robert Langreth have more.
More Headlines:
With assistance from Courtney Rozen
To contact the reporter on this story: Brandon Lee in Washington at blee@bgov.com
To contact the editors responsible for this story: Zachary Sherwood at zsherwood@bgov.com; Giuseppe Macri at gmacri@bgov.com; Michaela Ross at mross@bgov.com
Stay informed with more news like this – from the largest team of reporters on Capitol Hill – subscribe to Bloomberg Government today. Learn more.