HEALTH CARE BRIEFING: Biden Stimulus Faces Long Final Gauntlet
Bloomberg Government subscribers get the stories like this first. Act now and gain unlimited access to everything you need to know. Learn more.
Senate Democrats face a gauntlet of Republican attempts to rein in President Joe Biden's $1.9 trillion stimulus package in a marathon session of votes that will extend the timetable for passage into the weekend.
Democratic leaders plan to rough it through the amendment process and emerge with a bill that gets the votes of all 50 Democrats without risking a revolt from progressives in the House, which will have to agree on the Senate version before it goes to Biden for his signature.
The president has already agreed to revisions to keep moderate Senate Democrats on board, including narrowing the eligibility for direct payments to millions of Americans. Incentives have also been added, including more money for rural hospitals, health insurance subsidies for the unemployed and broadband. But further changes are still possible. Even a single Democrat joining Republican efforts in the 50-50 Senate can defeat Biden's proposal to increase the pandemic unemployment bonus from $300 to $400 a week, slash further the number of people eligible for $1,400 stimulus checks or strike any other provision in the bill. Read more from Steven T. Dennis, Erik Wasson and Laura Litvan.
Health-related provisions in the sweeping package include:
Read more: Senate Democrats' Covid Aid Reconciliation Bill: BGOV Summary
Stimulus Documents: Read a summary of the package from the Senate Budget Committee here and the legislative text here.
Hospital Debt-Collection Lawsuits Spur New Ways to Push Back
Aggressive, and often confusing, debt collection practices by hospitals are catching the attention of policymakers, who say there are no easy solutions to protecting patients and their families from years of legal battles over medical bills.
The Senate Covid-19 relief package includes an expansion of the Affordable Care Act's insurance subsidies, a move Democrats say will help Americans avoid going into medical debt. But that change would last only two years and wouldn't help anyone currently in debt.
Five Senate Democrats, led by Chris Van Hollen (D-Md.), introduced legislation in the last Congress to suspend wage garnishments and bank account seizures related to medical debt through the pandemic. The Senate never considered it, and it isn't included in the Covid-19 relief package.
Some consumer advocates and researchers say they aren't waiting for federal lawmakers to act. They're trying to spur change at the state level, naming and shaming hospitals into changing their debt-collection practices, or shining a light on predatory health-care organization billing systems. Read more from Alex Ruoff.
The Coronavirus Pandemic
N.Y.'s Stubborn Virus Cases Complicates Reopening: The burden from Covid-19 is weighing more heavily on hospitals in New York than all other states in the nation, even as Gov. Andrew Cuomo takes steps toward scaling back restrictions. New York state's total hospitalizations for Covid-19 have fallen by over a third in a month. Still, its current rate of hospitalizations for the virus per 100,000 people is 27, the highest in the U.S., Covid Tracking Project data show. Read more from Jonathan Levin.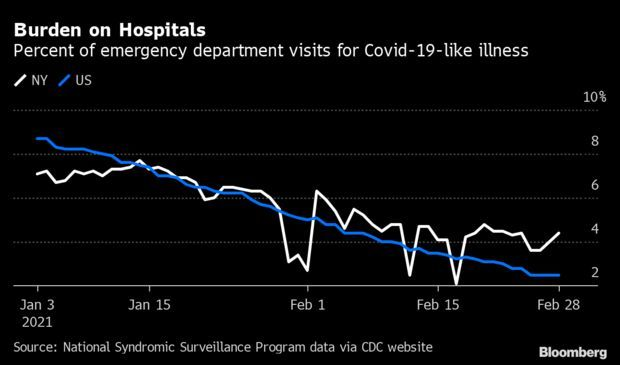 Pfizer Plant Helping Vaccines Has Quality Offenses: The factory that Pfizer plans to use to boost production of its Covid-19 vaccine was cited by federal inspectors last year for repeated quality-control violations. Food and Drug Administration inspectors visited the Kansas facility at the end of 2019 into January 2020, according to a report obtained by Bloomberg through a Freedom of Information request. They found the drug company released medications for sale after failing to thoroughly review quality issues that arose in routine testing, the report shows. Read more from Anna Edney.
Vaccine Maker Cites U.S. Law in Delays: The head of the world's biggest vaccine maker and the World Health Organization's chief scientist said manufacturers of coronavirus shots face a global shortage of the raw materials needed to churn out vaccines. Adar Poonawalla, the CEO of the Serum Institute of India—licensed to produce hundreds of millions of Covid-19 vaccines from AstraZeneca and Novavax—told the World Bank yesterday a U.S. law blocking exports of certain key items such as filters will likely spur serious bottlenecks. Read more from Chris Kay.
Hype Over Malaria Drug Hurt Research on Others: Researchers succumbed to political and media pressure in flocking to study Trump-touted hydroxychloroquine, undercutting research on possibly more effective Covid-19 therapies in the process, a report released yesterday said. The report, published in the journal JAMA Network Open, adds to existing literature that many low-value studies early in the pandemic failed to generate meaningful evidence to help health workers treat patients. Jeannie Baumann has more.
Virus Origin Probe Debate Heats Up: The controversy over the investigation organized by the World Health Organization and China about the origins of SARS-Cov-2 is heating up as a group of scientists demanded an independent probe to weigh all hypotheses and nail down whether the virus came from an animal. A group of more than 20 signatories said in a letter published by the Wall Street Journal that the existing mission isn't independent enough and requested a new probe to consider all possibilities over the origin. Corinne Gretler has more.
Deaths Higher Where Obesity Rates Are High: Countries where more than half of adults are overweight have seen Covid-19's mortality rates in excess of 10 times those in other nations, a report by the World Obesity Federation found. Of the 2.5 million pandemic deaths reported by the end of February, 2.2 million were in countries above the 50% threshold, the study showed, suggesting obese people should be considered a priority for vaccines, Corrine Gretler reports.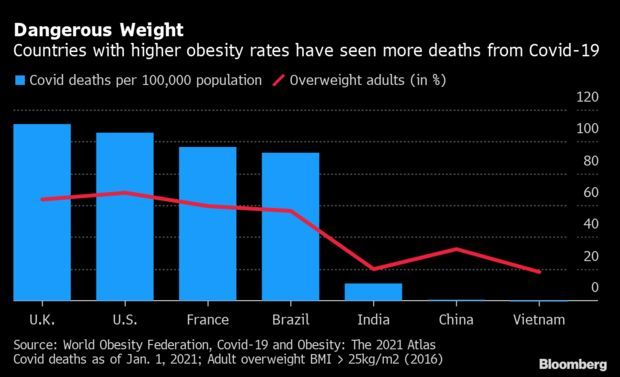 More From the U.S.:
International Headlines:
What Else to Know Today
Committee Probes Opioid Companies Over Tax Breaks: The House Oversight and Reform Committee is probing whether executives at four drug companies intend to use a pandemic-related tax break to deduct payments of opioid settlements. Drug distributor Cardinal Health has said it plans to use a temporary tax break in the 2020 CARES Act that allows corporations to deduct losses, including those tied to legal settlements, to offset profits of previous years and generate a refund from the IRS.
A letter from the committee said that Cardinal Health disclosed in regulatory filings that they expect to receive an almost $500 million tax refund because of the tax break, which lets them carry back losses to previous years when tax rates were higher. The panel also sent letters to McKesson, AmerisourceBergen and Johnson & Johnson asking if they intended to employ the same tax strategy. Read more from Laura Davison and Billy House.
Democrats With Science Background Urged to Run: An organization advocating for more lawmakers with science backgrounds is boosting fundraising and training to pull candidates to address the pandemic and counter what it says was the anti-science proclivity of Trump's presidency. The group 314 Action aims to raise $50 million for the 2022 election, an increase from $25 million in the 2020 election cycle. It also wants to raise $10 million for its preferred candidates, up from $5 million in 2020. Read more from Greg Giroux and Emily Wilkins.
Racial Bias in Clinical Medicine Algorithms Targeted: HHS wants to better understand how clinical algorithms used to make decisions about patients' care "may introduce bias" into that process. The HHS's Agency for Healthcare Research and Quality, which focuses on evidence in health care, issued a request for information yesterday on how algorithms are developed and how variables tied to race can impact health-care use, patient outcomes, and disparities. Read more from Shira Stein.
Medicaid Work Rule Fight Impedes Welfare Efforts: Medicaid's ability to address housing, nutrition, transportation and other social needs that impact people's health will be in play in the Supreme Court as it weighs the program's flexibility in another area: work requirements. The court is scheduled to hear oral argument March 29 in a lawsuit reviewing the Trump-era HHS approval of work requirements in Arkansas' and New Hampshire's Medicaid programs. Read more from Christopher Brown.
Marlboro Maker Prods FDA to Say Nicotine Is Safe: Marlboro-maker Altria Group wants to enlist an unlikely partner in convincing Americans that nicotine isn't as bad as they think: its regulator. The company asked the Food and Drug Administration to address misconceptions about nicotine as part of a proposed $100 million advertising campaign to reduce the harms caused by tobacco, according to a letter obtained by Bloomberg News. Tiffany Kay has more.
More Headlines:
To contact the reporter on this story: Brandon Lee in Washington at blee@bgov.com
To contact the editors responsible for this story: Zachary Sherwood at zsherwood@bgov.com; Giuseppe Macri at gmacri@bgov.com; Michaela Ross at mross@bgov.com
Stay informed with more news like this – from the largest team of reporters on Capitol Hill – subscribe to Bloomberg Government today. Learn more.