HEALTH CARE BRIEFING: Biden Sets May Goal for Adult Shots
Bloomberg Government subscribers get the stories like this first. Act now and gain unlimited access to everything you need to know. Learn more.
President Joe Biden called for states to give all teachers and child-care workers at least one dose of Covid-19 vaccine by the end of the month in a fresh drive to re-open schools, and said there will be enough doses for all American adults by the end of May after the authorization of a new shot.
Biden announced a contract with Merck and said the company would work with Johnson & Johnson to increase production of its single-shot vaccine. The new vaccine, authorized Saturday for use in the U.S., will speed up the overall timetable for most Americans to be vaccinated. Biden also said J&J's previous delivery timetable is being accelerated.
"We should all be encouraged by this news," Biden said yesterday at the White House. "The more people that get vaccinated, the faster we're going to overcome this virus."
The Department of Health and Human Services said J&J would deliver "at or near" 100 million doses by the end of May, compared with a previous pledge of 100 million doses by the end of June. That acceleration — further details of which weren't provided — along with J&J's vaccine authorization led Biden to say there'll be enough shots for all U.S. adults by the end of May, rather than the end of July. The previous timetable didn't include the J&J vaccine.
The Biden team pointed to several factors in the ramp-up. Biden said J&J would begin manufacturing "24-7" and that the Department of Defense is partnering with the company to smooth out problems where it can. The White House has invoked the Defense Production Act, a wartime power, to prioritize certain supplies, but hasn't specified which products are being targeted. Read more from Justin Sink, Josh Wingrove, and Riley Griffin.
Related:
More on the Pandemic
Texas Lifts Mask Mandate: Texas Gov. Greg Abbott (R) lifted the state's mask mandate and other coronavirus restrictions amid declining hospitalizations and infection rates in the second-largest state. Effective March 10, all businesses will be allowed to open at 100% of capacity, Abbott said during a media briefing in Lubbock. His executive order permits county judges to reinstate virus rules should hospitalizations surge. "It is now time to open Texas," Abbott said. "Too many small-business owners have struggled to pay their bills."
But the announcement flies in the face of pleas by federal health officials for a continuation of mask wearing and other protocols. "At this level of cases with variants spreading, we stand to completely lose the hard-earned ground we have gained," said Rochelle Walensky, director of the Centers for Disease Control and Prevention. Abbott's action was also immediately blasted by Texas Democrats as rash and politically motivated. Joe Carroll and Paul Stinson have more.
Nursing Home Cases, Deaths Plummet: U.S. nursing homes, the epicenter of the Covid-19 pandemic, have seen an 82% decline in new cases among residents and a 63% drop in deaths since the holiday surge in December 2020, thanks to the mass vaccination effort that has targeted residents and staff at the facilities. The decline, from more than 33,000 new resident cases per week as of Dec. 20, 2020, to just over 6,000 new cases on Feb. 7, 2021, "is getting us to the point of the lowest number of cases since the government started collecting this data clear back in May," said Mark Parkinson, president and CEO of the American Health Care Association, which represents more than 14,000 for-profit nursing homes. Read more from Tony Pugh.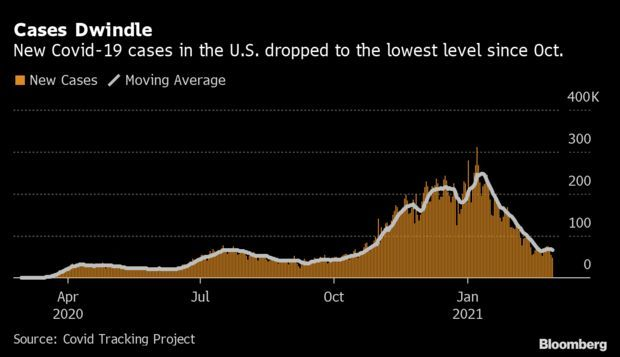 Tracking Vaccinated Challenges Privacy Laws: The federal government's unprecedented collection of personal information to track Americans getting the Covid-19 vaccine is raising privacy concerns and forcing states to balance the rights of citizens with the national battle against the deadly pandemic. Public health officials claim they need the data to track where vaccinations are occurring and which communities are lagging. But sharing private details—name, age, gender, race, and home address of anyone inoculated—has encountered some pushback. Read more from Jake Holland, Jacquie Lee, and Porter Wells.
U.S. Pandemic Headlines:
International Headlines:
Happening on the Hill
Finance Panel Holds Becerra Vote:The Senate Finance Committee will vote today on the nomination of California Attorney General Xavier Becerra to lead the Health and Human Services Department under the Biden administration.
Biden Relief Plan Faces Senate Hurdle With Debate Poised to Open: Biden's imperative of swiftly passing his $1.9 trillion pandemic-relief program faces one of its final hurdles: settling disputes among Senate Democrats over how to ensure aid gets to those who truly need it. With Republicans accusing Democrats of advancing a mammoth spending bill just as the economy is poised to accelerate, a handful of moderate senators is pushing for changes that reduce the risk of assistance flowing to households relatively unscathed by the crisis or to individuals who'd otherwise head back to work.
The Senate is planning to formally open debate on the pandemic-relief bill as soon as this afternoon. Senior Democratic lawmakers gave every indication that their caucus will be able to sort through the debate over potential tweaks to the proposed $400-a-week supplemental unemployment benefit and $1,400 stimulus checks included in the House version of the aid bill. Democrats are aiming to resolve their outstanding differences before the amendment process, known as the vote-a-rama, begins as soon as tomorrow. Once that begins, the danger is that Republicans could reshape some of the provisions by peeling off just one Democrat, given the chamber's 50-50 partisan split. Read more from Erik Wasson and Laura Litvan.
Permanent Medicare Telehealth Expansion Gains Support: Looser telehealth restrictions for Medicare beneficiaries enacted for the pandemic should be made permanent, the heads of the House Energy and Commerce health panel said. The expansion of telehealth, in which health-care providers treat patients using remote technology, over the past year has proven that many of Medicare's stricter restrictions on the service should end, Chair Anna Eshoo (D-Calif.) said. Read more from Alex Ruoff.
Clyburn Probes Company on Skirting Vaccine Guidance: House Select Coronavirus Crisis Subcommittee Chair James Clyburn (D-S.C.) sent a letter to Amir Dan Rubin, chief executive of One Medical, seeking documents related to news reports that One Medical has "intentionally distributed coronavirus vaccines to ineligible individuals in multiple locations" by delivering shots to paying members without following state and local prioritization rules. Read the letter here.
What Else to Know Today
U.S. Orders Airlines to Get Ebola Tracing Data: Federal health authorities ordered airlines to collect contact information from passengers arriving in the country who have been in Guinea or the Democratic Republic of Congo to help contain outbreaks of the deadly Ebola virus. The information must be collected starting tomorrow and sent to the Centers for Disease Control and Prevention for passengers who had been in either nation within 21 days of arriving in the U.S. Mary Schlangenstein has more.
More Headlines:
To contact the reporter on this story: Brandon Lee in Washington at blee@bgov.com
To contact the editors responsible for this story: Zachary Sherwood at zsherwood@bgov.com; Giuseppe Macri at gmacri@bgov.com; Michaela Ross at mross@bgov.com
Stay informed with more news like this – from the largest team of reporters on Capitol Hill – subscribe to Bloomberg Government today. Learn more.