HEALTH CARE BRIEFING: Biden Says 200 Million More Doses Clinched
Bloomberg Government subscribers get the stories like this first. Act now and gain unlimited access to everything you need to know. Learn more.
President Joe Biden announced the U.S. has finished deals for 100 million additional vaccine doses each from Pfizer-BioNTech and Moderna, and that the companies would deliver new and existing orders quicker than projected.
The delivery dates for the orders, which the administration had already said it would place, were moved up to the end of July, Biden said in remarks yesterday at the National Institutes of Health in Maryland — although Moderna said only that July was a "goal." Delivery of a previously ordered batch was also sped up, to the end of May from the end of June, Biden said.
"We've now purchased enough vaccine supply to vaccinate all Americans," he said in a speech in which he offered harsh criticism of former President Donald Trump's handling of the U.S.'s vaccine program.
"My predecessor, to be very blunt about it, did not do his job," he said, accusing Trump of not purchasing enough vaccine doses, mobilizing enough health-care workers to administer them or establishing enough sites around the country to provide inoculations.
The White House said Jan. 26 that it planned to order 200 million more doses of the vaccines made by Moderna and Pfizer. The new orders bring the government's total up to 600 million doses. Both vaccines require two-dose regimens, making that enough for 300 million people.
The Biden administration has been touting the order since its initial announcement, saying it would give the U.S. enough vaccine by the end of summer to inoculate every adult. And those numbers don't include any other possible vaccines. Johnson & Johnson is seeking emergency clearance for its single-dose vaccine, and the FDA could grant it this month. Robert Langreth, Josh Wingrove and Jordan Fabian have more.
Happening on the Hill
Energy and Commerce Panel Approves Bill: The House Energy and Commerce panel approved more than $46 billion for Covid-19 testing and $20 billion to expand vaccine distribution as part of House Democrats' $1.9 trillion coronavirus relief package, Alex Ruoff reports. The legislation, approved by a vote of 31-25, will now advance to House floor with a vote possible during the week of Feb. 22. The measure also includes funding to support research and the public health workforce.
Veterans to Get Billions in Health-Care Funding: The House Veterans' Affairs Committee yesterday approved a bill providing $13.5 billion for veterans health care services, sending another piece of the stimulus package en route to a floor vote. Committee Chairman Mark Takano (D-Calif.) said the money would help Veterans Affairs deal with a surge in people seeking care after they held off during the pandemic. The vote was 17 to 12, along party lines. The measure contains $272 million to process backlogged benefit claims, $750 million for state home facilities such as nursing-home and adult care centers, $100 million for VA information-technology upgrades, and $400 million for retraining programs for veterans, Erik Wasson reports.
Meanwhile, the House Ways and Means Committee advanced legislation on a 24-18 party-line vote, Laura Davison reports. The measure would subsidize 85% of insurance premiums for workers who are eligible for COBRA after they lost their job or had their hours reduced. It also would give employers a payroll tax credit to help cover costs of extending COBRA coverage to workers, Alex Ruoff reports. It would also boost the Affordable Care Act's tax credits for 2021 and 2022, aiming to cap what Americans pay for coverage on the individual marketplace.
Bipartisan Support for Research Swiped by Vaccines: Injecting billions of new dollars into federal research programs and revealing how regulators allocate Covid-19 vaccines to states may get bipartisan support in Congress, just not for Democrats' pandemic stimulus package, Alex Ruoff reports.
Lawmakers this week on both sides of the aisle voiced support for giving the NIH $10 billion to makeup for lost research due to the coronavirus and expand the research body's work as part of the nation's virus response. There was also support among members of Congress for added transparency into how the government dispenses vaccines to states.
Republicans suggested these changes to proposals that will make up Democrats' expected $1.9 trillion relief measure during markups by the House Energy and Commerce and Ways and Means committees yesterday. They were rejected by Democrats, who said they agreed with the policies but didn't have room for them in the package. There was also concern that any changes made to the legislation now could delay its passage.
"We can't add anything without getting rid of something else," Rep. Frank Pallone (D-N.J.), the chair of the House Energy and Commerce Committee, said. Another Democrat, Rep. Jan Schakowsky (Ill.), said yesterday Republicans are seeking to "lure us into voting for things that would prevent the entire bill from proving the kind of relief Americans are begging for," despite saying there is "value" in the amendments suggested.
It's likely these policies could gain traction in future legislation or appropriations because they have bipartisan support. Rep. Dan Crenshaw (R-Texas) attempted to change the bill to require the government to reveal the system it uses to allocate vaccines to states. Reps. Peter Welch (D-Vt.) and Lizzie Fletcher (D-Texas) said they are concerned that some states aren't getting their fair care of vaccines.
More on the Pandemic
CDC to Roll Out Schools Plan Today: The U.S. Centers for Disease Control and Prevention will release its detailed guidance later today on how to safely reopen more schools, a White House adviser said. The long-awaited guidance will be the most detailed federal road map so far and officials have telegraphed that it will recommend a mix of measures: masks, social distancing, improved ventilation and possibly vaccine priority for educators, but not a requirement. Read more from Josh Wingrove.
Elderly Bear Brunt of Deaths Despite Vaccine: Even as vaccines are distributed to the oldest Americans, their share of Covid-19 deaths in the U.S. hasn't abated. U.S. deaths among those 85 and older have fallen from a peak near the end of 2020 in tandem with other age groups, but they've accounted for between about a quarter and a third of deaths since the beginning of the pandemic, the Centers for Disease Control and Prevention said. Nic Querolo has more.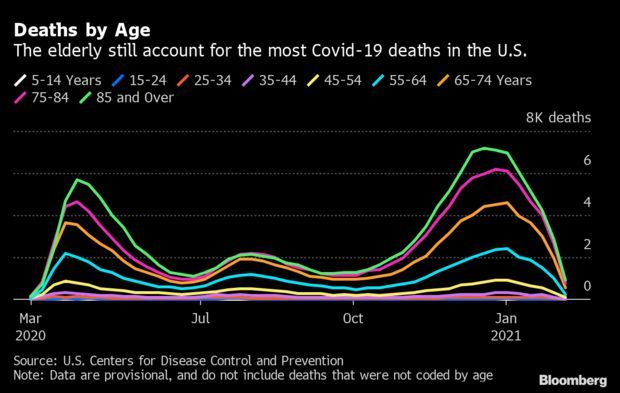 CDC Says Severe Allergies to Vaccines Rare: New data from the CDC show allergic reactions to Covid-19 are rare and anaphylaxis, one type of severe reaction, occurs in only 2 to 5 people for every million vaccinated in the U.S. The update draws on data from the agency's system to monitor vaccine side effects. When anaphylaxis occurs, it is almost always within half an hour of administering the vaccine, the CDC said. Read more from John Tozzi.
CVS Looks to Simplify Vaccine Sites: CVS Health has revamped its website where customers can reserve appointments to get Covid-19 shots, hoping to avoid the confusion and technical snafus that have bedeviled the early phases of the U.S.'s vaccine rollout. The nation's largest pharmacy chain, with about 9,900 locations, added a feature on Tuesday that displays a map of the U.S. highlighting states where it's providing vaccines. Read more from Angelica LaVito.
Insurers Push for In-Person Health Exams: The coronavirus has created a new opportunity for insurance companies to deny people long-term disability benefits, putting patients in the difficult position of deciding whether to risk losing benefits or chance being infected with the life-threatening disease. Benefits attorneys say they are seeing more requests from insurers for in-person medical exams and evaluations during the public health crisis that's limited the number of doctors available. Lydia Wheeler and Jacklyn Wille have more.
More on the Coronavirus:
What Else to Know
Patient Care Authorization Rule Pulled from Site: A Trump administration rule aimed at making it easier to approve medical procedures was removed from the Department of Health and Human Services website, the agency confirmed. The final rule, which the Centers for Medicare & Medicaid Services announced Jan. 15, "was removed from the CMS website as it falls under the White House's Regulatory Freeze," the HHS press office said in an email. The final rule was never published in the Federal Register. Only the proposed rule (RIN: 0938-AT99) from Dec. 18, 2020, was published. Read more from Sara Hansard.
Hospitals Appeal to SCOTUS on Pricing, Payments: The American Hospital Association is asking the U.S. Supreme Court to reverse appeals court losses in two cases involving outpatient payment cuts. The AHA and other hospital organizations are challenging cuts to a federal program aimed at health-care organizations that serve many uninsured and low-income patients. Those providers are eligible to buy outpatient drugs at discounted prices. Read more from Brian Flood.
Health Giants Form Startup to Share, Analyze Patient Data: Fourteen of the largest U.S. health systems, led by Providence, have formed a startup to pool patient information, aiming to streamline efforts to analyze anonymous data to improve care, develop better therapies and drugs, and promote more equitable treatment of underrepresented groups. Called Truveta, the Seattle-based startup is led by former Microsoft executive Terry Myerson, who ran the software maker's Windows business. It will combine records representing about 13% of U.S. hospitals, which will be anonymized to protect confidentiality, said Rod Hochman, Providence chief executive officer and chair-elect of the American Hospital Association. The venture, which is co-owned by the participating hospital systems, includes Chicago-based CommonSpirit Health, Tenet Healthcare, Trinity Health, Bon Secours Mercy Health and New York's Northwell Health. Read more from Dina Bass and John Tozzi.
More Headlines:
Publishing Note: Bloomberg Government's Health Care Briefing will not publish on Monday, Feb. 15, for the Presidents' Day holiday. We'll resume publication Tuesday, Feb. 16.
To contact the reporters on this story: Brandon Lee in Washington at blee@bgov.com; Alex Ruoff in Washington at aruoff@bgov.com
To contact the editors responsible for this story: Zachary Sherwood at zsherwood@bgov.com; Giuseppe Macri at gmacri@bgov.com; Michaela Ross at mross@bgov.com
Stay informed with more news like this – from the largest team of reporters on Capitol Hill – subscribe to Bloomberg Government today. Learn more.