HEALTH CARE BRIEFING: Biden Puts Drug Pricing Onus on Lawmakers
Bloomberg Government subscribers get the stories like this first. Act now and gain unlimited access to everything you need to know. Learn more.
President Joe Biden's push for Congress to allow government drug negotiations is a swerve from the previous president's drug policy agenda and a sign he may give deference to lawmakers rather than executive orders.
"We all know how outrageously expensive drugs are in America," Biden said in his speech to Congress on Wednesday. "We talked about it long enough, Democrats and Republicans. Let's get it done this year."
Allowing Medicare to negotiate directly with drugmakers on the prices of the medications the program covers for the elderly has long been a priority for Democrats, yet it's absent from the American Families Plan outlined this week, which focuses more on childcare and schooling.
But lawmakers are ready to address the issue. "We must include in the families plan bringing down the price of pharmaceutical drugs for all Americans who are paying over twice as much as those in other countries," Rep. Pramila Jayapal (D-Wash.) told reporters.
Congress had worked on drug legislation during former President Donald Trump's tenure but failed to bring it over the finish line. Trump also had his own drug policy agenda, and he used the regulatory power of the Department of Health and Human Services to get the ball rolling.
The previous administration's priorities to lower drug costs targeted various parts of the drug industry: one altered how drug middlemen would make money; one tied drug reimbursement to foreign price tags; another targeted health centers and how they use discounts on drugs.
Trump's agencies tried to implement all of them using the regulatory might of the HHS. None of them are in effect—either because they were rescinded by Trump himself, the Biden White House froze them, or attorneys are battling over them in court. Biden's speech on Wednesday indicates he won't use the same tactics and will instead focus on empowering Congress on the issue. Read more from Jacquie Lee and Tony Pugh.
Lawmakers Offer Bills Aimed at Lowering Drug Costs: House Judiciary Chair Jerry Nadler (D-N.Y.) and antitrust subcommittee ranking Republican Ken Buck (R-Colo.) are among lawmakers offering a legislative package aimed at cutting prescription drug costs. The package of bills targets generics and biosimilars, patent extensions for new iterations of drugs, and "sham petitions" to the Food and Drug Administration aimed at undercutting their competitors. Caitlin Webber has more.
Biomedical Agenda Rests on Congress' Spending Power: The success of the White House's ambitious plan to hasten cutting-edge biomedical discoveries will ultimately rely upon annual support from Congress, research spending analysts and advocates said. The jobs boost from Biden's plans would complement a $9 billion overall spending boost for the U.S.'s research institutions, according to the White House's initial 2022 budget. Research advocates say funding increases beyond the base amount for agencies like the NIH will be critical. Jeannie Baumann has more.
Also on Lawmakers' Radars
Palm Nomination: The Senate will return for business on May 10 at 3:00 p.m. and is scheduled to resume consideration of the nomination of Andrea Palm to be deputy secretary of Health and Human Services, with a vote to limit debate on the nomination at 5:30 p.m.
Senate Clears Extension of Fentanyl Analogues Ban: A ban on powerful fentanyl analogues would be extended to Oct. 22, 2021, under a bill (H.R. 2630) the Senate passed yesterday by voice vote. The drug's temporary classification as a Schedule I substance, the most strictly controlled federal drug category, is set to expire May 6. The bill now heads to the president's desk. The administration wants an extension while it considers a broader drug policy revamp, Alex Ruoff and Nancy Ognanovich report.
AbbVie CEO to Testify at House Oversight Panel: AbbVie CEO Richard Gonzalez will testify at a House Oversight and Reform Committee hearing May 18 that will examine anti-competitive practices, Chair Carolyn Maloney (D-N.Y.) said yesterday. The committee obtained documents showing the tactics AbbVie, the seller of drug arthritis drug Humira, has used to suppress competition, Maloney said, Teaganne Finn reports.
Casey Unveils Pregnant Workers Measure: Sen. Bob Casey (D-Pa.) reintroduced legislation that would require workplace accommodations for pregnant employees. The bill previously passed the House last year with bipartisan support but wasn't considered by the GOP-controlled Senate. A bipartisan group of lawmakers are co-sponsoring the bill including Sens. Bill Cassidy (R-La.), Jeanne Shaheen (D-N.H.), Tina Smith (D-Minn.), and others. Identical legislation was introduced in the House in February, Andrew Kreighbaum reports.
Murray, Burr Begin Pandemic Preparedness Push: Sens. Patty Murray (D-Wash.) and Richard Burr (R-N.C.) sent out a Dear Colleague letter outlining their plans to build on the nation's pandemic preparedness system. The Democratic and Republican heads of the Senate Health, Education, Labor and Pensions Committee said they'll work on a range of legislative issues, from modernizing federal public health services to improving the development of medical countermeasures needed in emergencies. "This pandemic isn't over yet, but now is the time to take stock of the lessons learned over the last year and to begin preparing for the next potential threat," Burr said in a statement, Alex Ruoff reports.
More on the Pandemic
U.S. Casts Doubt on WTO Waiver for Vaccines: The U.S. focus on increasing supply of Covid-19 vaccines for other countries may mean boosting manufacturing at American facilities, not waiving intellectual-property protections for doses, the Biden administration said. U.S. Trade Representative Katherine Tai, who's been holding meetings with vaccine makers and groups advocating a temporary suspension of World Trade Organization rules, hasn't made any policy recommendations on the waiver proposal, the White House said. Read more from Eric Martin and Josh Wingrove.
Millions of J&J Doses Sit on Shelves Awaiting FDA Review: Emergent BioSolutions produced more than 115 million doses worth of drug substance used in the Johnson & Johnson Covid-19 vaccine, a person familiar with the matter said, 60 million doses of which are in vials and ready to ship out at U.S. regulators' discretion. The Maryland-based contract manufacturer has been producing J&J's vaccine since the fourth quarter of 2020, said the person, Riley Griffin reports.
Astra to Seek U.S. Vaccine Clearance After Missing Target: AstraZeneca confirmed it plans to apply for U.S. emergency authorization of its Covid-19 vaccine in the first half of 2021 after it missed an original target this month that raised questions over whether the company would pursue the clearance at all. The drugmaker, which has pledged not to profit from its Covid shot during the pandemic, said the product it developed with the University of Oxford recorded sales of $275 million in the first quarter, a fraction of its $7.3 billion in revenue. Read more from Suzi Ring.
Oregon Surge Shows U.S. Fight Not Over: A Covid-19 surge in Oregon is sweeping through a partially vaccinated population, with steep rises in case rates among the young—an indication that the U.S. may struggle with distinct outbreaks for months to come. The state reported 888 confirmed and presumed cases Tuesday and a 6.5% test positivity rate, bringing the seven-day average to 832, the Oregon Health Authority said. Nic Querolo and Olga Khariff have more.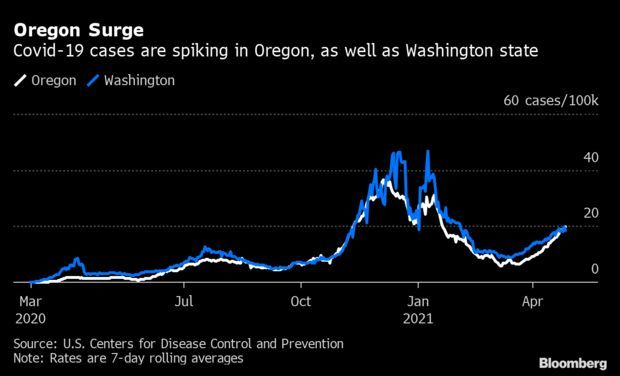 More U.S. Headlines:
Small Amount of Weight Boosts Severe Cases: Carrying even a little extra weight raises the risk of developing a severe form of Covid-19, especially in younger adults, according to a U.K. study. The report, published yesterday, offers insight into who's most at risk of complications, laying out the effect on certain age and ethnic groups and showing how weight matters. They show each one-point BMI increase raises hospitalization risk by 5%, Marthe Fourcade reports.
Moderna Eyes 3 Billion Vaccine Doses in 2022: Moderna said it would produce as many as 3 billion doses of its coronavirus vaccine in 2022, as it makes new investments to bolster output at several factories in the U.S. and Europe. The biotech company said it would increase supply by 50% at a Massachusetts facility, which makes much of the vaccine substance used in shots for the U.S. market. Read more from Robert Langreth.
Covid Shots Come in Bulk. The World Needs Single Servings: Vaccination campaigns in the U.S. and some other countries are moving from mass demand to more targeted efforts to reach the hesitant—and doctors want easier ways to deliver shots. The ideal in many instances would be a pre-filled syringe, simple to store with no excess to worry about. But drugmakers haven't made that a priority yet, and other measures to deliver vaccines to smaller, farther-flung populations are coming along slowly, presenting a challenge in the next phase of the immunization effort. Read more from Emma Court.
More Global Headlines:
What Else to Know Today
FDA Plans to Ban Menthol Cigarettes: The U.S. Food and Drug Administration has moved to ban the sale of menthol cigarettes, citing their disproportionate effect on the health of African Americans. The decision is infuriating tobacco companies but delighting anti-tobacco activists and public-health advocates. The FDA in an announcement said it's "working toward issuing proposed product standards within the next year to ban menthol" as a flavor in cigarettes. It also plans to ban all flavors, including menthol, in cigars. The agency will allow an opportunity for public comment, and the ban would likely take years to take effect. Tiffany Kary has more.
More Headlines:
With assistance from Andrew Kreighbaum and Alex Ruoff
To contact the reporter on this story: Brandon Lee in Washington at blee@bgov.com
To contact the editors responsible for this story: Zachary Sherwood at zsherwood@bgov.com; Giuseppe Macri at gmacri@bgov.com; Michaela Ross at mross@bgov.com
Stay informed with more news like this – from the largest team of reporters on Capitol Hill – subscribe to Bloomberg Government today. Learn more.