HEALTH CARE BRIEFING: Biden Pushed to Implement Trump Organ Rule
Bloomberg Government subscribers get the stories like this first. Act now and gain unlimited access to everything you need to know. Learn more.
The past five Health and Human Services chief technology officers are among a diverse group of bipartisan supporters urging the Biden administration to enact a Trump-era rule designed to improve the nation's organ donation, procurement, and transplant system.
Todd Park, Bryan Sivak and Susannah Fox, who served under President Barack Obama, and Bruce Greenstein and Ed Simcox, who served in the Trump administration, said the rule will save 7,000 lives a year, cut $1 billion a year in Medicare dialysis spending, and help address disparate treatment of minorities in the organ transplant system.
Nearly 109,000 people in the United States are on a wait list for an organ transplant and, on average, 20 people die each day because of a lack of available organs.
Finalized in November 2020, the federal rule was designed to make more organs available for transplant. It levies more stringent quality requirements and threatens decertification for low-performing organ procurement organizations—the groups that connect donors with recipients in specific geographic regions.
But OPOs oppose the rule, saying it's disruptive and unduly overhauls their operations when the entire transplant system needs improvement. The rule was supposed to take effect Feb. 1, but the Biden administration postponed its effective date to March 30 in order to review the "issues of fact, law, and policy" that it raises.
"We write to lend our full support to the immediate and forceful implementation of this rule at the conclusion of such review," the former CTOs said in a letter to the Health and Human Services Department and White House officials. "As we have written before: We are strongly motivated by data that show organ donation reform can save thousands of lives every year." Read more from Tony Pugh.
Happening on the Hill
Becerra Nomination: Senate Majority Leader Chuck Schumer (D-N.Y.) yesterday filed cloture on the nomination of Xavier Becerra to lead the Health and Human Services Department, setting up a likely floor vote tomorrow to cut off debate and a final confirmation vote as soon as Thursday, Nancy Ognanovich and Alex Ruoff report.
Lawmakers Press Biden to Share Surplus Vaccine: Democratic lawmakers on the Joint Economic Committee in a letter yesterday urged the Biden administration to develop a plan to share surplus vaccines for the coronavirus with low- and middle-income countries and the World Health Organization's COVAX initiative, according to a press release.
Congress Urged to Up Medicare Payments for Hospitals: Only acute-care and longer-term care hospitals would see a bump in their Medicare payment rates next year under the formal recommendations of a congressional advisory panel released yesterday. The Medicare Payment Advisory Commission urged Congress to provide no increases for nursing homes, ambulatory surgery centers, outpatient dialysis facilities, and hospice providers. Read more from Tony Pugh.
Nursing Home Groups Call for $15 Billion Annually: The nursing home industry wants state and federal lawmakers to pony up $15 billion a year to improve safety, quality, and infection control inside its facilities, which have been ground zero for the Covid-19 pandemic. Stung by more than 175,000 Covid deaths in U.S. long-term care facilities and facing the possibility of congressional calls to improve staffing, care, and living conditions, the industry got ahead of the curve yesterday, releasing its own reform agenda. But it's unclear whether Congress will be sympathetic to the call for aid after passing a $1.9 trillion Covid-19 relief package. Read more from Tony Pugh.
Panel to Hold Infrastructure Hearing: House Energy and Commerce Chair Frank Pallone (D-N.J.) announced yesterday that the committee will hold a remote hearing on infrastructure on March 22 to weigh the "critical need to invest in our nation's infrastructure and on the 'Leading Infrastructure for Tomorrow's America Act'" unveiled last week. Pallone cited health-care infrastructure as among the areas the U.S. must improve. Find a statement here and read text of the legislation here.
Collins, Shaheen Introduce Bill to Prevent Medicare Cuts: Sens. Susan Collins (R-Maine) and Jeanne Shaheen (D-N.H.) introduced legislation to prevent budgetary cuts for Medicare provider payments as a result of the passage of the latest Covid-19 relief bill. Read the bill text here.
FEMA, Virus Response: The House Appropriations Homeland Security Subcommittee plans a hearing today on the role of the Federal Emergency Management Agency in Covid-19 response.
The Coronavirus Pandemic
Hospitals' Burden Lingers Even as More Patients Survive: The number of Covid-19 patients per capita in New York hospitals is among the nation's highest and declining more slowly than after the first wave that decimated state residents. The numbers show the Empire State is still very much in the throes of the pandemic, though the crowded hospitals may reflect increased success in keeping patients alive. The number of patients has dropped 46% to 5,516 since the latest peak on Jan. 19, HHS data show. Read more from Jonathan Levin.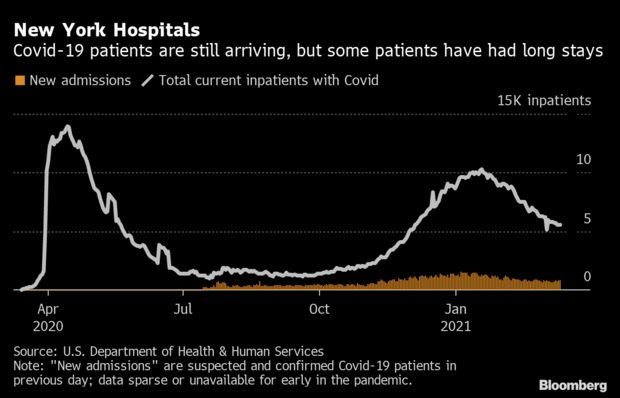 Pipette Tip Supply Gaps Snarl Cash Infusion for Testing: Covid-19 test backlogs stemming from lab supply manufacturing snags are expected to continue despite the billions of dollars Congress is pumping into testing programs. Part of the $48.7 billion that Congress set aside for testing and contact tracing in the latest aid law will likely go toward domestic production of pipette tips and other supplies that have been difficult to procure. But even with the extra funds, there's still a limited number of companies with the expertise to make those products, experts say. Read more from Shira Stein and Jacquie Lee.
Drugmakers Push Vaccines for Kids Amid Battle: Children have fared better than adults in the pandemic, a fact that makes the development of vaccines for them a unique effort in the annals of medical sciences. With a third to half of adult Americans in recent polls saying they probably won't get the shots, drugmakers say vaccinating 25 million Americans ages 12 to 17 could help curb transmission to those at highest risk and speed up the race to herd immunity. Read more from Reg Gale.
Medicare's Vaccine Payments Doubled to $40: The Biden administration will almost double the amount the federal Medicare program pays health care providers to administer Covid-19 vaccines to $40 per shot as part of its push to ramp up immunizations. The increase from the earlier figure of $23 will affect payments to clinics, hospitals, pharmacies and health agencies as the nation's medical providers prepare to make vaccines available to any adult who wants them by May. Read more from John Tozzi.
More U.S. Headlines:
Health Ministers to Debate Astra Shot: European health ministers will discuss the future of AstraZeneca's Covid-19 vaccine after a growing number of countries suspended its use to examine side effects, potentially throwing the region's already slow inoculation campaign further off track. The ministers will gather virtually today to discuss their response, ahead of the latest findings by the European Medicines Agency, the regional drugs regulator, which plans to decide on the next steps on Thursday. At stake is the future of one main building block of Europe's vaccine push, where AstraZeneca was due to account for about a fifth of all doses in the second quarter. Read more from John Follain and Tim Loh.
More Global Headlines:
What Else to Know Today
Telehealth Use Benefited Wealthy Most, Study Finds: The huge increase in telehealth use prompted by the spread of the coronavirus largely benefited the affluent and those living in cities, according to a new RAND Corporation study. Researchers said their findings show the growth in remote doctors visits didn't help—and may have worsened—existing disparities in access to health care, Alex Ruoff reports.
The study found there was a "20-fold increase in the rate of telemedicine utilization following the outset of the pandemic in March 2020." At the same time the rate of office-based medical encounters declined by almost 50% and was not totally offset by the increase in telemedicine, according to a statement. Jonathan Cantor, a policy researcher at RAND and the head author of the study, said "policymakers should consider increasing efforts to reach populations that are deferring in-office care and not replacing it with telehealth visits." Read the analysis here.
More Headlines:
With assistance from Alex Ruoff and Nancy Ognanovich
To contact the reporter on this story: Brandon Lee in Washington at blee@bgov.com
To contact the editors responsible for this story: Zachary Sherwood at zsherwood@bgov.com; Giuseppe Macri at gmacri@bgov.com; Michaela Ross at mross@bgov.com
Stay informed with more news like this – from the largest team of reporters on Capitol Hill – subscribe to Bloomberg Government today. Learn more.