HEALTH CARE BRIEFING: Biden Prods Congress to Tackle Drug Prices
Bloomberg Government subscribers get the stories like this first. Act now and gain unlimited access to everything you need to know. Learn more.
President Joe Biden's plan to cut down the prices of prescription drugs includes letting Medicare negotiate drug prices, according to a fact sheet released by the White House yesterday.
Drug companies that raise prices faster than inflation should pay a penalty, the White House said. Changes could lower the price for some arthritis medicines by more than $2,000 per month and some of the most expensive drugs could cost tens of thousands less per year, it says. Read the fact sheet here.
Biden says his plan to lower prescription drug prices includes negotiating with corporations based on a price that reflects the cost of drug research and development and the need for a profit incentive, but is still fair to American consumers. Everyone can agree "prescription drug prices are outrageously expensive in America," Biden said at the White House yesterday.
The U.S. pays more for prescription drugs than any other developed nation and one in four people in the U.S. struggle to afford their drugs, Biden said, citing drugs for multiple sclerosis, rheumatoid arthritis and multiple myeloma, Catherine Larkin reports.
Senate Finance Chair Ron Wyden (D-Ore.), who unveiled his own agenda to tackle drug pricing earlier this year, praised Biden's remarks. "American families and taxpayers have been paying too much for prescription drugs while Medicare has one hand tied behind its back," he said in a statement yesterday. "It's time to allow Medicare to use the bargaining power of 50 million American seniors to negotiate a fair price for drugs with manufacturers."
House Energy and Commerce Chair Frank Pallone (D-N.J.), who's leading efforts to push through Democrats' signature drug pricing legislation (H.R. 3) that would provide negotiating power to Medicare, was also supportive of Biden's call. "It's time we pass my #HR3 to #LowerDrugCosts now," he tweeted. The Congressional Budget Office has estimated that allowing the government to negotiate prices would lower spending on medicines by $456 billion.
Pallone said he hopes Democrats will rally around the drug pricing bill he and other committee leaders reintroduced this year. The measure passed the House in the previous session of Congress, but didn't get a vote in the Republican-led Senate.
But Pallone's counterpart, ranking member Cathy McMorris Rodgers (R-Wash.), amounted Biden's remarks to calling for "socialist government price controls" and instead cited an alternative measure (H.R. 19) unveiled this year that seeks to rein in pharmacy benefit managers and promote drug price transparency, though it wouldn't allow Medicare to negotiate drug prices.
The Coronavirus Pandemic
Americans With Weak Immune Systems Will Get Three Shots: Americans with weakened immune systems will be allowed to get three shots of a Covid-19 vaccine after U.S. regulators authorized giving an extra dose to the most vulnerable people. The Food and Drug Administration's action expands the use of vaccines from Moderna, Pfizer and BioNTech for organ transplant recipients and patients with other conditions like cancer that hobble the body's natural infection-fighting response. The agency's decision doesn't apply to other fully vaccinated individuals, it said in statement.
"The country has entered yet another wave of the COVID-19 pandemic, and the FDA is especially cognizant that immunocompromised people are particularly at risk for severe disease," said Janet Woodcock, the FDA's acting director. "After a thorough review of the available data, the FDA determined that this small, vulnerable group may benefit from a third dose of the Pfizer-BioNTech or Moderna vaccines." Read more from Fiona Rutherford and Elaine Chen.
Hospitals Pushed to Brink Amid Staff Shortages: Hospitals are desperately looking for medical staff as the Covid-19 wave that's pushing some systems to their breaking point in the U.S. South spills into the rest of the country. Over a dozen states face severe shortages of personnel, Health and Human Services Department data show. Hospitals are building tents for extra room, while the federal government deployed hundreds of ventilators to Florida in a rare tapping of the Strategic National Stockpile.
The scramble comes as hospitals in hard-hit states say they're reaching surge capacity, canceling elective procedures again and turning away transfer patients, a jolting warning for parts of the country where cases are just beginning to rise again. "What we are running short of most critically is staffing," said Hilton Raethel, head of the Healthcare Association of Hawaii, which recently hired 550 new workers at a cost of $46 million over eight weeks. Francesca Maglione, Shira Stein, and Jonathan Levin have more.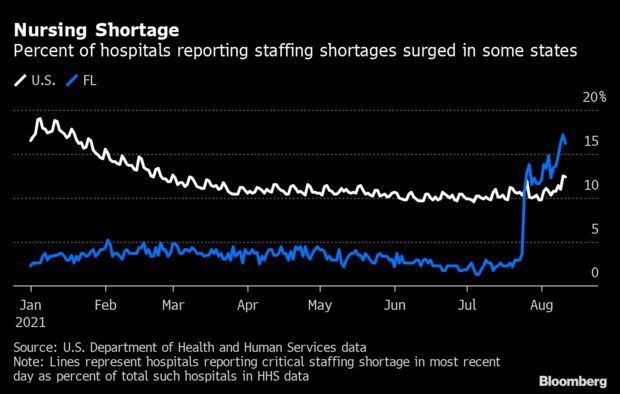 SCOTUS Keeps School Vaccine Mandate Intact: Supreme Court Justice Amy Coney Barrett refused to block Indiana University's mandate that all students be vaccinated against Covid-19 for the fall semester unless they have a religious or medical exemption. Barrett gave no explanation as she turned away an emergency request from eight students who said the mandate violated their constitutional rights. It marked the first time the nation's highest court has acted on any vaccine mandate. Greg Stohr has more.
School Mask Rule Clash Puts Heat on Courts: A state split on school mask mandates and defiance by some districts to comply with restrictions is putting the onus on the courts, not politicians, to set the landscape for coronavirus safety in the U.S. education space. A dozen states require K-12 students to wear masks, while another handful of states bar such mandates. Litigation is underway in at least four states, with judges in Texas and Arkansas having temporarily blocked state bans on school mask rules. But a single judge won't be able to resolve everything with one injunction. Read more from Robert Iafolla, Andrea Vittorio and Jake Holland.
U.S. Mental Health Under Growing Strain: It's been almost a year since the U.S. Census Bureau started asking Americans about the mental-health effects of the pandemic, and the latest survey shows just how much worse things have gotten since then. Some 22.3 million Americans recently received counseling or therapy from mental-health professionals, according to new data based on research in the two weeks through Aug. 2. That's a jump of over 5 million, compared to late August last year. Alex Tanzi has more.
More Headlines:
What Else to Know Today
Indiana Appeals Decision Striking Abortion Restrictions: Indiana has notified a federal trial court that the state is appealing a decision holding various state provisions affecting abortions unconstitutional, including a ban on telemedicine medical abortions. The state also is seeking a stay of a permanent injunction entered by the U.S. District Court for the Southern District of Indiana. A stay would permit the state to enforce its restrictions while the Seventh Circuit weighs the case. Mary Anne Pazanowski has more.
Conservative Network Got $12 Million From PhRMA: Watchdog group Accountable says American Action Network received $12 million from the Pharmaceutical Research & Manufacturers of America between 2009 and 2017 and $3 million from health insurer Aetna. PhRMA ramped up its donations in 2019, giving the conservative group $4.5 million, the report found. AAN this year began a seven-figure campaign against Democrats' sweeping reconciliation bill strongly opposed by drug companies, Alex Ruoff reports.
ACA Sees Record Numbers as Millions More Seek Coverage: The Affordable Care Act's six-month special enrollment period will come to a close this weekend after helping drive marketplace coverage to record levels, as the Biden administration continues to scrap Trump-era policies that depressed sign-ups. While final data isn't available, state and federal marketplace enrollment could soon be "peaking" at a record 13 million, said Katie Keith, a researcher at Georgetown University. Tony Pugh has more.
More Headlines:
Editor's Note: Bloomberg Government's Health Care Briefing will pause during the congressional recess next week. We'll return when the House is back in session the week of Aug. 23.
With assistance from Alex Ruoff
To contact the reporter on this story: Brandon Lee in Washington at blee@bgov.com
To contact the editors responsible for this story: Zachary Sherwood at zsherwood@bgov.com; Giuseppe Macri at gmacri@bgov.com; Michaela Ross at mross@bgov.com
Stay informed with more news like this – from the largest team of reporters on Capitol Hill – subscribe to Bloomberg Government today. Learn more.