HEALTH CARE BRIEFING: Biden Plan Prods Scientists on Third Doses
Bloomberg Government subscribers get the stories like this first. Act now and gain unlimited access to everything you need to know. Learn more.
Signs of pressure are already starting to gather around a meeting of vaccine advisers to the U.S. Centers for Disease Control and Prevention that forms a key step in the Biden administration's plan to give booster shots to most American adults.
The discussion, originally scheduled to take place on Tuesday, has been delayed to start Aug. 30 and last two days, according to a spokesperson. With the controversial proposal slated to roll out third shots as soon as Sept. 20, the CDC's Advisory Committee on Immunization Practices is under the gun.
The White House has already signaled it doesn't have all the scientific data on boosters that it would like, and that it's responding out of caution. President Joe Biden's chief medical adviser Anthony Fauci said last week it wasn't clear whether booster shots would curb transmission of the virus among the vaccinated.
"This is what is really concerning to many of us," said Celine Gounder, an infectious disease specialist at Bellevue Hospital in New York. "It feels like the scientific process is being short circuited by political concerns. It is almost science by popular demand."
It's uncertain whether or when the Food and Drug Administration will authorize the extra shots. The CDC's ACIP meeting, a public discussion by doctors and academics outside the government of the latest research—some of which may not yet be published—is likely to be a pivotal moment in the booster debate. Read more from Robert Langreth.
Beating Back Delta Will Take Extra Covid Shot: The roll out of a third dose of Covid vaccine has sparked debate on ethical and political grounds, since a large swath of the human population is yet to receive any inoculation. Still, the case for boosters on scientific grounds is building and the reason is delta.
The most-infectious coronavirus variant to emerge so far is in a race with the human immune system, and there's mounting evidence that delta is winning — at least initially. Fully vaccinated individuals infected with the variant have peak virus levels in the upper airways as high as those lacking immunity, a large study from the U.K. showed last week. That suggests people with delta-induced breakthrough infections also may be capable of transmitting the virus, frustrating efforts to curb the Covid pandemic. Waning antibody levels in some highly vaccinated populations such as Israel have prompted calls to offer boosters to blunt fresh waves of hospitalizations. Read more from Jason Gale.
Vaccinated Remain Worried: Anecdotes indicate that vaccinated people appear to be getting the coronavirus at a surprisingly high rate. But exactly how often isn't clear, nor is it certain how likely they are to spread the virus to others. And now, there's growing concern that vaccinated people may be more vulnerable to serious illness than previously thought. There's a dearth of scientific studies with concrete answers, leaving public policy makers and corporate executives to formulate plans based on fragmented information. While some are renewing mask mandates or delaying office reopenings, others cite the lack of clarity to justify staying the course. It can all feel like a mess. Read more from Kristen V. Brown and Rebecca Torrence.
Pfizer Vaccine Poised to Get Full FDA Approval: As the FDA weighs booster shots, the agency is poised to fully approve Pfizer coronavirus vaccine early this week as the Biden White House tries to woo more Americans to get the shot. The approval likely will come today or tomorrow, according to one official familiar with the plans, speaking on condition of anonymity ahead of the announcement. Pfizer-BioNTech's shot has been in use in the U.S. with just an emergency authorization, Josh Wingrove reports.
More on the Pandemic
Delta Wave in Northeast May Be Topping Out: Parts of the Northeast may be near the peak of the latest Covid-19 wave, though there are still key areas of concern. Hospitalizations and deaths are likely to mount in the weeks to come. Cases in Connecticut and Massachusetts have probably topped out, according to the consensus of forecasts released by the Centers for Disease Control and Prevention. Yet New York and New Jersey still are likely to see infection rates rise. Read more from Jonathan Levin and Elise Young.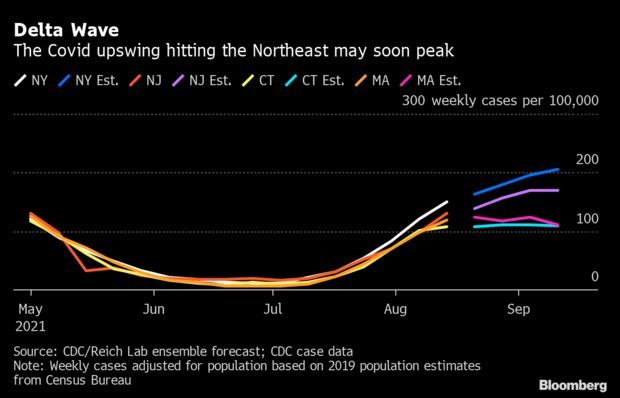 Vaccine Mandates Gain Steam with Employers: Employer mandates for Covid-19 vaccines are still uncommon but are gaining popularity as the pandemic stretches on and the Delta variant fuels a summer surge across the country, according to a survey conducted by management-side law firm Littler Mendelson P.C. About 5% of the more than 1,600 in-house lawyers, human resources professionals, and top executives surveyed said their companies have vaccine mandates in place, the firm said in a report released today. That's a 10-fold increase compared to a similar Littler survey conducted in January, when 0.5% of respondents said they were requiring worker inoculation. "In the last eight months, vaccines have become available to everyone," said Devjani Mishra, attorney and leader of Littler's Covid-19 task force. "People have personal experiences with them and that's made their thinking a lot more concrete." Read more from Robert Iafolla.
Nursing Homes Want Testing Option for Unvaccinated: The nursing home industry called on the Biden administration to fund Covid-19 testing for its unvaccinated workers to help avert sudden staffing shortages resulting from the new requirement that all facility employees get the jab. American Health Care Association President and CEO Mark Parkinson also called for the release of $3 billion in provider relief funds to help pay for more staff once the new mandate takes effect next month. Tony Pugh has more.
School Mask Mandates Clear Early Hurdles in Courts: Courts in two U.S. states issued preliminary wins to advocates pushing for mandates that students wear masks in school, but the underlying matter is set for further review. Texas' Supreme Court last week Thursday rejected Gov. Greg Abbott's (R) call to prevent localities from requiring masks in schools. And in Florida, where Gov. Ron DeSantis (R) is also cracking down on mask rules, a judge denied a request to toss a suit challenging his ban. Tina Davis has more.
The Biden administration is exploring using the courts and federal funding to push states that are against mask mandates, in a sign of flaring tensions between governors and the federal government over how to deal with rising coronavirus cases. The Department of Education announced this week it may launch a civil rights probe into state policies that prohibit mask rules in schools. The Justice Department could also get involved, attorneys said. Andrew Kreighbaum and Coutney Rozen have more.
FDA Issues Warning After Livestock Drug Use: The Food and Drug Administration issued a strong and unusual warning on Saturday: "You are not a horse. You are not a cow. Seriously, y'all. Stop it." The FDA was reacting to alarms from Mississippi, the state with the worst outbreak in the U.S., that people have been taking ivermectin to treat or prevent Covid-19. The drug is often used against parasites in livestock. Ian Fisher has more.
Supreme Court Asked to Weigh Evictions: The U.S. Supreme Court is being asked to lift the Biden administration's moratorium on evictions in areas of the country hit hard by the Covid-19 pandemic, two months after the justices kept an earlier ban in place. In a filing Friday, groups led by the Alabama Association of Realtors say the Centers for Disease Control and Prevention exceeded its authority in imposing the moratorium. There's reason to think the ban is on shakier ground this time. Jordan Rubin has more.
More Headlines:
What Else to Know Today
Woodcock Ruled Out as Biden Nominee for FDA: Biden's administration has ruled out nominating Janet Woodcock as permanent head of the Food and Drug Administration, people familiar with the matter say, as the search continues for a leader during a crucial period for full approval of coronavirus vaccines. Woodcock, who has served as acting commissioner since Biden took office, has faced firm opposition on Capitol Hill for the job from lawmakers including Sen. Joe Manchin (D-W.Va.), a key swing vote in the evenly divided chamber who criticized the agency over the controversial accelerated approval this year of an Alzheimer's drug. The White House hasn't publicly ruled out Woodcock, but officials have privately concluded that she won't be the nominee, said the people, who discussed the matter on condition of anonymity. Read more from Josh Wingrove.
Covid Sets Stage to Tackle Addiction Treatment Access: Bilingual addiction specialists, methadone treatment vans for underserved areas, and research into race's role in drug policy are among team Biden's plans for getting a grip on America's addiction crisis. The administration is sinking millions of dollars into treatment efforts and has requested over $10 billion from Congress to continue the fight into the next year, emphasizing its push to meet treatment needs specific to American Indians and other populations. The Covid-19 pandemic, however, is complicating health equity efforts. Overdose deaths jumped 30% in 2020, marking the highest spike in a single year, according to Center for Disease Control data, increasing the urgency for treatment focused on communities in need. Read more from Ian Lopez.
Agency to Redefine 'Public Charge' After Trump Rule: The Homeland Security Department is weighing how to redefine "public charge" as it rejects the Trump administration's effort to refuse immigrants who might need food stamps, health-care assistance, or other help. The U.S. Citizenship and Immigration Services is seeking data to ensure the "proposed regulation does not impose undue burdens" on people seeking to enter the U.S. or adjust their immigration status, the agency said. Ellen M. Gilmer has more.
Uninsured Adults Held Steady in Pandemic's First Year: The percentage of U.S. adults without health insurance stayed steady at 11% in the first year of the pandemic, but 5.5 million people moved out of employer-sponsored coverage due to job layoffs, the Urban Institute found. The percentage of adults reporting they had employer-sponsored coverage, the largest source of coverage in the U.S., fell from 65% to 62.3% between March 2019 and April 2021, the analysis says. Read more from Sara Hansard.
Indiana Denied Ability to Enforce Abortion Laws: Indiana lost a bid to enforce five abortion bans while it appeals a permanent injunction, with a federal judge criticizing the state's argument as "wishful thinking." An injunction remains in place following the state's appeal of a verdict invalidating its physician-only law, second-trimester hospitalization requirement, in-person counseling rule, telehealth ban and in-person examination rule, U.S. District Judge Sarah Evans Barker said. Mary Anne Pazanowski has more.
Stem Cell Clinics Facing Mounting Pressure from U.S.: Stem cell clinics selling unproven therapies can expect to face more legal entanglements as federal regulators crack down on what they say are costly and risky procedures. The Federal Trade Commission announced this week they're suing the founders of regenerative medicine firms for allegedly making misleading health claims to target older people for pain and other orthopedic therapies that cost up to $5,000 an injection. Read more from Jeannie Baumann.
More Headlines:
To contact the reporter on this story: Brandon Lee in Washington at blee@bgov.com
To contact the editors responsible for this story: Zachary Sherwood at zsherwood@bgov.com; Giuseppe Macri at gmacri@bgov.com; Michaela Ross at mross@bgov.com
Stay informed with more news like this – from the largest team of reporters on Capitol Hill – subscribe to Bloomberg Government today. Learn more.