HEALTH CARE BRIEFING: Biden Makes Stark Warning to Unvaccinated
Bloomberg Government subscribers get the stories like this first. Act now and gain unlimited access to everything you need to know. Learn more.
President Joe Biden said the omicron variant of the coronavirus will result in more "breakthrough" infections among vaccinated Americans—"potentially in large numbers"—but that they are unlikely to be severely ill.
Especially for people with boosters, he said in a speech at the White House yesterday, a breakthrough infection mostly likely will mean "no symptoms" or a milder illness. Biden noted that former President Donald Trump said publicly he'd received a booster—"maybe one of the few things he and I agree on," he said.
But for the unvaccinated, the president warned that a winter of severe sickness and death awaits. "If you're not fully vaccinated, you have good reason to be concerned," he said. "You have a high risk of getting sick, and if you get sick, you're likely to spread it to others—including friends and family. The unvaccinated have a significantly higher risk of ending up in the hospital, or even dying."
Biden outlined a new strategy to curb the impact of the omicron strain, which has quickly become the dominant U.S. strain. The administration will order 500 million at-home tests to ship free to Americans, dispatch 1,000 members of the military to support hospitals and set up new testing and vaccination sites. The tests will be available starting in January, and will be shipped free to Americans who request them. It's not clear how many will be immediately available.
The president also encouraged schools, many of which have recently chosen to close early before the holidays after outbreaks among students and staff, to adopt so-called "test-to-stay" strategies to keep children in class. "We can keep our K through 12 schools open, that's exactly what we should be doing," he said.
Biden and the White House have sought to counter perceptions the administration was caught flat-footed by the rapid advance of omicron, which has quickly become the dominant U.S. strain. Complaints about shortages of tests are widespread, and Biden acknowledged that the country is "not where we should be," though he said he used wartime powers to advance the production of a billion more test kits.
"It's not enough. We have to do more, we have to do better—and we will," he said. "I don't think anyone anticipated that this would be as rapidly spreading as it is." Read more from Josh Wingrove and Emma Kinery.
Happening on the Hill
Biden Sees Path Forward for Build Back Better: Biden yesterday said he still has a chance to strike a deal with Manchin to get his roughly $2 trillion economic plan through Congress. "I still think there's a possibility of getting Build Back Better done," Biden told reporters.
Separately, Senate Majority Leader Chuck Schumer (D-N.Y.) convened a virtual meeting of Senate Democrats last night to discuss Build Back Better and other issues. Sen. Joe Manchin (D-W.Va.) took part in the meeting, according to a person familiar with the matter. Schumer, during the call, said he wants a vote in January on a revised version of the Biden economic plan, the person said. Read more from Josh Wingrove and Nancy Cook.
Appropriations Bills Tee Up Research Fund Increase: Federal spending on research and development in health—primarily through the National Institutes of Health—would see one of the largest increases in raw dollars under both House and Senate appropriations plans, according to an analysis by the American Association for the Advancement of Science.
Health R&D funding would increase 12.9% to $49.1 billion under the House plan (H.R. 4502) and 9.5% to $47.6 billion under the Senate plan (S. 3062), both of which are lower than the $51.2 billion requested by the Biden administration. About half that money would go toward building the proposed new Advanced Research Projects Agency-Health, and the rest would be spread throughout the NIH.
Those increases are part of an overall 2022 R&D spending package that could range between $169.4 billion to $171.1 billion, including floor amendments. "Even with the rocky situation with the reconciliation package, Congress is actually teeing up one of the largest science funding increases in many years, by our estimates," Matt Hourihan, director of AAAS's R&D budget and policy program, said in a statement, Jeannie Baumann reports.
Panel Says One Medical Used Vaccines to Pad Profits: One Medical used its access to vaccines during the Covid-19 pandemic to pad profits and increase membership for its concierge medical services, the House Select Subcommittee on the Coronavirus Crisis said. Many struggled to book a vaccine appointment without signing up for the firm's paid membership service, a memo by panel staff claims. "This unscrupulous conduct prevented these doses from protecting the health and lives of less privileged Americans at high risk from the coronavirus," Chair James Clyburn (D-S.C.) said, Se Young Lee reports.
More on the Coronavirus Pandemic
U.S. Weighs Shorter Isolation for Vaccinated: U.S. health officials are weighing whether to change isolation recommendations for some vaccinated people so that they could return to work sooner after a breakthrough case of Covid-19. The omicron variant carries mutations believed to help it evade human antibodies, meaning more breakthrough cases in vaccinated patients. But for vaccinated people, Covid-19 is almost always mild and brief, raising the question whether a 10-day isolation is actually necessary.
"That's certainly an important consideration that's being discussed right now, particularly in the context of health care workers," Anthony Fauci, Biden's chief medical adviser, told CNN yesterday. He suggested, for example, that health-care workers who test positive may be able to return to work in less than 10 days as long as they wear N-95s and are asymptomatic. "No decisions yet," he said. Hospitals say they're particularly struggling to retain nurses, at a time when cases are surging. Josh Wingrove has more.
Pfizer, Merck Pills Poised for FDA Signoff: The Food and Drug Administration is poised to authorize a pair of pills from Pfizer and Merck to treat Covid-19 as soon as this week, according to people familiar with the matter. It would be a milestone in the fight against the pandemic that will soon expand therapies for the sick. An announcement could come as early as today, three of the people said. Read more from Josh Wingrove, Jennifer Jacobs, and Robert Langreth.
Trump CDC Leader Laments Lack of Public Health Investments: The U.S. Centers for Disease Control and Prevention needs to change its structure and culture, said Robert Redfield, the director of the agency during the Trump administration. Redfield, who was often criticized as too deferential to former President Donald Trump as the health crisis emerged, spoke to Bloomberg News for more than an hour last month, recounting his time at the CDC and how he thinks it should change. See Bloomberg's Q&A with Redfield here.
First Health-Care Worker Covid-19 Rule Ends: Six months after OSHA issued its initial Covid-19 emergency temporary standard protecting health-care workers from infection, the measure has expired with no word from the Occupational Safety and Health Administration on what if anything may replace it. Because the standard was an emergency measure enacted June 21 without the usual public comment and review periods, its duration was limited by law to six months, a deadline that arrived yesterday. Bruce Rolfsen has more.
Nursing Homes Grapple With Visits: State inspection agencies and regional staff at the Centers for Medicare & Medicaid Services may be incorrectly telling nursing home operators that they cannot restrict resident visits for any reason. The "concerning" development was outlined in a letter to CMS officials, in which the Association of State and Territorial Health Officials (ASTHO) and the American Health Care Association called for the CMS to update and clarify its November guidance on nursing home visitation as the Covid-19 Omicron variant gains steam nationwide. Read more from Tony Pugh.
More Headlines:
What Else to Know Today
Lung Disease Benefit Seeks Home as Democrats' Plan Stalls: Senate Democrats from the Appalachian states are working to extend an excise tax rate backed by key moderate Sen. Manchin that expires Dec. 31 to help coal miners with black lung disease. Coal miners and their dependents who receive the disability payments won't lose the benefit after the rate expires on Dec. 31. But the amount of tax collected from coal companies into the federal fund will drop by more than half until Congress renews it at its current level, advocates say. Read more from Kellie Lunney.
Investors' Appetite for Health Deals 'Insatiable': Health care dealmaking kept up a brisk pace in November, setting up what could be a blockbuster December and a record-breaking year, attorneys and analysts say. The number of deals announced and closed in November hit 236, up from 223 in October and 213 in September, said Gary Herschman of Epstein, Becker & Green in Newark, N.J. "Due to the volume of deals planning to close by year end, we expect that December activity will more than double November's activity," Herschman said. Read more from Christopher Brown.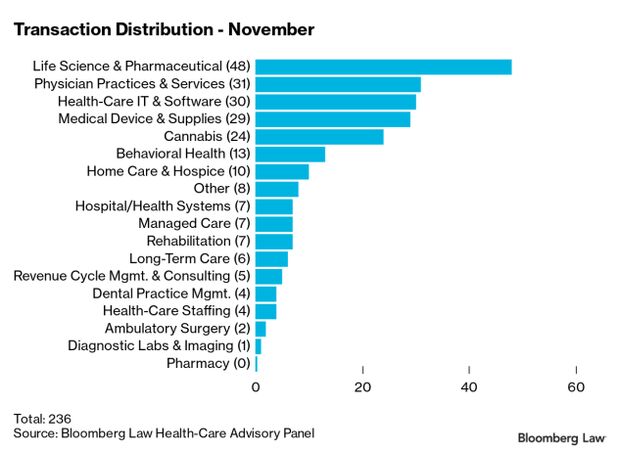 U.S. Life Expectancy Dropped Sharply in 2020: The pandemic helped push U.S. life expectancy down to 77 years in 2020, a drop of 1.8 years from 2019, with bigger declines for men than women and for Black and Hispanic Americans than their White peers, according to final data newly released by the National Center for Health Statistics. Read more from Alex Tanzi.
More Headlines:
Editor's Note: BGOV's Health Care Briefing will pause from Thursday, Dec. 23, through the end of the year. We'll be back on Monday, Jan. 3.
With assistance from Jeannie Baumann
To contact the reporter on this story: Brandon Lee in Washington at blee@bgov.com
To contact the editors responsible for this story: Zachary Sherwood at zsherwood@bgov.com; Michaela Ross at mross@bgov.com
Stay informed with more news like this – from the largest team of reporters on Capitol Hill – subscribe to Bloomberg Government today. Learn more.