HEALTH CARE BRIEFING: Biden Leans In Harder on Vaccine Mandates
Bloomberg Government subscribers get the stories like this first. Act now and gain unlimited access to everything you need to know. Learn more.
President Joe Biden escalated his campaign to pressure private employers into imposing coronavirus vaccination mandates in a trip to a Chicago suburb, saying shots would save lives and boost the economy.
"I'm calling on more employers to act," Biden said yesterday in Elk Grove Village, Illinois. "My message is require your employees to get vaccinated. With vaccinations, we're going to beat this pandemic."
Biden is seeking to increase the vaccination rate as public approval of his handling of the pandemic has been falling. The president said his administration would soon issue regulations to implement a plan he announced last month to require businesses with more than 100 employees to ensure workers are fully vaccinated or face weekly testing.
A growing number of places across the country, including Los Angeles, San Francisco and New York City, are requiring people to show proof of vaccination to enter various types of businesses and venues.
"We know there is no other way to beat the pandemic than to get the vast majority of Americans vaccinated," Biden said. "We're still not there. We have to beat this thing." Read more from Jennifer Jacobs.
Related:
Happening on the Hill
House Chairs Want Insurers to Cover Contraceptives: House committee leaders wrote to Health and Human Services Secretary Xavier Becerra and other Cabinet secretaries urging them to ensure the Affordable Care Act's requirements to provide Americans with coverage for FDA-approved contraceptives "continue to be protected and enforced." The letter's authors include House Energy and Commerce Chair Frank Pallone (D-N.J.) and Ways and Means Chair Richard Neal (D-Mass.).
Bill Seeks to Streamline Health Crisis Leadership: Reps. Anna Eshoo (D-Calif.), Richard Hudson (R-N.C.), and others introduced a bipartisan bill that aims to "streamline all federal public health and medical emergency response through the Department of Health and Human Services" by "clarifying that HHS, not subsidiary agencies, has the authority to lead the nation's public health and preparedness enterprise," according to a statement from Hudson.
FCC Pushed to Finalize Broadband Maps for Telehealth: A Senate panel yesterday pressed Republican Federal Communications Commissioner Brendan Carr to complete broadband maps needed to deploy millions of dollars worth of funds for telehealth. The Commerce, Science, and Transportation Committee's broadband panel held the hearing to examine telehealth barriers. Although the FCC has telehealth funds, its maps to identify who lacks access to broadband have been called outdated. Maria Curi has more.
Democrats Face $2 Trillion Math Problem With Rift Over Spending: Congressional Democrats are beginning to discuss how to pare down a sweeping social-spending bill that Biden had designed to transform the federal government's support for lower-income Americans, in a wrenching effort to get it enacted. Lawmakers have yet to coalesce around a list of priorities, or even begun negotiations with both moderates and progressives present—a hallmark of when a deal is close to being reached.
Biden and White House officials, however, have held a series of meetings in recent days with key Democrats, including groups of liberal House lawmakers and key centrists. "We won't be able to put everything that's on the table in the bill," Sen. Dick Durbin (Ill.), the No. 2 Senate Democrat, told reporters yesterday. "It's physically impossible, if we are limited." Read more from Laura Davison.
Debt Limit Deal Buoys Hospitals Reliant on Feds' Money: Lawmakers appear poised to raise the federal debt limit, providing a temporary reprieve for doctors, hospitals, and other health-care providers that depend on federal payments from Medicare and Medicaid to keep their doors open and averting a potential catastrophe for a health-care system still reeling from Covid-19.
Many critical aspects of the U.S. health-care system are paid for by the federal government, including payments to Medicaid providers, funds to states for their Medicaid programs, and spending to insurance companies for the Affordable Care Act marketplace. A failure to expand the federal government's ability to borrow money could leave health-care providers struggling for cash, holding IOUs from the federal government, or being forced to seek loans to stay afloat. Read more from Shira Stein.
The Coronavirus Pandemic
Kids in Line for Vaccine as Soon as Week of Nov. 1: Kids ages 5 to 11 could get a Covid-19 vaccine as soon as the first week in November in the U.S., a relief for parents as children are increasingly contracting the virus and a potential political boon for the Biden administration. Pfizer and BioNTech said yesterday they finished submitting data to the FDA ahead of an Oct. 26 advisory panel meeting. A CDC meeting will be set the week of Nov. 1, a person familiar with plans said, with clearance possibly that day.
Delays are possible but, taken together, that leaves the U.S. on the cusp of vaccinating kids—a convergence of both Biden's political needs and public-health goals. Reaching children younger than 12 would be a crucial step toward ending the pandemic, insulating them from the worst risks of Covid-19 and further shrinking the pool of Americans vulnerable to spreading the virus. Still, there will likely be holdouts as some adults express reluctance about inoculating their kids. Read more from Josh Wingrove.
Hospital Traffic in Some States Drops to Pre-Delta Levels: The U.S. is far from a full recovery from the latest Covid-19 wave, but some recent hot spots are getting close. In Florida, the seven-day average of new adult hospital admissions with Covid-19 is about 469 a day. That's just slightly above the level on May 13, when the CDC relaxed its masking guidance for fully vaccinated people, a change it reversed when delta ripped through the U.S. In eight other states and D.C., the figures are below or close to May levels.
There are other positive signs. The one-week average of new cases nationally has dropped 40% from its Sept. 21 peak, according to CDC data.The effective reproduction number or Rt—a measure of average new infections from one newly infected person—is now below 1 in 45 states and D.C., which signals cases there are expected to decline. Read more from Jonathan Levin.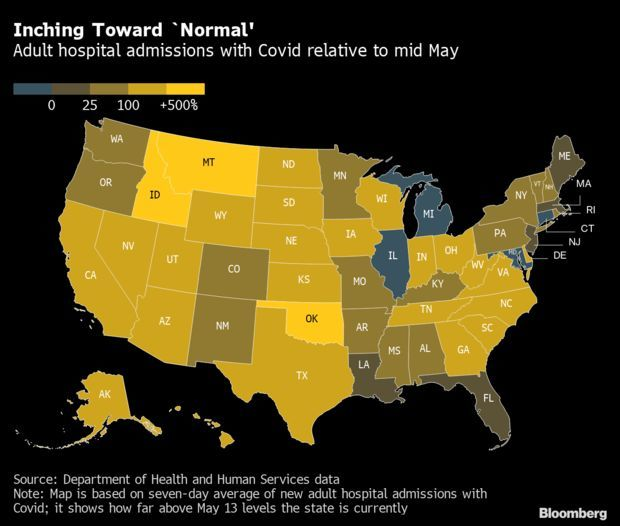 More Headlines:
What Else to Know
Texas Abortion Providers Face 'Cruel' Risk: Texas abortion providers had reason to celebrate after a federal judge temporarily blocked a ban on most procedures in the state, but they still face significant financial risks if the strictest such law in the nation is eventually upheld. The law banning abortions after around six weeks of pregnancy, before many women know they are pregnant, is designed so that individuals rather than the state enforce it, making judicial review of the statute difficult.
Under the law, known as S. B. 8, anyone in the entire country can sue anyone suspected of performing or aiding an illegal abortion in Texas. And such lawsuits, which offer bounties of at least $10,000 per procedure, can be filed up to four years later. Crucially, the law also strips providers of protection for abortions performed when the law is blocked by a court order that later gets overturned. That seems to undercut the effectiveness of this week's temporary injunction. Erik Larson and Laurel Brubaker Calkins have more.
Care for Neediest Hangs in Balance in HHS Case: Hospitals and university medical centers—in a case pivoting on how much authority a federal agency should have—are asking the Supreme Court to turn back drug reimbursement rate cuts they say threaten health-care services for America's most vulnerable populations. One one side, the American Hospital Association and its supporters argue HHS overstepped its statutory authority when it slashed almost 30% in Medicare reimbursement rates paid to hospitals in the government's 340B drug discount program.
The aim of the 29-year-old program is to help hospitals and other facilities stretch their funds—optimally using the savings to expand services—by requiring pharmaceutical manufacturers taking part in Medicaid to discount their outpatient prescription drugs. Read more from Ian Lopez.
Regulations & the Courts:
Pharmaceutical Headlines:
Programming Note: Bloomberg Government's Health Care Briefing won't publish on Monday, Oct. 11, due to the federal holiday. We'll return on Tuesday.
To contact the reporter on this story: Brandon Lee in Washington at blee@bgov.com
To contact the editors responsible for this story: Zachary Sherwood at zsherwood@bgov.com; Giuseppe Macri at gmacri@bgov.com; Michaela Ross at mross@bgov.com
Stay informed with more news like this – from the largest team of reporters on Capitol Hill – subscribe to Bloomberg Government today. Learn more.