HEALTH CARE BRIEFING: Biden Home Health Goals Come Up Short
Bloomberg Government subscribers get the stories like this first. Act now and gain unlimited access to everything you need to know. Learn more.
A one-time infusion of cash for state home health programs will fund worker bonuses and training without meeting the Biden administration's goal of bolstering wages and benefits in the industry, proposals in six states show.
President Joe Biden has proposed injecting the home and community-based services industry with $400 billion, mostly through Medicaid. Biden wants to boost wages for home health workers—who currently make about $13 per hour, often without benefits—and cut down years-long wait lists for in-home care for the elderly and people with disabilities.
Congress put a down payment on that plan earlier this year by offering states a one-year increase in the federal share of Medicaid dollars to expand their home care offerings under a February Covid-19 relief law (Public Law 117-2).
The plans outlined by six states — California, Colorado, Maine, Pennsylvania, Vermont, and Washington — show how state governments want to tap into the billions of federal dollars available to expand their Medicaid home and community-based care services but are limited by the temporary nature of the funding. The money could briefly help more Americans get home care, but won't reach Biden's larger goals for the industry.
"You balance a budget on things that are real, not on things that might happen," Matt Salo, executive director of the National Association of Medicaid Directors, said. "You make plans for what's real now."
Groups that advise states on matters such as elder care say they expect almost every state to seek some of these funds this year. For lasting change, the plans suggest the larger home health package that Democrats aim to enact later this year must provide assurances to states that the money is permanent. Read more from Alex Ruoff.
Happening on the Hill
Ag-FDA Funding Markup: The House Appropriations Committee is scheduled to mark up the fiscal 2022 Agriculture-FDA spending bill. The Agriculture-FDA Subcommittee last week advanced its $26.6 billion spending bill, which offers a more than 10 percent bump from 2021. Read more on the bill. Keep track of spending bill action using BGOV's Status of Appropriations Table.
Biden Team Pivots to Brokering Budget Bill Deal: Biden's team is pivoting from saving a bipartisan Senate infrastructure bill from collapse to trying to unify House Democrats behind both that bill and a follow-on, multi-trillion dollar economic package expected to pass on a party-line vote. White House counselor Steve Ricchetti met Tuesday with the Congressional Progressive Caucus and plans to reach out to other groups on Biden's strategy to pass a $579 billion bipartisan infrastructure bill in tandem with a bigger, broader tax and social spending package.
CPC Chair Pramila Jayapal (D-Wash.) said she has some flexibility on the overall cost of the second package, even though she supports a draft put forward by Senate Budget Chairman Bernie Sanders (I-Vt.) for a $6 trillion bill, half of which would be paid for by tax increases and savings from lower drug prices. That proposal would enact much of Biden's American Families Plan, including free community college and expanded child care support, as well as make enhanced child tax credits permanent and boost Medicare coverage while lowering its eligibility age to 60. Read more from Erik Wasson.
Guthrie, Nunes to Head GOP Health Task Force: House GOP Leader Kevin McCarthy (R-Calif.) yesterday announced the establishment of a "Healthy Future Task Force," to be led by Energy and Commerce Health Subcommittee ranking member Brett Guthrie (R-Ky.) and Ways and Means Health Subcommittee ranking member Devin Nunes (R-Calif.), a statement from McCarthy's office says. The group will build on "Republican health policy successes and craft a patient-focused agenda for the future," it says.
Group Says Congress Must Tackle Hunger Issues: A permanent Agriculture Department program to feed low-income students in the summer could help Congress tackle hunger issues, the Center on Budget and Policy Priorities said in a new report. Biden's American Families Plan sets aside $25 billion toward establishing federal nutrition benefits each summer. The progressive group argues the program infrastructure exists, after a similar program was created during the pandemic, Megan U. Boyanton reports.
The Coronavirus Pandemic
Growing Vaccine Gaps Show Regions at Risk: The gap between the most vaccinated and least vaccinated places in the U.S. has exploded over the past three months—and it continues to widen despite efforts to convince more Americans to get a Covid-19 shot. On a national level, the news appears good. Around 300,000 new people are getting a Covid vaccine every day in the U.S., and 54% of the full U.S population has at least one dose. The country's vaccine campaign is among the most successful in the world, states have lifted restrictions on business and socializing, and hospitalizations have plunged.
But newly available county-level data show how those national figures hide very different local vaccine realities. In the least vaccinated group of counties—many of which are in the South and Central regions of the U.S.—less than half as many people have gotten at least one vaccine dose as in the most vaccinated counties in the cities and the coasts. Those less vaccinated places aren't catching up, either. The gap between more- and less-vaccinated counties is expanding, and the trailing counties are far below levels needed to halt future waves of infection. Read more from Andre Tartar, Kristen Brown, and Tom Randall.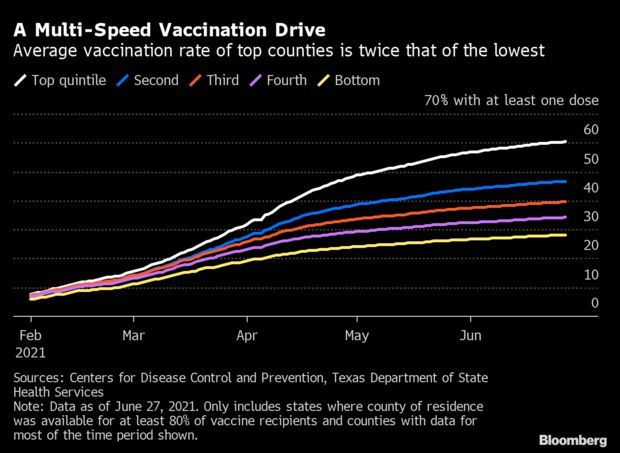 Moderna Shot Produces Antibodies Against Variant: Moderna said its Covid-19 vaccine produced protective antibodies against the delta variant spreading in the U.S. and many other parts of the world. Moderna researchers tested blood samples from eight people for antibodies against versions of the spike protein from different coronavirus variants, including delta, which emerged in India. The vaccine "produced neutralizing titers against all variants tested," the company said. Read more from Robert Langreth.
Some Vaccine Mandates Make Sense, Fauci Says: Workplace vaccination rules may make sense for certain environments such as hospitals, the country's chief infectious diseases expert told a health law group. "People don't like mandates about requirements," Biden's top medical adviser Anthony Fauci acknowledged. But in some situations, the communal concern about safety means that "it makes sense to get people vaccinated—and it's not unprecedented." Read more from Jeannie Baumann.
Facebook Beats Suit Over Anti-Vax Content: Facebook succeeded in fending off a lawsuit by an anti-vaccination group led by Robert F. Kennedy Jr. that claimed the social media site conspired with the federal government to censor and block the group's vaccine-related content. U.S. District Judge Susan Illston yesterday granted Facebook's request to dismiss the complaint filed by Children's Health Defense in August. The group couldn't show Facebook, at the behest of Rep. Adam Schiff (D-Calif.), deactivated a "donate" button, blocked some content and posted a warning notice at the top of its page, Illston said. Read more from Malathi Nayak.
More Headlines:
What Else to Know Today
Employers Fear Costs of Public Option Health Plans: Businesses are concerned that public option health plans taking shape in some states may end up costing them more than the high premiums they already pay. Employers increasingly have been open to government involvement in the health-care system out of frustration for high costs that they have been largely unable to rein in. But they fear plans set by states could hurt their own plans by peeling off younger, healthier staff, Sara Hansard reports.
DOJ Sees Record Number of Health Fraud Cases: The Justice Department opened a record number of False Claims Act cases last year involving accusations of health-care fraud, and it's zeroing in now on those who misuse electronic health records, contribute to the opioid epidemic, abuse the elderly, manipulate Medicare's managed care program, and improperly claim Covid relief funds. DOJ has opened 580 new health fraud matters, Deputy Assistant Attorney General Michael Granston said. Lydia Wheeler has more.
HHS Watchdog to Speed Up Advisories: Health lawyers and compliance officers will have an easier, faster time navigating key documents from the HHS inspector general under an overhaul of the watchdog agency's communications and data arms. "The pandemic and a compulsory switch to working remotely for many required us to think differently," said Christi Grimm, principal deputy inspector general of the Health and Human Services Office of Inspector General. Jeannie Baumann has more.
More Headlines:
To contact the reporter on this story: Brandon Lee in Washington at blee@bgov.com
To contact the editors responsible for this story: Zachary Sherwood at zsherwood@bgov.com; Giuseppe Macri at gmacri@bgov.com; Michaela Ross at mross@bgov.com
Stay informed with more news like this – from the largest team of reporters on Capitol Hill – subscribe to Bloomberg Government today. Learn more.