HEALTH CARE BRIEFING: Biden HHS Picks, Virus Testing Obstacles
Bloomberg Government subscribers get the stories like this first. Act now and gain unlimited access to everything you need to know. Learn more.
President-elect Joe Biden's health team is shaping up as a competition largely between Obama administration alumni who stayed in Washington and those who joined state health agencies.
The new president will use his executive powers and lean heavily on the Department of Health and Human Services to achieve his goals by regulation and working with state governments, Democrats say. The Biden transition is looking to name state officials and former Obama administration staff to key Health and Human Services Department positions, people with knowledge of the transition team's discussions said.
The Biden transition has been vetting potential candidates for key positions at HHS and the president-elect is expected to announce his choice for HHS secretary in coming weeks, according to two people involved in the transition.
The transition is eyeing two state officials for key health policy jobs: New Mexico Gov. Michelle Lujan Grisham (D) and North Carolina HHS Secretary Mandy Cohen, seven people with knowledge of the team's plans said. They're also considering former Surgeon General Vivek Murthy and Chiquita Brooks-LaSure, a former HHS official who helped lead the department's steps to carry out the ACA. Read more from Alex Ruoff and Shira Stein.
Virus Testing Bottlenecks Threaten Response
A surge in coronavirus cases, paired with a rising demand for testing before the holidays and continued supply shortages, are putting renewed pressure on American testing systems.
The American Clinical Laboratory Association, whose members do about half of the country's testing, said late last week it is seeing a big increase in test orders with the demand expected to continue ahead of Thanksgiving. As a result, turnaround times of roughly two days are set to increase as labs reach or exceed their capacities in the coming days, the group warned.
Meanwhile, labs are also grappling with supply shortages, including pipette tips—which are used to transport samples during the testing process—and swabs. Though the government has invested in manufacturers to build out capacity, that will take into 2021 to pan out, said Scott Becker, the head of the Association of Public Health Laboratories.
"All of the issues we uncovered in the spring, and lived through in the summer, haven't gone away completely," Becker said by telephone. "With this massive surge in cases, it's natural to see that testing will unfortunately slow down."
Critics have long slammed the Trump administration's lack of a nationally coordinated testing strategy, and the White House has deferred many issues of policy and procurement to states. At the same time, rising cases have limited the ability to use a technology known as pooling to process multiple samples at once, as pooling is most efficient in areas of low virus prevalence, according to Becker. And while new quicker screening technologies have become more widely available, they haven't relieved the burden on more conventional testing infrastructure. Read more from Emma Court.
Virus Surges in All 50 States: The coronavirus is infecting Americans at an increasing pace no matter where they live. The seven-day average of new cases was climbing in every state in the U.S. on Sunday, a shift from earlier waves of the pandemic when rates ebbed in some regions and leaped in others. The tally of new cases is edging closer to 200,000 per day. A month ago, there were about 8 million cases in all. On Oct. 31, they hit more than 9 million. And last week, it surpassed 10 million. Read more from Nic Querolo.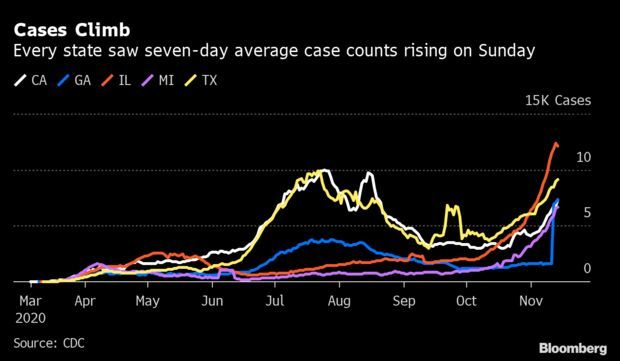 More on the Pandemic
Biden Call for Stimulus Runs Into GOP Opposition: Biden's call for Congress to pass a larger-scale stimulus package ran into swift headwinds, with downbeat comments from a senior Republican senator.
Biden, in his first remarks dedicated to the economy since winning the Nov. 3 election, called on lawmakers to immediately pass a bill like the more than $2 trillion measure (H.R. 925) passed by the Democratic-led House before the election. "Right now Congress should come together and pass a Covid relief package like the Heroes Act," Biden said yesterday in Wilmington, Delaware.
Senate Appropriations Committee Chairman Richard Shelby (R-Ala.) made clear that's not coming soon. "We're not going to pass a gigantic measure right now — and the question is will we pass it later? Doubtful," he said, hours after Biden spoke. "Start with the skinny bill," he said, referring to a roughly $500 billion GOP proposal. Read more from Erik Wasson and Laura Litvan.
Moderna's Covid-19 Vaccine Found 94.5% Effective: Moderna said its coronavirus vaccine was 94.5% effective in a preliminary analysis of a large late-stage clinical trial, another sign that a rapid-paced hunt by scientists and pharmaceutical companies is paying off with potent new tools that could help control a worsening pandemic. The highly positive readout comes just a week after a similar vaccine made by Pfizer and BioNTech was reportedly over 90% effective. Both shots rely on a technology known as messenger RNA that has never been used to build an approved vaccine. Robert Langreth has more.
Related: Moderna, Pfizer Covid Trial Placebo Recipients Want Real Vaccine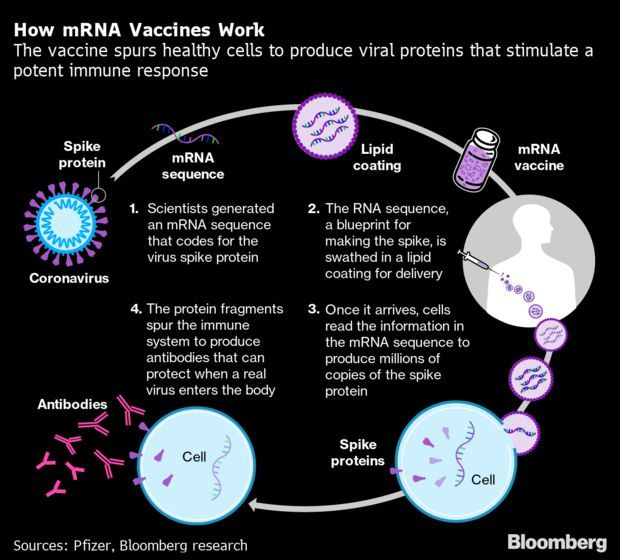 More Headlines:
Happening on the Hill
Health Measures Set for Passage: The House today plans to consider 25 measures under expedited procedure. Health-related legislation include the following:
Energy Committee's Ranking Spot Up for Grabs: A three-way race for the top Republican post on the House Energy and Commerce Committee could make history. Republican Reps. Michael Burgess (Texas), Bob Latta (Ohio) and Cathy McMorris Rodgers (Wash.) have been vying for the role for the past year, since current top Republican Greg Walden (Ore.) announced his retirement last year. If McMorris Rodgers wins, she will be the first woman of either party to occupy a full committee leadership post on the Energy and Commerce Committee, a powerful panel with broad jurisdiction over health-care and consumer protection. Kellie Lunney takes a closer look at the state of the competition.
Over-the-Counter Hearing Aids Sought: Senate Finance Chairman Chuck Grassley (R-Iowa) and Health, Education, Labor, and Pensions Committee member Elizabeth Warren (D-Mass.) urged the FDA yesterday "to initiate its overdue rules for over-the-counter (OTC) hearing aids without further delay." The pair authored a bill signed into law in 2017 "to remove outdated regulations blocking consumer access to affordable hearing aids," and the rule changes were required to be issued in August this year. Read their letter to the FDA here.
What Else to Know
Amazon Expands Push Into Health Care With Online Pharmacy: Amazon is making its biggest push into selling prescription drugs yet, launching a digital pharmacy and offering discounts for medicines to paying Prime members in the U.S. The e-commerce giant today unveiled Amazon Pharmacy, a section of its retail website and mobile application that lets people order medication. Shoppers can pay using their health insurance. Prime members who don't use their insurance are eligible for discounts on generic and brand-name drugs on Amazon's site or at about 50,000 participating pharmacies. Read more from Angelica LaVito.
Drug Intermediaries Seek to Preserve Price Cuts: Pharmacy intermediaries who negotiate drug insurance coverage are already threatening lawsuits if the Trump administration follows through on a revived plan to roll back drug rebates. The Office of Management and Budget is reviewing a final rule as of yesterday that would end legal shields for the rebates drugmakers pay to pharmacy middlemen and to insurance plans providing coverage through Medicaid or the Medicare drug program, according to its website. If enacted, it would be a massive shift in how the drug supply chain works in the U.S. Read more from Jacquie Lee.
More Headlines:
To contact the reporter on this story: Brandon Lee in Washington at blee@bgov.com
To contact the editors responsible for this story: Zachary Sherwood at zsherwood@bgov.com; Giuseppe Macri at gmacri@bgov.com; Michaela Ross at mross@bgov.com
Stay informed with more news like this – from the largest team of reporters on Capitol Hill – subscribe to Bloomberg Government today. Learn more.