HEALTH CARE BRIEFING: Biden Hails Vaccine Progress as Cases Rise
Bloomberg Government subscribers get the stories like this first. Act now and gain unlimited access to everything you need to know. Learn more.
The White House struck sharply divergent notes yesterday on the nation's fight against Covid-19, celebrating a significant ramp-up in vaccinations, while warning of the "impending doom" of sharply rising case numbers among those yet to be immunized.
President Joe Biden, speaking at the White House yesterday, unveiled his new "90-90" plan, saying 90% of U.S. adults will be eligible to get a Covid-19 shot by April 19, and 90% of the country will live within five miles of a vaccination site, as his administration more than doubles the number of participating pharmacies.
As part of his announcement, Biden detailed plans to launch a dozen more community sites in the next three weeks to vaccinate Americans. He said vaccines will be made available at nearly 40,000 pharmacies over that time period from about 17,000 now. He previously directed states to open eligibility to all adults no later than May 1. A total of 31 states have said they'll be fully opening eligibility by April 19.
But after celebrating having surpassed vaccination targets, Biden quickly shifted his remarks to the recent rise in cases and warnings from the Centers for Disease Control and Prevention that some states' decisions to relax public-health rules has jeopardized the nation's recovery.
"With vaccines, there's hope, which is a very good thing to state the obvious. But people are letting up on precautions, which is a very bad thing," he said. "We are giving up hard-fought, hard-won gains." He alluded to recent images of spring break revelers flouting public health guidelines. "Sadly, some of the reckless behavior we've seen on television over the past few weeks means that more new cases are to come in the weeks ahead."
The U.S. is racing to boost its inoculation efforts before more contagious variants of the virus spread. That comes as several states, including Texas, Mississippi, Alabama and West Virginia, have lifted restrictions as vaccinations have increased, which risks stoking a resurgence of the coronavirus. "The war against Covid-19 is far from won," Biden said. Josh Wingrove has more.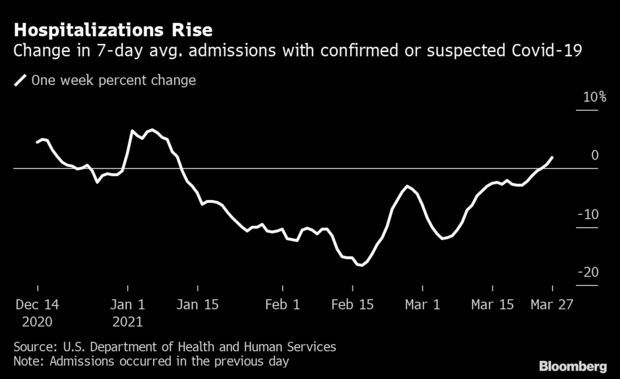 More on the Pandemic
Pfizer, Moderna Shots Stop Infections in Real-World Study: Covid-19 vaccines from Pfizer and Moderna effectively prevented coronavirus infections, not just disease, with substantial protection found two weeks after just one dose, CDC researchers found. Two doses of either vaccine provide as much as 90% protection against infection, data from a CDC study unveiled yesterday said. Earlier clinical trials had established that the vaccines also prevented illness, hospitalizations, and deaths. Read more from John Tozzi.
Vaccine Passports Sought From Private Sector: White House officials said that the push for vaccine passports should come from the private sector, and that the federal government will not take the lead in creating a centralized document proving vaccination. The government "is not viewing its role as the place to create a passport, nor a place to hold the data of citizens," Andy Slavitt, a White House Covid-19 adviser, said in a briefing. Such passports are supported by the travel industry and other businesses. Read more from Fiona Rutherford.
Drugstores Can't Wait for Scheduling Covid Shots to Get Simpler: While millions of Covid-19 vaccine doses are available, it could be months until anyone can just walk into their local pharmacy for a dose, a frustrating situation for big chains like Walgreens and CVS, as well as their customers. People still need to make appointments online or over the phone to get vaccinated at drugstores, a policy designed to prevent crowds from forming and help pharmacists manage scarce supplies. The system isn't working optimally and is unlikely to change anytime soon, said Rina Shah, Walgreens vice president of pharmacy operations. Read more from Angelica LaVito.
WHO Study Points to Animal Hosts as Pathway: The coronavirus probably spread from bats to humans via another animal, according to the long-awaited findings of a joint World Health Organization-China study into the origins of the new virus. The authors suggest that the most productive research would be to find such an animal link, claiming the hypothesis of lab leaks was extremely unlikely, according to a draft of the report obtained by Bloomberg News before it was set to publish today. The U.S. government has questioned whether the WHO-convened experts were given enough access to reach a reliable conclusion, Jason Gale, Samy Adghirni, and Corinne Gretler report.
More Headlines:
Global Headlines:
What Else to Know
Democrats Raise Alarm Over Trump Drug Pricing Tool: A group of Democrats in Congress, led by House Ways and Means Health Subcommittee Chair Lloyd Doggett (D-Texas), submitted a public comment opposing a Trump-era proposed rule they say would revoke the government's ability under the Bayh-Dole Act to protect taxpayer investments and reasonable prices for prescription drugs and other patented inventions that were partially funded by U.S. taxpayer dollars, according to a statement. Read the comment here.
Crossroads Strategies Hires Fmr Cohen Staffer: Top lobbying shop Crossroads Strategies brought Brittany Hernandez, a longtime advocate for patient groups, to its team as executive vice president. She most recently served as the senior director of policy and advocacy for the Muscular Dystrophy Association and, prior to that, worked as the deputy director of federal affairs for March of Dimes. Hernandez also has experience on Capitol Hill, serving for more than eight years in the office of Rep. Steve Cohen (D-Tenn.). Crossroads Strategies's health clients include the Pharmaceutical Research and Manufacturers of America (PhRMA), Genentech, Bristol-Myers Squibb and LCMC Health, a nonprofit health system in New Orleans, Megan R. Wilson reports.
More Headlines:
With assistance from Megan R. Wilson
To contact the reporter on this story: Brandon Lee in Washington at blee@bgov.com
To contact the editors responsible for this story: Zachary Sherwood at zsherwood@bgov.com; Giuseppe Macri at gmacri@bgov.com; Michaela Ross at mross@bgov.com
Stay informed with more news like this – from the largest team of reporters on Capitol Hill – subscribe to Bloomberg Government today. Learn more.