HEALTH CARE BRIEFING: Biden-GOP Deal Nears After Medicare Pact
Bloomberg Government subscribers get the stories like this first. Act now and gain unlimited access to everything you need to know. Learn more.
A bipartisan group of senators is closing in on a $579 billion infrastructure deal after agreeing to pay for it in part by delaying a Trump-era Medicare rule, but they don't expect to release details until at least Monday.
Any deal may still face resistance from Democrats in both chambers, making the prospects uncertain as a bipartisan Senate group works out the final sticking points.
The Medicare rule, promulgated by former President Donald Trump, eliminates rebates drug companies give benefit managers in Medicare Part D and was aimed at lowering out-of-pocket costs. Delaying the rule reduces expenditures by the Medicare program, producing a budgetary windfall the negotiators want to use to help pay for roads, bridges and other projects.
The Congressional Budget Office estimated that repealing the rule would slash federal Medicare spending by around $177 billion over a decade. Negotiators are delaying it for less than 10 years, but have not revealed how long. Drugmakers could lose revenue if the rule is set aside."Despite railing against high drug costs on the campaign trail, lawmakers are threatening to gut a rule that would provide patients meaningful relief at the pharmacy," said Debra DeShong, an executive at the drug industry group PhRMA.
Senate Finance Chairman Ron Wyden (D-Ore.), whose committee has jurisdiction over Medicare, said he is still reviewing the proposal. "I share the view that the Trump proposal was flawed and we're all talking about it" he said. Drug companies, which could lose revenue if the rule is set aside, have lobbied against its inclusion in the deal. Erik Wasson has more.
Puerto Rico Medicaid Funding May Make Budget Deal: Democrats may avert an impending cliff in Puerto Rico's Medicaid funding by adding it to the $3.5 trillion budget package they plan to advance this fall.
House Budget Chair John Yarmuth (D-Ky.) told reporters yesterday it's something Democrats may want to address if his panel makes changes to the Senate budget outline.
Puerto Rico and other territories are facing steep cuts after September to their federal funds for Medicaid.
"There's an issue involving Medicaid in Puerto Rico, and we think part of it would have to be done through reconciliation, part of it not," Yarmuth said of a potential House change to the Senate's reconciliation instructions. The reconciliation package, which Democrats want to use to address many of Biden's social and economic priorities, can be enacted without Republican votes in the Senate.
Medicaid in Puerto Rico and other territories is funded by block grants — fixed dollar amounts from the federal government. States, in contrast, get matching federal funds for their actual spending on the public health insurance program. A law that temporarily boosted territories' Medicaid funding expires Sept. 30.
A House panel recently approved (H.R. 4406) a five-year extension for Puerto Rico's Medicaid program and eight years for the programs in American Samoa, Guam, the Northern Mariana Islands, and the U.S. Virgin Islands, Jack Fitzpatrick and Alex Ruoff report.
Happening on the Hill
Capitol Doctor Weighs Reimposing Mask Guidance: Brian Monahan, the attending physician of Congress, is looking at whether to reinstate a mask-wearing recommendation in the Capitol, Politico reports, citing three sources familiar. A reinstatement, which isn't expected imminently, would come after two months of mask-less business in the complex, Politico reports. Earlier yesterday, Bloomberg reported that a Senate staffer tested positive for Covid-19. Read more from Politico.
Klobuchar Targets Covid-19 Misinformation: Sen. Amy Klobuchar (D-Minn.) unveiled a bill yesterday to make online platforms like Facebook and Twitter legally liable for misinformation about health issues, including Covid-19. The proposal comes less than a week after Biden said that misinformation about the virus and vaccines is "killing people," as infections surge in parts of the U.S. with vaccine hesitancy. Covid-19 "has shown us how lethal misinformation can be," she said. Anna Edgerton has more.
Lawmakers Want Details on FDA Inspections During Pandemic: Top members of the House Energy and Commerce Committee sent a bipartisan letter to the Food and Drug Administration asking for additional information about the impact Covid-19 has "had on inspections of drug manufacturing facilities," and what actions the agency has taken, or plans to take, "to mitigate experienced and potential future delays of drug approval decisions." Read the letter here.
Panel to Hold Hearing on Neurogenerative Diseases: House Energy and Commerce Chair Frank Pallone (D-N.J.) and Health Subcommittee Chair Anna Eshoo (D-Calif.) announced yesterday the panel will hold a hearing next Thursday on treatments and cures for neurodegenerative diseases, such as Alzheimer's. "While we have made progress in the quest to better understand neurodegenerative diseases, there is still much to do," they said in a statement.
What Else to Know Today
Covid-19 Increase in Hot-Spot States to Worsen: The recent surge in Covid-19 cases shows no signs of abating in the U.S. states that have fueled the uptick as the Delta variant proliferates. Nationally, cases are likely to rise to 306,909 for the week ending Aug. 14, up 39% from last week, according to an ensemble of forecasts from the Centers for Disease Control and Prevention. Surges are expected in some states where case rates are among the worst. Read more from Nic Querolo.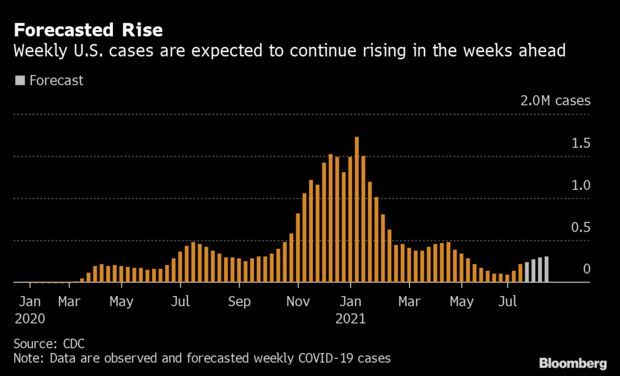 White House Assails China Opposition to Wuhan Probe: White House Press Secretary Jen Psaki accused China of "stonewalling" a World Health Organization investigation into origins of the coronavirus, including the possibility it escaped a Chinese laboratory, after China said it won't participate. "We are deeply disappointed," she said at a briefing yesterday. "Their position is irresponsible and, frankly, dangerous." Jordan Fabian, Jennifer Epstein, and Jenny Leonard have more.
Pfizer's Africa Vaccine Deal Raises Questions on IP Waiver Plan: Pfizer's Covid-19 vaccine-making deal with an African distributor is expected to make a much-needed mark on global immunization efforts, but some health policy experts say such partnerships aren't enough to take the place of an international waiver of vaccine rights.
South Africa's Biovac institute will help produce more than 100 million doses annually of Pfizer and BioNTech's Covid-19 vaccine across African nations. The agreement fits into a larger trend of major pharmaceutical companies like Johnson & Johnson and Merck teaming up to meet global vaccine demands as infections surge. Read more from Ian Lopez.
More on the Pandemic:
State Asks Top Court to Overturn Roe: Mississippi asked the U.S. Supreme Court to overturn the constitutional right to abortion, raising the stakes in a polarizing clash the justices are set to hear in the term that will start in October. In a court filing, Mississippi Attorney General Lynn Fitch yesterday called the landmark Roe v. Wade ruling of 1973 and a 1992 follow-up decision "egregiously wrong." The fight centers on a state law to ban abortions in almost all circumstances after 15 weeks. Read more from Greg Stohr.
CDC's Narrow Opioid Guidance Scrutinized: Setting universal thresholds for opioid prescriptions harms patients with pain and does nothing to slow the raging overdose epidemic, the American Medical Association said yesterday in a call to the CDC for new guidance. The CDC released guidelines in 2016 recommending that primary care providers who prescribe opioids for chronic pain exercise caution and consider how the risks of a prescription measure up to the benefits. Read more from Allie Reed.
Black Smokers Top of Mind Amid FDA Menthol Effort: Advocacy groups are boosting outreach on programs to help people quit smoking, as they call for quicker FDA action to ban menthol cigarettes, a product that has disproportionately impacted the health of Black Americans. Matthew Myers, head of the Campaign for Tobacco-Free Kids, said community outreach efforts, set to start in the coming months, will seek to inform menthol consumers on available services before a ban takes hold. Lesley Torres has more.
Missouri Court Upholds Voter-Approved Medicaid Expansion: A Missouri ballot measure expanding Medicaid eligibility to include working-age adults without providing a funding source didn't violate the state constitution, the state Supreme Court said yesterday. The state also can't refuse to use funds appropriated for the Medicaid program to cover those who gained eligibility through the ballot measure, which was approved by the voters in August 2020, the court said in overturning a lower court ruling. Read more from Christopher Brown.
More on the Industry:
With assistance from Jack Fitzpatrick and Alex Ruoff
To contact the reporter on this story: Brandon Lee in Washington at blee@bgov.com
To contact the editors responsible for this story: Zachary Sherwood at zsherwood@bgov.com; Giuseppe Macri at gmacri@bgov.com; Michaela Ross at mross@bgov.com
Stay informed with more news like this – from the largest team of reporters on Capitol Hill – subscribe to Bloomberg Government today. Learn more.