HEALTH CARE BRIEFING: Biden Forms Group to Target Next Variants
Bloomberg Government subscribers get the stories like this first. Act now and gain unlimited access to everything you need to know. Learn more.
The Biden administration has assembled a group that will prepare new countermeasures for the emergence of a future Covid-19 variant and other pandemic threats after the arrival of the omicron strain created tumult in the economy and health-care system.
The Pandemic Innovation Task Force, formed by the White House Office of Science and Technology Policy, or OSTP, will focus on developing vaccines, treatments, diagnostic testing and other tools, said officials familiar with the matter. That will help prepare the country in case new versions of the virus surface, and for future biological threats beyond Covid-19, they said.
While some officials stressed the group wasn't created specifically as a response to omicron, it begins its work as the strain fuels unprecedented case counts and hospitalizations in the U.S. Health officials have warned that new variants could pop up and once again shift the understanding of, and threat from, the virus.
Unlike the White House's Coronavirus Task Force, the new group won't focus on day-to-day pandemic response or the omicron variant, or issues like distribution of vaccines, testing and therapeutic treatments. Instead, it will work on preparedness projects that could be used to manage waves of new variants that could emerge within six months to two years, as well as other threats. By building and exercising new capabilities, the U.S. will bolster its long-term biodefenses, according to the people.
The task force, led by President Joe Biden's Science Adviser Eric Lander and Dawn O'Connell, the assistant secretary for preparedness at the Health and Human Services Department, met for the first time last week, the people said. Its mission builds on a $65.3 billion 10-year proposal drafted by OSTP and National Security Council to combat future pandemic threats. The group will draw on aspects of the plan to test some of those longer-range ideas in the medium-term, the people said.
The task force could focus on developing diagnostic tools that distinguish between variants to help guide treatment, updating vaccines to protect against multiple variants, identifying new drug candidates and securing additional manufacturing capacity, they said. Cecilia Rouse, the chair of the Council of Economic Advisers, said in a meeting on Wednesday that the group will also focus on managing the "endemic phase," where the virus circulates seasonally. Read more from Riley Griffin.
Happening on the Hill
House Floor: The House returns at noon and plans a light week of work as members continue to test positive for Covid-19 and avoid the House chamber via proxy voting. Majority Leader Steny Hoyer (D-Md.) said the House will vote on legislation to automatically enroll veterans in Veterans Affairs health care system (H.R. 4673) Thursday and a Senate-passed bill (S. 2959) aimed at helping schools impacted by Covid-19 by giving them more flexibly when reporting data tied to federal funding today.
Democrats Sharply Fault White House on Covid-19: A group of Senate Democrats, including Joe Manchin (D-W.Va.) and Kyrsten Sinema (D-Ariz.), are demanding answers from the White House on its response to the surging Covid-19 pandemic. A sharply worded letter led by Sen. Jacky Rosen (D-Nev.) was released Friday, as Biden scrambles to tackle the highly contagious omicron strain, which is overwhelming the nation's hospitals and leading to a shortage of rapid test kits.
"We write with grave concern regarding the current state of preparedness and response to the COVID-19 pandemic," they wrote in the letter to the White House's Covid-19 coordinator, Jeff Zients. "We ask that you address the steps you have taken to prepare the country for the increase in cases, why the Administration failed to take more significant steps earlier to increase access to at-home tests, and how you plan to mitigate the impact of the current and future variants moving forward." Erik Wasson has more.
Buchanan to Lead GOP on Ways & Means Health Panel: Rep. Vern Buchanan (R-Fla.) will assume the top Republican role on the House Ways and Means Health Subcommittee this week, according to a release from his office. Buchanan, who's the second-ranking Republican on the Ways and Means Committee after ranking Republican Kevin Brady (R-Texas), will fill the vacancy on the panel following Rep. Devin Nunes' (R-Calif.) departure from Congress. "Health care represents one-fifth of our economy and is enormously important to every family and business in the country," he said. Find the statement here.
Budget & Pandemics: The House Rules Legislative Branch and Budget Process Subcommittee plans a hearing Wednesday on using budget principles to prepare for future pandemics and disasters.
Vaccine Mandates Sputter
Biden Agenda Collides With Supreme Court: The U.S. Supreme Court delivered a fresh reminder of its power to thwart Biden's agenda as it sided with Republicans by blocking a rule that would have required Covid-19 vaccinations or weekly testing for more than 80 million workers. The court's conservative majority last week dealt a dramatic blow to the centerpiece of Biden's strategy for increasing the nation's vaccination rate, ruling in favor of business groups and 27 mostly GOP-led states in an expedited case. It's the second time the court had stymied a Biden effort to stem the virus's spread.
The high court, which has a 6-3 Republican-appointed majority, is becoming a formidable obstacle for Biden. Without a working majority in Congress, the president has had to rely on federal agencies to implement his policy goals. That approach, now being challenged aggressively by business interests and states with Republican governors or attorneys general, is bumping up against a court inclined to keep a tight rein on those agencies. Read more from Greg Stohr.
Vaccine Push Weakened After Court Chops Business Mandate: The number of new people getting the Covid-19 vaccine is at one of the lowest points since the rollout started, according to a review of the latest federal government data. While millions of doses are being administered each week, the majority of those are now booster shots for people who have already gotten their first round of injections. Vaccination rates are high in many major cities, but remain low in other parts of the country—with little sign of rising. And the administration's most potent tool has been wiped out by the Supreme Court. Drew Armstrong has more.
U.S. Appeals Texas Block on Health Worker Rule: The Biden administration is appealing a federal court's pause on the health worker vaccine mandate in Texas, the only state that does not have to comply with the rule after the U.S. Supreme Court said it could move forward in the rest of the country. The Department of Health and Human Services on Friday filed a notice to appeal the preliminary injunction granted Dec. 15 by the U.S. District Court for the Northern District of Texas. The HHS also requested a stay of the injunction pending its appeal to the Fifth Circuit. Read more from Alexis Kramer.
Contractor Mandate Now With Four Appeals Courts: The Eighth Circuit will be the latest appeals court to hear a challenge to Biden's order that requires government-contractor workers to get the Covid-19 vaccine. The U.S. Court of Appeals for the Eighth Circuit will join three other federal appeals court to consider a challenge to the measure. A coalition of states—Arkansas, Alaska, Iowa, Missouri, Montana, Nebraska, New Hampshire, North Dakota, South Dakota, and Wyoming—filed one of multiple lawsuits that sought to block the mandate for companies that do business with the federal government. Read more from Erin Mulvaney.
More on the Pandemic
Biden Team Opens Ordering for Covid-19 Tests on Wednesday: The Biden administration will begin accepting orders for free at-home Covid-19 tests on Wednesday, the latest government response to a record number of cases. Every U.S. household that asks for tests via CovidTests.gov or over phone will receive four kits drawn from a 500 million-test order approved by Biden last month. The administration expects the tests to initially be delivered by the U.S. Postal Service in seven to 12 days, but deliveries may move faster as the program ramps up. Read more from Jennifer Epstein.
CDC Encourages Medical-Grade Masks Over Cloth: Health officials urged wider use of medical-grade face masks in the general public. The Centers for Disease Control and Prevention revised earlier guidelines that discouraged the use of gold-standard N95s in new guidance published Friday. The agency had earlier suggested reserving such masks for medical personnel. Health officials are looking for ways to limit the spread of omicron, which has spread at least twice as quickly as delta. Though N95s aren't in shortage at most facilities, supplies are fragile, said a spokesman for Premier, a top hospital supplier. Fiona Rutherford has more.
Fauci Says Too Soon to Say Omicron Heralds End of Pandemic: Anthony Fauci, Biden's chief medical adviser, said it's too soon to say whether the omicron variant will herald a shift in the Covid-19 pandemic to endemic. "It's an open question as to whether or not omicron is going to be the live virus vaccination everyone is hoping for," he said yesterday at the World Economic Forum's Davos Agenda online conference. Other scientists and government officials have expressed optimism that omicron's fast spread and milder outcome signals a shift to learning to live with Covid-19, as with the flu. Andy Hoffman and Corrine Gretler have more.
Omicron, Hospital Overcrowding Make For Deadly Combo: The crowding wrought by omicron has made going to the hospital more dangerous and likely to be more deadly. The variant is so contagious that it's deluging hospitals with patients at a moment of severe staff shortages. That combination risks eroding the advantages of omicron's oft-touted milder symptoms compared to prior strains. "Overcrowding kills," said Sameer Kadri, a physician at the National Institutes of Health Clinical Center. Kadri was a lead researcher on a study that found one in four Covid-19 deaths could be due to hospital overcrowding. Carey Goldberg has more.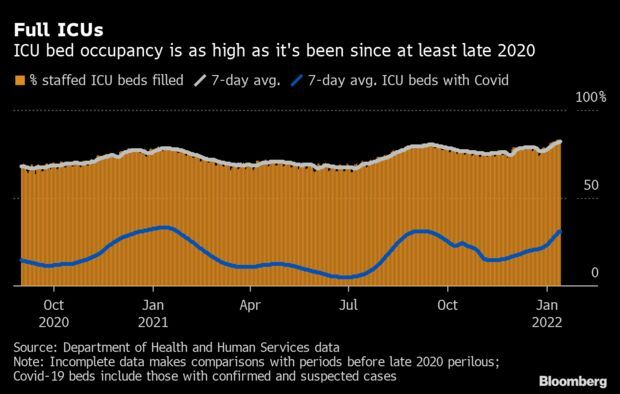 More Headlines:
What Else to Know Today
Indiana Abortion Restrictions Await SCOTUS Action: Several Indiana abortion restrictions will remain in place, as the Seventh Circuit said it would delay deciding on a provider's challenge until the U.S. Supreme Court weighs in on abortion rights. The high court is expected to decide Dobbs v. Jackson Women's Health Organization, in which it's been asked to overrule Roe v. Wade, by the end of June. Read more from Mary Anne Pazanowski.
More Headlines:
To contact the reporter on this story: Brandon Lee in Washington at blee@bgov.com
To contact the editors responsible for this story: Zachary Sherwood at zsherwood@bgov.com; Giuseppe Macri at gmacri@bgov.com; Michaela Ross at mross@bgov.com
Stay informed with more news like this – from the largest team of reporters on Capitol Hill – subscribe to Bloomberg Government today. Learn more.