HEALTH CARE BRIEFING: Biden, Blue States Weigh Abortion Options
Bloomberg Government subscribers get the stories like this first. Act now and gain unlimited access to everything you need to know. Learn more.
President Joe Biden and congressional Democrats are under pressure to enact new policies to ensure US women retain access to abortions, but their options are sorely limited and risk generating new court challenges.
Biden said on Friday that his administration will fight to make sure women can travel from states where abortion is outlawed to obtain the procedure in states where it's legal. He said he also ordered the Health and Human Services Department to ensure medication abortion is available "to the fullest extent possible."
Both moves may wind up in court, as some Republican lawmakers have vowed to try to prevent women from traveling out-of-state for abortions and stop abortion drugs from being prescribed or sold within their states.
But despite controlling the White House and both chambers of Congress, there's little more Democrats can do via executive action or legislation, legal experts say, after the high court wiped out the constitutional right to abortion in a historic ruling. Senate Republicans can easily filibuster any bill to replace the rights once secured by Roe, while Biden lacks the authority to unilaterally ensure abortion is available nationwide.
The White House has held daily calls on the subject since the ruling first leaked, plotting out its options, and met regularly with groups like Planned Parenthood and Emily's List, an official familiar with the process said, speaking on condition of anonymity. Read more from Jordan Fabian.
Abortion Funds Key Fight After Roe Verdict: The House Appropriations Committee is set to mark up its Labor-HHS-Education spending bill for fiscal 2023 on Thursday. The bill plays host to the debate over the Hyde amendment, a decades-old restriction on federal funding for abortion with some exceptions. Democrats eliminated the ban in their bills last year, but agreed to add them back for the final fiscal 2022 legislation. They may be more motivated to eliminate it this year following the ruling. Read more from Jack Fitzpatrick.
State, Local Abortion Moves
Blue Strongholds Plot Abortion Strategy: California, Washington and Oregon formed an alliance to ensure abortion access on the West Coast. Michigan's leader asked the state's top court to rule quickly on her suit seeking to codify rights to the procedure. And in Illinois, the governor demanded a special legislative session. Only 14 states have a Democratic governor along with legislative bodies controlled by the party, while 23 have Republicans in control. In liberal strongholds, the reaction to the ruling was swift and fierce. Read more from Brendan Walsh, Ngai Yeung, and Michael Sasso.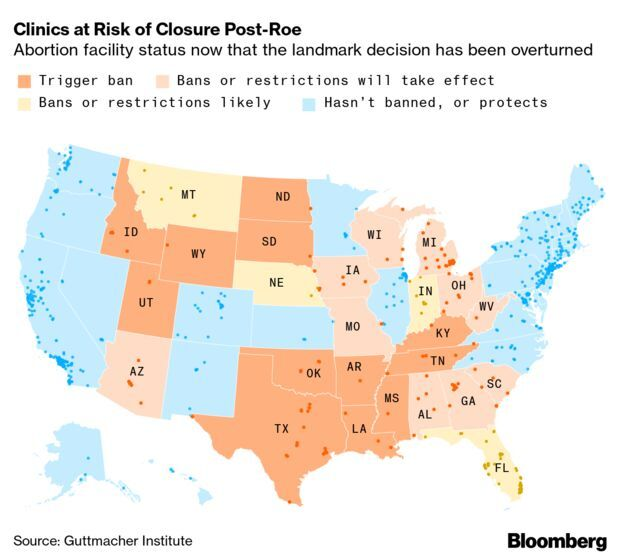 Local Prosecutors Say They Won't Enforce Bans: District attorneys and other local prosecutors from 85 jurisdictions across the US said Friday they won't prosecute abortions sought in their jurisdictions. Catarina Saraiva has more.
Ruling's Other Implications
Court Tees Up Fight Over Abortion Pills: Legal scholars say the move could spur states to go after mifepristone, a medication that's used for the majority of US abortions. HHS's Becerra has said he's directing his agency to "do any and everything we can" to ensure "the right to safe and legal abortion" through medication. Attorney General Merrick Garland also joined the fray, asserting that states can't ban mifepristone based on disagreement with the Food and Drug Administration's "judgment about its safety and efficacy." That, however, doesn't mean that states won't try to find other means to block access to the drugs. Read more from Ian Lopez.
Democrats See Abortion as Leverage Ahead of Midterms: The court pushed abortion firmly to the forefront of elections this year, with Democrats hoping outrage over the end of Roe will trump other issues weighing on the party's fortunes. "Where I see it coming into play is in a lot of governor's races," a Democratic strategist, Lis Smith, said. Josh Wingrove, Gregory Korte and Emily Wilkins have more.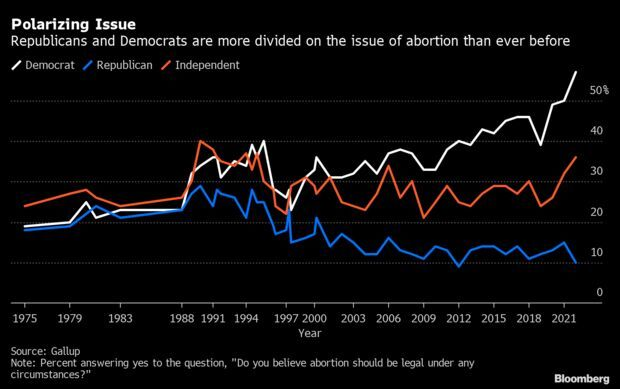 On Lawmakers' Radars
This Week's Hearings:
Covid-Era Border Restrictions Kept in House Bill: A pandemic-related immigration restriction called Title 42 would effectively stay in place until after the Covid public health emergency is over under an annual Homeland Security funding bill. The House Appropriations Committee advanced its fiscal 2023 Homeland Security spending bill in a 32-25 vote on Friday, after adding an amendment to ban the processing of migrants who would've been expelled under Title 42 authority. Jack Fitzpatrick has more.
Biden Signs Bipartisan Gun-Safety Bill: Biden signed gun-safety legislation into law that he called the most significant of its kind in decades, restricting firearms access for young buyers and offering incentives for states to set up "red flag" laws. Read more from Jennifer Jacobs and Kate Queram.
What Else to Know Today
Justices Keep Medicare Changes for Low-Income Hospitals: The Supreme Court on Friday upheld a 2005 rule that decreased the amount of additional Medicare payments hospitals get for serving a larger share of poor patients. The decision means some providers may not be able to recoup the higher costs they say they spend treating low-income patients. In a split 5-4 verdict, the court said the HHS rule is consistent with the text and structure of the DSH provisions. Lydia Wheeler and Allie Reed have more.
Juul Wins Emergency Order Halting FDA Ban: Juul Labs persuaded a federal court to grant an emergency order blocking the Food and Drug Administration's decision to ban its e-cigarette products from the US market. The US Circuit Court of Appeals in Washington on Friday said the ban ought to be "administratively stayed" while Juul's attorneys prepare a full appeal of the FDA's finding it must stop selling its products. Read more from Anthony Lin and Jef Feeley.
Moderna Shot Gets CDC Support for Kids, Teens: Children and teens across the US are now eligible to receive Moderna's Covid shots after the head of the Centers for Disease Control and Prevention granted the final clearance needed for injections to begin. The recommendation by CDC Director Rochelle Walensky allows the use of two doses Moderna's 50-microgram shot for children from 6 to 11 years old and two doses of its 100-microgram shot for children 12 to 17. Read more from Fiona Rutherford.
Employers Hope Pharmacy Benefits Probe Eases Prices: Large companies that spend billions a year on prescription drugs for their employees are hoping the Federal Trade Commission's inquiry into pharmaceutical benefit manager business practices will yield information that spurs changes to lower drug prices. Sara Hansard has more.
More Headlines:
To contact the reporter on this story: Brandon Lee in Washington at blee@bgov.com
To contact the editors responsible for this story: Giuseppe Macri at gmacri@bgov.com; Michaela Ross at mross@bgov.com
Stay informed with more news like this – from the largest team of reporters on Capitol Hill – subscribe to Bloomberg Government today. Learn more.