HEALTH CARE BRIEFING: Biden Aid Plan Seeks $20B for Vaccinations
Bloomberg Government subscribers get the stories like this first. Act now and gain unlimited access to everything you need to know. Learn more.
President-elect Joe Biden outlined plans for a $20 billion national vaccination program to speed up the pace of Covid-19 immunizations, calling the effort so far "a dismal failure" in an address last night.
"We'll have to move heaven and earth to get more people vaccinated, to create more places for them to get vaccinated, to mobilize more medical teams to get shots in people's arms, to increase vaccine supply, and to get it out the door as fast as possible," Biden said.
Biden said he would lay out plans today to "correct course" and meet the goal for distributing 100 million shots in his administration's first 100 days.
The $20 billion for immunizations will be part of a proposal to Congress for economic and virus relief that would steer hundreds of billions of dollars toward state and municipal efforts to respond to the Covid-19 outbreak.
The program would work with states and other authorities to open vaccination clinics across the country and send mobile units to out-of-the-way communities, according to a fact sheet provided by the Biden transition team.
The vaccination plan is part of a broader $1.9 trillion package that includes $400 billion in virus response funds to help schools reopen and offer workers paid sick leave. Biden also wants to send checks for $1,400 to millions of Americans, on top of the $600 direct payments approved by Congress in December. Beyond vaccines, other Covid-19 response items in his plan include:
$50 billion for expanded testing, including in schools and local governments;
Hiring 100,000 public-health workers for contact tracing and vaccine outreach;
$30 billion to address supply shortages; and
$10 billion for domestic manufacturing of medical supplies.
How effectively Biden's administration can ramp up vaccinations will likely shape how quickly the U.S. can get a handle on the raging Covid-19 pandemic, which is setting new records for daily cases, hospitalizations and deaths. As of yesterday, over 23 million Americans had contracted the virus since the start of the pandemic, and some 388,000 had died of it, according to Johns Hopkins University data.
In addition to new immunization sites and mobile clinics, it calls for boosting funding to states to administer the vaccine to patients on Medicaid, the safety-net insurance program for lower income Americans. The plan also notes that the vaccine has to be free to all people in the U.S., regardless of immigration status. Read more from John Tozzi.
Spearheading the 100 days effort will be Bechara Choucair, a physician and former commissioner of Chicago's health department. As the Biden team's vaccinations czar, he will be in charge of tripling the pace of daily shots to date to meet the immunization goal. John Tozzi has more.
Progressive consumer advocacy group Public Citizen said the proposal was a strong start, but that the package was not perfect and addressing the pandemic will require "trillions more in spending." "Notably, it could provide better and cheaper health care coverage by expanding Medicare to cover those who have lost health insurance, rather than by relying on the expensive option of covering COBRA costs," the group said in a statement.
Read more:
FDA Veteran Woodcock Weighed to Lead Agency: Janet Woodcock, a 30-year veteran of the Food and Drug Administration, is being considered by Biden to serve as commissioner of the agency, according to people familiar with the selection process. For now, Woodcock is poised to serve as the acting head of the drug agency after Biden's inauguration, while being vetted by Biden's team for the permanent job alongside former FDA principal deputy commissioner Joshua Sharfstein, according to the people. Read more from Anna Edney.
Hassan, Brown Meet with Becerra: Both Sens. Maggie Hassan (D-N.H.) and Sherrod Brown (D-Ohio) met with Biden's pick to lead HHS, Xavier Becerra, this week. Brown in a statement said the two discussed "addressing health disparities, lowering health care costs for Americans, strengthening Medicare, and rebuilding and fortifying our public health system – starting with the CDC."
Biden Promises for Day One Could Take Time: Biden has pledged to take action "on Day One" to fulfill a wide range of campaign promises, including on health care. But the "Day One" part is largely a rhetorical flourish, meant more to underscore a readiness to take office than an actual to-do list. The coronavirus pandemic has put an unprecedented focus on the president's power over public health. But public health remains primarily a state function, so the federal role has been largely limited to encouraging personal safety measures and the development of a vaccine. Gregory Korte has more on Biden's plans for the first days.
Happening on the Hill
GOP Appropriations Chiefs for the 117th: The top Republican on the House Appropriations Committee, Rep. Kay Granger (R-Texas), yesterday published subcommittee leader rosters for the 117th Congress, as recommended by the House GOP Steering Committee. Of the assignments on the panels that touch health-care issues, Rep. Jeff Fortenberry (Neb.) will lead the Agriculture-FDA panel, Rep. Tom Cole (Okla.) will lead the Labor-HHS-Education panel, and Rep. John Carter (Texas) will lead the VA panel. The panel's recommendations will still need to be ratified by the House GOP Conference. Read the full roster in a statement from Granger's office here.
Also yesterday, House Ways and Means Committee top Republican

Kevin Brady

(Texas) announced the Steering Committee recommended

Kevin Hern

(Okla.),

Lloyd Smucker

(Pa.) and

Carol Miller

(W.Va.) to join his panel. Brady, in a statement, said lowering health-care costs and saving Social Security and Medicare would be top priorities for the committee. Read the statement here.
Insulin 'Shadow Pricing' Said Helped Industry Profits: Drugmakers spent years raising the cost of insulin largely to compete with each other, resulting in higher prices for the uninsured and the underinsured, a two-year-long investigation by the Senate Finance Committee found. Documents turned over to lawmakers showed that Sanofi and Novo Nordisk especially raised their insulin prices around the same time, a practice known as "shadow pricing," largely to the benefit of pharmaceutical industry middlemen, and without major changes to the drug itself. Read more from Alex Ruoff.
Espaillat Diagnosed With Covid-19 Post-Vaccine: Rep. Adriano Espaillat (D-N.Y.) said he tested positive for Covid-19 after receiving the second dose of a vaccine, and is now isolating at home. Espaillat, whose 13th congressional district includes Harlem, Washington Heights and northwestern Bronx, said he is "feeling well and currently not experiencing any symptoms." Espaillat received the first dose of the Pfizer-BioNTech vaccine in December but acknowledged it takes time for the second dose to be effective. Teaganne Finn has more.
More on the Pandemic
N.Y. Leads Region's Hospitalizations, Neighbors See Drop: New York leads the Northeast in people hospitalized with the coronavirus, with numbers mounting even as much of the region has started to get a reprieve. New York saw 8,823 people hospitalized with the illness, up 3.2% from a week earlier, according to the data from Gov. Andrew Cuomo (D). Per million residents, New York has 454 people hospitalized with the virus, the worst rate among nine northeastern states, after pulling ahead of New Jersey and Pennsylvania, data show, Jonathan Levin reports.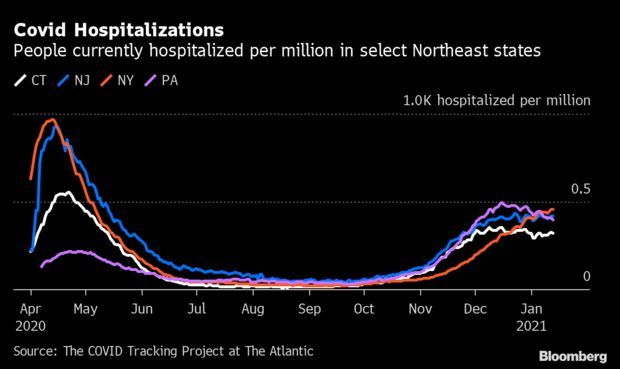 HHS Cracks Down on Disability Bias in Pandemic, Disasters: Doctors and other health-care providers can no longer prioritize patients without disabilities during emergencies like Covid-19 in two states and the Indian Health Service, the HHS said yesterday. The Department of Health and Human Services' Office for Civil Rights has made ensuring equitable care for disabled patients during the Covid-19 pandemic a priority. Four resolutions focus on how care is provided when resources are scarce during a disaster, known as crisis standards of care. Many hospitals are using those standards now because they have too many Covid-19 patients and not enough resources for all of them. Read more from Shira Stein.
More Headlines:
What Else to Know
States Can Exit ACA Exchanges in 2022 in Final Rule: States would be able to largely bypass the federal Obamacare exchange under a rule finalized yesterday by Trump's administration. The last-minute rule is aimed at interjecting more free market competition into the Affordable Care Act marketplaces by allowing web brokers and health insurers to directly enroll people in health plans. But it's unclear whether the rule will actually take effect. Congress and the Biden administration could undo any recent regulation under the Congressional Review Act. Read more from Sara Hansard.
Separately, a complaint filed in federal court said the Trump administration unlawfully approved Georgia's plan to stop using the federally funded Obamacare exchange and force residents to shop for health insurance through private companies, brokers, and agents. Read more from Mary Anne Pazanowski.
More Doctors Can Prescribe Anti-Opioid Drug Under New Policy: Certification requirements for prescribing a take-at-home treatment for opioid use disorder will be lowered under a new substance use policy announced yesterday in the form of practice guidance. Buprenorphine has emerged as an effective tool in helping people beat substance use disorder. But not many doctors have completed the requisite extra training that would allow them to prescribe it. Read more from Christopher Brown.
HHS Withdraws Medicaid Rule to Rein In Doctor Payments: A federal proposal aimed at reining in Medicaid payments is off the table after the Trump administration yesterday withdrew the rule in response to state and industry pushback.The proposed Medicaid Fiscal Accountability Rule would have required greater transparency and accountability from state Medicaid programs, especially with regard to "supplemental payments," which accounted for $50 billion in Medicaid spending as recently as 2016. Read more from Christopher Brown.
Slim Medicare Payment Increase Recommended for Hospitals: Hospitals would see a 2% increase in their Medicare base payment rates in 2022, but physicians and other clinicians would see no payment increases under final recommendations to Congress approved yesterday by the Medicare Payment Advisory Commission. Read more from Tony Pugh.
More Headlines:
Editor's Note: Bloomberg Government's Health Care Briefing will not publish Monday, Jan. 18, in observance of Martin Luther King, Jr. Day. We'll resume publication Tuesday, Jan. 19.
To contact the reporter on this story: Brandon Lee in Washington at blee@bgov.com
To contact the editors responsible for this story: Zachary Sherwood at zsherwood@bgov.com; Giuseppe Macri at gmacri@bgov.com; Michaela Ross at mross@bgov.com
Stay informed with more news like this – from the largest team of reporters on Capitol Hill – subscribe to Bloomberg Government today. Learn more.