HEALTH CARE BRIEFING: Becerra Foes Use Abortion to Slow Approval
Bloomberg Government subscribers get the stories like this first. Act now and gain unlimited access to everything you need to know. Learn more.
Xavier Becerra, nominated to lead the country's health agency, has become a top target for Republicans aiming to stymie President Joe Biden's health-care agenda and restrict abortion rights.
Republican senators, conservative groups, and the anti-abortion lobby are mounting a long-shot push to sink Becerra's nomination to be the next Health and Human Services secretary. Stopping Senate confirmation, they argue, would demonstrate the political force of the anti-abortion movement and compel Biden to compromise with Republicans on health priorities.
Whoever it is that ultimately becomes his HHS secretary "will have watched what happened to Xavier Becerra," Sen. Tom Cotton (R-Ark.) said during a virtual rally for anti-abortion groups on Wednesday. Biden's nominee will "recognize that if he crosses these far-left radical lines, he's apt to face political blow back as well," he said.
The three conservative advocacy groups—Judicial Crisis Network, Heritage Action for America, and Americans for Public Trust—announced yesterday they launched a $2 million advertising campaign aimed at Becerra and other Biden nominees.
To sink Becerra's nomination, Republicans would need to unite in opposition and win over at least one Democratic senator. Anti-abortion groups said they're targeting Sen. Joe Manchin (D-W.Va.), who has supported abortion restrictions. In previous years, Manchin has voted in favor of bills that would block abortion after 20 weeks, and would require doctors to care for babies delivered alive after an abortion attempt.
So far, the bulk of Biden's Cabinet nominees have received broad bipartisan support. Senate Democrats say Becerra's confirmation is long overdue and that Republicans are only making it difficult for the president to carry out his coronavirus response efforts. Alex Ruoff has more.
Biden to Invoke Defense Production Act Strategically
The Biden administration intends to go further than it or the Trump administration has in its use of the Defense Production Act to look beyond filling immediate needs and comprehensively improve the medical supply chain so it can weather future disasters and coronavirus-like pandemics.
So far, the Korean War-era law has been used as a vehicle for government contracting, but supply consultants said the federal government hasn't really looked at how it could be better used to shore up the pharmaceutical supply, ensure a steady production of critical items like masks and gowns, or provide loans to manufacturers.
Health workers still don't have access to adequate personal protective equipment, although the situation has vastly improved since the beginning of the pandemic. However, the problems within the medical supply chain are more deeply entrenched and not just a result of this virus, and consultants and government officials say fixing them ahead of future disasters will require governmental backing.
"We're not really seeing the DPA being leveraged the way we thought the DPA was going to be leveraged," said Soumi Saha, vice president of advocacy for Premier Inc. Historically, the government has used it to take over manufacturing, including how much to make and when to make a particular product.
Now, manufacturers and consultants say the administration should look at using the DPA for every aspect of the supply chain and include the private sector in the complicated decision-making process around that. Read more from Shira Stein.
More on the Coronavirus Pandemic
Biden to Visit Pfizer Vaccine Plant as U.S. Shots Accelerate: Biden will travel today to the Michigan plant where Pfizer Inc. is manufacturing its Covid-19 vaccine as his administration works to boost the number of shots delivered each day. The plant, in Portage, just outside Kalamazoo in southwest Michigan, is Pfizer's largest manufacturing facility. There, the company's coronavirus vaccine is formulated and filled into vials before being shipped for distribution.
Biden's visit will be just his second trip away from the East Coast since taking office last month, following a Tuesday appearance in Milwaukee, Wisconsin, at a CNN town hall. Last week, he toured the National Institutes of Health in Maryland, getting a first-hand look at federal research on the virus. Read more from Jennifer Epstein.
Vaccine Surge Coming, With Millions of Doses Promised: The U.S. vaccine supply is poised to double in the coming weeks and months, according to an analysis by Bloomberg, allowing a broad expansion of doses administered across the country. The U.S. is now administering 1.6 million doses a day, constrained by the recent supply of about 10 million to 15 million per week. But Covid-19 vaccine manufacturers and U.S. officials have accelerated their production timelines and signaled spigots will be opened. Drew Armstrong and Tom Randall have more.
Pfizer Shot Less Effective Against South Africa Variant: Pfizer and BioNTech's coronavirus vaccine stimulated roughly two-thirds lower levels of neutralizing antibodies against the new South African variant of the coronavirus in a lab trial. The Pfizer results are part of tests of its vaccine against a lab-built virus that had all the mutations found in the South African variant, which is believed to spread faster. Naomi Kresge and Robert Langreth have more.
Pregnancy Trials Begin in Bid to Fill Data Void: Covid-19 vaccine developers are beginning trials in pregnant women, looking to create reassurance that the shots are safe for expectant mothers. Pfizer and BioNTech dosed the first patients in a trial of their mRNA vaccine in 4,000 women in the latter stages of pregnancy, the companies said yesterday. The partners will run a mid-stage study for 350 volunteers between 27 and 34 weeks of gestation to confirm safety. Suzi Ring and Naomi Kresge have more.
Cases Creep Up in U.S. Plains States: There are early signs of a rebound in Covid-19 cases in the Great Plains, the area where the most-recent nationwide surge first began. The seven-day average of new cases in North Dakota has climbed by 147% in the past week, the most in the U.S., according to Covid Tracking Project data. Nebraska's cases are up 20% in the period, and South Dakota's are up 17%. Read more from Jonathan Levin.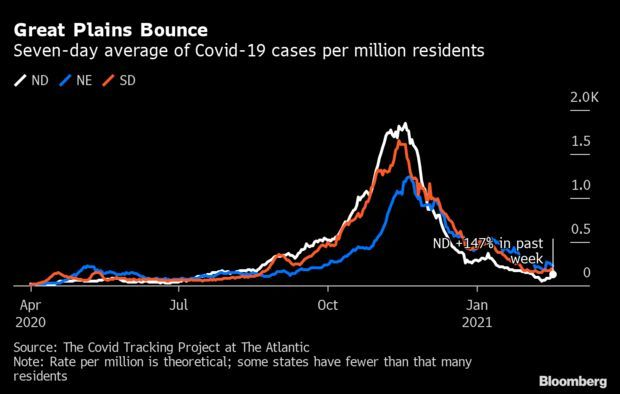 Governors Facing Push to Curb Pandemic Power: Governors whose coronavirus responses depend on emergency orders are fiercely guarding their executive power against lawmakers in their state legislatures who want a bigger role in managing the pandemic. Wisconsin Gov. Tony Evers (D) issued a new mask mandate Feb. 4 after the GOP-led legislature repealed one, and Kentucky Gov. Andy Beshear (D) sued his state's legislature over limits on his authority.
Pennsylvania voters will decide in May whether to amend the state constitution to restrict the emergency powers of Gov. Tom Wolf (D). In New York, fellow Democrats in the state's Senate say they've drafted legislation to curb the pandemic powers of Gov. Andrew Cuomo (D). The conflicts extend to states like Ohio and Arizona, where legislative leaders and their governors are from the same political party. Read more from Brenna Goth.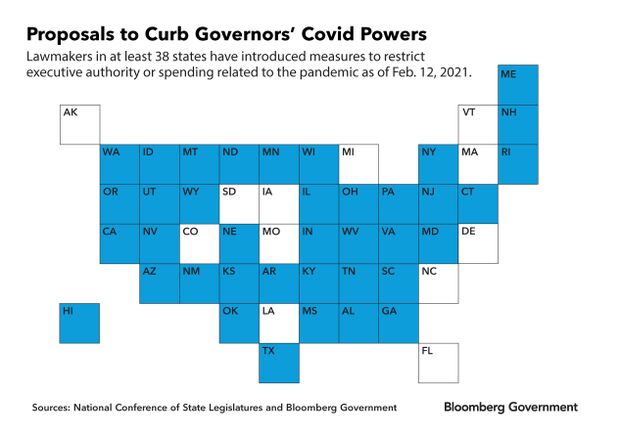 More U.S.-Based Stories:
International Headlines:
Also Happening on the Hill
Biden Urged to Back Vaccine-Patent Waiver: Rep. Jan Schakowsky (D-Ill.) wants the Biden administration to support a waiver for portions of the World Trade Organization's intellectual-property rules to boost vaccine access for poorer nations. Schakowsky said that she's drafted a letter asking the president to reverse the Trump administration's opposition to removing the barrier for production in developing countries. Read more from Eric Martin.
House Budget Panel to Hold Feb. 22 Markup: The House Budget Committee will hold a virtual markup of Democrats' virus relief package on Feb. 22 at 1 p.m., according to a release, Megan Howard reports.
Murthy, Levin Hearings Set Next Week: The Senate Health, Education, Labor, and Pensions Committee has scheduled a hearing on Feb. 25 to consider the nominations of Vivek Murthy, former U.S. Surgeon General under former President Barack Obama, to reprise the job under Biden and Rachel Levine, former Pennsylvania Secretary of Health, to serve as assistant HHS secretary. Find the event page here.
E.V. Push Gets Backing from Health Groups: A group of health and medical organizations is calling on Congress to support policies that facilitate a transition to electric vehicles. A shift to zero-emissions vehicles would benefit Americans' health because the transportation industry is a leading contributor to air pollution and the biggest source of carbon pollution in the U.S., 17 groups, including the American Lung Association and American Public Health Association, said in a letter. Read more from Lillianna Byington and Alex Ruoff.
Hearings on the Hill:
What Else to Know Today
Triple Paid for Drugs in Medicare Than Medicaid: Brand name drugs covered by Medicare's outpatient plans are three times more expensive on average than the same drugs covered by Medicaid, the Congressional Budget Office found in a report published yesterday. The report highlights the massive role discounts play in the payment pipeline. Most entities don't end up paying the base list price for a drug. What a government, employer or an individual ultimately spends boils down to how much leverage they have to pull in discounts. Jacquie Lee has more.
More Headlines:
With assistance from Jack Fitzpatrick
To contact the reporter on this story: Brandon Lee in Washington at blee@bgov.com
To contact the editors responsible for this story: Zachary Sherwood at zsherwood@bgov.com; Giuseppe Macri at gmacri@bgov.com; Michaela Ross at mross@bgov.com
Stay informed with more news like this – from the largest team of reporters on Capitol Hill – subscribe to Bloomberg Government today. Learn more.